2020 Democratic candidates debate in Atlanta
10:07 p.m. ET, November 20, 2019
Tulsi Gabbard and Kamala Harris get into heated exchange
Hawaii Rep. Tulsi Gabbard slammed the Democratic Party at Wednesday's debate, accusing Hillary Clinton and other Democrats of having the same views on war as former President George W. Bush and President Donald Trump.
The attack led California Sen. Kamala Harris to hit back at Gabbard, saying that it is "unfortunate that we have someone on this stage that is attempting to be the Democratic nominee for the President of the United States who during the Obama administration has spent four years full-time on Fox News criticizing President Obama" and "full-time criticizing people on this stage, affiliated with the Democratic Party."
Gabbard's answer came in response to a question about Hillary Clinton recently telling an interviewer that the Hawaii congresswoman is being groomed for a third party run and is a "favorite of the Russians."
Gabbard said on Wednesday that the Democratic Party "has been, and continues to be, influenced by the foreign policy establishment represented by Hillary Clinton."
Harris, among other issues, slammed Gabbard for failing to "call a war criminal by what he is as a war criminal," nodding to Gabbard's past comments about Syrian Leader Bashar al-Assad.
Gabbard responded by acknowledging her own military service and saying, "What Sen. Harris is doing is unfortunately continuing to traffic in lies and smears and innuendos because she cannot challenge the substance of the argument that I'm making.
"I'm seeking to bring in our foreign policy, which only makes me guess that she will, as president, continue the status quo, continue the Bush-Clinton-Trump foreign policy of regime change wars, which is deeply destructive," Gabbard concluded.
10:10 p.m. ET, November 20, 2019
Sanders: This country is not as divided as it seems, Trump aside
Sen. Bernie Sanders didn't render a moral verdict on Democrats who chant "Lock him up!" at President Trump, but he did take a stab at what was at the root of the urge.
"I think the people of this country are catching on to the degree that this President thinks he is above the law," Sanders said.
"The American people are saying nobody is above the law," he said, and that, if Trump committed a crime, "he should be prosecuted like any other individual who breaks the law."
But Sanders also rejected the suggestion that country was, as had been suggested by the moderators, near hopelessly divided.
"When you talk about the pain of working families it is not true (that the country is divided)," Sanders said, then ticking off a list of issues where he — and some polling — shows signs of a growing consensus.
"The majority of the American people want to raise the minimum wage to a living wage," he said, before turning to climate change and gun control: "When you talk about the climate crisis, the overwhelming majority of the American people know that it is real, they know we have to take on the fossil fuel industry, they know we have to transform our energy system away from fossil fuel."
"Even on issues like guns," Sanders added, "the American people are coming together to end the horrific level of gun violence."
9:59 p.m. ET, November 20, 2019
Who's talked the most so far
We are almost an hour into tonight's Democratic debate, and Sen. Elizabeth Warren is out front with the most speaking time so far.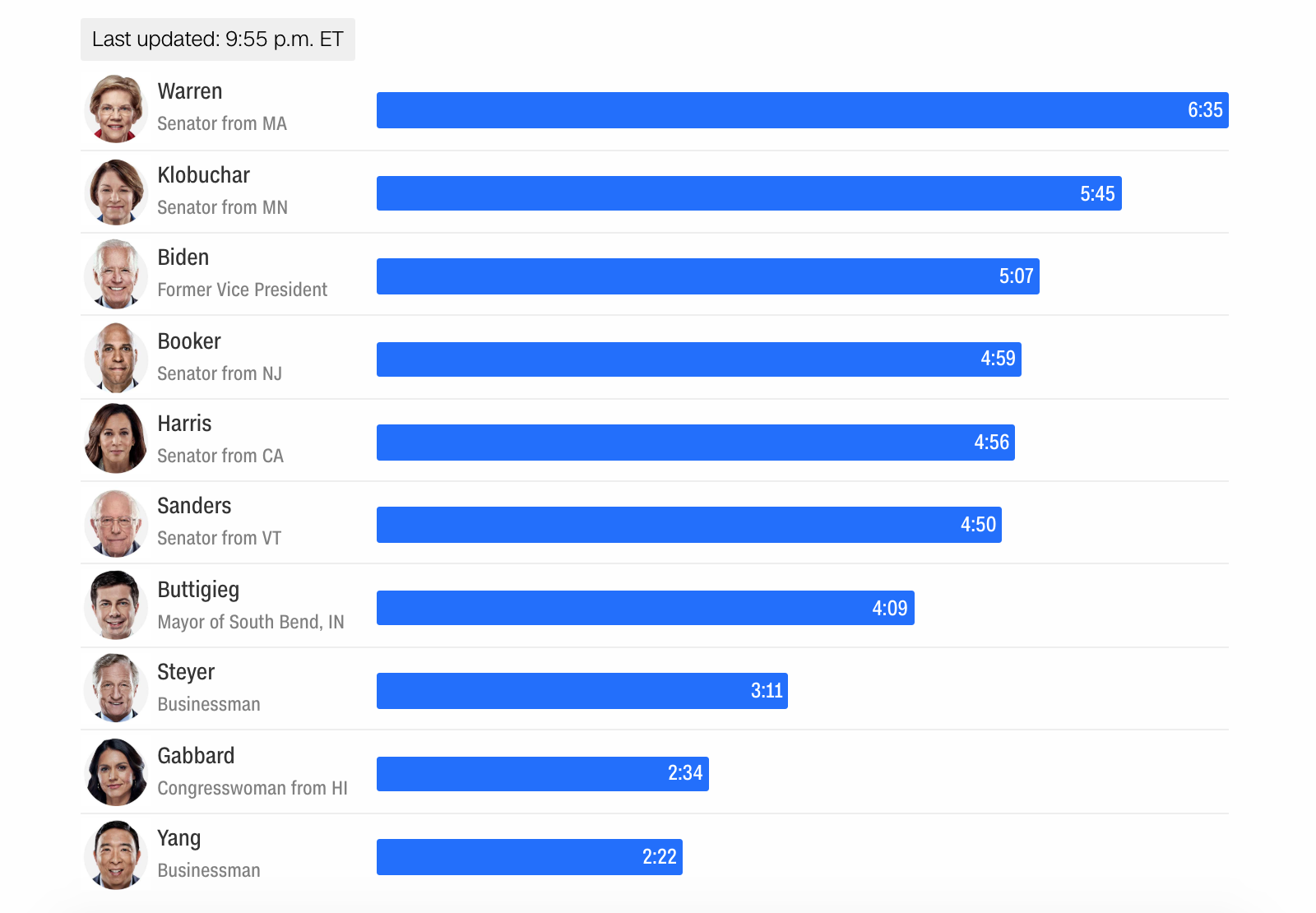 Here's the full rundown of how much everyone has spoken as of 10 p.m. ET.
9:55 p.m. ET, November 20, 2019
Klobuchar: "Women are held to a higher standard"
Minnesota Sen. Amy Klobuchar said Wednesday night that women are held to a higher standard after being asked about a recent comment she made that a woman with the same kind of experience as Pete Buttigieg would not do as well as the mayor has done in the primary.
"First of all, I have made very clear that I think Pete is qualified to be on this stage and I am honored to be standing next to him," Klobuchar said, "but what I said was true: Women are held to a higher standard."
"We have to work harder and that is a fact," Klobuchar said.
Klobuchar added: "If you think a woman can't beat Donald Trump, Nancy Pelosi does it every single day."
Klobuchar was responding to Buttigieg's defense of his level of experience. He argued that while he has not had a long career in public office, he does "have the right experience to take on Donald Trump."
Some Democrats – including Klobuchar – have questioned Buttigieg's level of experience. The mayor leads a city of just over 100,000 people and was elected by just a few thousand people. He was overwhelmingly defeated when he ran for a statewide office in Indiana in 2010.
"I get that it is not traditional establishment Washington experience, but I would argue we need something very different right now," Buttigieg said, noting that he "comes from the kinds of communities" that are critical in 2020 and that he has military experience.
As for being mayor, Buttigieg said he has a "different kind of experience" where he was "solving problems working side by side with neighbors on some of the toughest issues."
9:59 p.m. ET, November 20, 2019
Here's who's talked the most so far
Sen. Amy Klobuchar has talked for more than five minutes. Meanwhile, billionaire businessman Tom Steyer has talked for about a minute and a half.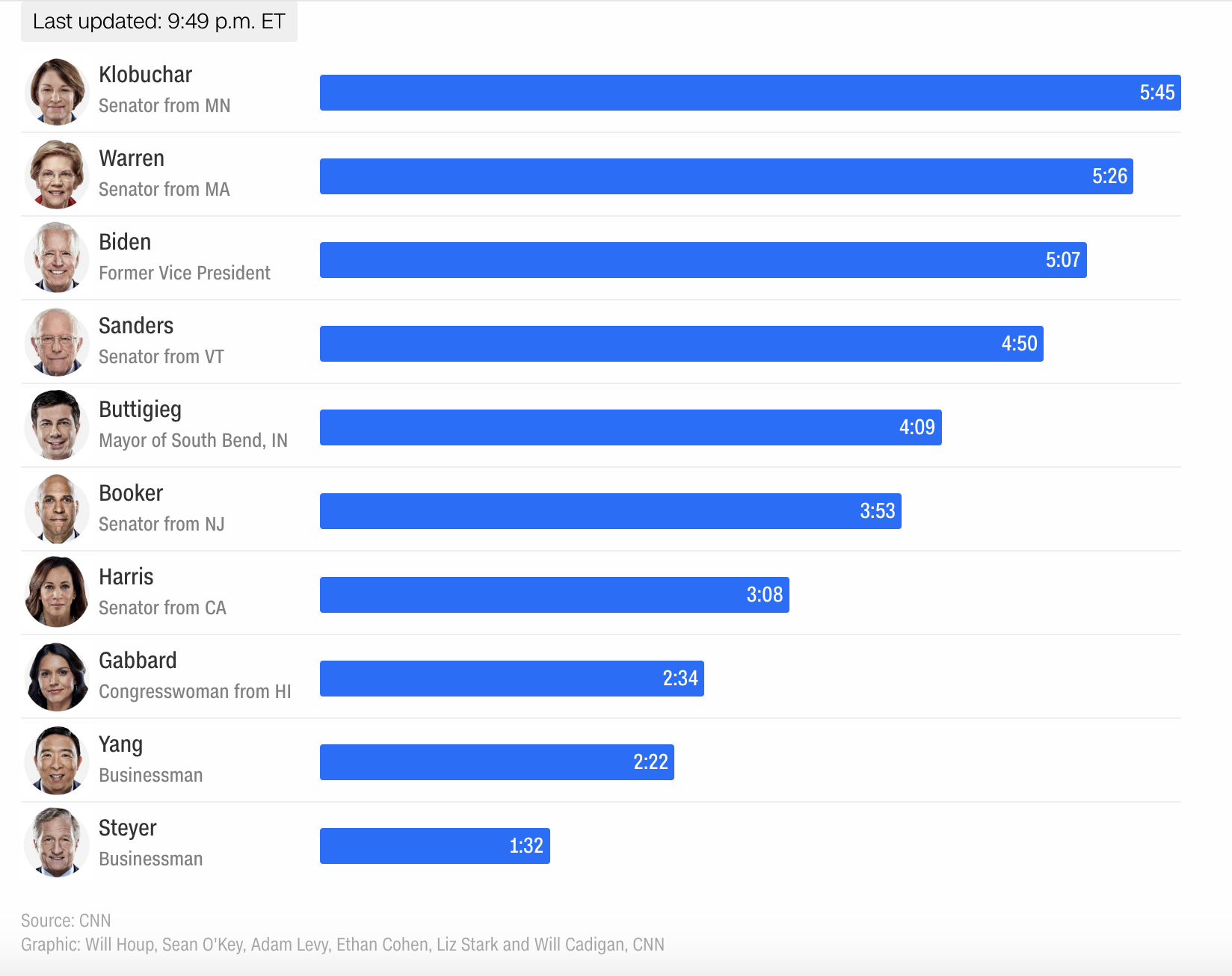 We're tracking speaking times for each candidate during the fifth Democratic presidential debate. Follow our live tracker here.
9:53 p.m. ET, November 20, 2019
Biden says he wouldn't direct his Justice Department to investigate Trump (or anyone)
Former Vice President Joe Biden said it would be up to his attorney general to decide whether to prosecute President Donald Trump.
"I would not direct it, and I don't think it's a good idea that we model ourselves after Trump and say, lock him up. Look, we have to bring this country together," Biden said.
He said "the next president who starts tweeting," and then interrupted himself mid-sentence, saying, "Anyway."
"It's about civility. We have to restore the soul of this country," Biden said. "Follow the law, let the Justice Department make the judgment as to whether or not someone should be prosecuted, period."
9:44 p.m. ET, November 20, 2019
Klobuchar raised $17,000 for first campaign from ex-boyfriends
Amy Klobuchar said she raised $17,000 for her first campaign for US Senate in 2006 from ex-boyfriends.
"My first Senate race I literally called everyone I knew and I raised $17,000 from ex-boyfriends," she said. "I'd like to point out it is not an expanding base."
Klobuchar came as she was talking about gerrymandering and needing to do something to fix the system to make sure "we don't have money in politics from the outside."
9:39 p.m. ET, November 20, 2019
Harris: "We have a criminal living in the White House"
During her opening remarks tonight, California Sen. Kamala Harris addressed the impeachment inquiry into President Trump, which reached a crescendo today with the bombshell testimony from EU Ambassador Gordon Sondland.
"First of all, we have a criminal living in the White House. And there is no question that in 2020 the biggest issue before us until we get to that tender moment is justice on the ballot. And what we saw today, Ambassador Sondland by his own words told us, that everyone was in the loop. That means, it is a criminal enterprise engaged in by the President, from what we heard today, the Vice President, the Secretary of State and chief of staff," Harris said.
Earlier today: EU Ambassador Gordon Sondland confirmed for all to see that there was a quid pro quo with Ukraine, that Trump withheld a White House meeting until Ukraine launched investigations into the Bidens.
"I know that members of this committee frequently frame these complicated issues in the form of a simple question: Was there a quid pro quo?" Sondland said. "As I testified previously, with regard to the requested White House call and the White House meeting, the answer is yes."
9:42 p.m. ET, November 20, 2019
Democrats speed through their ongoing health care debate
An abridged version of the health care debate that's played out in every Democratic presidential debate so far took place again early in Wednesday night's showdown -- with candidates sticking with their now-familiar stances.
Massachusetts Sen. Elizabeth Warren touted the benefits of "Medicare for All." When moderators turned to Vermont Sen. Bernie Sanders, he said, "Thank you, I wrote the damn bill!"
Former Vice President Joe Biden said Medicare for All is politically unpopular. "It couldn't pass the United States Senate right now with Democrats. It couldn't pass the House," he said, arguing instead for a public option.
South Bend, Indiana, Mayor Pete Buttigieg touted "Medicare for all who want it" -- his more moderate proposal -- as "something that as a governing strategy we can unify the American people around."