2020 Democratic candidates debate in Atlanta
11:10 p.m. ET, November 20, 2019
Biden says he was endorsed by the only black woman elected to the Senate (then corrects himself)
Former Vice President Joe Biden said Wednesday that he was endorsed by the only African American woman ever elected to the Senate, leading California Sen. Kamala Harris, his 2020 rival and the second black woman elected to the Senate, to laugh and point out that Biden was wrong.
Biden appeared to be referring to former Illinois Sen. Carol Moseley Braun, the first black woman elected to the Senate -- though not the only one. Moseley Braun is a strong Biden supporter.
"I said the first," Biden said as Harris reacted.
11:12 p.m. ET, November 20, 2019
Pete Buttigieg acknowledges the challenge he faces with winning over black voters
South Bend, Indiana, Mayor Pete Buttigieg acknowledged the most existential threat to his candidacy at Wednesday's debate – his lack of African American support – and accepted implicit criticism by California Sen. Kamala Harris by saying he agrees with her views on the importance of black voters.
Buttigieg's lack of black support, especially in South Carolina, has been a critical issue for the mayor of South Bend and something he has been trying to address for months. But his work has done little and a recent poll in the southern state – where the Democratic primary electorate is expected to be heavily African American – found he has 0% support.
Harris, in response to question about past comments she made about Buttigieg's support, said that her answer came in response to the Buttigieg campaign using a stock photo that was taken in Kenya as an image related to his plan aimed at racial equality on a host of issues. The Buttigieg campaign apologized for using the photo, but said they were not aware the photo was taken in Kenya when it was used.
Harris didn't focus on the photo issue very long – "I believe the mayor has made apologies for that," she said – and instead turned to the importance of black voters in an implicit criticism of the mayor.
"The larger issue is that for too long candidates have taken for granted constituencies that have been the backbone of the Democratic Party and has overlooked those constituencies," she said.
When the conversation turned to Buttigieg, the mayor said, "I completely agree."
"And I welcome the challenge of connecting with black voters in America who don't yet know me," Buttigieg said. "And before I share what's in my plans, let me talk about what's in my heart and why this is so important."
Buttigieg went on to talk about his time as mayor of South Bend, a city that is over a quarter black, and his faith.
"I care about this because my faith teaches me that salvation has to do with how I make myself useful to those who have been excluded, marginalized, and cast aside and oppressed in society," he said.
But he closed out the answer by talking about his sexuality:
"While I do not have the experience of ever having been discriminated against because of the color of my skin, I do have the experience of sometimes feeling like a stranger in my own country, turning on the news and seeing my own rights come up for debate, and seeing my rights expanded by a coalition of people like me and people not at all like me," he said. "Making it possible for me to be standing here, wearing this wedding ring in a way that couldn't have happened two elections ago, lets me know just how deep my obligation is to help those whose rights are on the line every day, even if they are nothing like me in their experience."
11:03 p.m. ET, November 20, 2019
Here's who's talked the most so far
We are two hours into tonight's Democratic debate, and Sen. Elizabeth Warren is still out front with the most speaking time so far.
Here's the full rundown of how much everyone has spoken as of 11 p.m. ET: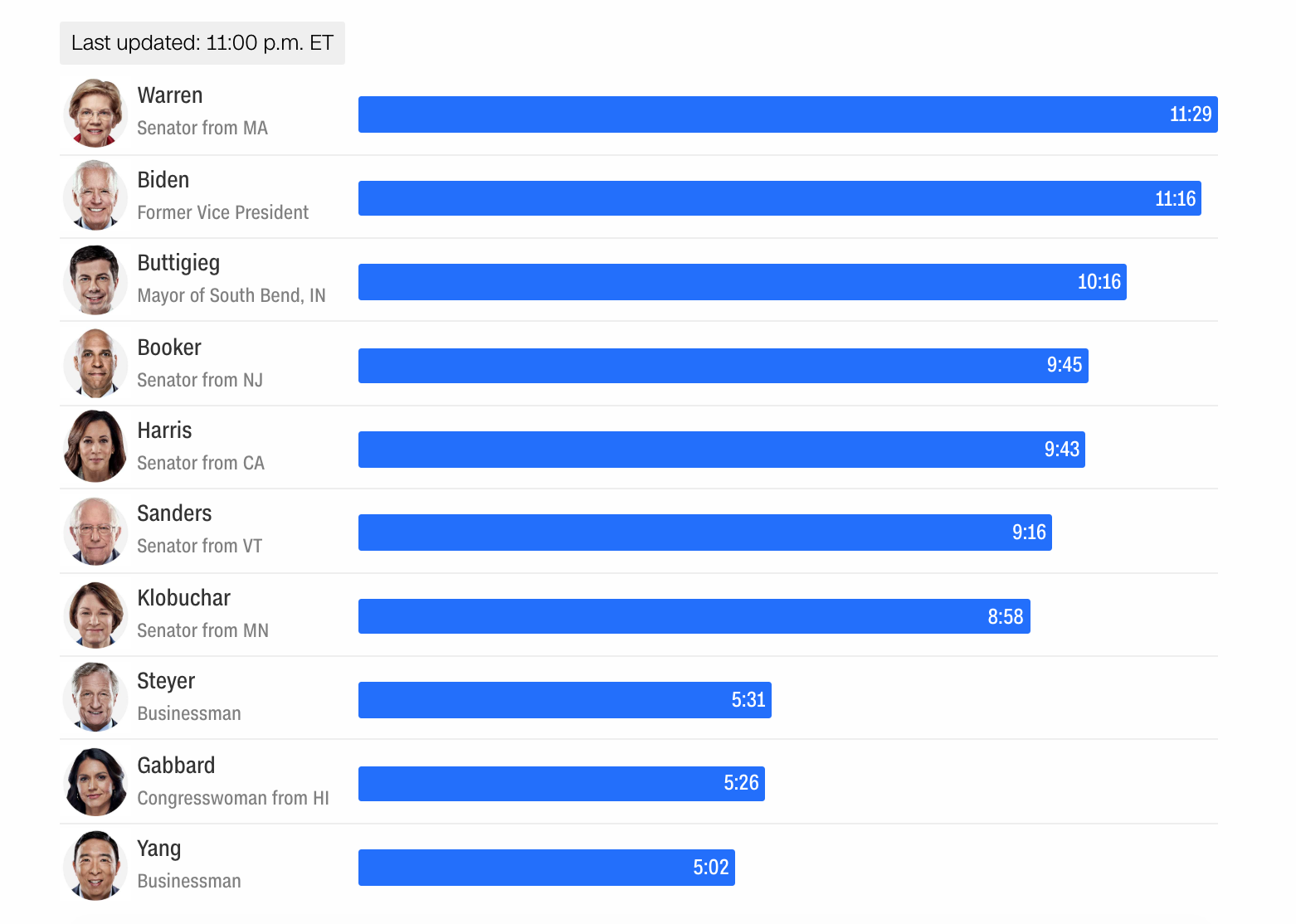 Follow our live graphic for the latest figures.
10:59 p.m. ET, November 20, 2019
Booker takes a jab at Biden's recent remarks on legalizing marijuana
Former Vice President Joe Biden continued to face criticism tonight from his 2020 rivals for his stance on the legalization of marijuana.
New Jersey Sen. Cory Booker went after Biden's recent remarks at a town hall in Las Vegas, where he said he still opposes legalizing marijuana on the federal level and told attendees that he wants to see more study on whether it is a "gateway drug."
"I thought you might have been high when you said that," Booker told Biden.
The remark drew laughter from the audience.
Biden went on to defend his position, saying he thinks marijuana should be decriminalized.
"Anyone who has a record should be let out of jail, their records expunged and be completely zeroed out, but I do think it makes sense based on data that we should study what the long-term effects are for the use of marijuana," he said.
10:54 p.m. ET, November 20, 2019
Biden says the culture of violence against women needs to be addressed by "punching at it"
During a discussion on sexual violence and harassment against women in the US, former Vice President Joe Biden explained that the US needs to change its culture.
"No man has a right to raise a hand to a woman in anger other than in self-defense and that rarely ever occurs. So we have to just change the culture. Period. And we have to keep punching at it and punching at it and punching at it. I really mean it. It's a gigantic issue," Biden said.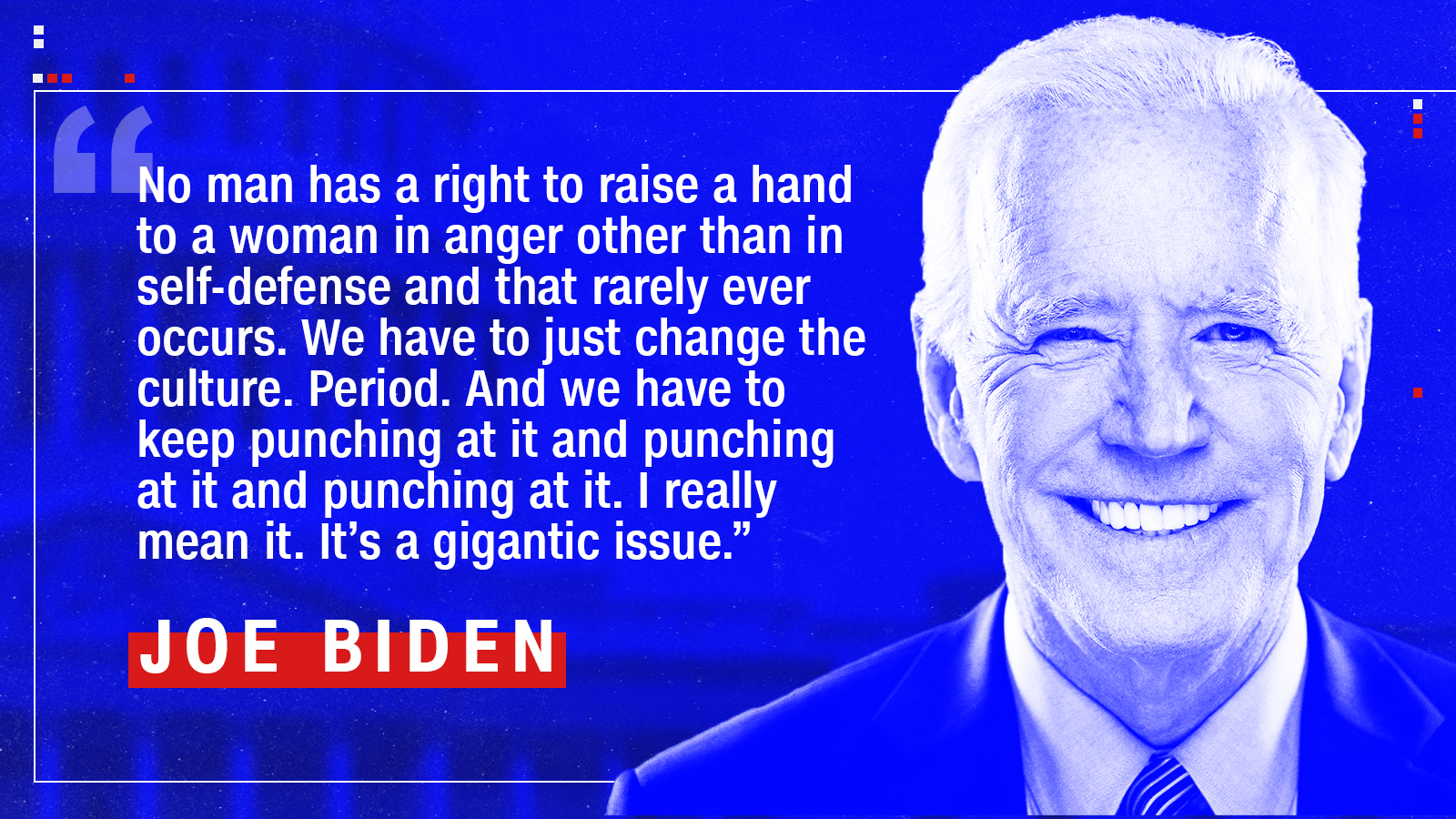 10:42 p.m. ET, November 20, 2019
Sanders calls out Biden over war votes, criticizes Israel's actions in Gaza
Vermont Sen. Bernie Sanders drew a bright line between his and former Vice President Joe Biden's foreign policy views, pointing to his opposition to both of America's wars in Iraq.
"One of the big differences between the Vice President and myself is he supported the terrible war in Iraq and I helped lead the opposition against it," Sanders said. "And not only that, I voted against the very first Gulf War."
Sanders pushed further, saying as he so often does on the trail, that "we need a foreign policy which understands who our enemies are" and "that we don't have to spend more money on the military than the next 10 nations combined."
He responded to the initial question, which asked whether he would negotiate with the Taliban as a means of ending the war in Afghanistan, with a pledge to work with allies to do whatever it takes to stop the conflict.
"I will (end the war there) by working with the international community," Sanders said, "and, if it's necessary to negotiate with the Taliban, then of course we will do that."
But, given the current administration's recent actions to pull troops out of Syria without warning, Sanders also said he would take a different approach to the process.
"Unlike Trump, I will not do it through a tweet at 3 o'clock in the morning," Sanders said. "I will do it working with the international community.
Sanders also took a step away from the party establishment consensus by calling out Israel's treatment of Palestinians in Gaza.
"It is no longer good enough for us simply to be pro-Israel. I am pro-Israel," he said. "But we must treat the Palestinian people as well with the respect and dignity they deserve," to applause from the debate hall.
10:34 p.m. ET, November 20, 2019
Fact check: Sanders claims Americans spend twice as much on health care than other countries. But this is not true.
Sen. Bernie Sanders said the US has a health care system "in which we spend twice as much as do the people of any other country."
Facts First: This is not true. The US spent twice as much per capita on health care last year than the average for Organisation for Economic Co-Operation and Development (OECD) countries, but not twice as much as every single one of the organization's 35 other members.
At $10,586 per capita in 2018, US spending was well over twice the OECD average ($3,992) and well over twice the figures for some other major countries, including Canada ($4,974). But Switzerland ($7,317), Norway ($6,187) and Germany ($5,986) were all substantially above half the US level. Sweden ($5,447), Austria ($5,395) and Denmark ($5,299) were also above half, though more slightly.  
Sanders has been repeating this exaggeration since at least 2009, when fact-checkers at PolitiFact first noted that it wasn't true. CNN fact-checked him during the Democratic debate in September. 
10:41 p.m. ET, November 20, 2019
Here's who's talked the most so far
We are more than an hour into tonight's Democratic debate, and former Vice President Joe Biden is out front with the most speaking time so far.
Here's the full rundown of how much everyone has spoken as of 10:30 p.m. ET:
Follow our live graphic for the latest figures.
10:27 p.m. ET, November 20, 2019
Here's what Yang would tell Putin if elected president
Businessman Andrew Yang didn't pull punches when asked about what he would tell Russian President Vladimir Putin during their first call if elected president.
"First I'd say I'm sorry I beat your guy," Yang said, to laughs and applause. "Or not sorry. And second I would say the days of meddling in American elections are over. And we will take any undermining of our democratic processes as an act of hostility and aggression."
Yang added that the Russia had "made it so that we can't even trust our own democracy."