Sen. Cory Booker takes questions at CNN town hall
10:49 p.m. ET, March 27, 2019
Cory Booker wants everyone to know that Rosario Dawson is "an incredible girlfriend"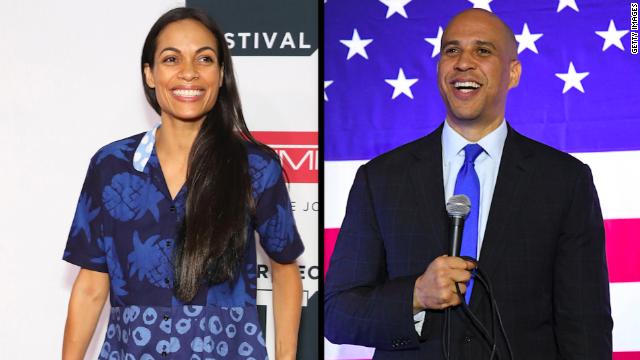 Sen. Cory Booker got personal and described how he asked his girlfriend, actress Rosario Dawson, for her phone number.
Booker said he first met Dawson at a political fundraiser for Ben Jealous, former NAACP leader.
"I was trying to help him out, but she didn't give me the time of day. So we met again, and I had one of those really awkward experiences. I'm a United States senator, and I had to get up the courage to walk up to her and ask her for her phone number. And this doesn't make me nervous, but that made me nervous," the senator said
"She gave me the phone number," he added.
He described Dawson as "simply amazing."
"She is an incredible girlfriend," Booker said. "I'm very lucky to be in a relationship with someone who is just so incredibly special, but more importantly has taught me so much in a very short period of time."
Some background: Dawson recently told TMZ that they are "very much" in a relationship. Asked how things with Booker were going, Dawson replied, "So far, so wonderful. He's a wonderful human being. It's good to spend some time together when we can. We're very busy."
Dawson also said Booker would make a great president, adding, "He's an amazing human being."
Booker had previously confirmed that he was dating someone, telling "The Breakfast Club" radio show in February, "I got a boo" and that it was "somebody really special."
He later gushed about his newly public relationship with Dawson during an appearance on "The Ellen DeGeneres Show."
Watch for more:
10:49 p.m. ET, March 27, 2019
Impeach Trump? Not so fast, Booker says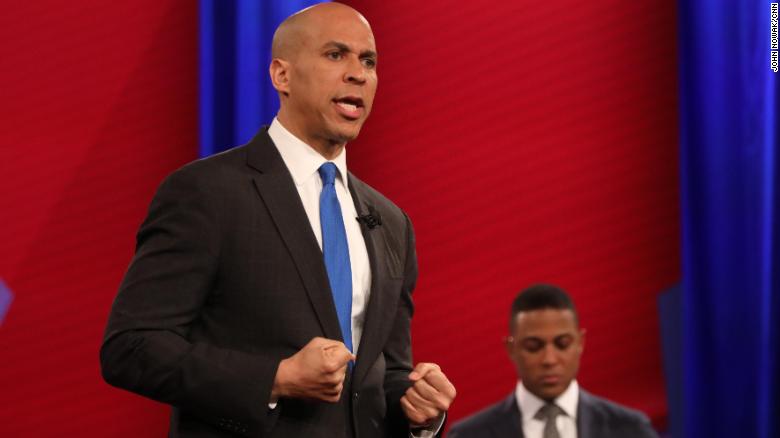 Put Cory Booker down as a maybe on impeachment.
Asked under what circumstances he would support efforts by Congress to remove President Trump from office, Booker parried, saying he wanted to see special counsel Robert Mueller's full report before deciding.
"I understand the sense of urgency to get rid of him," Booker said, "but I'm going to tell you this: I'm going to wait for the Mueller report to actually be released."
About that report: The full findings from the Mueller investigation are still unknown to the public and most in Washington. Still, Trump has declared himself exonerated based on the release of a four-page memo written by his attorney general, William Barr. Barry's summary quotes Mueller only in pieces, but says that the nearly two year-long probe did not establish collusion between Trump's campaign with the Russians in 2016. Mueller did not render any judgment on whether Trump had obstructed justice.
Booker had tough words for Barr and what he described as a "Cliff's Notes version" of the report, which was made public this weekend.
"I don't need (Barr) to filter facts. I want to see (the report)" Booker said. "We should see that report and make our decision based upon that."
Booker did offer the questioner and viewers one concrete assurance.
"This is what I'm going to commit to you right now," he said. "We are going to have this nation, through the electoral process, send him packing from the White House."
10:52 p.m. ET, March 27, 2019
Booker to politicians offering "thoughts and prayers" after shootings: "Enough of that"
Sen. Cory Booker lambasted lawmakers who offer "thoughts and prayers" after school shootings on Wednesday when he emotionally answered a voter's question about what the New Jersey Democrat would do about guns as president.
"I am frustrated with politicians who all the best they can muster is to give thoughts and prayers," he said. "Enough of that. Enough of that."
Lawmakers – most often Republicans who oppose tightening gun laws – often tweet their "thoughts and prayers" to shooting victims, to the point that the phrase has become an attack that those politicians who back tighter gun laws use against those who want little to no change.
"If I'm your president, we're going to bring the fight to the NRA who wants to represent corporate gun manufacturers, more than they want to represent the people because this is what they're doing to Americans," Booker said.
Booker then made the answer personal, noting that rate of black men killed in homicides far outpaces their share of the population.
"This is very personal to so many of us. Me, because I'm a black man, and black males are 6% of the nation's population. But they make up the majority of homicide victims in this country," he said. "I am tired of going to funerals where parents are burying their children."
10:36 p.m. ET, March 27, 2019
Booker talks and jokes with audience during commercial break
Sen. Cory Booker remained on stage and joked with the audience inside the Stevenson Auditorium in Orangeburg during the commercial break.
That's unusual for a candidate, at least when it comes to town halls.
Booker was eventually pulled off the stage but not before joking that they needed to fix his hair (Booker's head, you might have noticed, is shaved).
The joke drew laughs from the audience.
10:52 p.m. ET, March 27, 2019
Booker answers critics of his message of "love and unity"
A supporter of Sen. Cory Booker kicked off Wednesday night's town hall by channeling the skeptics and asking what he says to people who don't believe he can defeat President Donald Trump in 2020 on the promise of "love and unity."
Booker has heard it before, he says, even from some of his friends. But he notes that he's gone up against "titans and bullies" before -- during his time as a young politician coming up in New Jersey. He even noted the title of the documentary about his unsuccessful 2002 run for mayor in Newark, called "Street Fight."
True to form, Booker tells the crowd: "We win this election not by showing the worst of who we are, but by the best of who we are."
Then he takes aim at Trump.
Donald Trump wants us to fight him on his termsTo me that is not only a recipe for losing the election, it's a recipe for losing the ability to move this country forward.
He continued, describing a president committing "moral vandalism from the highest office in the land" and who is "Twitter trash-talking and trolling" -- a prompt, Booker says, for Democrats to "stand up for the ideal of uniting Americans."
"I believe, very firmly," he says, "that you can't lead the people if you don't love the people."
10:34 p.m. ET, March 27, 2019
Why Booker says he's frustrated about the conversation surrounding reparations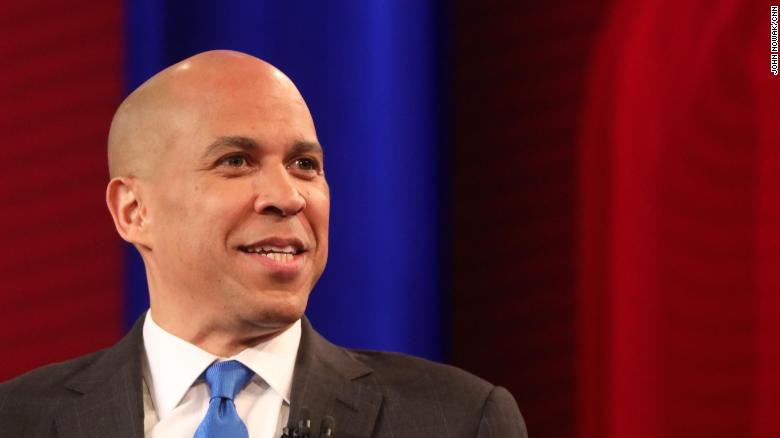 New Jersey Sen. Cory Booker, speaking tonight at a CNN town hall, said he is frustrated with the conversation about reparations for black Americans who are descendants of slaves.
Here's why:
"It's being reduced to a box to check on a presidential list, when this is so much more of a serious conversation. So do I support legislation that is race conscious about balancing the economic scales? Not only do I support it, but I have legislation that actually does it," he said.
Booker went on to explain his legislation, which he said includes baby bonds -- meaning "every child born in America would get a bond when they're birthed, $2,000 placed in it. And... depending on their family's income, they would have more money placed in it" later in life as well.
The Democratic presidential candidate then explained all the ways "blacks were systematically excluded" from policies.
"So what I'm saying to you, and my frustration is we don't have a way of addressing head-on in this country the persistence of racism, the persistence of white supremacy and implicit racial bias," Booker said.
10:49 p.m. ET, March 27, 2019
Booker slams 90s-era crime bills that Biden, Sanders backed
Sen. Cory Booker slammed on Wednesday what he called "horrible crime bills" signed in the 1990s, using them as an example of the opposite to what he has tried to do as a senator and would he would like to do as president.
The comment is politically relevant: both former Vice President Joe Biden, who is eyeing a possible run, and Sen. Bernie Sanders, who has already announced a 2020 campaign, voted for the Violent Crime Control and Law Enforcement Act in 1994. Biden, who served for years in the Senate before becoming President Barack Obama's vice president, authored the bill.
"I passed a comprehensive criminal justice reform bill with other senators on both sides of the aisle," Booker said in response to a question about communing or pardoning people charged for federal marijuana offenses.
"The first time since those horrible crime bills back in the 1990s, passed this legislation working across the aisle to move forward."
Booker would go on to say that he would "absolutely" consider mass commutations for those charged with federal marijuana offenses.
The 1990s crime bill is set to be a key issue in the 2020 election, much like it was during the 2016 race, where liberal slammed Hillary Clinton for supporting the bill, which was signed by her husband, former President Bill Clinton -- who said he made mass incarceration worse during his time in office.
Biden has also admitted mistakes on crime, telling an audience in January that he hasn't "always been right" on the issue.
10:08 p.m. ET, March 27, 2019
NOW: Booker takes stage for town hall
Sen. Cory Booker just took the stage in South Carolina -- where CNN's Don Lemon teased him about being a vegan in a region that loves its BBQ.
"You're not eating barbecue down here, right? Maybe putting a little sauce on the vegetables," Lemon teased.
Booker defended his eating habits as a health decision: "It's been a great experience me -- great for my well-being."
10:05 p.m. ET, March 27, 2019
Why this is Cory Booker's "first big attempt" as a candidate
Democratic presidential candidate Cory Booker's campaign has been small, but tonight's town hall is a big opportunity for the senator, CNN's David Chalian noted earlier tonight.
"The plus/minus tonight is that Cory Booker has a big opportunity here, as you know. He's gone pretty small with his campaign so far. He didn't launch with a big rally. He held a press conference in Newark ... This is his first big attempt as a candidate in front of a national audience in primetime. And so it's a big opportunity."
The event comes right before a big fundraising push and candidates "will have to show their financial strength in this race," he said.