CNN hosts 5 Democratic town halls
12:44 a.m. ET, April 23, 2019
Takeaways from tonight's back-to-back 2020 town halls
Five Democratic presidential hopefuls answered a host of questions at back-to-back town halls in Manchester, New Hampshire.
We're wrapping up our live coverage, but you can scroll through the posts below to see how it unfolded or click on the links to read five takeaways from each of the candidates' town halls:
12:20 a.m. ET, April 23, 2019
Buttigieg declines to take the "bait" on Pence back-and-forth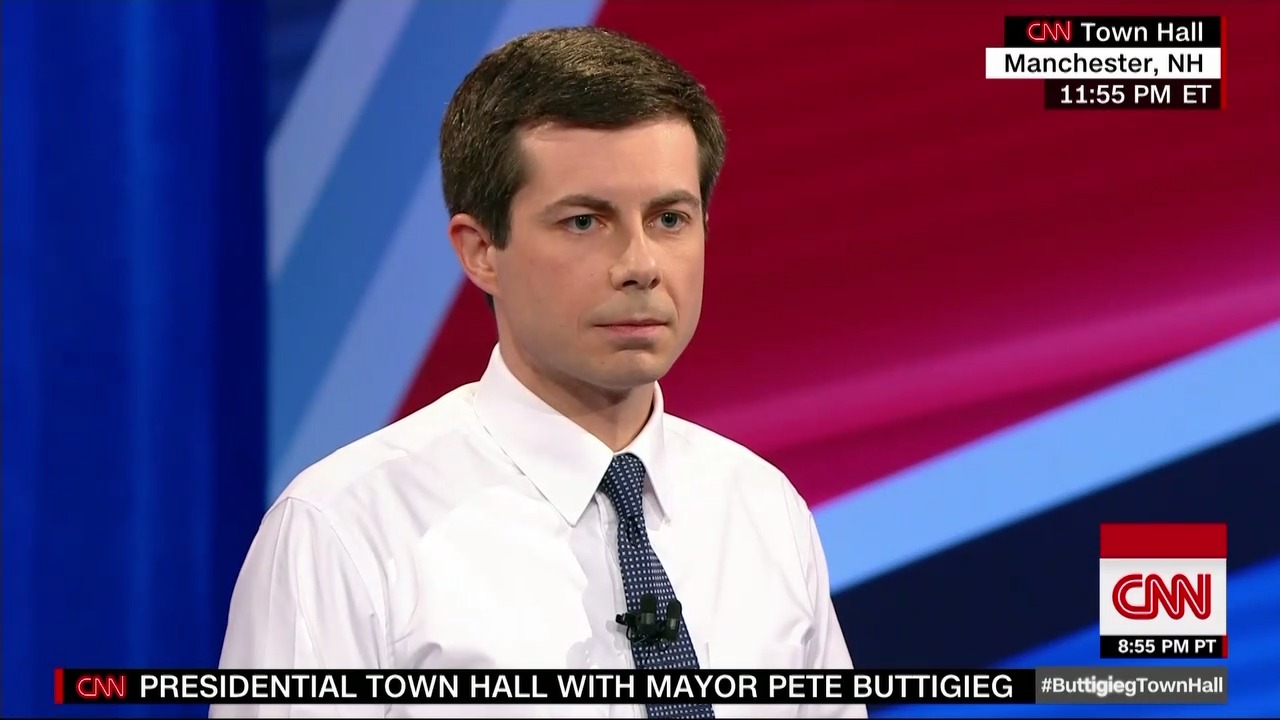 Buttigieg on Monday declined to engage with a Trump administration official who accused him of pushing a "hate hoax" during his back-and-forth with Vice President Mike Pence.
The US ambassador to Germany, Richard Grenell, on Monday accused Buttigieg of using the feud to further his presidential candidacy, saying it was "along the lines of Jussie Smollett."
Faced with the words of Grenell, who is also gay, Buttigieg paused and parried.
"I'm not a master fisherman," the South Bend mayor said to applause, "but I know bait when I see it and I'm not gonna take it."
Buttigieg and Pence have sparred in the press over the past couple weeks.
"If me being gay was a choice, it was a choice that was made far, far above my pay grade," Buttigieg said at the LGBTQ Victory Fund National Champagne Brunch in Washington earlier this month. "And that's the thing I wish the Mike Pences of the world would understand. That if you got a problem with who I am, your problem is not with me -- your quarrel, sir, is with my creator."
Pence, during his time as governor of Indiana, signed the Religious Freedom Restoration Act, a controversial bill that effectively allowed businesses to discriminate against gay customers.
In a subsequent interview with CNN, Pence said, "I hope that Pete will offer more to the American people than attacks on my Christian faith or attacks on the President as he seeks the highest office in the land," adding, "he'd do well to reflect on the importance of respecting the freedom of religion of every American."
12:19 a.m. ET, April 23, 2019
Buttigieg on tapes case: "I want to know what's on the tapes like everybody else does"
South Bend Mayor Pete Buttigieg explained why he demoted the city's first African American police chief on Monday, telling an audience member at a CNN town hall that he wants to know what is on the tapes that eventually led to his demotion.
About those tapes: The comments focuses on a highly contested and litigated controversy on the contents of five tapes of recorded phone conversations inside the South Bend police department and allegations that the tapes contain racist comments made by a group of officers about former Police Chief Darryl Boykins, who is black. According to court documents, copies of the recordings were made at Boykins' request. Few others have heard the recordings, but that might change as a state court is set to weigh in on whether the tapes can be made public.
Asked by a voter what is on the tapes, Buttigeig bluntly said he did not know.
"The answer is I don't know," the mayor said. "And the reason I don't know is these tape recordings were made in a way that violated the federal wire tap act. That is a federal law that controls when you can and can't record people. … That's a law punishable by a term in prison and so I'm not going to violate it, even though I want to know what's on those tapes like everybody else does."
Buttigieg said that reason he demoted the chief was he found Boykins "was the subject of a criminal investigation, not from him but the FBI, and it made it very hard to me to trust him as one of my own appointees."
"It was frustrating and painful too, though," Buttigieg said. "He was one of the first African-American chiefs and one of the reasons I asked him to serve in the first place was a great track record in community policing, which is a huge priority for us because we're a racially diverse community."
Buttigieg, then months into his first term as mayor in 2012, asked Boykins to resign over the tapes matter as authorities investigated allegations that Boykins threatened subordinates, both state and federal investigations ended without charges. After initially agreeing to step down, Boykins -- who was the city's first ever African American police chief -- rescinded his resignation and vowed to fight it.
That fight -- along with subsequent settlements and lawsuits to get the tapes released publicly -- has dragged on for seven years.
12:12 a.m. ET, April 23, 2019
Buttigieg: "God doesn't have a political party"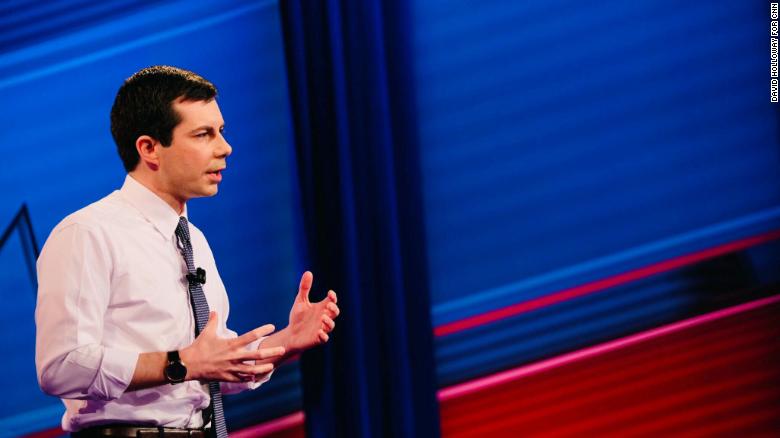 Asked how he planned to unite conservatives, moderates and liberal Christians, Democratic presidential candidate Pete Buttigieg said, "God doesn't have a political party."
He went to say his faith is radically different from the current White House. Buttigieg said his faith counsels him to be humble and look after people who need defending.
"Frankly, it couldn't be more radically different than what I see certainly in this White House, where there is a lot of chest-thumping and self-aggrandizing, not to mention abusive behavior, but also political agenda that seems to always be revolving around that idea that somehow it's too easy for poor people in this country," he said. "It's just so different from what I get when I read scripture."
12:01 a.m. ET, April 23, 2019
Pete Buttigieg on Trump: "I think he's made it pretty clear he deserves impeachment"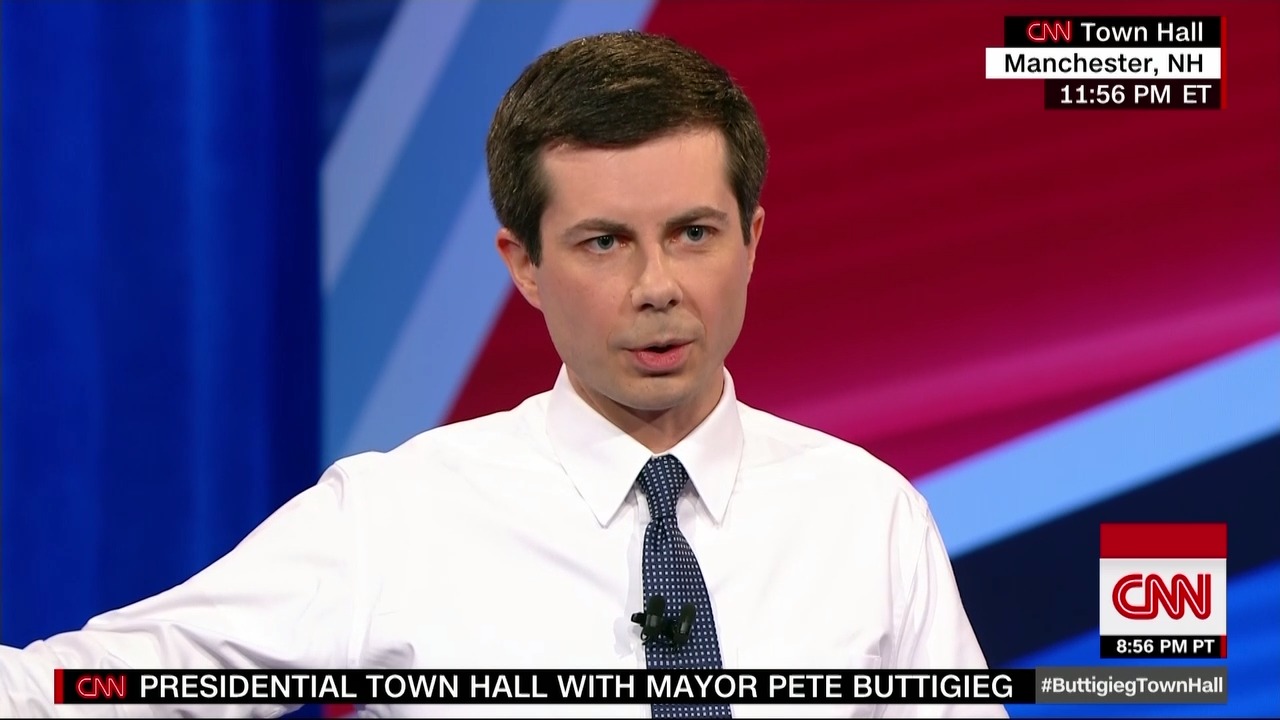 Pete Buttigieg said Monday that he believes President Donald Trump has made it "pretty clear he deserves impeachment," but that he wants to leave it to the House and Senate to determine the next steps in that process.
The comments come after Sen. Elizabeth Warren and former Housing and Urban Development Secretary Julian Castro backed starting impeachment proceedings last week and Sen. Kamala Harris announced on Monday that she, too, supports starting the impeachment process.
For months, Democrats have not made impeachment a premier issue in their pitch to voters. But the release of special counsel Robert Mueller's report has upped the ante on the issue.
"I think he's made it pretty clear he deserves impeachment," Buttigieg said to applause. "I'll leave it to the House and Senate to figure that out because my role in this process is trying to relegate Trumpism to the dustbin of history."
He added: "I think there's no more decisive way to do that, especially to get Republicans to abandon this deal with the devil, than to have just an absolute thumping at the ballot box."
11:58 p.m. ET, April 22, 2019
Buttigieg defends controversial 1,000 home policy, but says "no policy is perfect"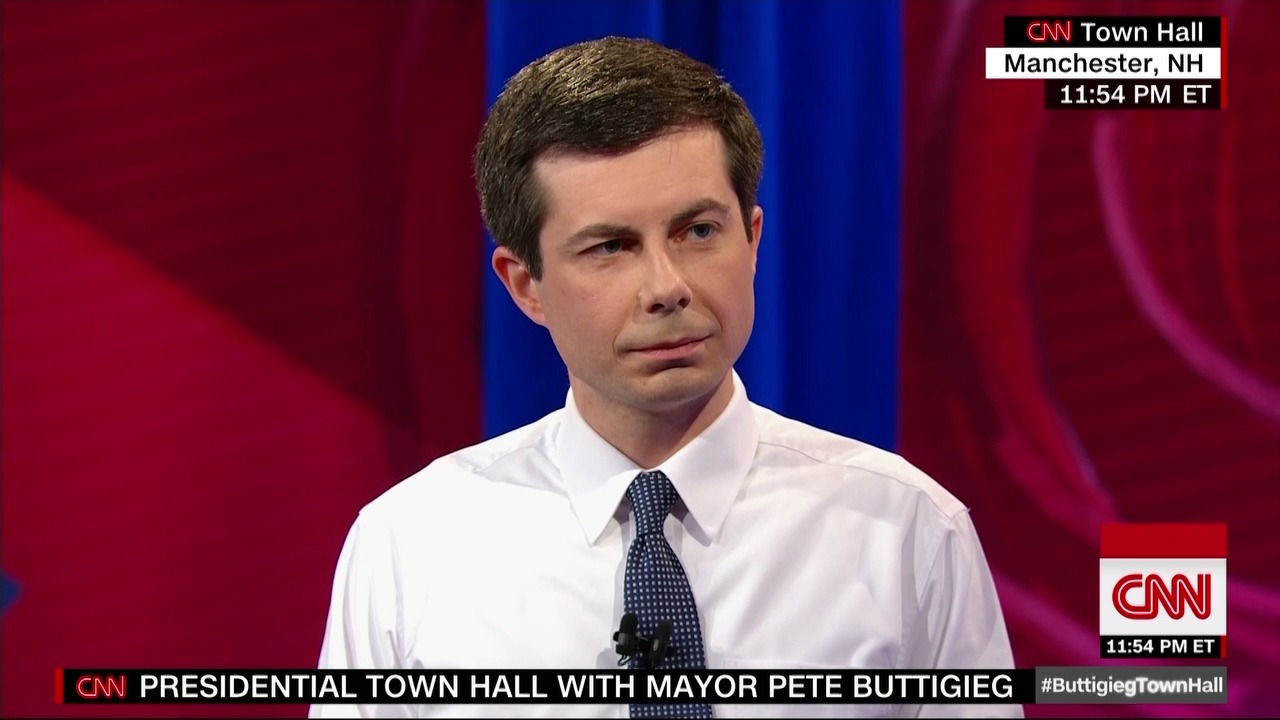 South Bend Mayor Pete Buttigieg defended the plan he pushed as mayor to curb urban blight but acknowledged the "no policy is perfect."
The policy – which hinged on expediting code enforcement in order to demolish 1,000 deteriorating houses in 1,000 days – has been criticized by some for adversely impacting communities of color in South Bend, particularly on the city's west side.
Buttigieg said that he views the policy as a success, and noted that "the number one can complaint we heard, especially from minority and low income home owners in the neighborhood, was what took you so long?"
He added, however: "No policy is perfect and we learned things the hard way on this one."
One of those lessons, he said, was that it was difficult for the government to determine which houses were owned by out of town home owners who had let their property deteriorate and which were owned by local residents who were working to fix up local homes.
Buttigieg said he, over time, his administration learned to be "more accommodating" with home owners.
11:55 p.m. ET, April 22, 2019
Buttigieg says he wouldn't be running for president if hadn't come out
Pete Buttigieg, the mayor of South Bend, Indiana, described how his life would have been if he'd come out sooner.
"I came out because I wanted to date. If dating had been available to me in my 20s I'm not sure I'd have gotten nearly as much done," he said. "The city was a jealous bride and I was fine with that, up to a point."
Buttigieg, who served as a naval officer in Afghanistan, said he came out after he came back from his deployment.
That's when he said he "started thinking about how you only get to live one life."
11:50 p.m. ET, April 22, 2019
Buttigieg on comparing Sanders and Trump: "I regard them as stupendously different in many respects"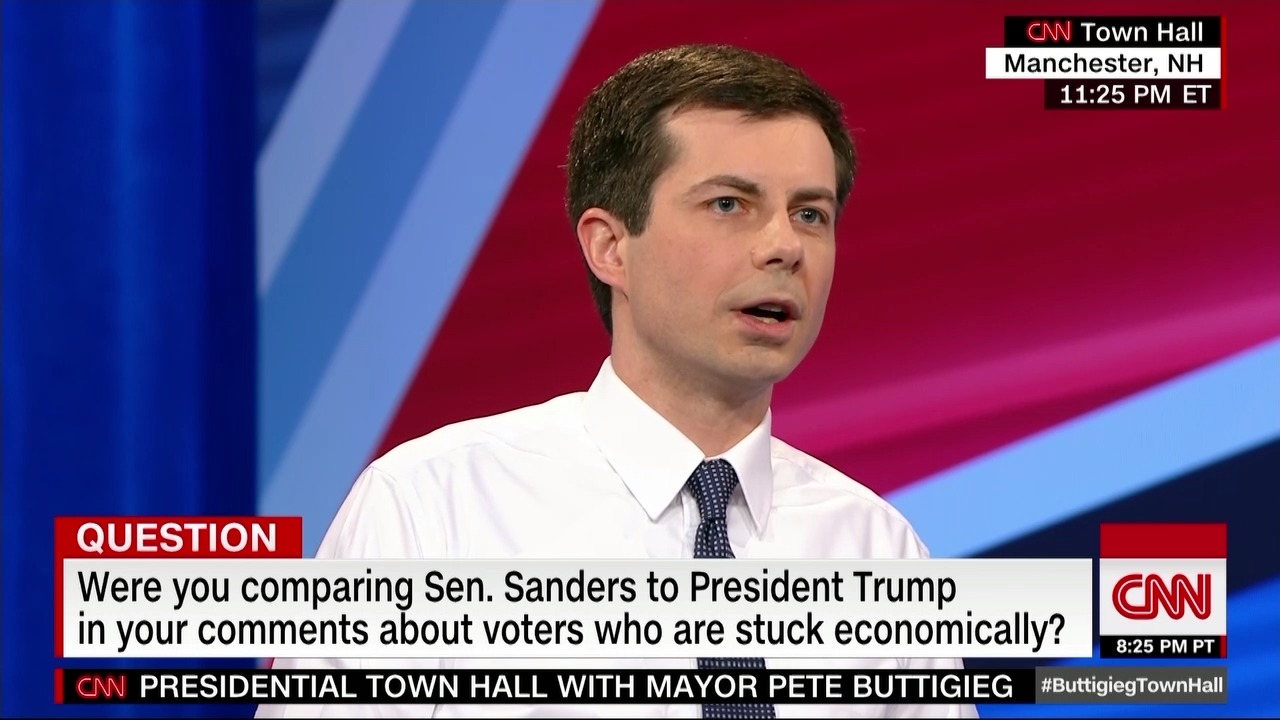 Pete Buttigieg said during his CNN town hall Monday night that he views Bernie Sanders and Donald Trump as "stupendously different in many respects."
The comment came after Buttigieg took heat from Sanders supporters for seemingly suggesting there were similarities between the two camps.
Buttigieg, speaking to an audience in New Hampshire this weekend, said that both Trump and Sanders supporters "want to vote to blow up the system," a fact that could make the two different candidates appealing.
Buttigieg made a similar case on Monday:
"I think it's worth noting there is so much anti-establishment energy and that can find its way in number of very different political directions," Buttigieg said. "But when you think of the number of voters who narrowed down their choices in the last election, either to Bernie Sanders or Donald Trump, it tells you that some of the most important things on voter's minds aren't just are you close to me on a left/right political spectrum but are you going to profoundly changing the system that we are living in."
Buttigieg said that Trump's pledge to change the system was "bull."
Rep. Ro Khanna slammed Buttigieg on Sunday for his comments about Sanders of the weekend.
"Come on @PeteButtigieg," he wrote. "It is intellectually dishonest to compare Bernie to Trump. Bernie is for giving people healthcare, education, childcare, & more pay. He wants to blow up credentialed elitism — those who reject tuition free college for all."
11:43 p.m. ET, April 22, 2019
Buttigieg says incarcerated felons should not be allowed to vote
Democratic presidential candidate Pete Buttigieg said he doesn't think people who are incarcerated should be allowed to vote.
"No," he said. "I do believe that when you are, when you have served your sentence, then part of being restored to society is that you are part of the political life of this nation again and one of the things that needs to be restored is your right to vote."
He went on to say losing the right to vote is part of the punishment when someone is convicted of a crime.
"You lose your freedom and I think during that freedom it does not make sense to have an exception for it the right to vote," Buttigieg said.
Earlier tonight, Vermont Sen. Bernie Sanders, speaking at his town hall, was asked if sex offenders, the Boston marathon bomber, terrorists and murderers should have the right to vote. He said he thinks everyone should have the right to vote.
"Yes, even for terrible people, because once you start chipping away and you say, 'Well, that guy committed a terrible crime, not going to let him vote. Well, that person did that. Not going to let that person vote,' you're running down a slippery slope," Sanders said.