CNN hosts 5 Democratic town halls
9:48 p.m. ET, April 22, 2019
Bernie Sanders says he worries focus on impeachment would benefit Trump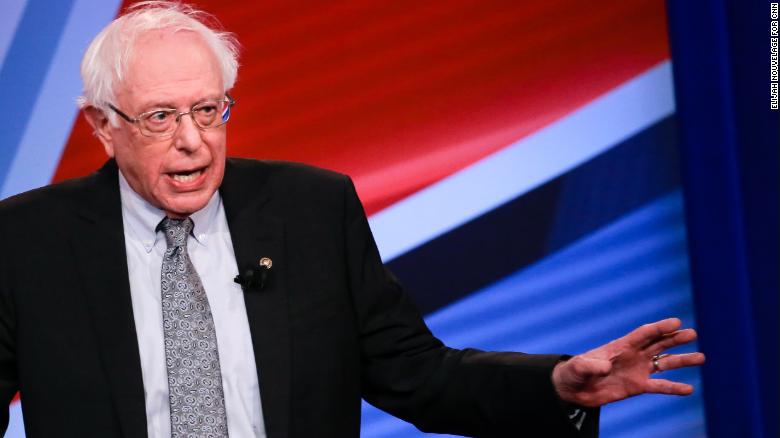 Vermont Sen. Bernie Sanders argued Monday that the best way to oust President Donald Trump was by defeating him at the ballot box in 2020, not impeaching him before then.
The answer was notably different to the one Massachusetts Sen. Elizabeth Warren gave just minutes earlier, when she delivered a lengthy answer in favor of impeaching the President.
"Here is my concern: At the end of the day, what is most important to me is to see that Donald Trump is not re-elected President and I intend to do everything I can to make sure that that doesn't happen," Sanders said.
He added: "But if for the next year all the Congress is talking about is 'Trump, Trump, Trump,' and 'Mueller, Mueller, Mueller' and we're not talking about health care and raising the minimum wage to a living wage and we're not talking about climate change and sexism and racism and homophobia and the issues that concern ordinary Americans, I worry that works to Trump's advantage."
While most voters at Democratic town halls don't ask about impeachment, the issue has risen to national prominence following the release of special counsel Robert Mueller's report and the fact that Warren and former Housing and Urban Development Secretary Julian Castro have backed impeachment proceedings.
"I think there has to be a thorough investigation," he said. "The House Democrats will do it. I'd appreciate if my Republican colleagues in the Senate had the guts to do it as well, but I won't hold my breath. I want to see that we'll see where it goes but right now, you know, that's it."
9:37 p.m. ET, April 22, 2019
Bernie Sanders: I've changed... on foreign policy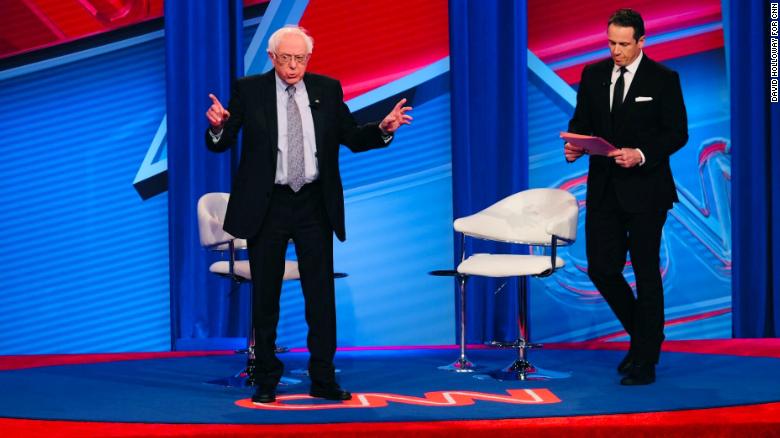 Bernie Sanders talks a lot on the campaign trail about the consistency of his positions over decades in political life.
But on Monday night, the Vermont senator conceded that past criticism of his foreign policy ideas -- or the lack thereof -- were fair and that he's been working to develop a more comprehensive worldview.
"I was rightfully criticized the last time around because I didn't pay as much attention as I might," Sanders said.
"The economy issues, whether people have health care and whether they have decent paying jobs and deal with climate change is enormously important, but we have to look at the United States's role in the world as well."
That brought him to the subject of Yemen and the recent passage -- and subsequent presidential veto -- of the War Powers Act, a bipartisan effort led by Sanders in partnership with GOP Utah Sen. Mike Lee.
"Probably a few years ago, I would not have been as involved as I have recently been in demanding and helping in the Senate to pass a resolution to get the United States out of the Saudi-led intervention in Yemen," Sanders said.
"Sadly, tragically, Trump vetoed it. But to answer your question," Sanders added, he had been thinking "more about foreign policy issues than I previously did."
11:35 p.m. ET, April 22, 2019
Sanders says the right to vote should be extended "even for terrible people"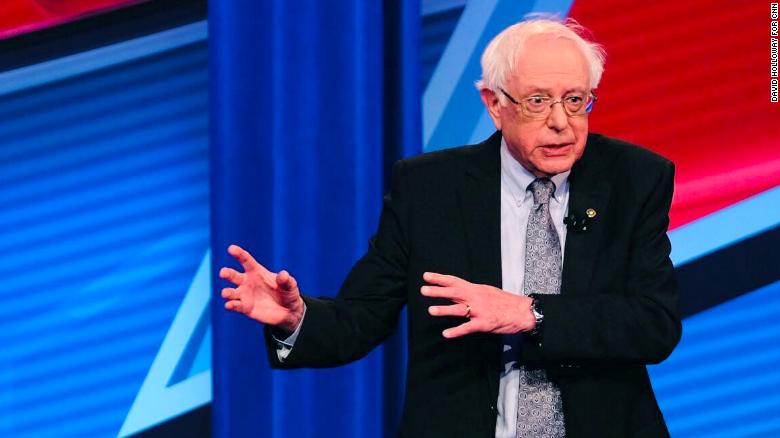 Vermont Sen. Bernie Sanders said he thinks everyone should have the right to vote -- even the Boston marathon bomber.
"This is a democracy and we have got to expand that democracy and I believe every single person does have the right to vote," he said
Asked if sex offenders, the Boston marathon bomber, terrorists and murderers should have the right to vote, Sanders said, "Yes, even for terrible people, because once you start chipping away and you say, 'Well, that guy committed a terrible crime, not going to let him vote. Well, that person did that. Not going to let that person vote,' you're running down a slippery slope."
He went on to say:
"So I believe people commit crimes and they paid the price and they have the right to vote. I believe even if they're in jail they're paying their price to society but that should not take away their inherent American right to participate in our democracy."
9:02 p.m. ET, April 22, 2019
Bernie Sanders is up now. Here's where he stands on key issues.
Sen. Bernie Sanders, who is taking the stage in New Hampshire now, gained strong grassroots support during his 2016 anti-establishment bid for president. We expect to see the some of the progressive stances in his campaign this time around. 
Here's where he stands on a few key issues:
Health care: Sanders introduce a new Medicare for All proposal that would cover more long-term care services. He wants to create a federal universal health insurance program that would cover medically necessary services, prescription drugs, dental and vision services. Premiums, deductibles and co-pays would disappear, except for a potential $200 co-pay for brand-name drugs.
Taxes and wealth inequality: He wants raise taxes on people making more than $250,000 to  extend the health of Social Security by 52 years. He also wants to expand the federal estate tax on the wealthiest 0.2% of Americans, imposing a top rate of 77% on estates worth more than $1 billion.
Education: Free college was one of Sanders' most recognized talking points in the 2016 campaign. One proposal would provide states with $47 billion per year to cover two-thirds of the cost of tuition for students at public colleges and universities.
Climate change: Sanders, along with several other candidates for President in 2020, is a cosponsor of the Green New Deal proposal, a loose framework for a sweeping climate change and economic overhaul. 
Foreign policy: Last year, he won bipartisan support in calling for an end to military support for the Saudi-led offensive in Yemen.
You can watch his town hall in the video player above.
9:18 p.m. ET, April 22, 2019
Does Warren's impeachment call threaten to overshadow her policy agenda?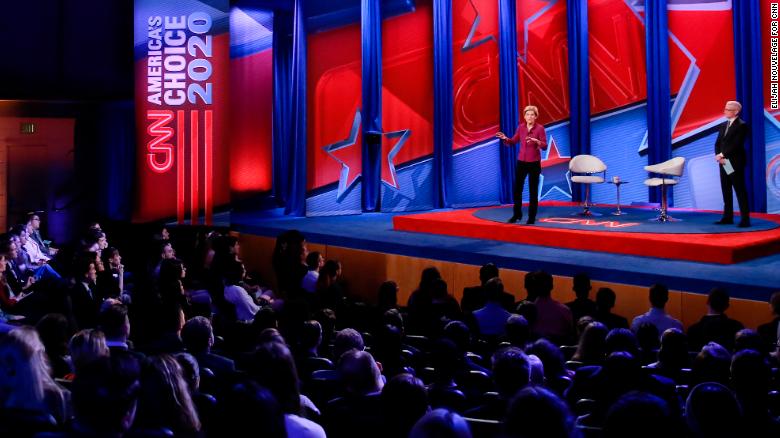 Sen. Elizabeth Warren has put forth more substantive policy proposals than most of her Democratic rivals combined, showing over and over that she knows exactly what she wants to do if elected president. Her liberal economic view – agree or disagree – is consistent and clear. 
"It's my life's work," she said Monday night, to an audience of young voters in New Hampshire.
This is precisely why her sudden call for the impeachment of President Donald Trump raises suspicious alarm bells. Not only is Warren at odds with House Speaker Nancy Pelosi and most other Democratic presidential candidates, who prefer the party focus on pocketbook issues for the next 18 months, she's also at odds with her own argument.
"This is not about politics. This is about principle," Warren said, explaining her rationale to call for impeachment in the wake of special counsel Robert Mueller's report. "This is about what kind of a democracy we have."
Yet that answer likely won't satisfy skeptics who may wonder whether her call for impeachment is an attempt to fire up the liberal, anti-Trump voters, as she works to jumpstart her languishing candidacy.
It's yet to be seen how much time Warren will devote to the topic of impeachment in the coming months. On Monda, she didn't dwell on it. But the more she discusses it, the less attention her economic policies will receive.
When asked whether she could take on Trump, she declared: "We're not going to win by doing better name-calling than he does."
"The way we're going to do this," she added, "is we're going to go out and talk about our vision and how it affects families all across this country, how it touches people personally."
The question is whether impeachment of Trump fits that bill or simply muddies the waters from one of the clearest agendas in the Democratic field.
9:12 p.m. ET, April 22, 2019
Warren doesn't answer question on differences with Obama
Sen. Elizabeth Warren did not answer a question asked by a college student on Monday about how she would approach the presidency differently than President Barack Obama, should she win the office.
Instead of noting some of her differences – which she has done in the past on economic issues – the Massachusetts Democrat noted her admiration for Obama, not coming anywhere near answering the question.
"I'm going to take it in a little bit different direction if I can," Warren said before detailing the facts around the 2008 financial crisis.
"I got in the fight," Warren said of the push for the Consumer Financial Protection Bureau. "President Obama signed it into law and he was the one who stood there when everyone else said in his administration throw that agency under the bus and he said, 'No, I'm not going to let this crisis pass and not come away with a consumer agency that makes sure that families ever get cheated again.'"
She added: "I'll always be grateful to the President for that."
Warren has previously echoed a frequent liberal criticism of Obama by saying bankers should have been jailed in the aftermath of the 2008 financial crisis, something that did not happen under the Democratic president. Warren did not mention that on Monday.
8:58 p.m. ET, April 22, 2019
Warren was a registered Republican. Here's why she became a Democrat.
Democratic Sen. Elizabeth Warren was a registered Republican, but she said she changed her political affiliation once she saw an eroding middle class under her (now former) party.
In the late mid 1990s, Warren said she was watching what was happening to America's working families and noticed they were in debt.
"I looked around the middle of that fight and I realized all the money was on one side and all the hurting was on the other and that's when I jumped in politically. I got in that fight and I fought it for 10 years, and by the end of that fight I fully understood that every single Republican stood there for the banks and half of the Democrats did. So my party was the party that at least we got half of them to stand up for working people, and that was the big change for me," she said.
8:48 p.m. ET, April 22, 2019
Warren on impeaching Trump: If anyone else did what he did, "they would be arrested and put in jail"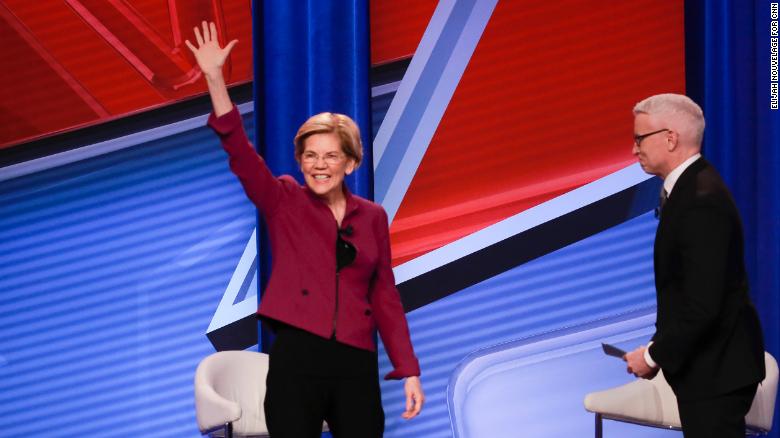 Sen. Elizabeth Warren detailed Monday why she supports impeaching President Donald Trump, arguing "if any other human being in this country had done what's documented in the Mueller report, they would be arrested and put in jail."
Warren argued that special counsel Robert Mueller's report gave Congress a road map for impeaching the President and "serves up" a moment for Congress to begin impeachment proceedings.
"He serves the whole thing up to the United States Congress and says in effect, if there's going to be any accountability, that accountability has to come from the Congress," Warren said. "And the tool that we are given for that accountability is the impeachment process. This is not about politics; this is about principle."
Warren came out in favor of impeaching Trump after reading Mueller's report. She – along with former Housing and Urban Development Secretary Julian Castro – are among the few 2020 Democrats who are in favor of starting impeachment proceedings.
"If you've actually read the Mueller report, it's all laid out there. It's not like it's going to take a long time to figure that out. It's there," Warren said. "It's got the footnotes, it's got the points, it connects directly to the law. But this really is fundamentally -- I took an oath to uphold the Constitution of the United States and so did everybody else in the Senate and in the House."
Warren said she believes each member of the House and Senate should have to vote on whether they are comfortable with what Trump did:
"If there are people in the House or the Senate who want to say that's what a president can do when the president is being investigated for his own wrongdoings or when a foreign government attacks our country, then they should have to take that vote and live with it for the rest of their lives."
8:48 p.m. ET, April 22, 2019
Warren says she won't get "Hillary'd" in 2020, which is what a student called sexist attacks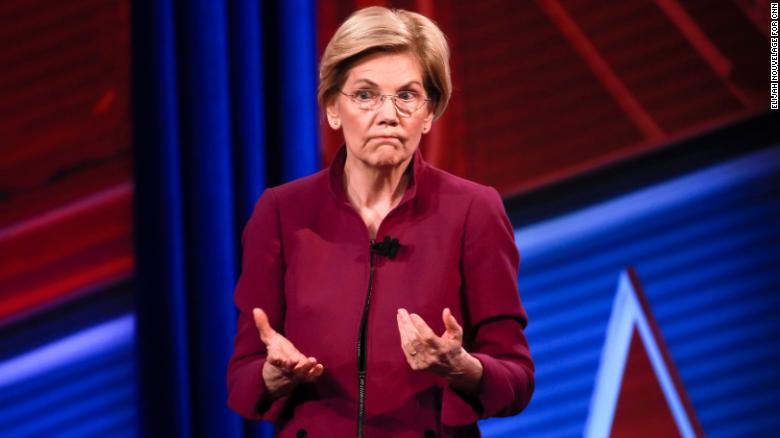 Elizabeth Warren has no intention of being "Hillary'd" in this 2020 presidential primary.
That was the phrase, used as a shorthand by a student asking about sexist attacks, that prompted Warren to recall her successful 2012 campaign to unseat Republican Sen. Scott Brown.
It was a campaign, Warren said, that almost never happened. Democrats were telling her she ought to run, that she'd make a great senator. But most of them were confident Warren would lose, and didn't mind telling her.
"I heard that," Warren remembered on Monday, "as, 'Get in this race, right now.' Which is what I did."
Warren defeated Brown handily, after some controversial early press coverage, continuing an ascent that led her into this 2020 presidential primary -- after being re-elected to the Senate comfortably last year.
The road ahead, Warren continued, looked a lot like what came before.
"So the way I see it," Warren said, "is here we are in a presidential (campaign), and it's the same kind of -- you stay after it every day.
"One might say you persist," she said.
Warren also shared her blueprint.
"Organize, build a grassroots movement, fight for working people," she said. "And that's how I'm going to be the first woman elected President of the United States."