CNN hosts 5 Democratic town halls
9:12 p.m. ET, April 22, 2019
Warren doesn't answer question on differences with Obama
Sen. Elizabeth Warren did not answer a question asked by a college student on Monday about how she would approach the presidency differently than President Barack Obama, should she win the office.
Instead of noting some of her differences – which she has done in the past on economic issues – the Massachusetts Democrat noted her admiration for Obama, not coming anywhere near answering the question.
"I'm going to take it in a little bit different direction if I can," Warren said before detailing the facts around the 2008 financial crisis.
"I got in the fight," Warren said of the push for the Consumer Financial Protection Bureau. "President Obama signed it into law and he was the one who stood there when everyone else said in his administration throw that agency under the bus and he said, 'No, I'm not going to let this crisis pass and not come away with a consumer agency that makes sure that families ever get cheated again.'"
She added: "I'll always be grateful to the President for that."
Warren has previously echoed a frequent liberal criticism of Obama by saying bankers should have been jailed in the aftermath of the 2008 financial crisis, something that did not happen under the Democratic president. Warren did not mention that on Monday.
8:58 p.m. ET, April 22, 2019
Warren was a registered Republican. Here's why she became a Democrat.
Democratic Sen. Elizabeth Warren was a registered Republican, but she said she changed her political affiliation once she saw an eroding middle class under her (now former) party.
In the late mid 1990s, Warren said she was watching what was happening to America's working families and noticed they were in debt.
"I looked around the middle of that fight and I realized all the money was on one side and all the hurting was on the other and that's when I jumped in politically. I got in that fight and I fought it for 10 years, and by the end of that fight I fully understood that every single Republican stood there for the banks and half of the Democrats did. So my party was the party that at least we got half of them to stand up for working people, and that was the big change for me," she said.
8:48 p.m. ET, April 22, 2019
Warren on impeaching Trump: If anyone else did what he did, "they would be arrested and put in jail"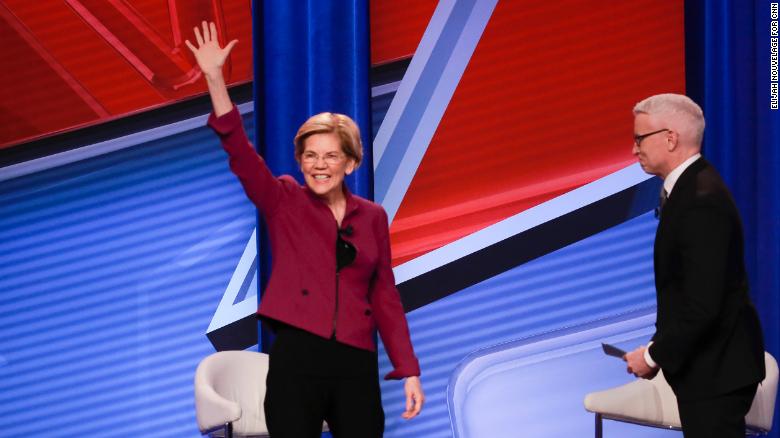 Sen. Elizabeth Warren detailed Monday why she supports impeaching President Donald Trump, arguing "if any other human being in this country had done what's documented in the Mueller report, they would be arrested and put in jail."
Warren argued that special counsel Robert Mueller's report gave Congress a road map for impeaching the President and "serves up" a moment for Congress to begin impeachment proceedings.
"He serves the whole thing up to the United States Congress and says in effect, if there's going to be any accountability, that accountability has to come from the Congress," Warren said. "And the tool that we are given for that accountability is the impeachment process. This is not about politics; this is about principle."
Warren came out in favor of impeaching Trump after reading Mueller's report. She – along with former Housing and Urban Development Secretary Julian Castro – are among the few 2020 Democrats who are in favor of starting impeachment proceedings.
"If you've actually read the Mueller report, it's all laid out there. It's not like it's going to take a long time to figure that out. It's there," Warren said. "It's got the footnotes, it's got the points, it connects directly to the law. But this really is fundamentally -- I took an oath to uphold the Constitution of the United States and so did everybody else in the Senate and in the House."
Warren said she believes each member of the House and Senate should have to vote on whether they are comfortable with what Trump did:
"If there are people in the House or the Senate who want to say that's what a president can do when the president is being investigated for his own wrongdoings or when a foreign government attacks our country, then they should have to take that vote and live with it for the rest of their lives."
8:48 p.m. ET, April 22, 2019
Warren says she won't get "Hillary'd" in 2020, which is what a student called sexist attacks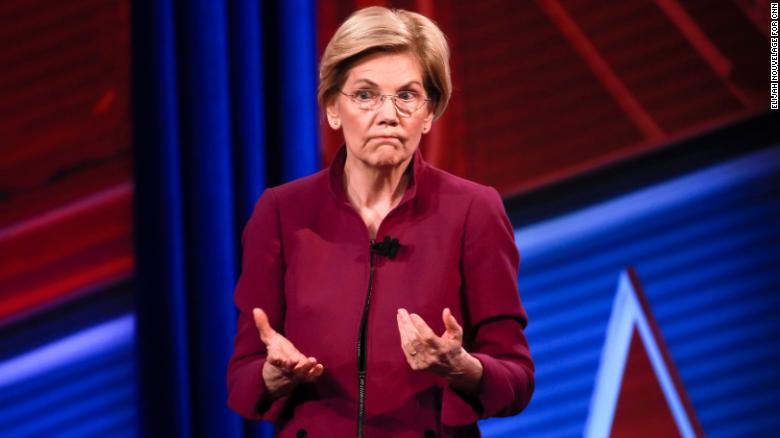 Elizabeth Warren has no intention of being "Hillary'd" in this 2020 presidential primary.
That was the phrase, used as a shorthand by a student asking about sexist attacks, that prompted Warren to recall her successful 2012 campaign to unseat Republican Sen. Scott Brown.
It was a campaign, Warren said, that almost never happened. Democrats were telling her she ought to run, that she'd make a great senator. But most of them were confident Warren would lose, and didn't mind telling her.
"I heard that," Warren remembered on Monday, "as, 'Get in this race, right now.' Which is what I did."
Warren defeated Brown handily, after some controversial early press coverage, continuing an ascent that led her into this 2020 presidential primary -- after being re-elected to the Senate comfortably last year.
The road ahead, Warren continued, looked a lot like what came before.
"So the way I see it," Warren said, "is here we are in a presidential (campaign), and it's the same kind of -- you stay after it every day.
"One might say you persist," she said.
Warren also shared her blueprint.
"Organize, build a grassroots movement, fight for working people," she said. "And that's how I'm going to be the first woman elected President of the United States."
8:34 p.m. ET, April 22, 2019
Warren says she will defend law enforcement by pushing new gun safety laws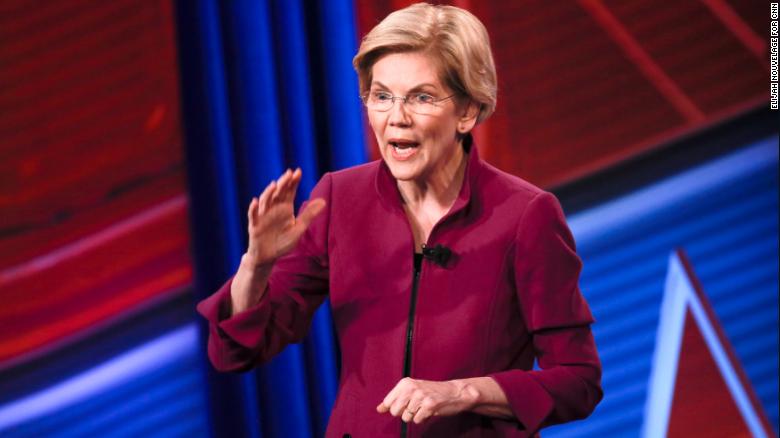 Sen. Elizabeth Warren said Monday that she will defend law enforcement from violence by pushing gun safety laws.
The answer came in response to a question that noted she had been a "vocal critic of state police" and asked, "How can you assure me that you will support legislation that keeps law enforcement safe?"
"One of the main ways that we could help make our police safer is to get serious about gun safety in this country," Warren said, noting that the questioner mentioned the shooting of Sgt. Sean Gannon in November.
"We need universal background checks, we need to take weapons of war off our city streets," Warren said. "Right now, we live in America, where seven children and teenagers will die every single day, where the lives of officers are put at risk. We need, as a country, to step up, to be more responsible, to be willing to push back against the NRA and to put some sensible gun safety laws in place."
8:31 p.m. ET, April 22, 2019
The last thing Warren bought on Amazon was a mailbox
Democratic Sen. Elizabeth Warren wants to break up tech giants like Amazon, Google and Facebook.
The proposal would impose new rules on certain kinds of tech companies with $25 billion or more in annual revenue, forcing Amazon and Google to spin off parts of their companies and relinquish their overwhelming control over online commerce. 
But just because Warren wants to break up big companies, it doesn't mean she doesn't shop with them.
Asked about her last purchase on Amazon, she said it was mailbox.
CNN's Anderson Cooper then asked, "What did they put the mailbox in when they deliver it? 
Warren replied, "It comes in a box. It was a box of mailbox."
8:26 p.m. ET, April 22, 2019
Warren lays out her plan for free college and eliminating student debt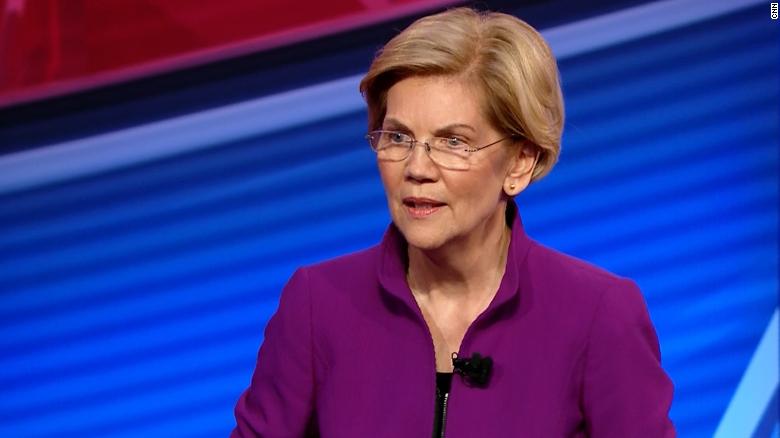 Democratic presidential hopeful Elizabeth Warren opened her town hall by detailing her new plan to eliminate the student loan debts of tens of millions of Americans and making all public colleges tuition-free.
"This is the America we live in now. Basically to get a shot at a middle class life you've got to have some post high school technical training, two-year college, four-year college, maybe graduate school depending on who you are and what you're ending up doing. The position of the federal government has been, good luck to you, you're on your own. The one thing they've done, they have ... lent tens of thousands of dollars to students. It is crushing them," she said.
The proposal has two parts: "Part one is that we say that we're going to roll back student loan debt for about 95% of students who have debt ... And part two is to make sure that we never get in this mess again on student loan debt and that is to make college universally available with free tuition and fees and to put more money into Pell grants so that students of color, so that our poorest students have real access to college and that we put real money into our historically black colleges and universities." Warren's new plan would forgive $50,000 in student loans for Americans in households earning less than $100,000 a year. 
And here's how she plans to make the rich pay for it: Warren said she plans to fund the proposal with "a wealth tax." According to documents provided by Warren's presidential campaign, the plan would impose a 2% tax on Americans whose net worth exceeds $50 million, with an additional 1% levy on billionaires. It does not specifically address marginal tax rates.
8:05 p.m. ET, April 22, 2019
NOW: Elizabeth Warren takes the stage for CNN town hall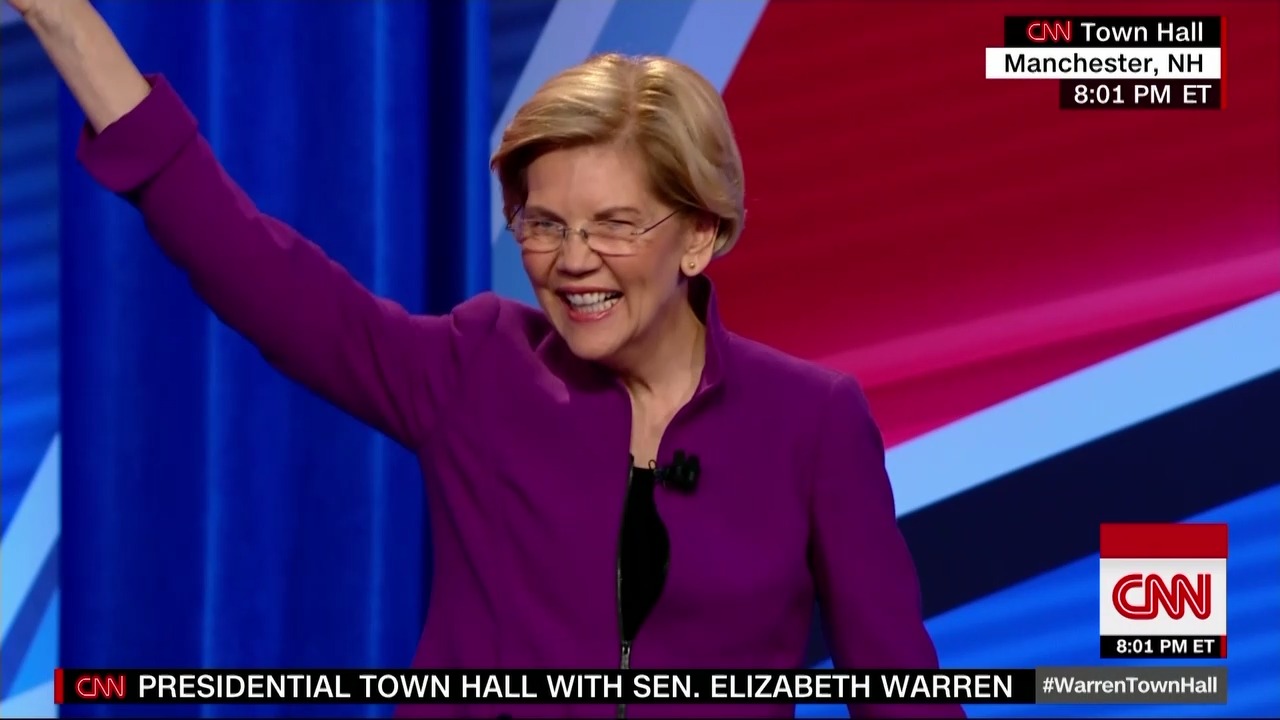 It's time for Sen. Elizabeth Warren's town hall with CNN's Anderson Cooper. Watch it live in the video player above.
7:59 p.m. ET, April 22, 2019
Elizabeth Warren is up now. Here are 4 key proposals from her platform.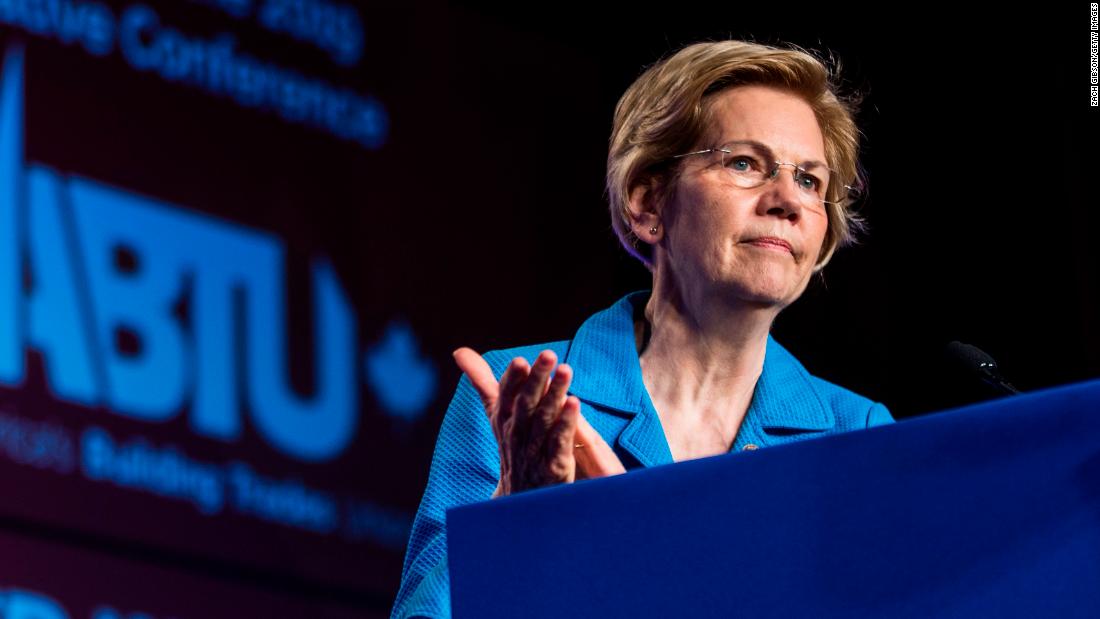 Massachusetts Sen. Elizabeth Warren, who officially launched her 2020 presidential campaign in February, unveiled several major policies this year aimed at dismantling wealthy and powerful interests.
The Democratic presidential candidate put forward far-reaching, progressive proposals, including a plan to tax the wealthiest Americans, break up tech giants and on universal child care.
Here are some of Warren's key proposals:
She takes the stage now.