CNN hosts 5 Democratic town halls
12:01 a.m. ET, April 23, 2019
Pete Buttigieg on Trump: "I think he's made it pretty clear he deserves impeachment"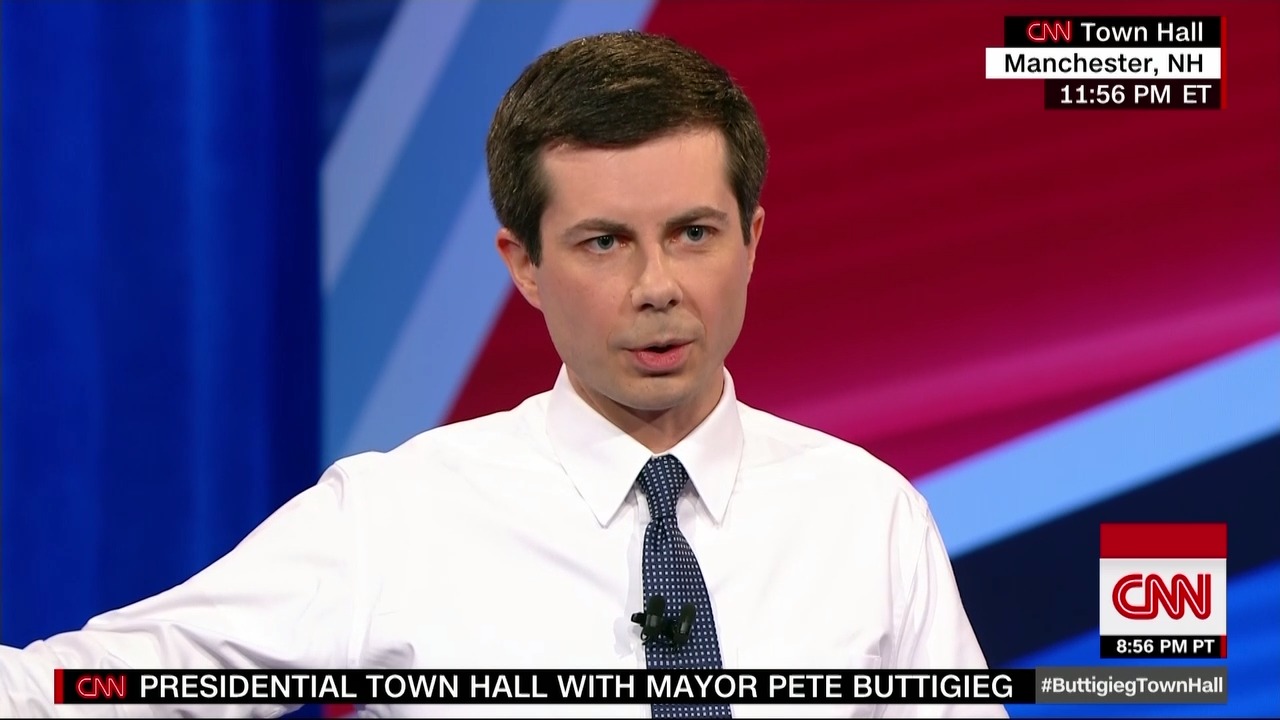 Pete Buttigieg said Monday that he believes President Donald Trump has made it "pretty clear he deserves impeachment," but that he wants to leave it to the House and Senate to determine the next steps in that process.
The comments come after Sen. Elizabeth Warren and former Housing and Urban Development Secretary Julian Castro backed starting impeachment proceedings last week and Sen. Kamala Harris announced on Monday that she, too, supports starting the impeachment process.
For months, Democrats have not made impeachment a premier issue in their pitch to voters. But the release of special counsel Robert Mueller's report has upped the ante on the issue.
"I think he's made it pretty clear he deserves impeachment," Buttigieg said to applause. "I'll leave it to the House and Senate to figure that out because my role in this process is trying to relegate Trumpism to the dustbin of history."
He added: "I think there's no more decisive way to do that, especially to get Republicans to abandon this deal with the devil, than to have just an absolute thumping at the ballot box."
11:58 p.m. ET, April 22, 2019
Buttigieg defends controversial 1,000 home policy, but says "no policy is perfect"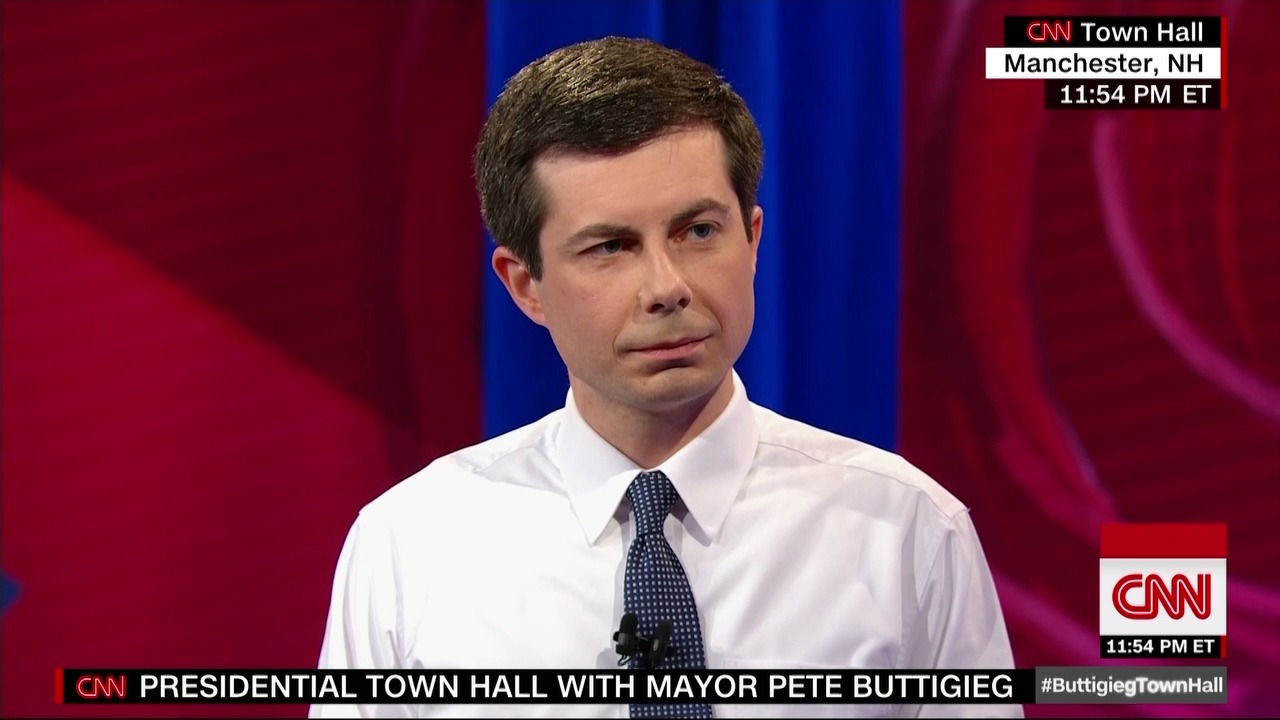 South Bend Mayor Pete Buttigieg defended the plan he pushed as mayor to curb urban blight but acknowledged the "no policy is perfect."
The policy – which hinged on expediting code enforcement in order to demolish 1,000 deteriorating houses in 1,000 days – has been criticized by some for adversely impacting communities of color in South Bend, particularly on the city's west side.
Buttigieg said that he views the policy as a success, and noted that "the number one can complaint we heard, especially from minority and low income home owners in the neighborhood, was what took you so long?"
He added, however: "No policy is perfect and we learned things the hard way on this one."
One of those lessons, he said, was that it was difficult for the government to determine which houses were owned by out of town home owners who had let their property deteriorate and which were owned by local residents who were working to fix up local homes.
Buttigieg said he, over time, his administration learned to be "more accommodating" with home owners.
11:55 p.m. ET, April 22, 2019
Buttigieg says he wouldn't be running for president if hadn't come out
Pete Buttigieg, the mayor of South Bend, Indiana, described how his life would have been if he'd come out sooner.
"I came out because I wanted to date. If dating had been available to me in my 20s I'm not sure I'd have gotten nearly as much done," he said. "The city was a jealous bride and I was fine with that, up to a point."
Buttigieg, who served as a naval officer in Afghanistan, said he came out after he came back from his deployment.
That's when he said he "started thinking about how you only get to live one life."
11:50 p.m. ET, April 22, 2019
Buttigieg on comparing Sanders and Trump: "I regard them as stupendously different in many respects"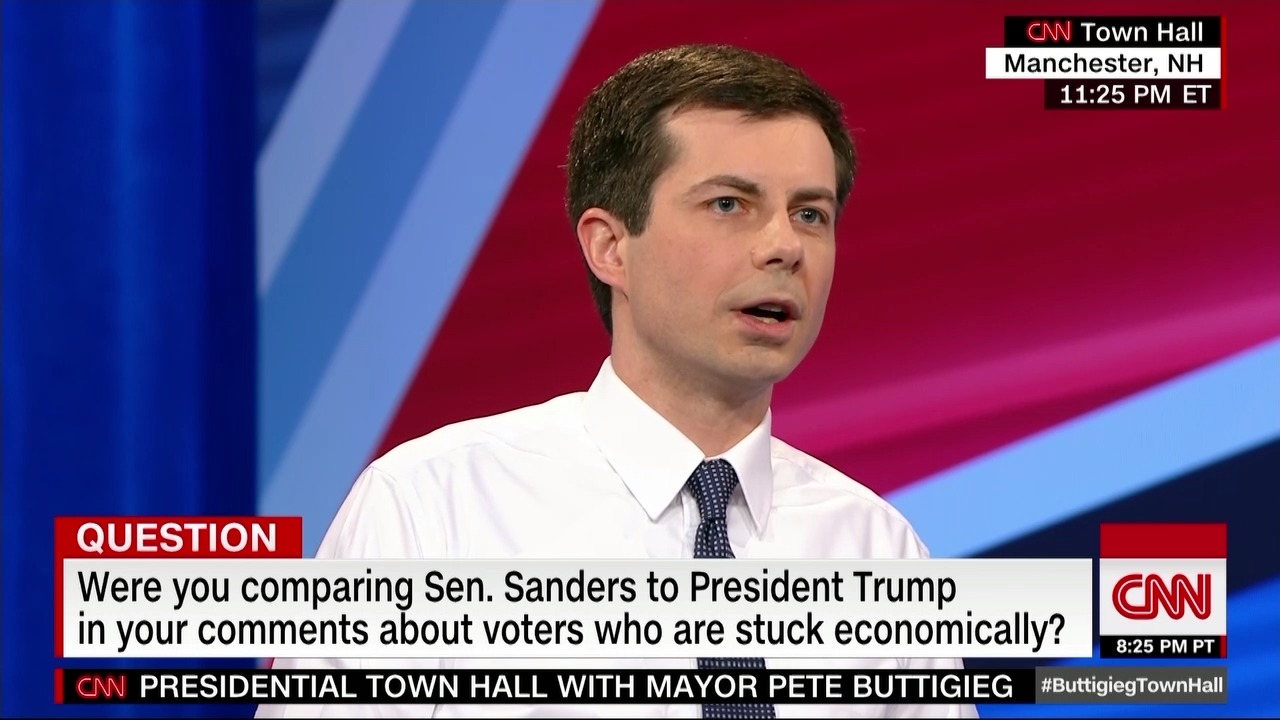 Pete Buttigieg said during his CNN town hall Monday night that he views Bernie Sanders and Donald Trump as "stupendously different in many respects."
The comment came after Buttigieg took heat from Sanders supporters for seemingly suggesting there were similarities between the two camps.
Buttigieg, speaking to an audience in New Hampshire this weekend, said that both Trump and Sanders supporters "want to vote to blow up the system," a fact that could make the two different candidates appealing.
Buttigieg made a similar case on Monday:
"I think it's worth noting there is so much anti-establishment energy and that can find its way in number of very different political directions," Buttigieg said. "But when you think of the number of voters who narrowed down their choices in the last election, either to Bernie Sanders or Donald Trump, it tells you that some of the most important things on voter's minds aren't just are you close to me on a left/right political spectrum but are you going to profoundly changing the system that we are living in."
Buttigieg said that Trump's pledge to change the system was "bull."
Rep. Ro Khanna slammed Buttigieg on Sunday for his comments about Sanders of the weekend.
"Come on @PeteButtigieg," he wrote. "It is intellectually dishonest to compare Bernie to Trump. Bernie is for giving people healthcare, education, childcare, & more pay. He wants to blow up credentialed elitism — those who reject tuition free college for all."
11:43 p.m. ET, April 22, 2019
Buttigieg says incarcerated felons should not be allowed to vote
Democratic presidential candidate Pete Buttigieg said he doesn't think people who are incarcerated should be allowed to vote.
"No," he said. "I do believe that when you are, when you have served your sentence, then part of being restored to society is that you are part of the political life of this nation again and one of the things that needs to be restored is your right to vote."
He went on to say losing the right to vote is part of the punishment when someone is convicted of a crime.
"You lose your freedom and I think during that freedom it does not make sense to have an exception for it the right to vote," Buttigieg said.
Earlier tonight, Vermont Sen. Bernie Sanders, speaking at his town hall, was asked if sex offenders, the Boston marathon bomber, terrorists and murderers should have the right to vote. He said he thinks everyone should have the right to vote.
"Yes, even for terrible people, because once you start chipping away and you say, 'Well, that guy committed a terrible crime, not going to let him vote. Well, that person did that. Not going to let that person vote,' you're running down a slippery slope," Sanders said.
11:45 p.m. ET, April 22, 2019
Why Pete Buttigieg isn't ready to get on board with Elizabeth Warren's student debt relief plan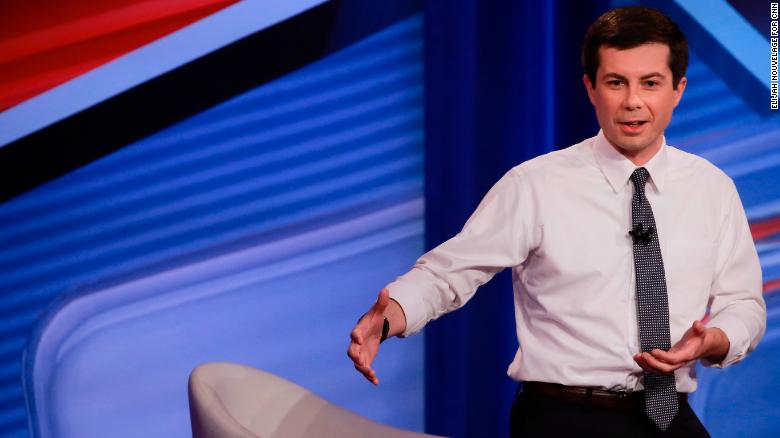 "I still want to do some math around it," the mayor of South Bend, Indiana, told CNN's Anderson Cooper.
Buttigieg said he found the proposal "pretty appealing," but suggested that any major movement on the issue should follow similarly large scale changes to how Americans are taxed.
"I'm not as certain I'm comfortable with people of that high an income participating" in Warren's debt forgiveness plan," he said, "until we have completed the transition to a more progressive tax code."
As CNN's MJ Lee and Katie Lobosco reported earlier today, Warren's new plan would forgive $50,000 in student loans for Americans in households earning less than $100,000 a year.
According to analysis provided by her campaign, that would provide immediate relief to more than 95% of the 45 million Americans with student debt.
The Massachusetts Democrat and 2020 contender is also calling for a drastic increase in federal spending on higher education that would make tuition and fees free for all students at two- and four-year public colleges and expand grants for lower-income and minority students to cover costs like housing, food, books and child care.
The campaign estimates that the plan would cost $1.25 trillion over 10 years.
11:30 p.m. ET, April 22, 2019
Here's what Buttigieg plans to do about immigration reform
Democratic presidential hopeful Pete Buttigieg, the mayor of South Bend, Indiana, says he believes there should be a pathway to citizenship for undocumented immigrants.
"The reality is we can't have comprehensive immigration reform that works unless it addresses the status for those 11 some million undocumented immigrants. So what we need make sure there's a pathway to citizenship for them, too," he said.
Buttigieg then outlined what he said would be in a comprehensive immigration plan, which includes:
A pathway to citizenship for undocumented immigrants in US. 
"A level of protection for dreamers."
"A set of reforms to clear up the bureaucracy and the back logs in the lawful immigration system ..."
"And reasonable measures on border security."
Buttigieg continued: "It's just that we don't have the leadership in Washington to do it. And I'm afraid one of the reasons is we have got a White House that's computed it's better off politically that Americans continue to be divided around it for short-term political gain and that has got to end with a new president."
12:23 a.m. ET, April 23, 2019
Buttigieg explains the lack of a policy section on his website: "I've been pretty clear where I stand"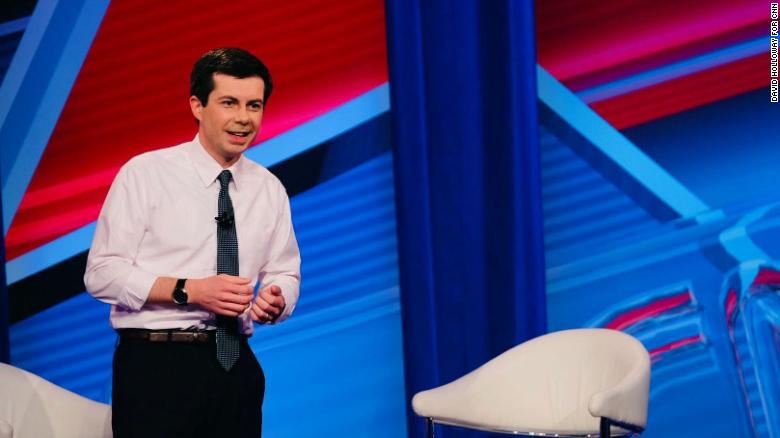 South Bend Mayor Pete Buttigieg defended his campaign website not having a policy section, arguing that he believes policy is important, but Democrats need to do a better job of not drowning voters in "minutia."
Buttigieg's meteoric rise has found his campaign apparatus playing catch up, and one area where that is clear is policy rollout, especially when compared to candidates like Sens. Elizabeth Warren and Bernie Sanders.
"I've been pretty clear where I stand on major issues," Buttigieg said, nodding to the fact that he has talked at length about getting to Medicare for All and reforming democracy.
The mayor also said his campaign will roll out a tool "shortly that will make it possible to just enter a key word and see, visualize, pull all the video on what I've said about that particular issue."
"We'll continue to roll out specific policy proposals, too," he said. "But I also think it's important we don't drown people in minutia before we've vindicated the values that animate our policies. We go right to the policy proposals and we expect people to be able to figure out what our values must be from that."
He added: "I expect it will be very easy to tell where I stand on every policy issues of our time. But I'm going to take time to lay that out, rather than competing strictly on the theoretical elements of the proposals themselves."
Pressed by CNN's Anderson Cooper on the fact that it's hard to compare his policy proposals to others because of the lack of a policy page, Buttigieg said, "We're in the second week of my campaign being official and we'll continue building our website accordingly, too."
11:04 p.m. ET, April 22, 2019
Pete Buttigieg's town hall starts now. Here's what you need to know.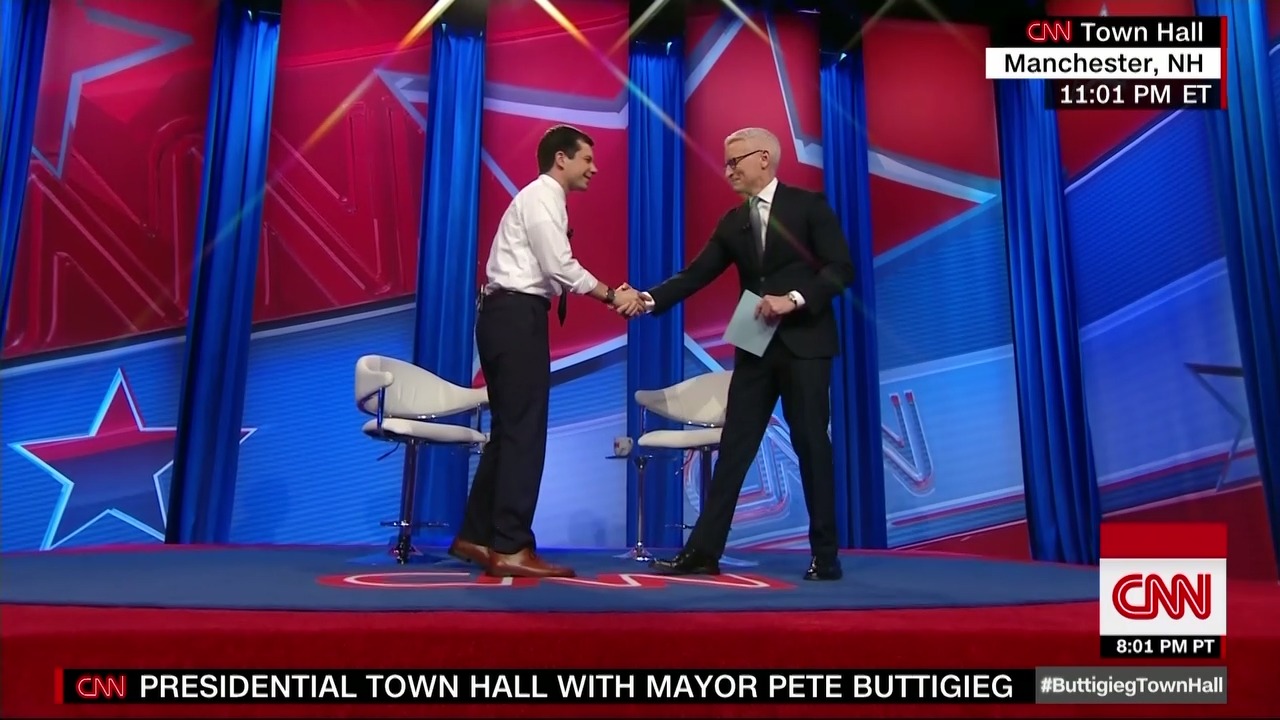 Pete Buttigieg, the mayor of South Bend, Indiana, officially launched his Democratic presidential race last week and was largely unknown over a month ago.
Buttigieg, who served as a naval officer in Afghanistan, would be the youngest and first married gay president if elected. He would also be the first candidate to go from the mayor's office to the presidency.
He's taking the stage now. Here's what we know about him:
Buttigieg oversees a city: He's been mayor of South Bend since January 2012. In December, however, Buttigieg announced he would not seek a third term.
He's the fastest-rising Democratic candidate: A series of polls show Buttigieg's popularity rising among voters, a far cry from when he was receiving less than 1% of support in some polls months ago. 
What he thinks about President Trump: He cast Trump as a backward-looking politician who has looked to use fear as a way to gain power.
How to pronounce Buttigieg's name: Buttigieg can be pronounced "boot-edge-edge," "buddha-judge," "boot-a-judge" or "boo-tuh-judge." Buttigieg's father, Joseph, emigrated to the United States from Malta. Buttigieg roughly translates to "lord of the poultry."
His 2020 platform: The mayor has called for sweeping Democratic reforms on voting and in the judicial system, called climate change "a life and death issue for our generation" and said he wants to make sure every American has access to Medicare.
You can watch Mayor Buttigieg's town hall in the video player above.