CNN hosts 5 Democratic town halls
10:04 p.m. ET, April 22, 2019
Kamala Harris is up now. Here's where she stands on key issues.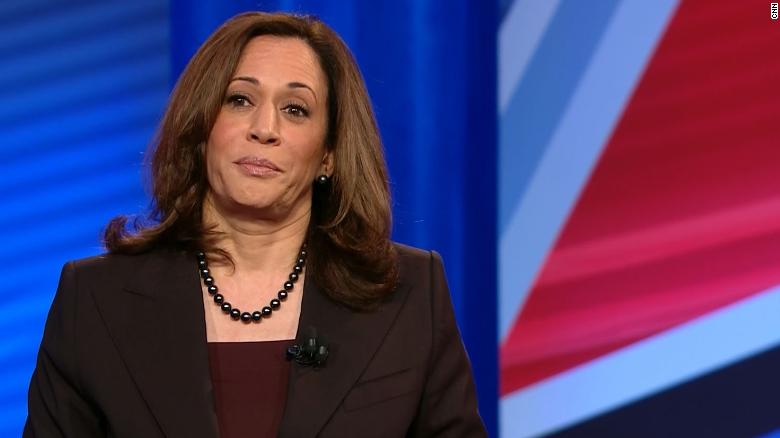 In announcing her run for president, California Sen. Kamala Harris said the time has come to fight against what she views as the injustices of the past two years of the Trump presidency.
The Democratic lawmaker has accused the President of stoking racist and xenophobic rhetoric, while aligning his administration with white supremacists at home, and cozying up to dictators abroad. Harris has argued that the middle class has been ignored.
Harris said she's running for president to lift voices and "bring our voices together."
As she takes the stage in New Hampshire, here's where Harris stands on key issues:
On gun control: She made impassioned calls for banning assault weapons and universal background checks.
On Medicare for All: Harris is open to multiple paths to Medicare-for-all and also cosponsored Vermont Sen. Bernie Sanders' bill, which would phase out for-profit insurers.
On possibility of reparations for the descendants of slaves: Harris told a radio station recently that he idea of reparations should be considered in the face of economic inequality.
On an all-woman ticket: Harris has embraced the idea of choosing a female vice president to create an all-woman ticket in her quest for the White House.
You can watch her town hall live in the video player above.
10:01 p.m. ET, April 22, 2019
Bernie Sanders calls Netanyahu's government "racist"
Sen. Bernie Sanders called Israeli Prime Minister Benjamin Netanyahu's right-wing government "racist" on Monday night, pointing to its treatment of Palestinians.
"I am 100% pro-Israel," Sanders said. "They have every right in the world to exist and to exist in peace and security and not be subjected the terrorist attacks, but the United States needs to deal not just with Israel, but with the Palestinian people as well."
Sanders has been a fierce critic of Netanyahu and American foreign policy in the region, which includes massive financial support for Israel.
"I just believe that the United States should deal with the Middle East on a level-playing-field basis," Sanders said, referring to the stalled peace process. "In other words, the goal must be to try to bring people together and not just support one country, which is now run by a right wing, dare I say, racist government."
"As a young man about your age, I spent a number of months in Israel," he continued, discussing his time volunteering on a kibbutz in the 1960s. "I have family in Israel. I am not anti-Israel but the fact of the matter is that Netanyahu is a right wing politician who I think is treating the Palestinian people extremely unfairly."
Sanders, who is Jewish, has repeatedly come to the defense of Rep. Ilhan Omar, who has questioned American politicians' close relations with Israel and pro-Israel American lobbyists. Omar's comments, which have included the use of anti-Semitic tropes, have set off fierce criticism from both Republicans and Democrats. Sanders last week denied that Omar was anti-Semitic herself, but also said that the freshman congresswoman, one of the first Muslim women elected to Congress, "has got to do maybe a better job in speaking to the Jewish community."
9:48 p.m. ET, April 22, 2019
Bernie Sanders says he worries focus on impeachment would benefit Trump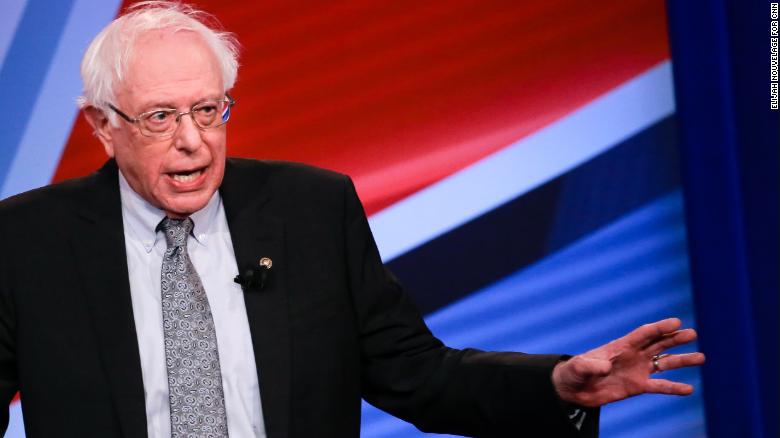 Vermont Sen. Bernie Sanders argued Monday that the best way to oust President Donald Trump was by defeating him at the ballot box in 2020, not impeaching him before then.
The answer was notably different to the one Massachusetts Sen. Elizabeth Warren gave just minutes earlier, when she delivered a lengthy answer in favor of impeaching the President.
"Here is my concern: At the end of the day, what is most important to me is to see that Donald Trump is not re-elected President and I intend to do everything I can to make sure that that doesn't happen," Sanders said.
He added: "But if for the next year all the Congress is talking about is 'Trump, Trump, Trump,' and 'Mueller, Mueller, Mueller' and we're not talking about health care and raising the minimum wage to a living wage and we're not talking about climate change and sexism and racism and homophobia and the issues that concern ordinary Americans, I worry that works to Trump's advantage."
While most voters at Democratic town halls don't ask about impeachment, the issue has risen to national prominence following the release of special counsel Robert Mueller's report and the fact that Warren and former Housing and Urban Development Secretary Julian Castro have backed impeachment proceedings.
"I think there has to be a thorough investigation," he said. "The House Democrats will do it. I'd appreciate if my Republican colleagues in the Senate had the guts to do it as well, but I won't hold my breath. I want to see that we'll see where it goes but right now, you know, that's it."
9:37 p.m. ET, April 22, 2019
Bernie Sanders: I've changed... on foreign policy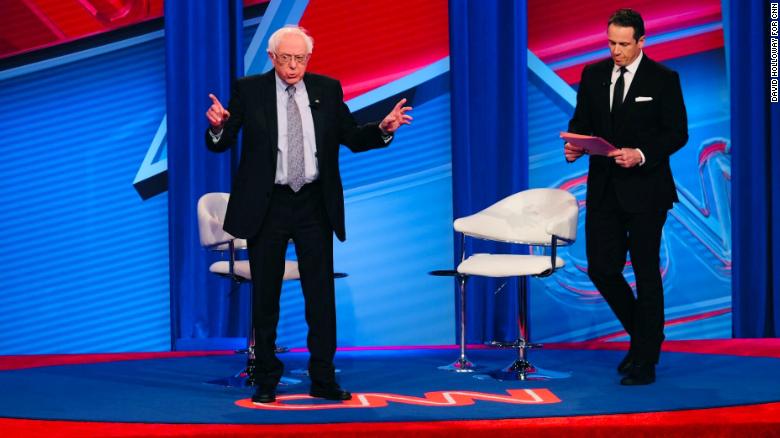 Bernie Sanders talks a lot on the campaign trail about the consistency of his positions over decades in political life.
But on Monday night, the Vermont senator conceded that past criticism of his foreign policy ideas -- or the lack thereof -- were fair and that he's been working to develop a more comprehensive worldview.
"I was rightfully criticized the last time around because I didn't pay as much attention as I might," Sanders said.
"The economy issues, whether people have health care and whether they have decent paying jobs and deal with climate change is enormously important, but we have to look at the United States's role in the world as well."
That brought him to the subject of Yemen and the recent passage -- and subsequent presidential veto -- of the War Powers Act, a bipartisan effort led by Sanders in partnership with GOP Utah Sen. Mike Lee.
"Probably a few years ago, I would not have been as involved as I have recently been in demanding and helping in the Senate to pass a resolution to get the United States out of the Saudi-led intervention in Yemen," Sanders said.
"Sadly, tragically, Trump vetoed it. But to answer your question," Sanders added, he had been thinking "more about foreign policy issues than I previously did."
11:35 p.m. ET, April 22, 2019
Sanders says the right to vote should be extended "even for terrible people"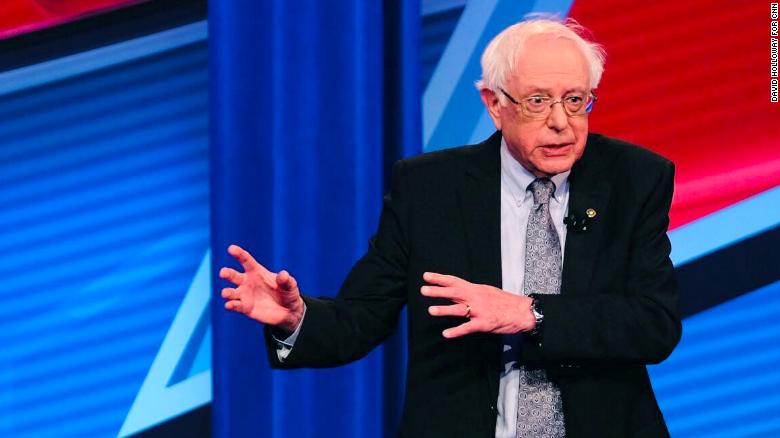 Vermont Sen. Bernie Sanders said he thinks everyone should have the right to vote -- even the Boston marathon bomber.
"This is a democracy and we have got to expand that democracy and I believe every single person does have the right to vote," he said
Asked if sex offenders, the Boston marathon bomber, terrorists and murderers should have the right to vote, Sanders said, "Yes, even for terrible people, because once you start chipping away and you say, 'Well, that guy committed a terrible crime, not going to let him vote. Well, that person did that. Not going to let that person vote,' you're running down a slippery slope."
He went on to say:
"So I believe people commit crimes and they paid the price and they have the right to vote. I believe even if they're in jail they're paying their price to society but that should not take away their inherent American right to participate in our democracy."
9:02 p.m. ET, April 22, 2019
Bernie Sanders is up now. Here's where he stands on key issues.
Sen. Bernie Sanders, who is taking the stage in New Hampshire now, gained strong grassroots support during his 2016 anti-establishment bid for president. We expect to see the some of the progressive stances in his campaign this time around. 
Here's where he stands on a few key issues:
Health care: Sanders introduce a new Medicare for All proposal that would cover more long-term care services. He wants to create a federal universal health insurance program that would cover medically necessary services, prescription drugs, dental and vision services. Premiums, deductibles and co-pays would disappear, except for a potential $200 co-pay for brand-name drugs.
Taxes and wealth inequality: He wants raise taxes on people making more than $250,000 to  extend the health of Social Security by 52 years. He also wants to expand the federal estate tax on the wealthiest 0.2% of Americans, imposing a top rate of 77% on estates worth more than $1 billion.
Education: Free college was one of Sanders' most recognized talking points in the 2016 campaign. One proposal would provide states with $47 billion per year to cover two-thirds of the cost of tuition for students at public colleges and universities.
Climate change: Sanders, along with several other candidates for President in 2020, is a cosponsor of the Green New Deal proposal, a loose framework for a sweeping climate change and economic overhaul. 
Foreign policy: Last year, he won bipartisan support in calling for an end to military support for the Saudi-led offensive in Yemen.
You can watch his town hall in the video player above.
9:18 p.m. ET, April 22, 2019
Does Warren's impeachment call threaten to overshadow her policy agenda?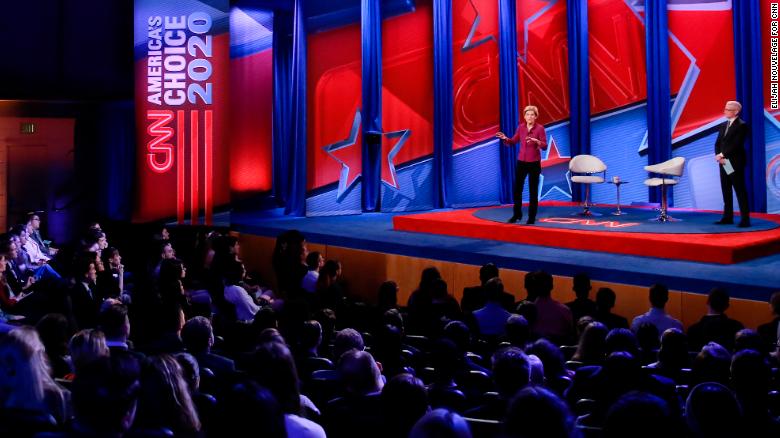 Sen. Elizabeth Warren has put forth more substantive policy proposals than most of her Democratic rivals combined, showing over and over that she knows exactly what she wants to do if elected president. Her liberal economic view – agree or disagree – is consistent and clear. 
"It's my life's work," she said Monday night, to an audience of young voters in New Hampshire.
This is precisely why her sudden call for the impeachment of President Donald Trump raises suspicious alarm bells. Not only is Warren at odds with House Speaker Nancy Pelosi and most other Democratic presidential candidates, who prefer the party focus on pocketbook issues for the next 18 months, she's also at odds with her own argument.
"This is not about politics. This is about principle," Warren said, explaining her rationale to call for impeachment in the wake of special counsel Robert Mueller's report. "This is about what kind of a democracy we have."
Yet that answer likely won't satisfy skeptics who may wonder whether her call for impeachment is an attempt to fire up the liberal, anti-Trump voters, as she works to jumpstart her languishing candidacy.
It's yet to be seen how much time Warren will devote to the topic of impeachment in the coming months. On Monda, she didn't dwell on it. But the more she discusses it, the less attention her economic policies will receive.
When asked whether she could take on Trump, she declared: "We're not going to win by doing better name-calling than he does."
"The way we're going to do this," she added, "is we're going to go out and talk about our vision and how it affects families all across this country, how it touches people personally."
The question is whether impeachment of Trump fits that bill or simply muddies the waters from one of the clearest agendas in the Democratic field.