CNN hosts 5 Democratic town halls
8:34 p.m. ET, April 22, 2019
Warren says she will defend law enforcement by pushing new gun safety laws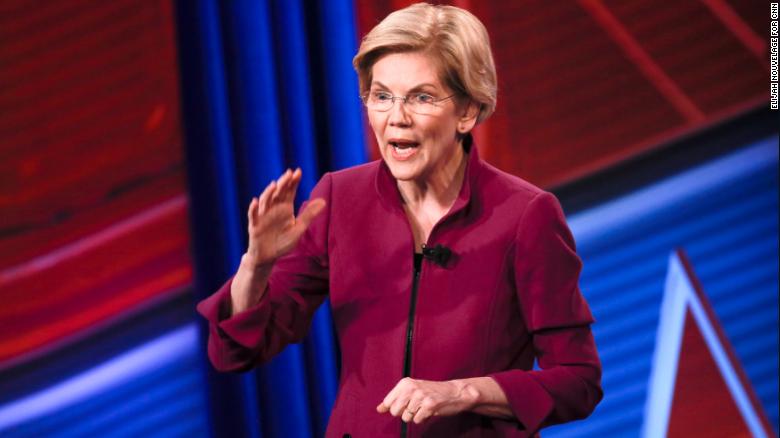 Sen. Elizabeth Warren said Monday that she will defend law enforcement from violence by pushing gun safety laws.
The answer came in response to a question that noted she had been a "vocal critic of state police" and asked, "How can you assure me that you will support legislation that keeps law enforcement safe?"
"One of the main ways that we could help make our police safer is to get serious about gun safety in this country," Warren said, noting that the questioner mentioned the shooting of Sgt. Sean Gannon in November.
"We need universal background checks, we need to take weapons of war off our city streets," Warren said. "Right now, we live in America, where seven children and teenagers will die every single day, where the lives of officers are put at risk. We need, as a country, to step up, to be more responsible, to be willing to push back against the NRA and to put some sensible gun safety laws in place."
8:31 p.m. ET, April 22, 2019
The last thing Warren bought on Amazon was a mailbox
Democratic Sen. Elizabeth Warren wants to break up tech giants like Amazon, Google and Facebook.
The proposal would impose new rules on certain kinds of tech companies with $25 billion or more in annual revenue, forcing Amazon and Google to spin off parts of their companies and relinquish their overwhelming control over online commerce. 
But just because Warren wants to break up big companies, it doesn't mean she doesn't shop with them.
Asked about her last purchase on Amazon, she said it was mailbox.
CNN's Anderson Cooper then asked, "What did they put the mailbox in when they deliver it? 
Warren replied, "It comes in a box. It was a box of mailbox."
8:26 p.m. ET, April 22, 2019
Warren lays out her plan for free college and eliminating student debt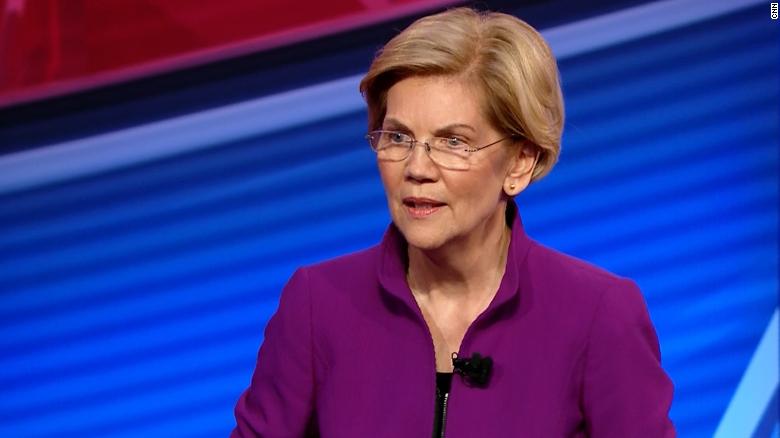 Democratic presidential hopeful Elizabeth Warren opened her town hall by detailing her new plan to eliminate the student loan debts of tens of millions of Americans and making all public colleges tuition-free.
"This is the America we live in now. Basically to get a shot at a middle class life you've got to have some post high school technical training, two-year college, four-year college, maybe graduate school depending on who you are and what you're ending up doing. The position of the federal government has been, good luck to you, you're on your own. The one thing they've done, they have ... lent tens of thousands of dollars to students. It is crushing them," she said.
The proposal has two parts: "Part one is that we say that we're going to roll back student loan debt for about 95% of students who have debt ... And part two is to make sure that we never get in this mess again on student loan debt and that is to make college universally available with free tuition and fees and to put more money into Pell grants so that students of color, so that our poorest students have real access to college and that we put real money into our historically black colleges and universities." Warren's new plan would forgive $50,000 in student loans for Americans in households earning less than $100,000 a year. 
And here's how she plans to make the rich pay for it: Warren said she plans to fund the proposal with "a wealth tax." According to documents provided by Warren's presidential campaign, the plan would impose a 2% tax on Americans whose net worth exceeds $50 million, with an additional 1% levy on billionaires. It does not specifically address marginal tax rates.
8:05 p.m. ET, April 22, 2019
NOW: Elizabeth Warren takes the stage for CNN town hall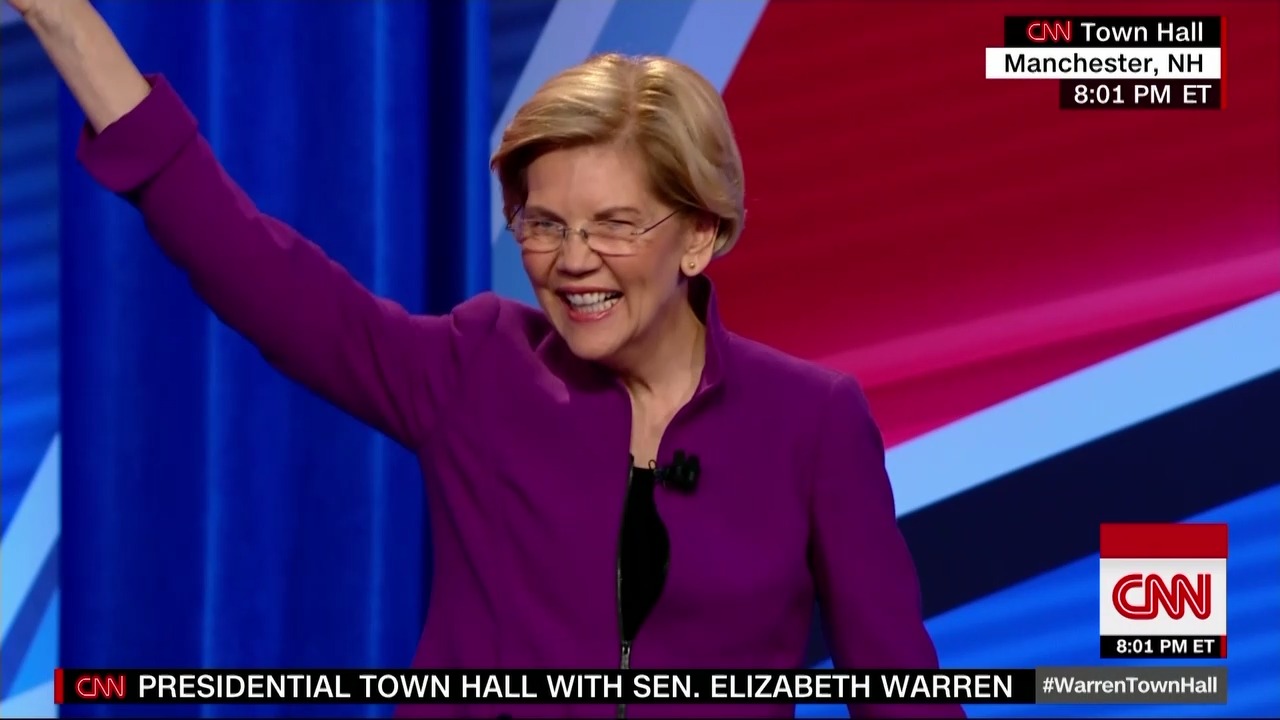 It's time for Sen. Elizabeth Warren's town hall with CNN's Anderson Cooper. Watch it live in the video player above.
7:59 p.m. ET, April 22, 2019
Elizabeth Warren is up now. Here are 4 key proposals from her platform.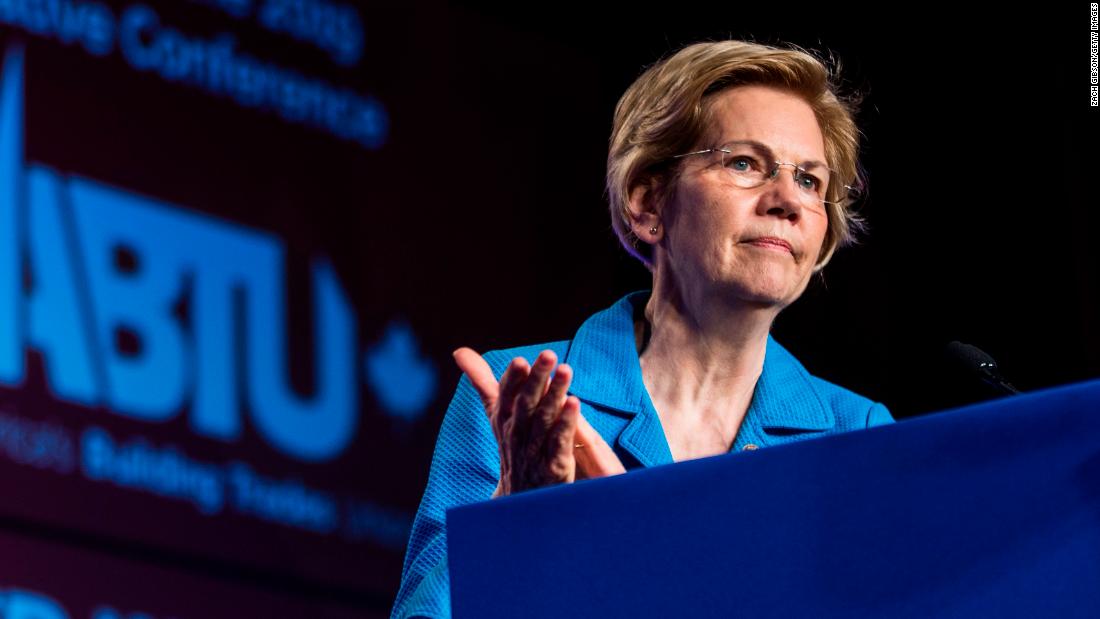 Massachusetts Sen. Elizabeth Warren, who officially launched her 2020 presidential campaign in February, unveiled several major policies this year aimed at dismantling wealthy and powerful interests.
The Democratic presidential candidate put forward far-reaching, progressive proposals, including a plan to tax the wealthiest Americans, break up tech giants and on universal child care.
Here are some of Warren's key proposals:
She takes the stage now.
8:32 p.m. ET, April 22, 2019
Searching for her moment, Klobuchar again pushes pragmatism over promises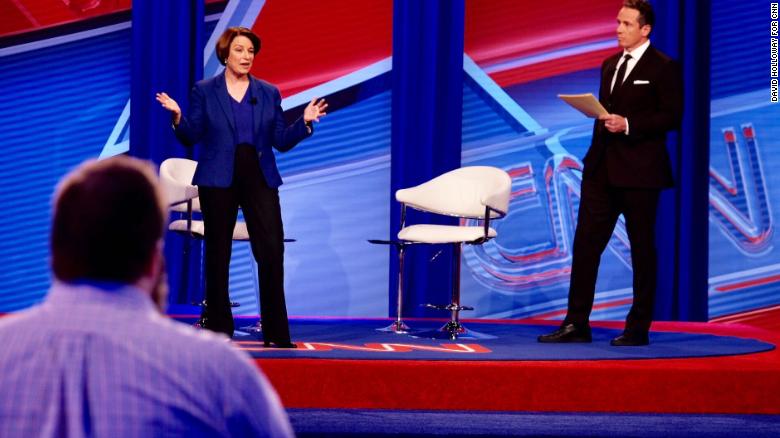 Sen. Amy Klobuchar capped a strong performance tonight with a rousing and forceful closing message, telling students in the audience: "This is your moment."
The question is when it will be Klobuchar's moment.
It's been two months since she stood on the stage of St. Anselm College at her first CNN town hall in February. Since then, she has grown as a candidate. She weaves in anecdotes and policy positions with ease, showcasing a depth and breadth of knowledge that rivals any of her fellow Democratic candidates.
Yet one aspect of her candidacy has remained the same. She is still willing to say one word that often goes unspoken by presidential candidates: No.
Free college and forgiving student loans is the latest hot topic in the Democratic primary fight. Klobuchar didn't overpromise, continuing a balancing act between pragmatism and purity that has been at the heart of her campaign from the start. 
"I wish I could staple a free college diploma under every one of your chairs. I do. Don't look. It's not there," she said. "I wish I could do that, but I have to be straight with you and tell you the truth."
The question facing Klobuchar is whether the truth -- or a campaign with remarkably minimal pandering -- will help deliver a breakout moment for her candidacy or simply keep her in a steady spot near the middle of a still-growing field.
8:08 p.m. ET, April 22, 2019
Klobuchar says Brett Kavanaugh showed how not to act in public life
Minnesota Sen. Amy Klobuchar, who had a much talked about confrontation with Brett Kavanaugh during his Supreme Court confirmation hearing, said that the justice showed during that contentious session how not to act in public life.
Asked on Monday in New Hampshire what she would tell women who want to get into public life, the Minnesota Democrat pivoted to her run-in with Kavanaugh, who faced accusations of sexual misconduct while under the influence of alcohol ahead of his confirmation hearing (when Klobuchar asked about Kavanaugh's drinking, the Republican nominee turned it on the Democrat and asked if she had ever blacked out.)
"I think you saw at that moment… that you can be strong and firm but you don't have to go down and act like he did to be in public service in this country," Klobuchar said.
The moment in the confirmation hearing was particularly noteworthy because Klobuchar's father struggled with alcoholism throughout his life. Kavanaugh later publicly apologized to the senator.
"When you have alcoholism in your family, you don't mess around with stuff like that," Klobuchar said of the exchange.
8:01 p.m. ET, April 22, 2019
Klobuchar: "Climate change isn't happening 100 years from now. It's happening right now."
Sen. Amy Klobuchar argued on Monday that the Green New Deal is not just an issue for urban voters along the coasts, but an issue that directly impacts rural voters.
Klobuchar supports the Green New Deal and said on Monday that the legislation provides needed goals to the political and economic community in the United States.
But when asked by a student who grew up in a rural community why her neighbors should believe in the Green New Deal, Klobuchar bluntly said: "I say look at what's in front of you."
"Climate change isn't happening 100 years from now," Klobuchar said. "It's happening right now."
"For too long we've been talking about it on more of a coastal issue, which is true," she said. "But let's talk about the middle of the country where we need to political support. And I personally think someone from the heartland could do a good job of that."
Klobuchar said a future racked by climate change in the heartland would include floods in Iowa, Nebraska and Missouri and fires in California, Colorado and Arizona.
"Guess what, it's you guys, not me," Klobuchar said who would inherit the issues around climate change. "It's my daughter and you guys that are going to be inheriting this Earth and that's why we need you on the front line, all right?"
8:10 p.m. ET, April 22, 2019
Here's why Klobuchar says she's so passionate about substance abuse issues
Democratic Sen. Amy Klobuchar explained why she's made substance abuse issues a priority in her political career.
"So in my case, when I was growing up my dad had a big drinking problem," she said.
Her 91-year-old father, who was a distinguished journalist, struggled with alcohol abuse, Klobuchar said.
She described how she and her sister "talked about how it had hurt my life and my sister's life, how we would wait for him to come home all the time, how we would vanish sometimes and be gone, and what it meant to be growing up with that."
Klobuchar said her father's life changed for the better because the government pushed her father into treatment.
She then explained why it motivates her:
"So if you asked to understand what motivates me sometimes and why I can believe in tough love and why I believe you have to set expectations and standards for yourself and the people around you and why I believe that everyone has that same right to have that life that my dad eventually had, it's because of my own life experience, and I think it's so important as you guys think about if you want to go into public service to have people come from all kinds of different backgrounds," she said.
Klobuchar has written extensively about her father's alcoholism, including in her 2015 memoir and in a 2010 profile with Elle magazine.
"He had two DWIs when I was in junior high and it was on the front page of the paper," she told Elle. "Some kid used a key and carved drunk on my locker."
She also recalled that after she watched her father struggle to put a diaper on her younger sister, a young Klobuchar wrote this note to her mother: "I think something's rong (sic). Can you please check when you get home? I didn't want to hurt his feels."