CNN hosts 5 Democratic town halls
7:33 p.m. ET, April 22, 2019
Klobuchar questions politicians promising free college: "I have to… tell you the truth"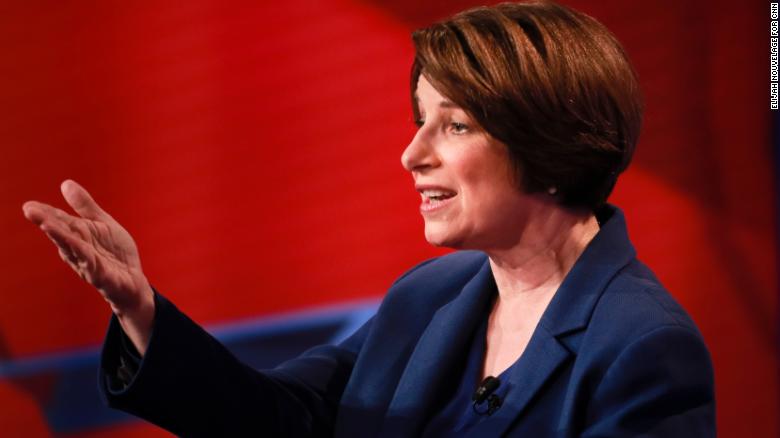 Sen. Amy Klobuchar told an audience of college students on Monday that she wants to combat the price of a college education, but suggested that those politicians promising free college tuition and college debt forgiveness – including a number of her 2020 Democratic opponents – are not being honest.
"I wish I could staple a free college diploma under every one of your chairs. I do. Don't look. It's not there," she told the audience in New Hampshire. "I wish I could do that, but I have to be straight with you and tell you the truth."
Klobuchar's comments draw a stark divide between the Minnesota Democrat and candidates like Massachusetts Sen. Elizabeth Warren, who on Monday rolled out a plan to eliminate the student loan debts of tens of millions of Americans and make all public colleges tuition-free.
When a student asked Klobuchar why he should vote for her despite the fact she does not want to forgive his student loans, the senator responded, "Because I actually want to get something done when it comes to student loans."
College tuition is one of most frequent topics of conversation as Democratic town halls on the 2020 campaign trail. Vermont Sen. Bernie Sanders supported tuition free college during his 2016 run and has pushed the same plan in his repeat bid.
Klobuchar said that she would, instead, allow graduates to refinance their student loan debt, expand Pell Grant programs and bring back a Democratic plan to make community college free.
"Everything that I have proposed to you," Klobuchar said, "I have found ways to pay for it that I think makes sense that we can actually get done."
7:28 p.m. ET, April 22, 2019
Klobuchar: "There is racism in our criminal justice system"
Sen. Amy Klobuchar, a former prosecutor, acknowledged Monday night that the there is "racism in our criminal justice system."
Asked what she would do to reform it, Klobuchar said she wanted to replicate some of the steps -- like running old convictions through the Innocence Project -- she took during her time as a district attorney in Minnesota.
"There is racism in our criminal justice system," she told an audience in New Hampshire, "and we must pledge to fix it."
Klobuchar also pushed for taking recent legislation further, saying the First Step Act -- which addressed some nonviolent drug sentences -- was just that, a start down the road to a broader review of those past convictions.
She also touted her plans for a clemency board, which would work outside the current system, to look into potential pardons.
7:29 p.m. ET, April 22, 2019
Klobuchar non-committal on impeaching Trump: "I'm not going to predispose things"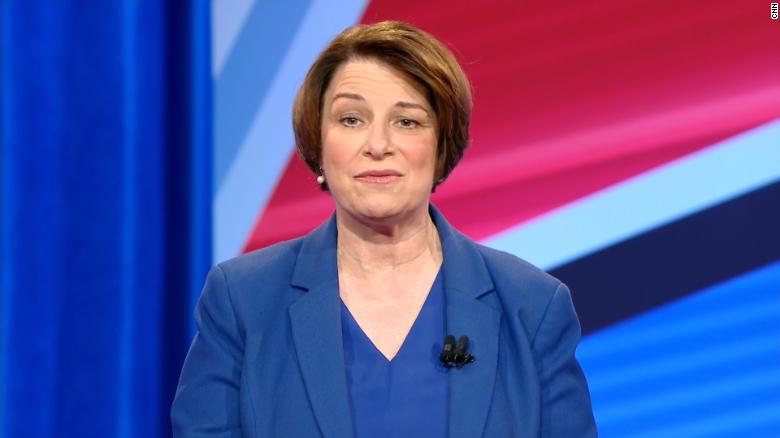 Democratic presidential candidate Sen. Amy Klobuchar was noncommittal about whether President Donald Trump should be impeached for what is detailed in special counsel Robert Mueller's report, telling an audience in New Hampshire that she doesn't want to "predispose things."
Klobuchar also pushed the decision on impeaching Trump to her colleagues in the House, noting that it is their decision.
"The impeachment proceedings are up to the House. They're going to have to make that decision. I am in the Senate," Klobuchar said, adding that she "believe(s) very strongly that President Trump should be held accountable."
Klobuchar added: "I believe, first of all, we need to have hearings in both the House and the Senate and not just with Attorney General Barr. We need to bring Director Mueller before the United States Senate because otherwise we are never going to get to the bottom of it."
Klobuchar's comments come days after Sen. Elizabeth Warren and former Housing and Urban Development Secretary Julian Castro came out in favor of beginning impeachment hearings.
Klobuchar made clear she believed that is a decision for the House to make and declined to say whether she believed the President should be impeached.
"I believe I'm the jury here, so I'm not going to predispose things," she said. "I'm not going to say whether it is or isn't."
7:04 p.m. ET, April 22, 2019
NOW: Amy Klobuchar takes the stage at CNN town hall
Sen. Amy Klobuchar just took the stage for her town hall.
Watch it live in the video player above (refresh this page if you don't see it).
10:13 p.m. ET, April 22, 2019
In the Green Room with Amy Klobuchar
Democratic presidential hopeful Amy Klobuchar just chatted with CNN and answered a few questions before tonight's town hall.
We asked her five simple questions so voters can get to know her better.
Here's what she said:
CNN: What's one thing about you that surprises people?
Klobuchar: "I think people are surprised to know I once rode my bicycle 1,200 miles in 11 days from Minneapolis to Jackson Hole, Wyoming, going against the wind and uphill with my dad."
CNN: What's the best piece of advice you've ever received?
Klobuchar: "Be yourself and pursue what you want. When I was first running for office, I was thinking of running for this job, it was called county attorney in Minnesota, because I liked getting involved in the justice system. But some people said, 'Oh no, if you do that job, it will be bad. Something bad will happen in that job. Too many bad things can happen. You should run for secretary of state, instead then you're statewide.' And I said, 'No I want to run for what I want to do.' I ran for that and look -- I ended up in the US Senate."
CNN: What's your favorite movie and why?
Klobuchar: "My favorite movie, OK, this is where my daughter gets the cringe factor. It is Sound of Music and I love Sound of Music because I loved all the songs. When I was young, I would sing them all with the music. I think I would sing every one today, which I won't do right now."
CNN: What was the last book you read?
Klobuchar: "The last book that I read ... is Jimmy Carter's last book."
CNN: What three issues do we have to deal with right now?
Klobuchar: "We have to deal with one: climate change. We have to with two: immigration reform and we have to deal with three, I would say on most people's mind, is getting the economy to work for everyone."
6:34 p.m. ET, April 22, 2019
Amy Klobuchar is up first. Here's why she is running to be president.
Minnesota Sen. Amy Klobuchar hopes her working-class, Minnesota roots can win bipartisan support and help Democrats take back the Midwestern cities and towns that drifted toward President Trump in 2016.
The Democratic presidential hopeful is pledging to take on issues like money in politics, climate change and election reform.
Here's what Klobuchar said she'll do if elected president:
She wants to fix the country's infrastructure: Last month, Klobuchar announced a "bold, trillion-dollar plan" to address a litany of infrastructure issues. According to her Medium post, her plan aim is to "rebuild America's infrastructure, invest in our future, and create millions of good-paying American jobs." It calls for major federal investments in seven areas, including transportation, broadband connection, public schools and clean energy.
Klobuchar plans to raise corporate taxes: Her proposed plan would largely be paid for through a "series of corporate tax reforms," according to the post. She told CNN she wanted to raise the corporate tax up to 25% from the 21% rate that resulted from the 2017 GOP tax bill. Previously, the tax rate had been at 35%.
She wants to fix schools: Klobuchar will address the nation's "crumbling and unsafe schools" by "(updating) the physical and digital infrastructure needs of our schools, and (establishing) an ongoing role for the federal government to invest in school infrastructure," the proposal said."
Climate change is also her top priority: The trillion-dollar plan also places an emphasis on climate change and the country's reliance on fossil fuels, with Klobuchar calling for "sweeping legislation" that, among other things, "invests in green infrastructure, modernizes our aging energy infrastructure" and invests in "renewable energy development."
5:53 p.m. ET, April 22, 2019
5 Democratic presidential candidates are having town halls tonight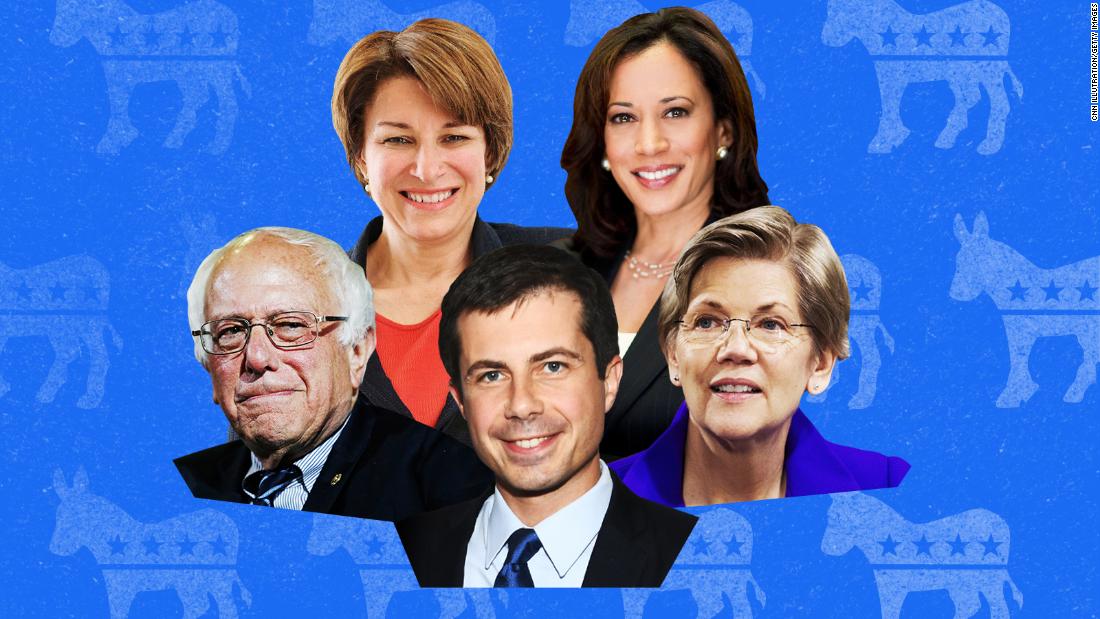 Five Democratic presidential hopefuls — Mayor Pete Buttigieg, Sen. Kamala Harris, Sen. Amy Klobuchar, Sen. Bernie Sanders and Sen. Elizabeth Warren — will face young voters in back-to-back CNN town halls in New Hampshire tonight.
They will field questions directly from students and young New Hampshire Democrats, said a CNN spokeswoman, who added the audience will be drawn from the two schools and a pool of young Democrats living in the state.
Chris Cuomo will moderate the Klobuchar and Sanders town halls, Anderson Cooper will moderate the Warren and Buttigieg town halls, and Don Lemon will moderate the Harris town hall.
The CNN town halls will take place on the campus of Saint Anselm College, and coincide with the release of the Institute of Politics at Harvard Kennedy School's new national poll of young voters. The event is also co-hosted by the New Hampshire Institute of Politics at Saint Anselm College and the Institute of Politics at Harvard Kennedy School.
Here's a timeline of tonight's events:
7 p.m. ET: Klobuchar
8 p.m. ET: Warren 
9 p.m. ET: Sanders
10 p.m. ET: Harris
11 p.m. ET: Buttigieg