CNN hosts 5 Democratic town halls
11:05 p.m. ET, April 22, 2019
In the Green Room with Pete Buttigieg
Democratic presidential hopeful Pete Buttigieg just chatted with CNN and answered a few questions before tonight's town hall.
We asked him six simple questions so voters can get to know him better.
Here's what he said:
CNN: What's one thing about you that surprises people?
Buttigieg: "I think people are pretty surprised that I like to speak to a big crowd because I'm pretty laid back and low key in person, but politics is about engaging different kinds of groups. I enjoy everything from the living room to the giant speech."
CNN: What's the best piece of advice you've ever received?
Buttigieg: "I think the best advice I have received has come from people who have encouraged me to just be true to what I care about most, and you need to pay attention to how you're being shaped, even by the decisions that you make as you grow and go through different experiences."
CNN: What's your favorite movie and why?
Buttigieg: "I don't have a single favorite movie. From a filmmaking perspective, I think it's pretty hard to beat The Godfather and also Gangs of New York. I got a weakness from Sci-Fi, especially provocative Sci-Fi that makes you think. And I think Contact and more recently Arrival are two amazing movies that I could watch over and over again."
CNN: What was the last book you read?
Buttigieg: "I just finished a book about John le Carré, a great spy novelist, but he also wrote a memoir called The Pigeon Tunnel about all the stories of things he's experienced over the years. It's really good reading and it's always fun to read a little bit something different from my day-to-day political-related nourishment."
CNN: What three issues do we have to deal with right now?
Buttigieg: "I think we have got to deal with the condition of our democracy — the way that we make decisions and the way that it gets warped by everything that has money in politics ... the way things get drawn. Very, very concerned about climate and how that's going to effect opportunities for my generation for as long as I live. And I think we've got to deal with unfairness and inequality in our economic system today."
CNN: Name one thing that makes you different than all the other 2020 Democratic candidates.
Buttigieg: "Well I am definitely the only left-handed, Episcopalian, Maltese-American gay war veteran in the race, so I got that going for me."
11:02 p.m. ET, April 22, 2019
Kamala Harris is open to allowing currently incarcerated people to vote
Sen. Kamala Harris said that she is open to allowing currently incarcerated people to vote, giving a noncommittal answer to something Vermont Sen. Bernie Sanders said he supported during his CNN town hall earlier on Monday.
"People who are convicted, in prison, like the Boston marathon bomber, on death row, people who are convicted of sexual assault, they should be able to vote," asked CNN's Don Lemon.
Harris replied, "I think we should have that conversation."
Harris' answer was vague and left open the possibility that she could eventually not support the plan.
"I agree that the right to vote is one of the very important components of citizenship. And it is something that people should not be stripped of needlessly, which is why I have long been an advocate of making sure people formally incarcerated are not denied the right to vote," Harris said. "In some states, they're permanently deprived of the right to vote."
Sanders said Monday that he thinks everyone should have the right to vote -- even the Boston marathon bomber.
"This is a democracy and we have got to expand that democracy and I believe every single person does have the right to vote," he said
Asked if sex offenders, the Boston marathon bomber, terrorists and murderers should have the right to vote, Sanders said, "Yes, even for terrible people, because once you start chipping away and you say, 'Well, that guy committed a terrible crime, not going to let him vote. Well, that person did that. Not going to let that person vote,' you're running down a slippery slope."
11:00 p.m. ET, April 22, 2019
Harris touts her DA efforts to protect sex workers
Sen. Kamala Harris on Monday touted her efforts to protect sex workers during her time as the district attorney in San Francisco, specifically noting her calls to shut down a website used to advertise adult services.
Discussing Backpage, a since-shuttered site some sex workers defended as a means of keeping them off the streets, Harris insisted its closure -- which she pushed for -- protected minors from sex traffickers.
"As it relates to women who are being trafficked, I was one of the leaders in the country with many others in saying that Backpage needed to be put out of business because they were in the business of basically allowing the trafficking," Harris said, "in particular of underage girls."
Harris, who has said sex work should be decriminalized, focused her answer on the disparity in police and prosecutorial treatment of sex workers and those profiting off of and often abusing them.
"When I was district attorney of San Francisco, I instituted a number of policies that were focused on women and children and how they were treated, frankly, with bias in the criminal justice system," Harris said, "where they were criminalized without really looking at the real offender and so often that case was the pimps and Johns, so women were arrested as being prostitutes."
10:58 p.m. ET, April 22, 2019
Harris: US "not prepared" for cyber war, which "will be a war without blood"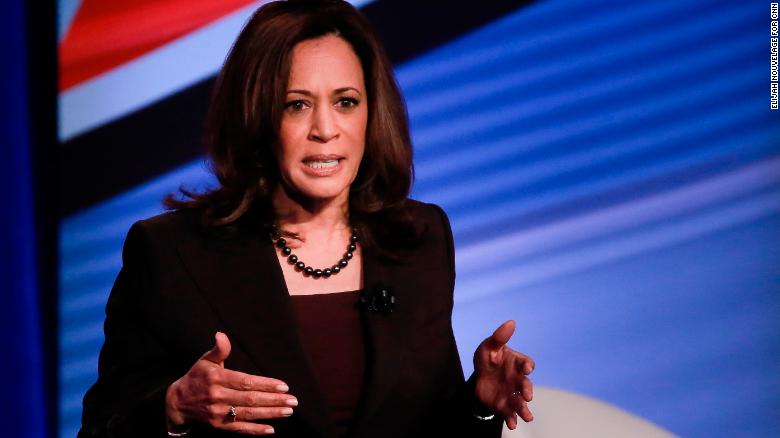 Sen. Kamala Harris said Monday that the United States is not prepared for cyber war, telling an audience in New Hampshire that she would make preparing for cyber war "one of my number one issues."
"This will be a war without blood. And we are not prepared," Harris said at her CNN town hall. "And we must be. But we cannot be in denial and this President of the United States is in utter denial about the realities."
Harris called cyber war a "new form of war" where the United States – particularly the United States' infrastructure – is "vulnerable."
"We have got to pay greater attention," Harris said.
The prospect of cyber intrusions into 2020 campaigns is front of mind for many Democrats, given the way hacked material played a role in Hillary Clinton's 2016 loss.
Democratic National Committee Chair Tom Perez wrote to the Republican National Committee on Monday, asking Republicans to refrain from engaging in the "weaponization of stolen private data in our electoral process." Meanwhile, Sen. Kirsten Gillibrand and former HUD Secretary Julian Castro announced on Monday that their respective campaigns would not use hacked material during their 2020 runs.
10:32 p.m. ET, April 22, 2019
Kamala Harris on Trump: "I believe Congress should take the steps towards impeachment"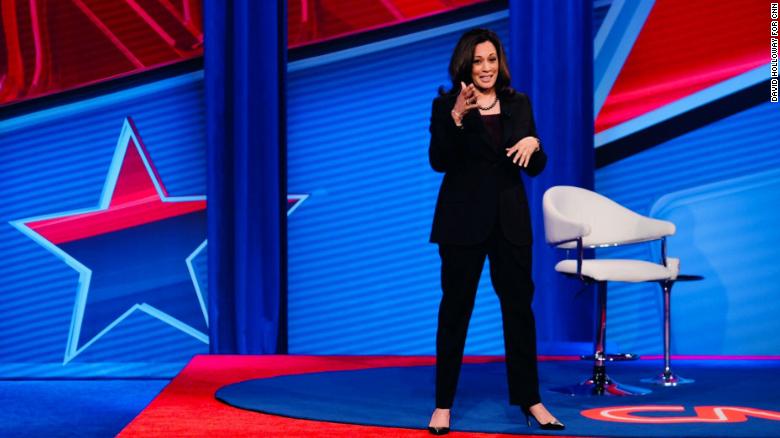 Sen. Kamala Harris said Monday that she supports Congress moving toward impeachment, a step further than the California Democrat has gone in the past on whether President Donald Trump should be impeached.
Harris' comment comes amid a growing debate among Democrats over whether House should impeach the President in the wake of the release of special counsel Robert Mueller's report on Russian intervention in the 2016 election and Trump's efforts to obstruct the investigation.
"I think we have very good reason to believe that there is an investigation that has been conducted which has produced evidence that tells us that this president and his administration engaged in obstruction of justice," Harris said. "I believe Congress should take the steps towards impeachment."
Harris added: "I believe that we need to get rid of this President. That's why I'm running to become president of the United States. That is part of the premise, obviously, of my plan."
What the others say: For months, Democrats have not made impeachment a premier issue in their pitch to voters. But Mueller's report has upped the ante, with Sen. Elizabeth Warren and former Housing and Urban Development Secretary Julian Castro calling for impeachment proceedings to begin.
Warren first announced her support of impeachment proceedings last week. But she said during her hour-long CNN town hall on Monday that if anyone else did what Trump did, according to the Mueller report, "they would be arrested and put in jail."
"He serves the whole thing up to the United States Congress and says in effect, if there's going to be any accountability, that accountability has to come from the Congress," Warren said of Mueller. "And the tool that we are given for that accountability is the impeachment process. This is not about politics; this is about principle."
Vermont Sen. Bernie Sanders and Minnesota Sen. Amy Klobuchar took a more wait-and-see approach to the issue, declining to go as far as Warren, Castro or Harris.
"Here is my concern: At the end of the day, what is most important to me is to see that Donald Trump is not re-elected President and I intend to do everything I can to make sure that that doesn't happen," Sanders said.
Klobuchar told the audience in New Hampshire that she doesn't want to "predispose things." The senator also pushed the decision on impeaching Trump to her colleagues in the House, noting that it is their decision.
"The impeachment proceedings are up to the House. They're going to have to make that decision. I am in the senate," Klobuchar said, adding that she "believe(s) very strongly that President Trump should be held accountable."
10:15 p.m. ET, April 22, 2019
Harris promises swift executive action if Congress doesn't pass gun control legislation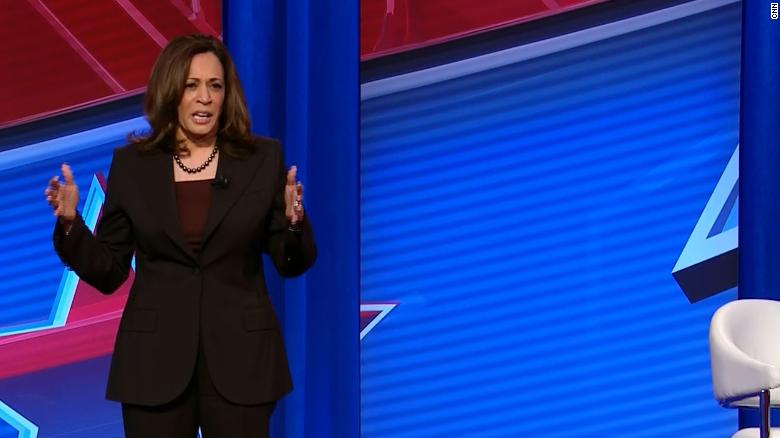 Sen. Kamala Harris pledged that, if elected President, she would take executive action enacting sweeping gun control measures if Congress fails to send comprehensive legislation to her desk in her first 100 days.
"Upon being elected I will give the United States Congress 100 days to get their act together and have the courage to pass reasonable gun safety laws," she said. "And if they fail to do it, then I will take executive action."
In a fact sheet outlining the proposals that the campaign plans to unveil publicly tomorrow, Harris says, "Enough. We're not waiting any longer."
The pledge by Harris to act unilaterally by executive action sharpens her repeated calls on the campaign trail, blasting Congress for failing to act on gun violence, especially mass shootings.
10:04 p.m. ET, April 22, 2019
Kamala Harris is up now. Here's where she stands on key issues.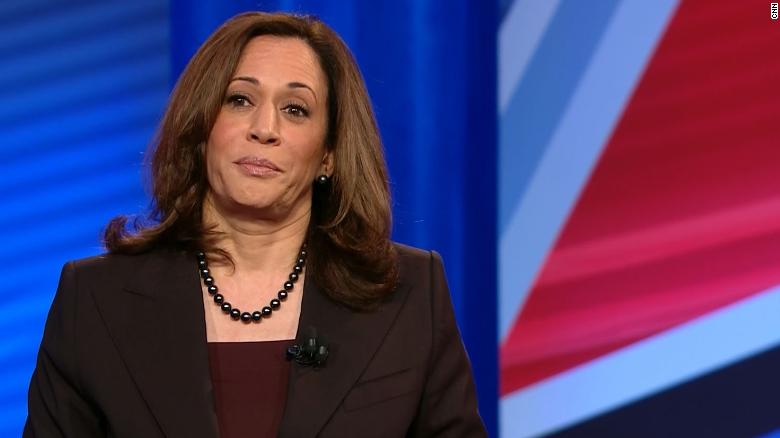 In announcing her run for president, California Sen. Kamala Harris said the time has come to fight against what she views as the injustices of the past two years of the Trump presidency.
The Democratic lawmaker has accused the President of stoking racist and xenophobic rhetoric, while aligning his administration with white supremacists at home, and cozying up to dictators abroad. Harris has argued that the middle class has been ignored.
Harris said she's running for president to lift voices and "bring our voices together."
As she takes the stage in New Hampshire, here's where Harris stands on key issues:
On gun control: She made impassioned calls for banning assault weapons and universal background checks.
On Medicare for All: Harris is open to multiple paths to Medicare-for-all and also cosponsored Vermont Sen. Bernie Sanders' bill, which would phase out for-profit insurers.
On possibility of reparations for the descendants of slaves: Harris told a radio station recently that he idea of reparations should be considered in the face of economic inequality.
On an all-woman ticket: Harris has embraced the idea of choosing a female vice president to create an all-woman ticket in her quest for the White House.
You can watch her town hall live in the video player above.