2020 polls in California and Texas
2:58 p.m. ET, December 11, 2019
TL;DR: California is close, while Biden cruises in Texas
Our latest polling of California and Texas show two different worlds for the Democratic primary.
Joe Biden (21%), Bernie Sanders (20%) and Elizabeth Warren (17%) form a close top tier in California among likely Democratic primary voters.
In Texas, it's Biden way out ahead with 35% to Sanders' 15% and Warren's 13%.
No other candidate cracks 10% in either state.
Here are a few other takeaways from the polls:
Donald Trump (48%) and Biden (47%) are neck-in-neck in a potential general election matchup, while the other Democrats trail Trump by 7 points.
Both Biden and Sanders do better among Hispanic voters than other voters, though Sanders strength is mostly explained by the fact that Hispanic voters are younger as a group.
Because Democrats allocate their delegates proportionally, a final California result close to our poll would not make much of a difference between the three top vote-getters in the delegate race. Biden would gain a lot of delegates in Texas, however.
Pete Buttigieg gets just 2% and 6% among nonwhite voters in California and Texas respectively.
The gap in Trump's approval rating among all Texas adults (42%) and registered voters (48%) is one of the largest in the nation, which helps to explain why he is competitive in the general election there.
2:41 p.m. ET, December 11, 2019
Non-voters are a big story in Texas
The fact that Texas could be competitive in the 2020 presidential election is a big story. You might, however, be looking at our poll and wondering why Trump even has a shot of winning.
His approval rating among all adults is just 42%. That is far behind his disapproval rating of 50%.
But Texas has one of the largest gaps in partisanship between voters and all adults in the entire nation.
Among registered voters, Trump has a 48% approval rating vs. a 47% disapproval rating. That's a 6-point jump for Trump in his approval rating among registered voters.
In our last national poll, Trump had a much smaller 2 point rise in his approval rating when we switched from adults to registered voters.
Much of that has to do with the fact that Texas has a lower share of its adult population registered as voters than the nation.
Additionally, the nonvoter population in Texas seems to be less friendly to Trump than nationally. In our latest Texas poll, his approval rating among nonvoters is 26%. Nationally, it was 33%. This could be because the nonvoter population in our polling is significantly less white in Texas than it is nationally.
2:30 p.m. ET, December 11, 2019
A Texas-sized age gap
If you look at our Texas results, you might think that Biden is strong across the board. He's up by 20 points after all. If you dig beneath the surface, however, you see a hallmark of this primary: a large age gap.
Biden holds a 46% to 10% advantage over Warren among likely primary voters age 50 and older. Bloomberg and Buttigieg follow with 7%. Sanders earns just 6%.
The race is within the margin of error among likely primary voters under the age of 50. It's Biden's 26% to Sanders' 24%. Warren gets 15%.
Indeed, while much has been made of the fact that Biden struggles with younger voters, you could argue that Sanders' problem with older voters is even more pronounced.
In California (where we have a larger sample size), we can break it down even further. Among voters under 18-35 years-old, Sanders gets an astounding 40%. Biden earns 13% among this group. Among those, 65 years and older, Sanders is at just 7%. Biden's at 36%.
This perhaps is the story of the primary. Both Biden and Sanders have large age gaps in support, but Biden is doing better among younger voters than Sanders is doing among older voters.
1:41 p.m. ET, December 11, 2019
Buttigieg continues to struggles with non-white voters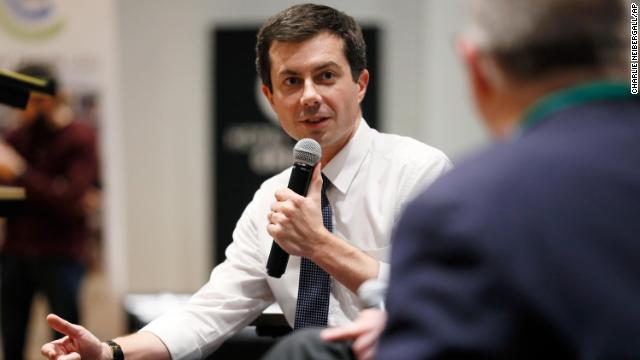 Buttigieg's campaign seems to be holding its own in the states of Iowa and New Hampshire, where the electorate is largely white. But as California and Texas indicate, it's a different ballgame in states with significant nonwhite populations.
The racial gap in both states don't work in Buttigieg's direction. He gets 16% of the white vote and a minute 2% of the nonwhite vote in California. In Texas, Buttigieg puts up 14% among white voters and 6% among nonwhite voters.
And while much has been made of Buttigieg's inability to reach black voters, he looks like he may have a Hispanic voter problem as well. In our California poll, Buttigieg gets 2% of the Hispanic vote. (We don't have a large enough Hispanic subsample in Texas to break that out.)
Relatedly, Buttigieg tends to have a gap by age in support. He does better with those under the age of 50 in California. We saw something similar in the Quinnipiac University national primary poll out on Tuesday.
At least in our poll, though, this age gap in Buttigieg's support is explainable by race. That is, younger voters tend to be more nonwhite than older voters. When we control for the race of each respondent, the age gap in Buttigieg's backing disappears.
1:24 p.m. ET, December 11, 2019
Why Warren is holding her own in California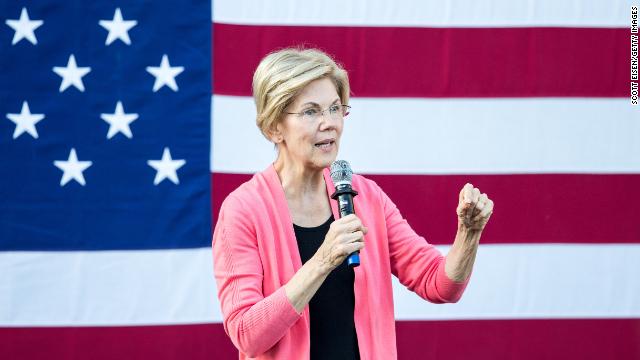 Warren has been on a downturn recently. Her numbers nationally and in the early states of Iowa and New Hampshire have not been so hot. Yet she's in the top tier in the fairly diverse state of California.
It all has to do with white voters. Specifically, it has to do with well-educated white voters. In our poll, Warren scores 24% among white voters with a college degree. No other candidate breaks 20%.
The good news for Warren is that, unlike almost every other state, whites with a college degree make up the lionshare (about 60%) of likely white primary voters in California. That makes California's white likely Democratic voter population about 10 points more college-educated than the nation as a whole.
The problem for Warren is that she does worse among all other groups. She limps to 16% among non-college-educated white voters, and she gets 13% among nonwhite voters including 10% among Hispanics.
Also of potential note, white women with a college degree in California really like Warren. She earns 30% of their vote, more than double her closest competitors. Among white men with a college degree, Warren gets 18%. The gender gap in Warren's support is about half as large among all other voters.
1:06 p.m. ET, December 11, 2019
Texas could be the story on Super Tuesday -- and a good one for Biden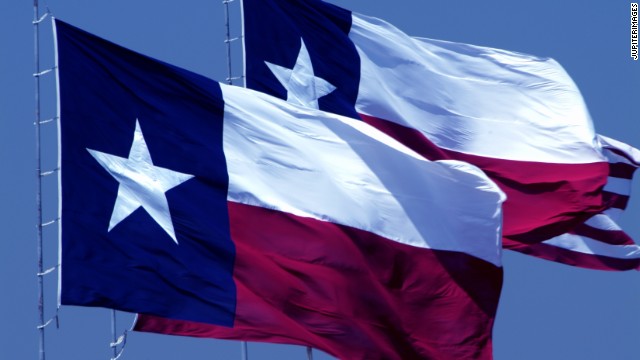 A lot of ink has been spilt on the importance of the California primary. But as I wrote earlier, the closeness of the result there could mean that none of the top candidates walk away gaining much ground on the rest of their fellow top tier candidates. That's because Democrats allocate their delegates proportionally.
Texas, on the other hand, is something else entirely. Biden's 35% to Sanders' 15% and Warren's 13% could lead to a very large delegate haul for Biden. If this poll were the result, Biden's going to get more than double the number of delegates as his closest competitor.
With a 15% threshold for acquiring delegates, it's not clear what the exact net of delegates would be in this situation. Still, Biden would likely gain at a minimum somewhere in the neighborhood of 55 to 90 delegates on his closest competitor. It is conceivable the gain could go over 100 if Sanders and Warren do slightly worse than this polling indicates.
Compare that to California, where none of these candidates would likely be gaining more than 30 delegates on each other if our polling ended up exactly right.
This reminds me a lot of 2016, when Hillary Clinton picked up a lot more delegates relative to Sanders in Texas than California thanks to winning the former by a very large margin.
12:39 p.m. ET, December 11, 2019
Sanders' Latino support may be about age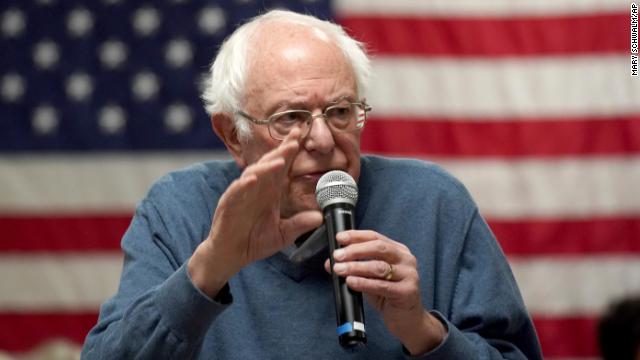 One of the more interesting subplots of this primary campaign has been the fight for Hispanic voters. While Biden has been running away with black voters, some polling has indicated that Sanders is doing well with Hispanics.
Our California poll suggests that Sanders is doing well, but by no means great, with this constituency. In the poll, Biden scores 27%, Sanders 25%, Warren 10% and Buttigieg 2%. Among all other voters, it's Biden 19%, Warren 19%, Sanders 18% and Buttigieg 11%.
In other words, both Biden and Sanders do somewhat better with Hispanics voters than they do with the rest of the electorate. Buttigieg and Warren clearly do worse.
I'm not sure this tells the entire story, however. A lot of Sanders' appeal to Hispanics may have to do with age. A majority of Hispanics in our poll are under the age of 50, while a majority of all other likely Democratic primary voters are 50 years or older.
When we control for age in a simple regression, we see that, at least in our poll, age is far more important than being Hispanic in determining whether a voter goes for Sanders or not.
Interestingly, Biden tends to do better with Hispanics than other voters when controlling for age. That shouldn't be too surprising because Biden does better with Hispanics than the rest of the electorate, even though they are younger.
12:28 p.m. ET, December 11, 2019
If California ends up this close, it may not matter who wins it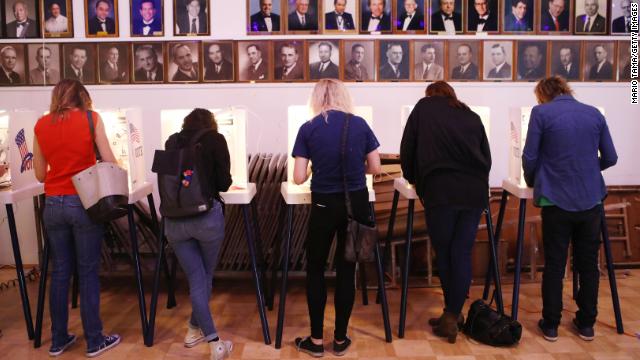 When a poll is as close as our California poll is, we say that multiple candidates are in the top tier. We do this because the margin of error is wide enough that any of the top tier (Biden, Sanders and Warren in this case) could conceivably be ahead.
But let's just say the primary's final result is Biden 21%, Sanders 20% and Warren 17%. That is, in my mind, pretty much the same result as Warren 21%, Biden 20% and Sanders 17%.
Why?
There are more than 10 primary contests occurring on Super Tuesday. Unlike with the first four contests, winning, per se, isn't the name of the game. It's about winning delegates.
Democrats allot their delegates proportionally to those reaching a 15% threshold. Now, it doesn't work out perfectly proportional, though a result like this would probably mean somewhere in the neighborhood of a 30-delegate difference between the candidate with 21% and 17% out of more than 400 delegates awarded.
To put a 30-delegate difference in perspective, that's less than 1% of all delegates available nationwide.
For California to be a difference maker in 2020, the winner will need to win by more than just a few points.
12:16 p.m. ET, December 11, 2019
Yes, Texas could be a swing state in 2020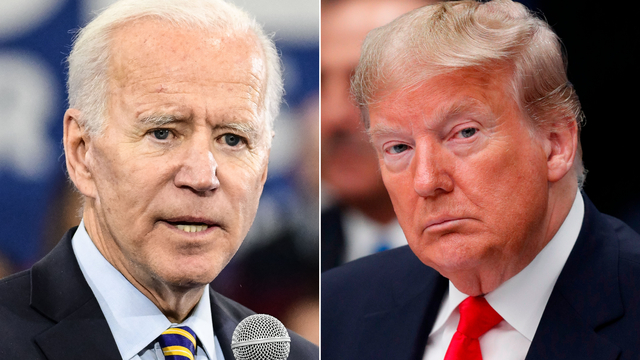 That Biden and Trump are basically tied with each other in our Texas poll (48% for Trump to 47% for Biden) may come as a surprise to some folks. It actually makes a lot of sense looking at our poll and recent political history in the state.
Trump's approval rating among registered voters is 49% compared to a 48% disapproval rating. That one-point spread matches the one-point spread in the horserace versus Biden.
If anything, there's reason to believe that is overselling Trump's position in the state. According to an analysis by The New York Times' Nate Cohn of all registered voters in the state, Trump's net approval rating (approval - disapproval rating) in 2018 was -3 points.
Indeed, with a midterm electorate featuring what was likely a far lower Hispanic percentage than will be the case in the 2020 presidential election, Democrat Beto O'Rourke only lost his Senate race by a little less than 3 points.
This is not the first high quality poll to suggest a Biden-Trump matchup could be close. Earlier this year, Quinnipiac University had Biden 48% to Trump's 44%.
That poll, like this one, showed that Biden did at least 5 points better against Trump than all of the other Democrats.