CNN's latest New Hampshire poll on 2020 Democrats
1:10 p.m. ET, October 29, 2019
Buttigieg in fourth, but a strong fourth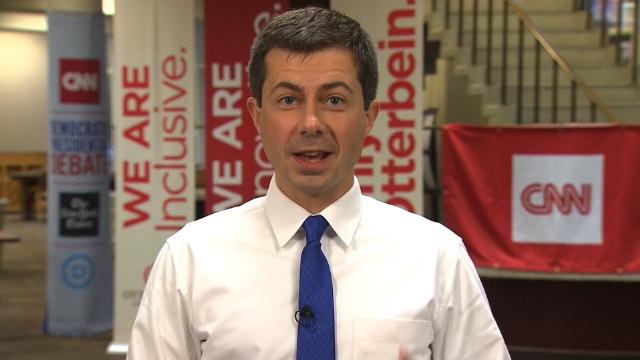 South Bend, Indiana, Mayor Pete Buttigieg's 10% in this poll qualifies him for the December debate along two different polling thresholds. He's now only the fourth candidate (along with Biden, Sanders and Warren) to qualify for that debate. 
But the good news in this poll for Buttigieg goes beyond merely qualifying. Yes, his topline of 10% didn't move up since July. Other key numbers did move up for him, however. 
Buttigieg's favorable rating jumped from 48% to 55%. His favorable-to-unfavorable rating ratio of 3.7 is the highest of any of the top candidates. 
Buttigieg is now the second choice of 10% of likely primary voters. It was 6% in July. He's the only candidate with at least 10% in first choice to see their second choice percentage go up since July. 
Perhaps even more important is that 0% of voters say they wouldn't vote for Buttigieg under any circumstance. For Biden, Sanders and Warren, it's 11%, 7% and 11%, respectively. 
The lack of dislike for Buttigieg is important in an unsettled field. It means voters of other candidates might be willing to settle on him. 
Indeed, there's not a big age or ideological pattern to Buttigieg's support that we see for the other candidates in New Hampshire. The only noticeable divide is Buttigieg does better among college graduates, just like Warren. 
The fact that Buttigieg escapes most of the divides marking the support of the other candidates may also give him a better shot of picking up support from an array of candidates down the road. 
12:53 p.m. ET, October 29, 2019
This is a historically unprecedented New Hampshire mess
When I saw this poll, I was struck by the fact that no one was polling above 21%. Even in the largest fields (see: 2016 Republicans), there was a clear front-runner who was polling in Trump who was in the high 20s and 15 points ahead of the field.
The 21% Sanders scores (the highest in our poll) seemed to be quite low for the candidate who has the highest percentage in our poll. 
Then I realized why it seemed so low: it's because it is. I can't find a New Hampshire poll in which the candidate with the highest percentage was this low at this date in the primary process. 
I looked at polls dating back since 1972, and the only real comparison is the 1992 Democratic polls. In that cycle, Mario Cuomo was polling between 30% and 40%, and he decided not to run in December 1991. When he was eliminated as an option, there were some polls (though not all) that had no one above 20%.
The lack of a clear front-runner is important because it suggests that this primary is far from settled. It means a far higher chance than normal that the candidate not leading could win the New Hampshire primary. It breathes new life into those campaigns under 10%. 
12:36 p.m. ET, October 29, 2019
Early state primary voters much more undecided than voters nationally
Perhaps one of the most jaw dropping numbers in our poll is that a mere 23% of likely Democratic primary voters in New Hampshire say they have definitely made up their mind. That's up from 16% in July and 9% in April. Still, it means that about three-quarters of voters still say they are persuadable. 
That's quite a bit larger than what we see nationally. Although the question was phrased a bit differently in our poll last week, 43% of potential primary voters nationally said they would definitely support a candidate. In other words, 20 points more of the New Hampshire electorate say that their minds can be changed, compared to the national electorate. 
I also went back and looked at our Iowa poll taken last month. In that poll, we see something similar to what we're seeing in New Hampshire. A mere 20% of likely Iowa caucus-goers say their mind is made up. The other 80% say they can either be persuaded to change their first choice or have no first choice. 
The fact that voters in the first two contests seem to be saying "we're not sure" is reflected in the low percentages of the front-runners. In neither Iowa nor New Hampshire are the leaders even getting to 25%. 
In other words, there's a very long way to go in both states. 
12:17 p.m. ET, October 29, 2019
A disappointing poll for Biden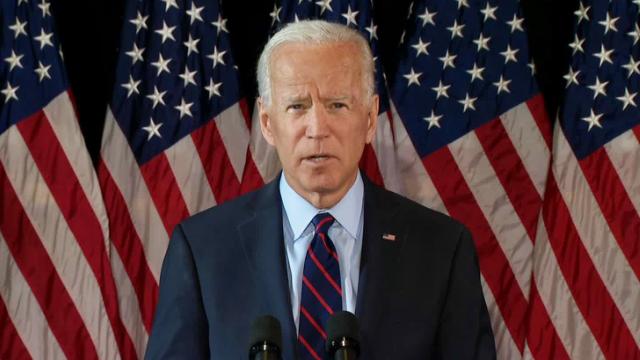 Joe Biden cannot love where he stands in the Granite State. He's down to 15% of the vote in the first in the nation primary. 
Moreover, the former vice president is not doing well with core groups. He only scores 20% with voters age 50 or older, which is much lower than the 45% he hit with them in our national poll last week. Biden gets just 20% among moderates and conservatives. Last week, he was at 43% with this group nationally. 
Perhaps most disappointing for Biden is that he scores just 13% among those who say they are definitely supporting a candidate. Nationally and in Iowa, he's first among this group. In New Hampshire, Sanders is first at 31%. 
There are clear signs now that Biden leads in neither Iowa nor New Hampshire. If you look at the average of polls in Iowa and New Hampshire, someone other than Biden comes in first. The last candidate to win a presidential nomination without winning one of those states was Bill Clinton in 1992. 
12:04 p.m. ET, October 29, 2019
Sanders and Warren sit at top in New Hampshire, but there's no clear front-runner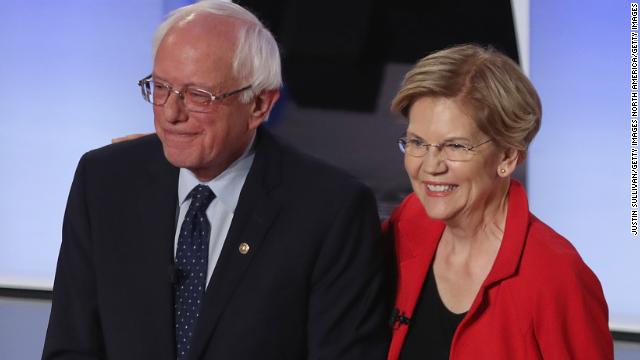 Our latest New Hampshire CNN poll conducted by the University of New Hampshire finds that Vermont Sen. Bernie Sanders at 21% and Massachusetts Sen. Elizabeth Warren at 18% lead the Democratic field in New Hampshire among likely Democratic primary voters. 
Former Vice President Joe Biden is outside this top tier at 15%. That's down from 24% in July. South Bend, Indiana, Mayor Pete Buttigieg breaks double digits, too, at 10%. 
Beyond those candidates, Hawaii Rep. Tulsi Gabbard, Minnesota Sen. Amy Klobuchar and businessman Andrew Yang all sit at 5%. 
There is no clear front-runner, and there are seven candidates either in the lead or within 16 points of the lead. It's the type of poll result that makes you think that New Hampshire's Democratic primary is far from determined at this point. 
Meanwhile, the Republican primary in New Hampshire does look all but a coronation at this point. President Donald Trump leads the field with 86% among likely Republican primary voters.
Trump's well out in front of former Massachusetts Gov. William Weld at 5%, former Illinois Congressman Joe Walsh at 1% and South Carolina Gov. Mark Sanford at 1%.