Our new CNN/Des Moines Register/Mediacom's new Iowa caucuses poll conducted by Selzer and Co. shows Joe Biden at 24%, Bernie Sanders at 16%, Elizabeth Warren at 15%, Pete Buttigieg at 14% and Kamala Harris at 7% among likely caucusgoers.
It's the first high quality Iowa poll conducted since Biden entered the race and shows him in a tenuous position. Buttigieg and Warren are doing better than other polls in the state have suggested.
Sanders is not in great shape for someone with near universal name recognition.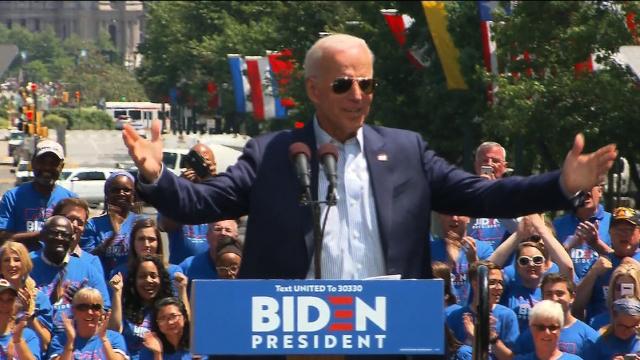 Here are a few other takeaways from the poll:
This is our first poll taken that weighs in-person and virtual caucusgoers as 90% and 10% of the total respectively. This follows a rule change that allows for caucusgoers to vote virtually.
No candidate greatly seems to benefit from this change, though virtual caucusgoers are allotted fewer delegates (10%) than the expected percentage of caucusgoers who say they will virtually caucus at this point (28%).
It's not just the topline that's good for Buttigieg and Warren. Among those who can form an opinion of a given candidate, both are tied for the best very favorable rating among in-person caucusgoers.
Biden's very favorable rating among caucusgoers is 34% among in-person caucusgoers, which actually trails Warren's 38%.
A look back previous Democratic caucuses (1988, 2004 and 2008) with polling at this point similar to what it is now shows the eventual winner was ahead one of three times. This suggests we have a long way to go.