The latest CNN poll on 2020 Democrats
8:21 a.m. ET, April 30, 2019
Warning signs for Buttigieg in CNN's new poll
I was one of the first to note that Pete Buttigieg was breaking out. Indeed, his 7% in our poll is up from 1% last month.
A few weeks afterward, however, I noted what I thought were warning signs for Buttigieg:
A lack of nonwhite support
A lack of working class support
A lack of support from moderate Democrats
Our new poll doesn't alleviate those concerns.
He continues to poll poorly among nonwhites (3%), those making less than $50,000 a year (3%) and moderates (4%). Each of these are significant blocs within the Democratic Party. Even if Buttigieg is hitting double-digits with white, more fortunate economically and liberal voters, it likely won't be enough if he can't win over support in other parts of the party.
To that point, Buttigieg's momentum seems like it may have stalled a little bit. His 7% in this poll is a point lower than the 8% he hit in Monmouth University poll found two weeks ago.
Now, it's not as if Buttigieg is falling or anything like that. But Buttigieg had generally been gaining from March to April.
The 7% received here is equal to the 7% he has received on average over the last month in national polls.
8:07 a.m. ET, April 30, 2019
Kamala Harris and Beto O'Rourke struggle in CNN's latest poll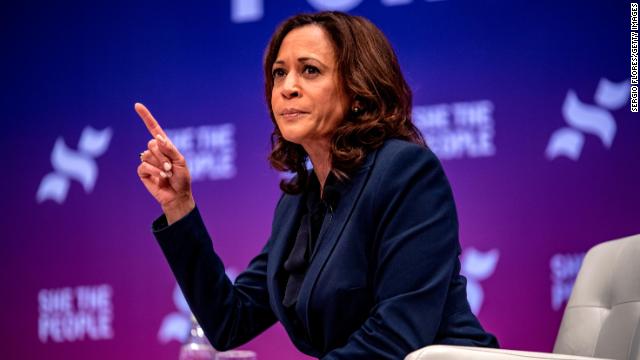 As I noted a few posts ago, Kamala Harris and Beto O'Rourke saw appreciable declines in our new poll:
Harris dropped 7 points from 12% to 5%
O'Rourke fell 7 points from 13% to 6%
In some ways, these declines are not surprising. Both saw bounces from their announcements and have now seen a return to where they were at their lower points in our four polls taken since October. This matches the pattern of Sanders who saw a slight decline.
It also is roughly consistent with what we've seen in other data: Candidates who receive an announcement bounce then see that bounce subside after a few months.
Importantly, of course, this may mean that Biden too will see his numbers return to where they were before.
The results, however, have to be disappointing. Harris, who Chris Cillizza and I have consistently ranked high in our presidential rankings, doesn't seem to have caught on. Even before Biden announced, Harris was running third place in her home state of California.
It's much the same story for O'Rourke. He busted out of the gate with fundraising and decent poll numbers, but he has seen his fundraising slow and his polling fall. Much of his energy seems to have been eclipsed by Pete Buttigieg.
8:07 a.m. ET, April 30, 2019
Biden's supporters are plenty enthusiastic, CNN's new poll shows
If you look on the internet or television, you might think that all the enthusiasm in the Democratic Party is on the left. After all, Democrats have a very progressive field of candidates, and no one can match the small dollar donations of Sanders.
This poll, however, suggests Biden, a comparative moderate, has plenty of enthusiastic backers.
Our poll asked voters how enthusiastic they were for voting in next year's elections.
Biden received 40% among those who said they were at least very enthusiastic. That's basically the same as the 39% he gets among all Democrats.
Biden's numbers are representative of the same trend seen throughout the poll: no candidate seems to have more enthusiastic supporters than others.
That shouldn't be too surprising because most Democrats are very enthusiastic about next year's election. An astounding 78% of those who voters who lean Democratic say that they are very or extremely enthusiastic about voting next year. This includes those on the left as well as the center of the party.
6:05 a.m. ET, April 30, 2019
Biden's electability argument takes a bit of a hit
One of the big arguments Biden backers are going to make is that he can beat President Donald Trump in a general election. In our poll, 92% of Democrats say it is either extremely or very important that the party's nominee has a good chance of defeating Trump.
Biden's net favorability (favorable - unfavorable) rating with all voters now stands at +10 points. That's better than any other Democrat candidate tested this month or last month.
The +10 point rating represents, however, a significant decline for Biden from +27 points in December.
Why did Biden's numbers decline? His net favorability declined by 19 points among independents and 24 points among Republicans. That shouldn't be too surprising given that Biden was benefitting from being out of the political fray for the most part.
The question is what happens in the weeks and months to come. If Biden continues to get attacked by Trump, it wouldn't be surprising to see his now 21% favorable rating with Republicans decline even more than it has over the last few months.
Still, Biden starts in a good place. He is better liked than all his Democratic opponents as well as better liked than Clinton was at the start of the 2016 campaign.
6:20 a.m. ET, April 30, 2019
There is no gender gap in our poll
One of the biggest surprises of this primary season so far is how two white men (Biden and Sanders) have continuously led a field with a record number of women. I certainly thought women would have an edge after a record number of Democratic women were elected to the House of Representatives last year.
Well part of the reason women candidates aren't doing better is that there isn't much of a gender gap so far. That is, women and men voters have similar preferences. Our poll has Biden and Sanders scoring nearly identical percentages of the vote from women and men. None of the women candidates are getting into the double-digits with women or men.
(An average of other polling generally matches our poll.)
This is a very different pattern than what occurred in 2016. In that primary, Clinton beat Sanders by over 20 points in the average caucus or primary with an entrance or exit poll. The two were basically even among men. In other words, women voters powered the primary victory for the first woman major party presidential nominee.
Indeed, it's also a different pattern than we saw in 2008 when Clinton ran the first time. Clinton would have won the primary if only women had voted. Barack Obama emerged victorious thanks to winning a plurality with men.
Perhaps, things will change down the line. Democrats have claimed in other polling that they would feel enthusiastic about a woman nominee.
For now though, both women and men have men candidates at the top of their preference list.
6:42 a.m. ET, April 30, 2019
Record turnout seems likely in 2020
A record high 45% of all voters in our poll said they were extremely enthusiastic about voting in the 2020 presidential election. And when I say record, I don't just mean for this particular point in for a presidential campaign or at any point during this campaign. I mean a record for any point during any campaign dating back since at least 2003.
Interestingly, the record it breaks is the one set last month when 43% of voters said they were extremely enthusiastic about voting. This time around the total percentage of voters who said they were extremely or very enthusiastic about voting jumped from 68% to 74%. That 74% is a new record as well.
The high enthusiasm of voters is a continuation from last year. Our final poll before the midterms showed higher voter enthusiasm than for any midterm since 2010. This, of course, presaged a midterm with the highest turnout in over a century.
Traditionally, high midterm turnout is followed by high presidential election turnout. Our poll suggests that will continue.
Of note, and unlike our prior poll, there doesn't seem to be any significant enthusiasm differences between Democrats and Republicans:
Among those who lean Democratic, 78% are extremely or very enthusiastic
Among those who lean Republican, 74% say they are extremely or very enthusiastic
7:15 a.m. ET, April 30, 2019
Nonwhites power Biden's advantage in CNN's new poll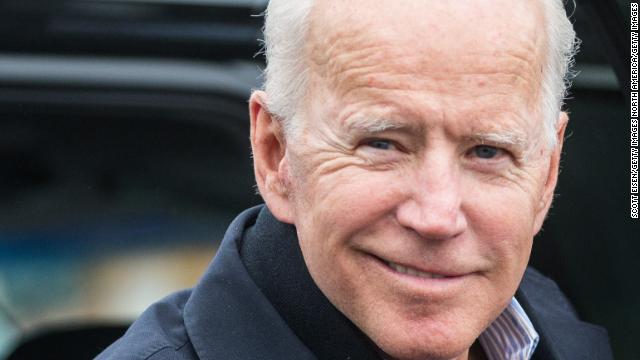 You might think that a 76-year-old white man is the wrong person for a moment when the Democratic Party is becoming more and more diverse.
This poll indicates that people of color, at least for the moment, disagree with that assessment.
Biden scores 50% with nonwhite voters in CNN's poll. That compares with the 29% he gets with white voters. This poll matches with prior polls that suggest minorities are a large part of Biden's base.
Last month, Biden topped all other candidates with 44% among black voters in a Quinnipiac University poll. This compared with 29% he received among all Democrats. Biden has also had large advantages in South Carolina, which is the only early primary contest with a substantial portion of black voters.
Black voters, of course, are a major base within the Democratic Party. They'll likely make up anywhere from 20% to 25% of all primary voters. Further, they have voted in blocs in past primaries. In 2016, for example, Hillary Clinton received about a 60-point margin over Sanders. This powered her nationally to primary victory.
No other candidate comes close to Biden's performance with nonwhite voters in our poll:
Sanders is 36 points behind at 14%.
Everyone else is below 10%, including Sens. Kamala Harris (4%) and Cory Booker (1%), who are black.
Notably, Buttigieg sees a large drop-off from white voters (10%) to nonwhite voters (3%). Other polls have shown a similar phenomenon for the young mayor struggling to connect with minorities.
8:13 a.m. ET, April 30, 2019
Biden gets a big announcement bounce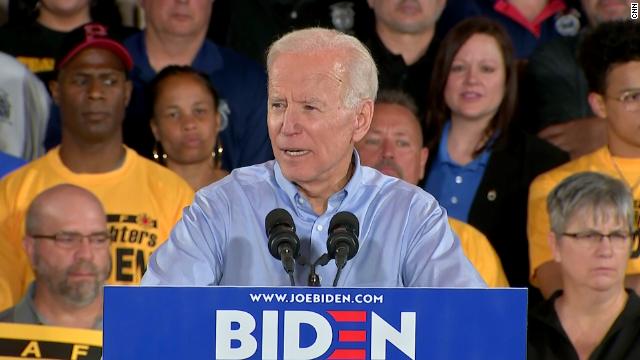 Our new CNN national primary poll shows 39% of voters who are Democrats or Democratic-leaning independent voters support former Vice President Joe Biden.
That puts him atop the entire field -- Vermont Sen. Bernie Sanders came in second, with 15%. No other candidate reached double digits.
The poll is the first national survey taken entirely after Biden officially announced his presidential campaign last Thursday. It indicates a clear bounce for Biden.
Biden's 39% in this poll is up from the 28% he received last month. It's also higher than the 33% Biden had in our October 2018 and December 2018 polls. When compared to other pollsters who conduct their polls via live telephone interviews, Biden's 39% is the best any candidate has received this entire campaign.
The big question is whether this poll is merely an outlier or the start of a trend. A candidate receiving a bounce following an announcement isn't surprising. Biden jumping 11 points in a month is something else altogether.
Sanders, meanwhile, has slid slightly from the 19% he was at last month in our poll. He stands nearly equal to the 14% he put up in October and December.
The only other candidates to reach at least 5% are, in descending order:
Massachusetts Sen. Elizabeth Warren at 8% (up 1 point from March)
South Bend, Indiana, Mayor Pete Buttigieg at 7% (up 6 points)
former Texas Rep. Beto O'Rourke at 6% (down 7 points)
California Sen. Kamala Harris 5% (down 7 points)