CNN's latest Iowa poll: Live analysis on Buttigieg surging to first place
12:34 p.m. ET, November 17, 2019
How Sanders got (some) of his Iowa groove back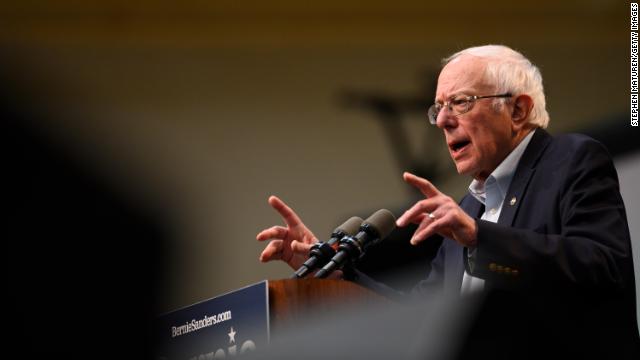 Sanders stands at 15% in our latest poll, which is up slightly from 11% in September. He now basically equals the 16% that he had in June.
When you dig in a little deeper, you can see some more positive signs for him. His very favorable rating is up 5 points from 26% in September to 31% now. That's 7 points ahead of Biden's 24%.
In the horserace in particular, you see that many of Sanders' gains seem to have come at the expense of Warren.
Sanders now stands at 34% among very liberal caucusgoers. Warren's at 32%. In September, it was Warren 48% to Sanders' 20% with this same group. That's a 30-point change in the margin between the two of them.
Perhaps not surprisingly, Sanders is also doing considerably better among those who caucused for him in 2016. He's now at 39% with them, while Warren is at 22% with them. In September, it was Warren's 32% to Sanders' 25%. That's a 24-point shift in the margin between the two of them.
Will Sanders be able to gain more ground next poll? It's possible, but there are two big flashing orange lights: a majority of caucusgoers (53%) say Sanders is too liberal and more caucusgoers (31%) say Sanders is almost to lose to Trump than they do for any other candidate.
11:35 a.m. ET, November 17, 2019
Why I thought Buttigieg could rise
When I blogged about our last Iowa poll in September, I noted that "I'd keep an eye on Buttigieg in Iowa." The reason I thought he could come up in the polls was his strong very favorable rating. It's a score that is highly correlated with vote choice.
Many candidates are liked in caucuses and primaries. After all, party faithful are choosing between candidates of their own party. The key, therefore, is to be loved, not just liked.
Buttigieg had the second best very favorable rating at 33% in our last poll. That was second best in the field. In other words, Buttigieg had a bunch of potential supporters that he simply hadn't converted. He has now brought them into his camp.
Additionally, he's picked up a few more folks. His very favorable score has climbed to 42%, which is the best of any of the Democratic candidates running for president. It's a sign, along with support among extremely and very enthusiastic voters that Buttigieg's backing is built on a solid foundation.
Warren is only a bit behind Buttigieg with a 36% very favorable rating. She's down from a 44% very favorable rating in our last poll. It's not inconceivable that Warren could pick up ground in our next poll, if you're looking at the very favorable ratings.
Of course, Warren's very favorable rating could fall again. The same warning holds for Buttigieg: Other candidates will go after him now that he stands at the top. A strong very favorable score now is far from a guarantee of one in the next poll.
10:27 a.m. ET, November 17, 2019
Warren losing ground among enthusiastic supporters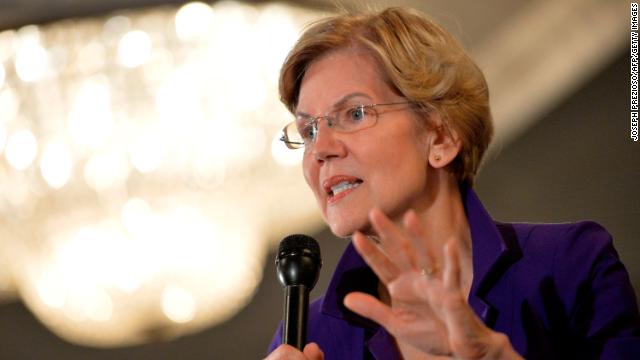 One of the big hallmarks of Warren's campaign so far has been her enthusiastic supporters. You see it in the crowds that come to greet her at campaign events.
In our last Iowa poll, Warren led the horserace with 30% among those who said that they very or extremely enthusiastic about their first choice for the caucuses. That was 10 points ahead of her closest competitor, Biden at 10%.
Today, Warren's at only 18% among this same group. Given the sample size of this crosstab, this is within the margin of error of Biden (14%) and Sanders (18%). Warren's drop is the most precipitous of any of the candidates.
The candidate who has taken her place at the top is Buttigieg, who has rocketed up to 28% from 13% among extremely or very enthusiastic supporters.
This indicates that Buttigieg's voters aren't just with him because they don't like the other candidates. They are with him because they like him.
Interestingly, Warren doesn't seem to have lost any ground among those who aren't all that enthusiastic about their candidates. She's at 13% among those who are mildly or not that enthusiastic about their first choice. Back in September, she was at 14%.
Biden, on the other hand, has seen his support among the less enthusiastic voters go from 39% in September to 21% now. This suggests Biden lost a lot of voters who were not enthusiastic about him in the first place.
9:49 a.m. ET, November 17, 2019
Buttigieg's lead comes from those who want to beat Trump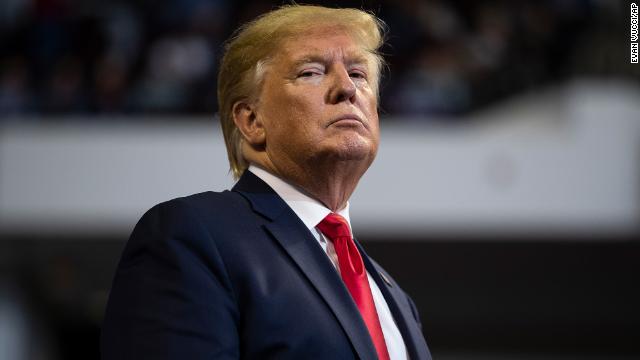 Our poll asked caucusgoers whether it was more important that the winner of the caucuses be someone who can beat Trump or that the winner shares their positions on major issues.
The clear majority, 63%, said the ability to beat Trump is more important, which is similar to previous polls on this question.
Buttigieg is ahead overall because he is dominating this group. Among those who prize electability, Buttigieg is lapping the field with 29%. The next closest are Biden at 17% and Warren at 16%.
Among those who say issue agreement is more important, Buttigieg is only at 15%. The candidate with the highest percentage among this smaller group is Sanders at 22%.
Much of Buttigieg's movement from September comes from those who say beating Trump is more important. Two months ago, Buttigieg scored 10% among those said beating Trump was more important, and 10% who said issue agreement was more important. That is, he's gained 19 points among the former group and just 5 points among the latter group over the last two months.
Interestingly, when specifically asked whether Buttigieg could beat Trump, just 16% of all caucusgoers said they were almost certain he could. Even among his own backers, only 27% said so. That's less than half the percentage of Biden's supporters who felt that way about Biden.
One wonders if there's a little leap in faith some new Buttigieg supporters are taking.
9:06 a.m. ET, November 17, 2019
Biden's losing ground almost everywhere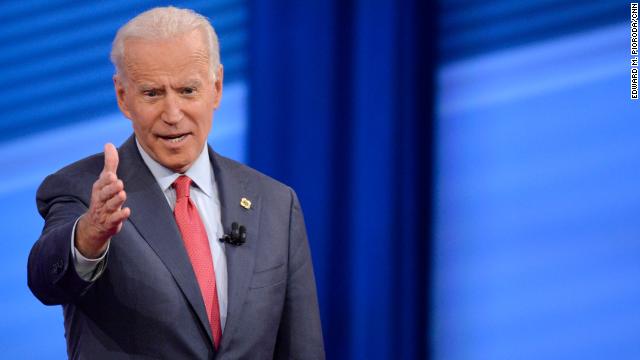 The topline number in our poll for Biden, 15%, is bad enough. Biden's lost ground in the horserace in every poll we've done so far. He now sits 10 points behind the leader, Buttigieg.
Go beneath the surface, and it doesn't get any better. In fact, you can argue that it gets worse.
Biden's very favorable rating (a metric highly correlated with horserace support) is also dropping. Biden's very favorable rating is down to 24% from 29% in September, 34% in June, 45% in March and 47% last December.
Among those voters who say they are certain of their caucus choice, Biden's earning 14%. In September, he was at 26% among this group.
Another way of looking at this is that Biden voters are about as likely to say they are certain to caucus for him now (26%) as they were in September (29%), even though he has fewer overall supporters. That means some people who said they were certain to caucus for him in September actually changed their minds.
Biden's at 20% among moderates and conservatives. That's down from 31% in September. He was at 31% in June too.
There is still time to turn it around: 58% say they at least actively considering Biden. That's little changed from 60% in September and 61% in June. Additionally, more likely caucusgoers (25%) say Biden is almost certain to beat Trump than they say of any other Democrat tested. That could be key in a cycle in which beating Trump is a priority.
8:44 a.m. ET, November 17, 2019
Buttigieg's moderate pivot is working
Buttigieg's campaign made a decision in the past few months to move toward the center. He has, for example, been clear in his attacks on Warren and "Medicare for All." Caucusgoers seem to be picking up on this shift.
Take a look at where Buttigieg is scoring among different ideological groups. He's at 12% among those who say they are very liberal, 25% among those who identify as liberal and 30% among moderates and conservatives.
This pattern simply didn't exist in our September poll. Buttigieg was at 7% among very liberals, 14% among liberals who aren't very liberal and 8% among moderates and conservatives.
Back in June, Buttigieg's weakest group was moderates and conservatives. He earned 18% who are very liberal and liberals who aren't very liberal. He was at only 10% among moderates and conservatives.
In other words, Buttigieg's actually doing worse with very liberal caucusgoers than he was in June, even as he is doing considerably better among caucusgoers overall.
Today, 63% of likely caucusgoers believe Buttigieg's ideology is "about right". That's the highest of any candidate tested. A mere 7% believe he's too liberal, while 13% think he's too conservative.
Buttigieg seems to be taking advantage of a rising number of caucusgoers who think Warren is too far left. Now, 38% believe she is too liberal, which is up from 23% in March. That could be deadly for her campaign if voters think her leftward tilt hurts her electability.
But perhaps the candidate most harmed by this Buttigieg's tack to the center is Biden. Biden's down from 31% among moderate and conservatives in September and June to 20% now.
8:20 a.m. ET, November 17, 2019
Pete Buttigieg surges to Iowa lead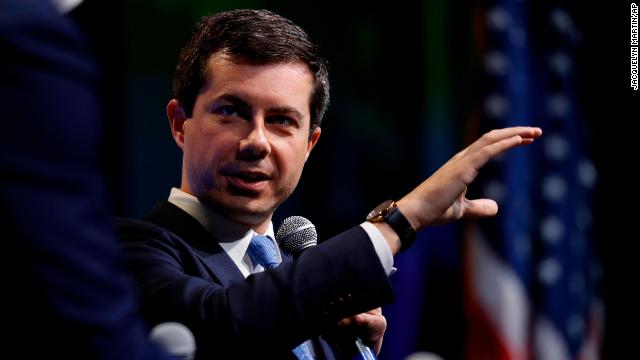 South Bend, Indiana, Mayor Pete Buttigieg is the clear leader with 25% in the latest CNN/Des Moines Register/Mediacom poll of likely Iowa Democratic caucusgoers. He's up from a mere 9% in our September poll, 15% in June and 1% in March.
Buttigieg is running 9 points ahead of his nearest competitor, Massachusetts Sen. Elizabeth Warren. She's at 16%, down from 22% in September.
Joining Warren in the second tier are former Vice President Joe Biden and Vermont Sen. Bernie Sanders at 15% each.
Biden has trended downward in each CNN poll taken since December 2018. He was at 20% in September, 23% in June, 27% in March and 32% last December.
Sanders, on the other hand, is up from 11% in September. He was at 16% in June and 25% in March.
The only other candidate to see appreciable upwards movement in our poll is Minnesota Sen. Amy Klobuchar. She clocks in at 6%, up from her previous high of 3%.
All candidates besides these five registered support from 3% or less of caucusgoers in this poll.
This includes California Sen. Kamala Harris. She hit just 3%, which is her lowest in any CNN poll of Iowa since last December.
And for those wondering, former New York City Mayor Michael Bloomberg gets 2% in the horserace. His favorable rating of 18% is well below his unfavorable rating of 59%. That makes for a net favorability of -39 points -- the worst of all Democrats polled.
(All June breakdowns in these posts are among in-person caucusgoers. In that survey, caucusgoers were asked if they would caucus in-person or virtually. Rules implemented now make it so that all caucusgoers will be in-person.)