CNN's latest Iowa poll: Live analysis on Buttigieg surging to first place
8:44 a.m. ET, November 17, 2019
Buttigieg's moderate pivot is working
Buttigieg's campaign made a decision in the past few months to move toward the center. He has, for example, been clear in his attacks on Warren and "Medicare for All." Caucusgoers seem to be picking up on this shift.
Take a look at where Buttigieg is scoring among different ideological groups. He's at 12% among those who say they are very liberal, 25% among those who identify as liberal and 30% among moderates and conservatives.
This pattern simply didn't exist in our September poll. Buttigieg was at 7% among very liberals, 14% among liberals who aren't very liberal and 8% among moderates and conservatives.
Back in June, Buttigieg's weakest group was moderates and conservatives. He earned 18% who are very liberal and liberals who aren't very liberal. He was at only 10% among moderates and conservatives.
In other words, Buttigieg's actually doing worse with very liberal caucusgoers than he was in June, even as he is doing considerably better among caucusgoers overall.
Today, 63% of likely caucusgoers believe Buttigieg's ideology is "about right". That's the highest of any candidate tested. A mere 7% believe he's too liberal, while 13% think he's too conservative.
Buttigieg seems to be taking advantage of a rising number of caucusgoers who think Warren is too far left. Now, 38% believe she is too liberal, which is up from 23% in March. That could be deadly for her campaign if voters think her leftward tilt hurts her electability.
But perhaps the candidate most harmed by this Buttigieg's tack to the center is Biden. Biden's down from 31% among moderate and conservatives in September and June to 20% now.
8:20 a.m. ET, November 17, 2019
Pete Buttigieg surges to Iowa lead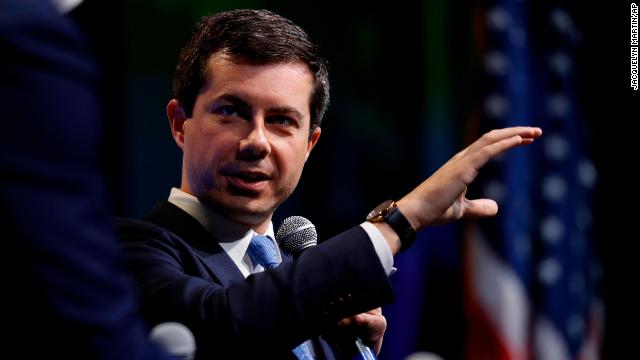 South Bend, Indiana, Mayor Pete Buttigieg is the clear leader with 25% in the latest CNN/Des Moines Register/Mediacom poll of likely Iowa Democratic caucusgoers. He's up from a mere 9% in our September poll, 15% in June and 1% in March.
Buttigieg is running 9 points ahead of his nearest competitor, Massachusetts Sen. Elizabeth Warren. She's at 16%, down from 22% in September.
Joining Warren in the second tier are former Vice President Joe Biden and Vermont Sen. Bernie Sanders at 15% each.
Biden has trended downward in each CNN poll taken since December 2018. He was at 20% in September, 23% in June, 27% in March and 32% last December.
Sanders, on the other hand, is up from 11% in September. He was at 16% in June and 25% in March.
The only other candidate to see appreciable upwards movement in our poll is Minnesota Sen. Amy Klobuchar. She clocks in at 6%, up from her previous high of 3%.
All candidates besides these five registered support from 3% or less of caucusgoers in this poll.
This includes California Sen. Kamala Harris. She hit just 3%, which is her lowest in any CNN poll of Iowa since last December.
And for those wondering, former New York City Mayor Michael Bloomberg gets 2% in the horserace. His favorable rating of 18% is well below his unfavorable rating of 59%. That makes for a net favorability of -39 points -- the worst of all Democrats polled.
(All June breakdowns in these posts are among in-person caucusgoers. In that survey, caucusgoers were asked if they would caucus in-person or virtually. Rules implemented now make it so that all caucusgoers will be in-person.)