CNN's latest poll shows Biden maintains lead
9:40 a.m. ET, June 4, 2019
Tldr: Biden continues to lead, but comes back to the pack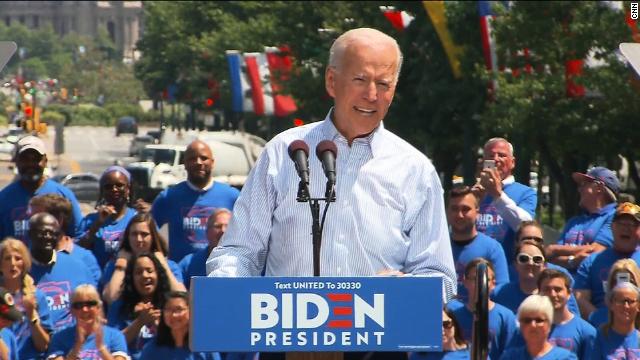 Our new national CNN poll shows Biden up over Sanders 32% to 18% in the Democratic primary. This represents a decline for Biden from our April poll in which he earned 39%. It's in-line with other polls suggesting Biden's settling in the low to mid 30s after receiving a large initial announcement bump.
Here are a few other takeaways from the poll:
No other candidate reaches double digits. For now this is a race between Biden in one tier, maybe Sanders in another and then everybody else.
Harris seems to have stopped a slide. She's in third place at 8% in our new poll. Up from 5% in our last one in late April.
Warren is not any higher in our poll (7%) than she was in late April (8%). She is, however, the second choice of more voters (14%) than any candidate besides Biden.
Buttigieg seems to be fading a little bit. He's at 5% in our new poll. Down from 7% in late April. Other polls show a similar trend.
The leading male candidates we tested (Biden, Buttigieg and Sanders) all had positive net favorability ratings with the general electorate, while Harris and Warren had net negative ratings. Biden had the best rating of all at +10 points.
9:14 a.m. ET, June 4, 2019
Digging deeper with nonwhite voters
If you read most public polls on the Democratic primary, you're likely to see two ethnic/racial categories "whites" and "nonwhites". Nonwhites are made up African-Americans, Asians, Hispanics and other races.
Unfortunately, these groups individually often make up too small a percentage of the population to get a statistically significant sample of in any one poll. Hence, pollsters will combine them to get the broader nonwhite sample.
But what happens if you combine our last two CNN polls? Although the sample is still small in any individual group, we start to get a large enough sample to say a few key things.
First, Biden likely does significantly better with black voters than he does with white voters. He holds about a 40 point lead with black voters across our two polls. His lead with white voters is about 15 points over his nearest competitor.
Second, Biden seems to do about as equally well with Hispanic voters as he does with white voters. That is, he does much better with black voters than Hispanic voters.
The fact that Biden, who was the vice-president to the first black president, is doing so well among black voters shouldn't be too much of a surprise.
One other thing to note about nonwhite voters is that even when we combine all of them into one group the sampling error this group is about +/- 10 points in any one poll. That means we might get large jumps in the nonwhite crosstab from poll to poll, as we did between our last poll (Biden at 50%) and this poll this poll (Biden at 30%).
Sometimes those large leaps really happen. Often, they can be exaggerated.
If you average across our two two polls, Biden earns 40% among nonwhite voters. That's very similar to the 39% recently found by Quinnipiac University, 38% found by Fox News and 38% found by Monmouth University.
9:06 a.m. ET, June 4, 2019
Biden's lead continues to be powered by the hidden Democratic Party
I may sound like a broken record, but I've spoken at length about how the Democratic Party voters are more moderate, older and less educated than you think. It's this "Hidden Democratic Party" that is allowing Biden to maintain his advantage, despite having trouble with liberal, younger and more educated voters.
Look at how key groups breakdown in our poll.
Age: Biden gets just 19% among those under the age of 45. Among those over 45 years-old, Biden earns 45%.
Education: Biden gets 28% among whites with a college degree. He gets over 40% among whites without a college degree.
Ideology: Biden earns 25% among self-described liberal voters. He jumps to 38% among voters who call themselves either moderate or conservative.
What's key about all these groups is they make up a large chunk of the party. Those over 45 years-old are a majority of Democrats. Whites without a college degree make up the same 30% as whites with a college degree. Moderate and conservative Democrats are about 50% of the party.
If Biden continues to win about 40% of the vote among these different "hidden" groups, he's going to be difficult to stop in a field with more than 10 candidates.
8:56 a.m. ET, June 4, 2019
What Democratic primary voters' second choice preferences reveal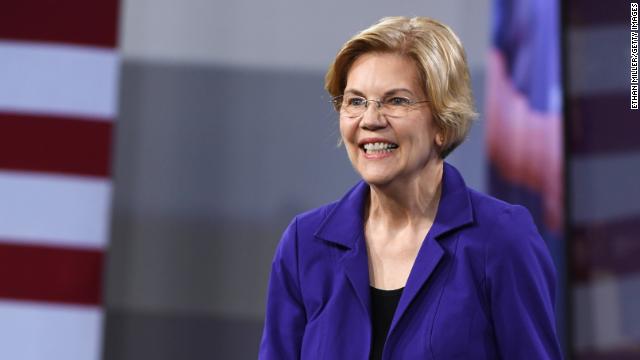 Our CNN poll asked about voters' second choice in addition to their first choice. These second choice preferences can be key because voter choice is often times more fluid in a primary than a general election.
Unlike among first choice preferences, Warren does seem to have gained some ground in the second choice category. She's the second choice of 14% of voters. That's up 5 points from March and good enough for being the second choice for more voters than any other candidate except Biden.
Warren though does continue to have the same potential problems she has in first choice selection. Her support is concentrated more among white, college educated and liberal voters.
One other key note is that Biden is steady on second choice. He's the second choice of 16% of voters. That's the same as it was in March.
Coming in with 16% may not seem great for a front-runner, but remember Biden's got a limited pool of potential second choice voters because he's the first choice of 32%.
Among those candidates who selected someone other than Biden for their first choice, Biden earns 29%. This is close to the the 32% he earns in first choice preferences among all voters.
The fact that Biden is able to get this many second choice votes suggests that there really isn't a Biden lane. Many voters selecting someone other than Biden will gravitate toward Biden if their first choice doesn't work out.
8:45 a.m. ET, June 4, 2019
Michael Bennet qualifies for the Democratic debates
One way to qualify for the Democratic debates at the end of this month is to receive 1% in three pre-approved polls by Democratic National Committee.
Sen. Michael Bennet of Colorado just hit three with the release of our new CNN poll.
Previously, Bennet had scored 1% in one other national poll and 1% in a CNN Iowa poll.
What's fascinating about Bennet getting 1% in our CNN poll is who chose him as their first choice. Before voters were provided with a list of all the candidates and asked to choose their first choice in the primary, they were asked about whether they had "a favorable or unfavorable opinion of Michael Bennet - or if you have never heard of him". Among the 44% of potential Democratic primary voters who had said they had heard of Bennet, 0% said he was their first choice in the primary. But among the 56% of primary voters who claimed they'd never heard of Bennet, enough of them chose Bennet in a listed ballot to get him to 1% in our poll overall.
That is, Bennet qualified for the Democratic debates thanks to voters who said they'd never heard of him. Maybe they just liked the sound of his name? Or perhaps being listed among the other Democratic candidates in the ballot test triggered something in their memory to remind them who Bennet was?
Either way, Bennet is the beneficiary.
The only potential bad news for Bennet is that he's now the 20th to qualify for the debates, according to CNN. If one more candidate qualifies amongst this group Montana Gov. Steve Bullock, Miramar, Florida Mayor Wayne Messam or Massachusetts Rep. Seth Moulton, Bennet may left out of the debates via a tiebreaker.
8:29 a.m. ET, June 4, 2019
Bill de Blasio's likability problems continue
Before New York City Mayor Bill de Blasio entered the 2020 presidential race, I warned that he sported an unusually low net favorability rating with Democrats. I said the same thing once de Blasio decided to run.
Our new CNN poll confirms that de Blasio is still the only Democrat with a name recognition score above 40% with potential Democratic primary voters and a negative net favorability rating.
De Blasio comes in with a favorable rating of 19% and an unfavorable rating with 22%. That's bad enough for a net favorability rating of -3 points.
To give you an understanding of how bad this is, Buttigieg has similar name recognition and a net favorability rating of +33 points with potential primary voters.
De Blasio does similarly among liberals (-3 points) and moderates/conservatives (-4 points). He does do better among nonwhites (+6 points) than whites (-9 points). Finally, his best group is those Democrats 65 years and older (+19 points).
It doesn't get any better for de Blasio with the general electorate. He has a -24 point net favorability rating among all voters. De Blasio had a net negative favorability with every group in our crosstabs.
About the only good news for de Blasio is CNN has him qualifying for the first debates. Of course merely qualifying doesn't mean inclusion. If more than 20 candidates end up qualifying, de Blasio may lose out on a tiebreaker.
8:23 a.m. ET, June 4, 2019
Biden is the most electable Democrat, for now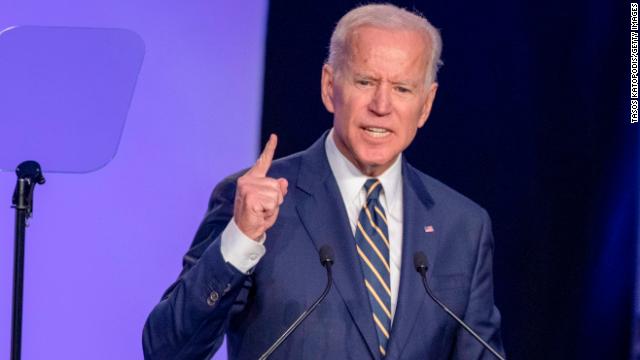 Joe Biden is making his ability to beat President Donald Trump a key focal point to his campaign. It's a good selling point in a year in which electability is more important to voters than ever. Of course, claiming electability and being electable are two different things.
For now though, Biden continues to have the best net favorability score of anyone in the Democratic field. His +10 point rating with voters is by far the best. Biden's closest competitor on this score is Buttigieg with a +3 point rating. The other Democrat with similarly high name recognition, Sanders, is at +1 point.
Biden's being buoyed by doing exceptionally well with Republican voters. Despite a barrage of negative information coming from Trump on Biden, 20% of Republicans view Biden favorably. This translates into a -51 point net favorability with them. That may seem low, but, for comparison, Sanders is at a -69 point rating.
It could be the case that Biden's favorable ratings drop over time. Biden though has maintained a fairly steady net favorability rating over the last month. In April, his score with voters was +10 points just as it is today. (His net favorability with Republicans is stable too.)
Biden's also now well ahead of where 2016 Democratic nominee Hillary Clinton was at this point with the general electorate. Her net favorability rating among voters was -5 points in a late May 2015 CNN poll. She was at a -75 point net favorability rating with Republicans.
8:21 a.m. ET, June 4, 2019
Bernie Sanders' support isn't dropping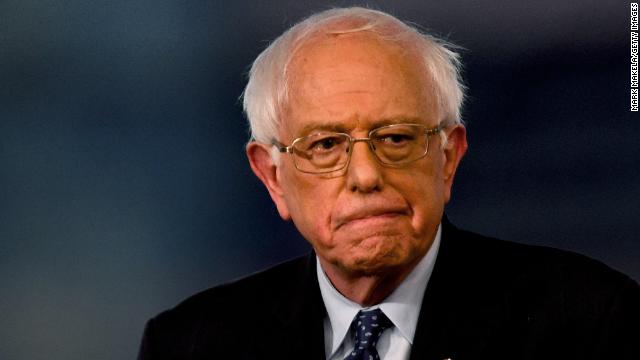 There is hope in some circles that Sen. Bernie Sanders supporters will migrate to other candidates. But while Sanders may have declined somewhat from his post-announcement high, he seems to have stabilized himself in the mid to high 10s.
Our poll puts him at 18%. The average since May 15 has him at around 17.5%. The average from May 1 to May 14 had him at around 17.5%.
Sanders is being buoyed by a fairly unique coalition. While his fellow progressive Warren is within 2 points of him among those 45 years and older, Sanders leads Warren 26% to 7% among those under 45. He even leads Biden in this group by 7 points.
Sanders continue to win a lot more non-college voters than Warren. He leads her 23% to 5% among this group. Among college educate voters, he's only up 11% to 10%.
It would be easy to assume that Sanders' support will decay as more voters will tune into the race. Indeed, Quinnipiac University did find that he polled worse among those paying a lot of attention to the race.
Yet, our poll went about this question a slightly different way. We asked voters if they definitely supported a candidate, or whether they might change their minds.
Sanders actually increased his support from 18% overall to 29% among those who said they would definitely support a candidate.
That's good news for Biden (who hopes for a divided opposition) and Sanders. It's bad news for everyone else.
8:00 a.m. ET, June 4, 2019
Top women Democrats are polling worse than top men
A number of interviews during the primary season have found that some voters believe that white male candidates are more electable than women candidate.
And while Hillary Clinton lost in 2016, I've generally believed that women candidates are not less electable than men candidates. Political science literature is mixed, though suggests that male candidates do not have an electability advantage over women. Women were elected in record numbers in 2018.
Our new poll though seems to suggest that voters might be right in believing that the top male candidates may have a step up in the general election.
Take a look at the top 5 Democrats and their net favorability (favorable - unfavorable) scores among all voters:
Biden +10 points
Buttigieg +3 points
Sanders +1 point
Harris -5 points
Warren -6 points
A Gallup poll in late April found something pretty similar. Biden was by the far most liked with Buttigieg and Sanders sporting slightly net positive net favorability scores. Both Harris and Warren were in the red.
Interestingly, Biden, Buttigieg and Sanders actually score higher among women voters than Harris or Warren do. This means that it isn't male voters who are holding back women candidates.
Now, it would be easy to ascribe the negative ratings of Harris and Warren to a lack of name recognition, but both are better known than Buttigieg. Further, both candidates have lower net favorability ratings with independents than the other candidates.
Of course just because the male candidates right now have higher scores doesn't mean this will continue. We'll have to keep an eye on it.