CNN's latest poll shows Biden maintains lead
8:56 a.m. ET, June 4, 2019
What Democratic primary voters' second choice preferences reveal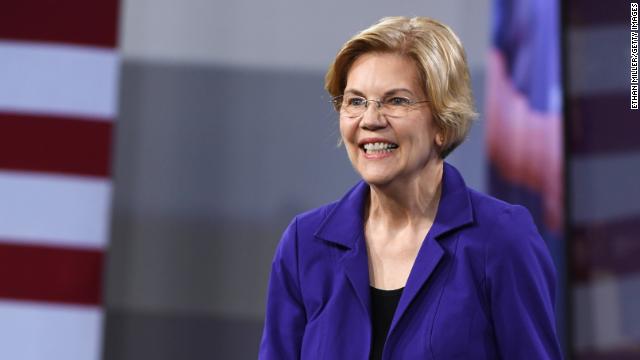 Our CNN poll asked about voters' second choice in addition to their first choice. These second choice preferences can be key because voter choice is often times more fluid in a primary than a general election.
Unlike among first choice preferences, Warren does seem to have gained some ground in the second choice category. She's the second choice of 14% of voters. That's up 5 points from March and good enough for being the second choice for more voters than any other candidate except Biden.
Warren though does continue to have the same potential problems she has in first choice selection. Her support is concentrated more among white, college educated and liberal voters.
One other key note is that Biden is steady on second choice. He's the second choice of 16% of voters. That's the same as it was in March.
Coming in with 16% may not seem great for a front-runner, but remember Biden's got a limited pool of potential second choice voters because he's the first choice of 32%.
Among those candidates who selected someone other than Biden for their first choice, Biden earns 29%. This is close to the the 32% he earns in first choice preferences among all voters.
The fact that Biden is able to get this many second choice votes suggests that there really isn't a Biden lane. Many voters selecting someone other than Biden will gravitate toward Biden if their first choice doesn't work out.
8:45 a.m. ET, June 4, 2019
Michael Bennet qualifies for the Democratic debates
One way to qualify for the Democratic debates at the end of this month is to receive 1% in three pre-approved polls by Democratic National Committee.
Sen. Michael Bennet of Colorado just hit three with the release of our new CNN poll.
Previously, Bennet had scored 1% in one other national poll and 1% in a CNN Iowa poll.
What's fascinating about Bennet getting 1% in our CNN poll is who chose him as their first choice. Before voters were provided with a list of all the candidates and asked to choose their first choice in the primary, they were asked about whether they had "a favorable or unfavorable opinion of Michael Bennet - or if you have never heard of him". Among the 44% of potential Democratic primary voters who had said they had heard of Bennet, 0% said he was their first choice in the primary. But among the 56% of primary voters who claimed they'd never heard of Bennet, enough of them chose Bennet in a listed ballot to get him to 1% in our poll overall.
That is, Bennet qualified for the Democratic debates thanks to voters who said they'd never heard of him. Maybe they just liked the sound of his name? Or perhaps being listed among the other Democratic candidates in the ballot test triggered something in their memory to remind them who Bennet was?
Either way, Bennet is the beneficiary.
The only potential bad news for Bennet is that he's now the 20th to qualify for the debates, according to CNN. If one more candidate qualifies amongst this group Montana Gov. Steve Bullock, Miramar, Florida Mayor Wayne Messam or Massachusetts Rep. Seth Moulton, Bennet may left out of the debates via a tiebreaker.
8:29 a.m. ET, June 4, 2019
Bill de Blasio's likability problems continue
Before New York City Mayor Bill de Blasio entered the 2020 presidential race, I warned that he sported an unusually low net favorability rating with Democrats. I said the same thing once de Blasio decided to run.
Our new CNN poll confirms that de Blasio is still the only Democrat with a name recognition score above 40% with potential Democratic primary voters and a negative net favorability rating.
De Blasio comes in with a favorable rating of 19% and an unfavorable rating with 22%. That's bad enough for a net favorability rating of -3 points.
To give you an understanding of how bad this is, Buttigieg has similar name recognition and a net favorability rating of +33 points with potential primary voters.
De Blasio does similarly among liberals (-3 points) and moderates/conservatives (-4 points). He does do better among nonwhites (+6 points) than whites (-9 points). Finally, his best group is those Democrats 65 years and older (+19 points).
It doesn't get any better for de Blasio with the general electorate. He has a -24 point net favorability rating among all voters. De Blasio had a net negative favorability with every group in our crosstabs.
About the only good news for de Blasio is CNN has him qualifying for the first debates. Of course merely qualifying doesn't mean inclusion. If more than 20 candidates end up qualifying, de Blasio may lose out on a tiebreaker.
8:23 a.m. ET, June 4, 2019
Biden is the most electable Democrat, for now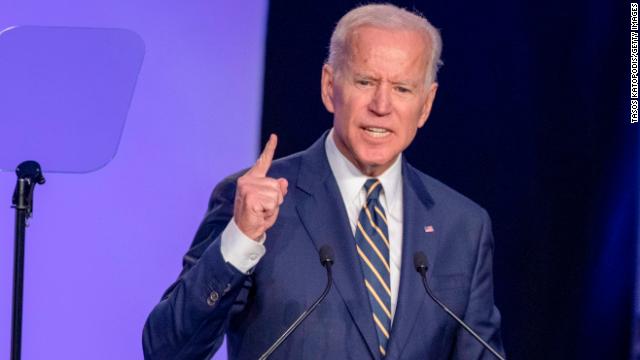 Joe Biden is making his ability to beat President Donald Trump a key focal point to his campaign. It's a good selling point in a year in which electability is more important to voters than ever. Of course, claiming electability and being electable are two different things.
For now though, Biden continues to have the best net favorability score of anyone in the Democratic field. His +10 point rating with voters is by far the best. Biden's closest competitor on this score is Buttigieg with a +3 point rating. The other Democrat with similarly high name recognition, Sanders, is at +1 point.
Biden's being buoyed by doing exceptionally well with Republican voters. Despite a barrage of negative information coming from Trump on Biden, 20% of Republicans view Biden favorably. This translates into a -51 point net favorability with them. That may seem low, but, for comparison, Sanders is at a -69 point rating.
It could be the case that Biden's favorable ratings drop over time. Biden though has maintained a fairly steady net favorability rating over the last month. In April, his score with voters was +10 points just as it is today. (His net favorability with Republicans is stable too.)
Biden's also now well ahead of where 2016 Democratic nominee Hillary Clinton was at this point with the general electorate. Her net favorability rating among voters was -5 points in a late May 2015 CNN poll. She was at a -75 point net favorability rating with Republicans.
8:21 a.m. ET, June 4, 2019
Bernie Sanders' support isn't dropping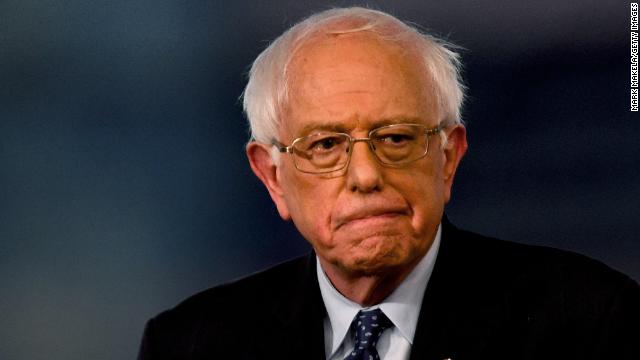 There is hope in some circles that Sen. Bernie Sanders supporters will migrate to other candidates. But while Sanders may have declined somewhat from his post-announcement high, he seems to have stabilized himself in the mid to high 10s.
Our poll puts him at 18%. The average since May 15 has him at around 17.5%. The average from May 1 to May 14 had him at around 17.5%.
Sanders is being buoyed by a fairly unique coalition. While his fellow progressive Warren is within 2 points of him among those 45 years and older, Sanders leads Warren 26% to 7% among those under 45. He even leads Biden in this group by 7 points.
Sanders continue to win a lot more non-college voters than Warren. He leads her 23% to 5% among this group. Among college educate voters, he's only up 11% to 10%.
It would be easy to assume that Sanders' support will decay as more voters will tune into the race. Indeed, Quinnipiac University did find that he polled worse among those paying a lot of attention to the race.
Yet, our poll went about this question a slightly different way. We asked voters if they definitely supported a candidate, or whether they might change their minds.
Sanders actually increased his support from 18% overall to 29% among those who said they would definitely support a candidate.
That's good news for Biden (who hopes for a divided opposition) and Sanders. It's bad news for everyone else.
8:00 a.m. ET, June 4, 2019
Top women Democrats are polling worse than top men
A number of interviews during the primary season have found that some voters believe that white male candidates are more electable than women candidate.
And while Hillary Clinton lost in 2016, I've generally believed that women candidates are not less electable than men candidates. Political science literature is mixed, though suggests that male candidates do not have an electability advantage over women. Women were elected in record numbers in 2018.
Our new poll though seems to suggest that voters might be right in believing that the top male candidates may have a step up in the general election.
Take a look at the top 5 Democrats and their net favorability (favorable - unfavorable) scores among all voters:
Biden +10 points
Buttigieg +3 points
Sanders +1 point
Harris -5 points
Warren -6 points
A Gallup poll in late April found something pretty similar. Biden was by the far most liked with Buttigieg and Sanders sporting slightly net positive net favorability scores. Both Harris and Warren were in the red.
Interestingly, Biden, Buttigieg and Sanders actually score higher among women voters than Harris or Warren do. This means that it isn't male voters who are holding back women candidates.
Now, it would be easy to ascribe the negative ratings of Harris and Warren to a lack of name recognition, but both are better known than Buttigieg. Further, both candidates have lower net favorability ratings with independents than the other candidates.
Of course just because the male candidates right now have higher scores doesn't mean this will continue. We'll have to keep an eye on it.
7:37 a.m. ET, June 4, 2019
Pete Buttigieg drops back from his apex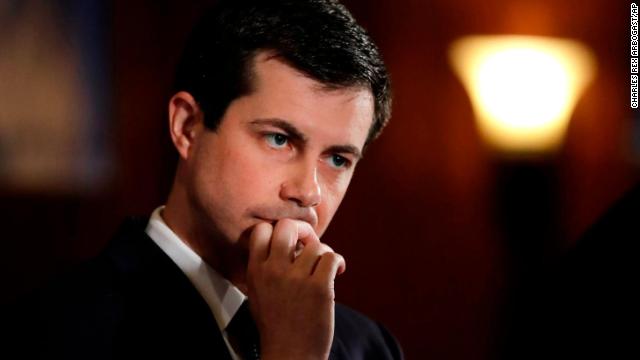 South Bend Mayor Pete Buttigieg has been the 2020 primary surprise. He came from basically 0% when he entered the race to over 10% in some polls by the end of April.
Buttigieg is at just at 5% in our poll out today. In the average poll since May 1, Buttigieg has registered 6%. He was at 9% in the average poll during the month of April.
Buttigieg's drop can probably be attributed to a lack of media oxygen and an inability to expand his base.
Media mentions are often correlated with primary success, and Buttigieg likely benefitted from that. He had 500 cable news mentions during one week in April, according to a FightThirtyEight analysis, which was good enough for the second most during that week. Last week though, Buttigieg hit his low point since mid-April with just 137 cable news mentions.
Buttigieg's other problem is a thin coalition. He continues to have basically no success with nonwhite voters. This group makes up about 40% of the Democratic primary vote, and Buttigieg is at only 1% with them in our poll.
Buttigieg struggles with voters lacking a college degree also has maintained itself. He's at just 2% with them in our poll. They make up over 50% of Democratic primary voters.
Lastly, Buttigieg is getting more competition in the liberal lane. Buttigieg had been doing quite well with left. But With Warren up a little since April and Sanders holding (if not climbing a little), Buttigieg is getting squeezed.
7:20 a.m. ET, June 4, 2019
Elizabeth Warren appears stuck in place for now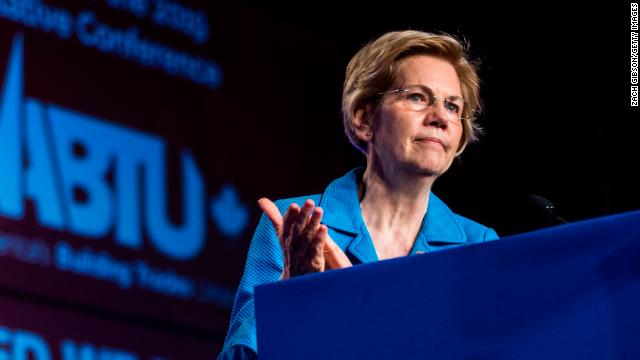 Besides Joe Biden's continued lead over the field, the biggest story to come out of our poll may be that Elizabeth Warren is in fourth place at 7%. That's down an insignificant point from 8% in our last poll.
The reason I say this is is a big story is because there have been a lot of stories written since May about Warren's possible momentum.
The problem is that at least nationally (and things could potentially be different in early primary states), Warren's momentum isn't really registering in the polls.
When you look at the average poll taken since the middle of May, Warren's at 9%. In the two weeks before that, she was also at 9%. In the month before that she was 7%. Put another way, Warren is perhaps slightly up over the last two months, but not really over the last month.
Warren is still more than 20 points behind Biden and 5 to 10 points behind Sanders, depending on what poll you look at.
How to explain Warren's relatively low polling versus a momentum driven press?
I'd argue Warren benefits from the same phenomenon that Pete Buttigieg has.Many in the media are surrounded by her base of white, well-educated and liberal voters. Although our poll does not pick up on the racial element of this (other polls do), our poll does show her best groups are college educated voters and liberals.
6:44 a.m. ET, June 4, 2019
Biden leads other 2020 Democrats -- but by somewhat less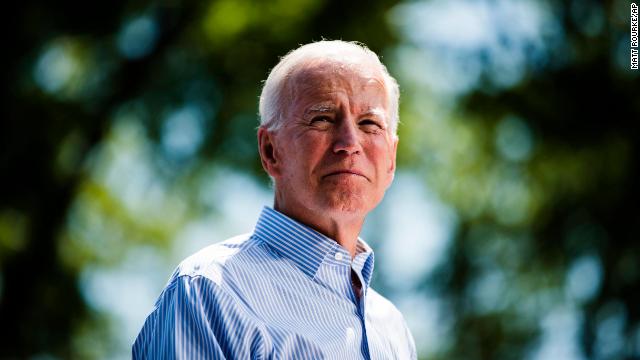 Our new CNN national primary poll shows 32% of potential Democratic primary voters support former Vice President Joe Biden. That's down from the 39% who backed him in late April, but up from the 28% who chose him as their number one choice in March.
The decline for Biden is not unexpected since other candidates have received post-announcement bumps that retreated in time. This poll is in-line with others that were taken two weeks after Biden entered or later.
The big story is that Biden holds a clear, though not insurmountable lead over the rest of the field.
The only other candidate to come close to Biden is Vermont Sen. Bernie Sanders. He comes in at 18%. Sanders was at 15% in late April and 19% in March.
No other candidate is in double-digits in our poll.
What we show is four candidates between 5% and 9%. California Sen. Kamala Harris is in third place at 8%. Massachusetts Sen. Elizabeth Warren follows closely in fourth at 7%. Finally, we have South Bend, Indiana, Mayor Pete Buttigieg and former Texas Rep. Beto O'Rourke tied for fifth at 5%.
All of these candidates are within 3 points of where they polled in April. None of them show any real signs of momentum when comparing across the last three CNN polls.