CNN's latest Nevada and South Carolina polls: Live analysis
2:31 p.m. ET, September 29, 2019
TL;DR: Biden leads in South Carolina; A three-way top tier in Nevada
In CNN's first poll of the South Carolina primary, Joe Biden holds a clear lead among likely South Carolina Democratic primary voters. He's up 37% to Elizabeth Warren's 16% to Bernie Sanders' 11%. No one else is above 5%.
The picture is different in Nevada, where the first CNN poll there of the cycle has Biden at 22% and joined in the top tier by Sanders at 22% and Warren at 18% among likely caucus-goers. But, like in South Carolina, no one else is above 5%.
Here are a few other takeaways from the polls:
Biden stands at 45% among black voters in South Carolina, while Warren, who scores 28% among white voters in the state, is at just 4% with black voters.
Pete Buttigieg continues his struggles with nonwhite voters as well, with just 2% among them in Nevada and less than 1% with them in South Carolina.
Nevada looks like it could be a swing state in 2020, with Donald Trump's approval rating among voters at 44%, which is close to, if not a little better than, where he's at nationally.
Tom Steyer is just one qualifying poll away from making the November debate stage, thanks to getting 3% in South Carolina and 4% in Nevada.
Unlike in Iowa, Biden, not Warren, leads when it comes to enthusiasm among South Carolina voters. In Nevada, Biden, Sanders and Warren are about equal when it comes to voter enthusiasm.
1:08 p.m. ET, September 29, 2019
Kamala Harris' polling troubles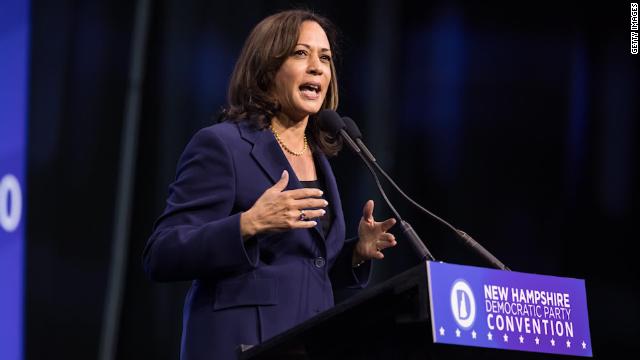 You might have thought that Nevada and South Carolina would be two of Kamala Harris' strongest states. Nevada is right next door to California, her home state. South Carolina has a large black population. 
Instead, she's at 5% in Nevada and 3% in South Carolina. 
When you dig a little deeper, there doesn't seem to be any untapped well of support. Just 22% of likely caucus-goers in Nevada and 23% of likely primary voters in South Carolina say they would be enthusiastic about her winning the nomination. That's more than 20 points behind the leader in each contest.
Harris tied with Pete Buttigieg in Nevada and only statistically insignificantly ahead of him in South Carolina when it comes to enthusiasm. Both states have been among the South Bend, Indiana, mayor's weakest. 
These numbers suggest that Harris is making the right call by planting herself in Iowa. Even if these states should be stronger for her in theory, she polls about as well in Iowa. These states are not anywhere close to a backstop for Harris. What she needs is to somehow use Iowa as a catapult to improve her standing in these later contests.
Perhaps the only encouraging sign for Harris is she's at 6% among black voters in South Carolina compared to Elizabeth Warren's 4%. That is, she is in no worse position than Warren among a pivotal bloc of voters, even as she struggles overall. It suggests Harris has more room to grow with black voters -- if her campaign can ever get going. 
12:29 p.m. ET, September 29, 2019
O'Rourke's message has an audience, but it's a small one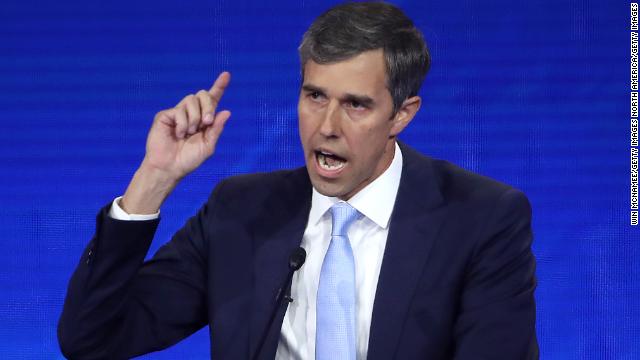 Recently, Beto O'Rourke has made gun policy the signature issue of his presidential campaign, after the mass shooting in his hometown of El Paso, Texas. This has resulted in little change in the percentage of caucus-goers and primary voters supporting his campaign. That doesn't mean that caucus-goers and voters aren't hearing him, though.
As my colleague Jennifer Agiesta pointed out to me, the former Texas congressman does seem to get a small boost on the question of gun policy. 
In Nevada, 7% of likely caucus-goers say he's best candidate on gun policy. That's much higher than the less than 1% who chose him as their number one choice for the nomination.  
In South Carolina, 6% of likely primary voters said he was best on gun policy. Just 2% said he was their top choice for the nomination. 
Indeed, O'Rourke scored higher on gun policy than any of the five issues we tested in either state. (Immigration was a close second, which is another issue O'Rourke has made a cornerstone to his campaign.) 
O'Rourke's problem is two-fold:
First, there are other issues besides gun policy in voters' minds. 
Second, the other Democratic candidates are talking about gun policy, too. The top three candidates who caucus-goers and voters say are best to handle gun policy are the same who they choose in the horserace. 
12:09 p.m. ET, September 29, 2019
Nevada looks like a swing state in 2020
President Donald Trump holds a 44% approval rating among registered voters in our poll. His disapproval rating stands at 49%. This is not a strong standing, though it's no worse and, in fact, a little better than he's been doing with voters nationwide. 
The fact that Trump's doing about the same or slightly better in Nevada than nationally should not come as a big surprise. Our poll taken before the 2018 midterms showed very close to the same thing. Democratic House candidates did a little worse than Democrats nationally in 2018. Hillary Clinton basically matched her national margin in Nevada in 2016. 
While most analysts pay attention to the large Hispanic population in the state, whites without a college degree made up nearly double the percentage whites with a college did in the 2018 exit polls. Nationally, the gap between the two was about half of what it was in Nevada. Whites without a college are Trump's big group. 
These numbers suggest Trump is smart to target the state in 2020. If he comes anywhere close to winning nationally, Nevada will likely be in play. 
10:55 a.m. ET, September 29, 2019
Biden's support solid in South Carolina, for now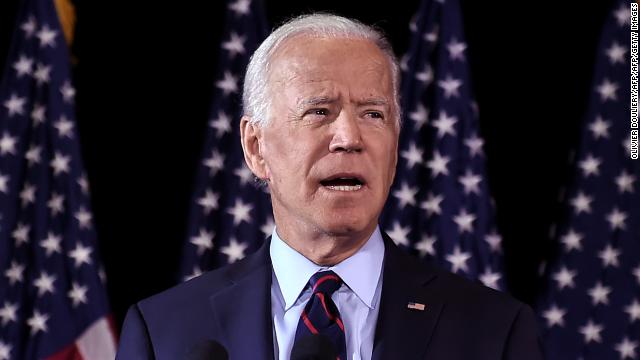 If Joe Biden's campaign is looking to use South Carolina as some sort of firewall, our numbers suggest it has some hope of succeeding. It's not just that Biden holds an over-20-point lead in our poll. It's what underneath. 
Biden does better among those voters who say they are already decided on a choice. He leads both Sanders and Warren by more than 30 points among this group. This is generally the same thing we saw in Iowa: Biden's supporters are more committed than the average candidate's. 
South Carolina likely Democratic primary voters are also more enthusiastic about Biden than the other candidates. Nearly half of South Carolina primary voters say they would be enthusiastic if he were the nominee. The next closest contender, Warren, scores just a 35% on this measure. This makes South Carolina different than Iowa, where Warren had by far the most enthusiastic base. 
Black South Carolina voters in particular are enthusiastic about Biden. A majority, 55%, say they'd be enthusiastic if he were the nominee. Black voters make up a substantial portion of the South Carolina electorate. They are likely to be less than 10% of the Iowa Democratic caucus-goers. If Iowa had more black caucus-goers, Biden would be in better shape.
10:19 a.m. ET, September 29, 2019
Buttigieg struggles with nonwhite voters continue
Last week, I wrote that Pete Buttigieg had a lot of upside in Iowa. The same holds true in a New Hampshire.
The problem for Buttigieg is that once states with significant nonwhite populations start voting, he's in a world of trouble. 
The South Bend, Indiana, mayor gets a grand total of 2% of the nonwhite vote in Nevada. In South Carolina, Buttigieg gets less than 1%. That's just not going to work in a Democratic primary in which about 40% of voters nationwide will be nonwhite. 
You see his struggles underneath the hood as well. While Buttigieg scored the second best very favorable rating in Iowa, he did far worse when likely Nevada caucus-goers and South Carolina primary voters were asked to rate how they'd feel about candidates winning the nomination on a scale from enthusiastic to satisfied but not enthusiastic to dissatisfied but not upset to upset. 
Buttigieg's enthusiastic score was 25 points behind Sanders' in Nevada and 29 points behind Biden's in South Carolina. Some of that is name recognition, though not most of it. There's just not the same enthusiasm for Buttigieg in these two states as there was in Iowa. 
9:21 a.m. ET, September 29, 2019
Why Nevada is a good state for Sanders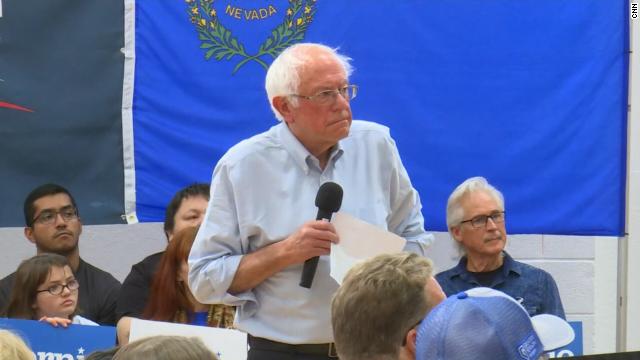 Of all the early state polling that has come out over the last week or so, our Nevada poll is the best news for Vermont Sen. Bernie Sanders by far. He's in a top tier with former Vice President Joe Biden and Massachusetts Sen. Elizabeth Warren, and this is not the first Nevada poll to put him there. 
Nevada's unique demographics among the early states is why. 
Unlike any of the other early states, Nevada has a substantial Hispanic population. About 20% of our likely caucus-goers sample identifies as Latino. We don't have a large enough sample to report how well Sanders is doing among that bloc, but our last national poll showed that the Vermont senator did his best among Latino voters. 
The other big reason is that white caucus-goers without a college degree outnumber whites with a college degree in our sample. Whites without a college degree were a larger percentage of the Democratic vote in 2018 as well. Sanders does about twice as well among whites without a college degree in our sample than whites with a college degree. That matches what we see nationally. 
The big question for Sanders is whether he can actually maintain his Nevada support, if he loses in both Iowa and New Hampshire. 
8:34 a.m. ET, September 29, 2019
Warren is earning 4% of the black vote in South Carolina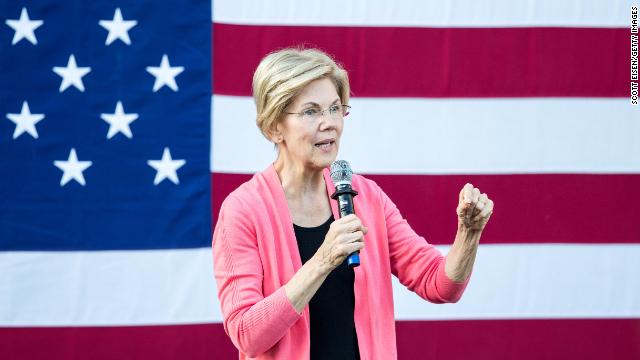 Perhaps the biggest question of the Democratic primary race is whether Massachusetts Sen. Elizabeth Warren can extend her appeal beyond her white well-educated base. Specifically, can she earn the support of black voters, who are the base of the Democratic Party?
Our South Carolina poll suggests the Massachusetts senator has a lot of work to do. She gets only 4% of the black likely primary voters. That looks quite similar to the 2% Warren was earning amongst this group in previous polls by Fox News and Monmouth University.
For comparison, Warren's at 28% among white voters in our South Carolina poll.
Black voters, of course, make up a majority or near a majority of Democratic primary voters in southern primaries such as Alabama, Georgia, Louisiana, Mississippi and South Carolina. Warren's going to run into some major problems in southern primaries if she can't do better with this bloc of voters.
Biden, for his part, wants to count on South Carolina as a firewall if he loses the states of Iowa and New Hampshire. I'm not sure he can do that, but so far his support from black voters is holding in South Carolina. He's at 45% among them in this poll, which is about where he was in previous South Carolina polling.
The two black candidates in the race, Booker and Harris, are at 1% and 6%, among black voters respectively. Sanders is in second at 13% with this group.
10:06 a.m. ET, September 29, 2019
Steyer is in a better position to make November's debate than O'Rourke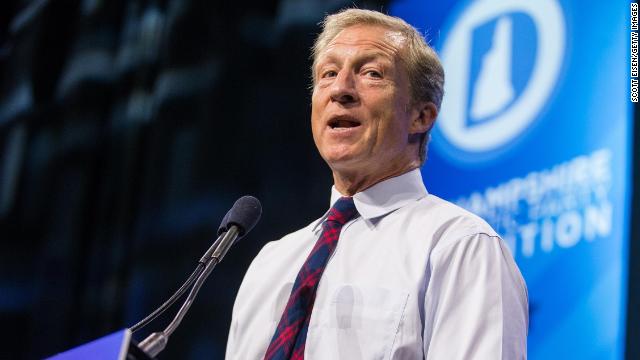 Appearing on the debate stage is like basic nutrition to a presidential campaign. The stage is all but set for October's Democratic primary debate. For November, the thresholds are being upped so that a candidate needs either 5% in two early state polls or 3% in four qualifying national or early state polls. Candidates also need to reach a fundraising threshold.
Our Nevada and South Carolina polls put businessman Tom Steyer on the precipice of making the November debate. He earned 4% in Nevada and 3% in South Carolina. That gives him three qualifying polls (including a prior Nevada poll), and he has until "seven days before the date of the November debate" to get his fourth. (We do not yet know when the November debate will take place.)
Businessman Andrew Yang also looks likely to qualify for the November debates. He earned 3% in our Nevada poll, which puts him at three qualifying polls overall.
The candidates who had already made the November debate stage include former Vice President Joe Biden, South Bend, Indiana, Mayor Pete Buttigieg, California Sen. Kamala Harris, Vermont Sen. Bernie Sanders and Massachusetts Sen. Elizabeth Warren.
New Jersey Sen. Cory Booker didn't reach 3% in either of our new polls. He's two short currently for the November debate, though he seems more likely than not to make it.
Former Texas congressman Beto O'Rourke and Minnesota Sen. Amy Klobuchar seem to be in at least a little trouble of making the November debate. They've each only gotten one qualifying poll for November so far.
The candidates in the biggest danger of not making November's debate after making October's are former Housing and Urban Development Secretary Julián Castro and Hawaii Rep. Tulsi Gabbard. Neither have a qualifying poll yet for November.