9:55 p.m. ET, July 18, 2019
Here's what you need to know about the debate lineup
The lineup for the two-night Democratic primary debate in Detroit, Michigan, was announced tonight.
We're wrapping up our live coverage for the night. In case you missed it, here's what you need to know about the debates:
The CNN debates: The Democratic debates will be held over two nights on July 30 and 31. The CNN debate brings the Democratic candidates to the battleground state of Michigan, which Trump won in 2016.
The candidates who qualified: Colorado Sen. Michael Bennet, former Vice President Joe Biden, New Jersey Sen. Cory Booker, Montana Gov. Steve Bullock, South Bend, Indiana, Mayor Pete Buttigieg, former Housing and Urban Development Secretary Julián Castro, New York Mayor Bill de Blasio, former Maryland Rep. John Delaney, Hawaii Rep. Tulsi Gabbard, New York Sen. Kirsten Gillibrand, California Sen. Kamala Harris, former Colorado Gov. John Hickenlooper, Washington Gov. Jay Inslee, Minnesota Sen. Amy Klobuchar, former Texas Rep. Beto O'Rourke, Ohio Rep. Tim Ryan, Vermont Sen. Bernie Sanders, Massachusetts Sen. Elizabeth Warren, author Marianne Williamson and businessman Andrew Yang.
The lineup: Williamson, Delaney, Hickenlooper, Ryan, Bullock, Klobuchar, O'Rourke, Buttigieg, Warren and Sanders are taking the stage on the first night. Inslee, Gillibrand, Gabbard, Bennet, de Blasio, Booker, Yang, Castro, Harris and Biden will face off on the second night.
Here's a look the podium positions for each night: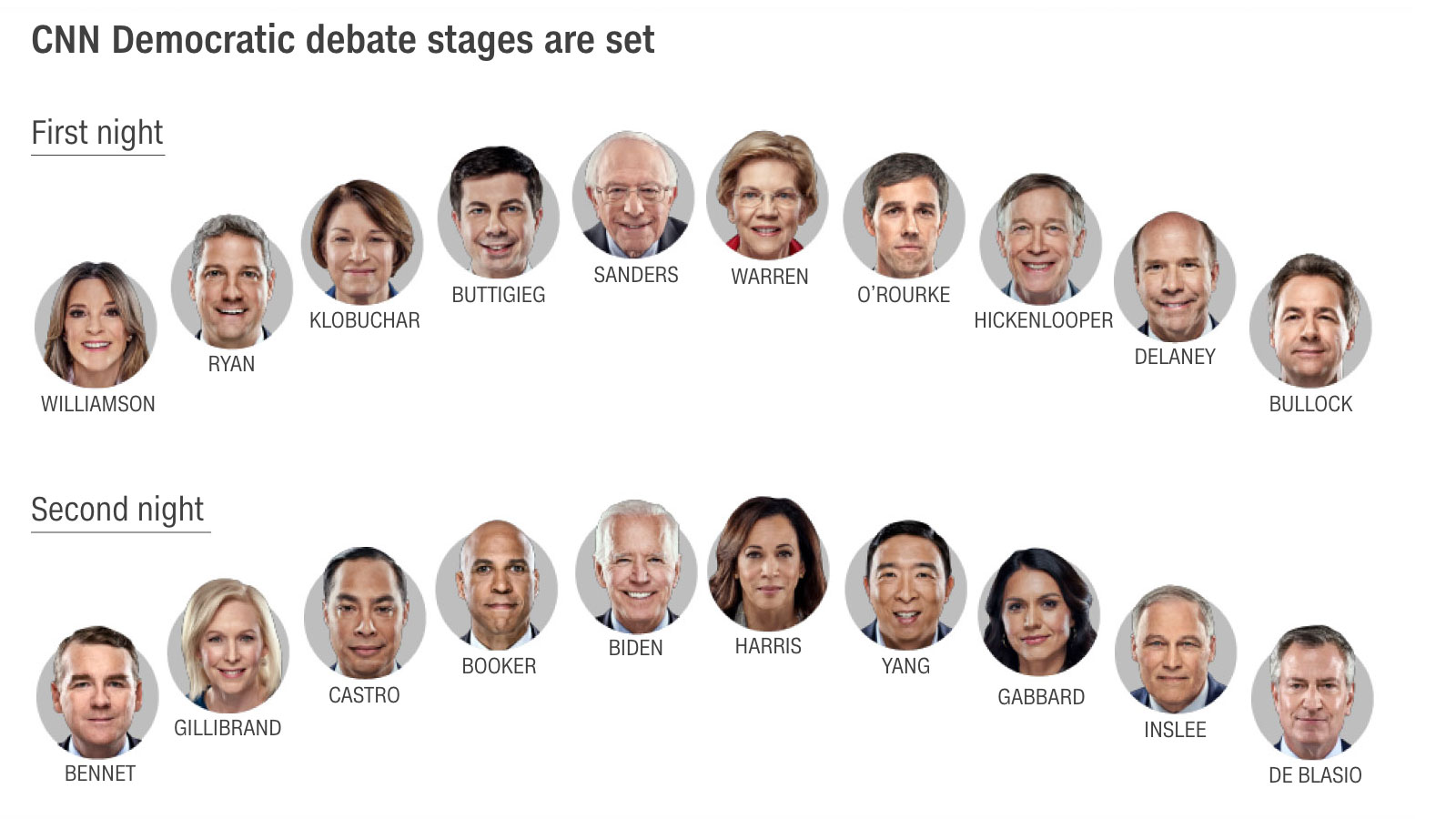 9:52 p.m. ET, July 18, 2019
Sanders and Harris' campaigns react to CNN's debate draw
Two Democratic presidential hopefuls reacted to tonight's CNN debate draw.
Sen. Bernie Sanders's campaign manager Faiz Shakir took his first jab at some of the candidates ahead of the debates. (Sanders will be part of the first night of CNN's Democratic debates on July 30.)
"While some other candidates will talk about issues that will please the billionaire class, Bernie will be standing up for what we believe," Shakir said.
Sen. Kamala Harris' campaign said the debates will allow her to share her ideas and "reach more Americans to join our movement to prosecute the case against four more years of Donald Trump and this administration."
Harris will appear on the second night of the debates on July 31.
9:13 p.m. ET, July 18, 2019
All eyes will be on Buttigieg and O'Rourke's interactions during the debates
One key dynamic on debate night will be how South Bend, Indiana, Mayor Pete Buttigieg and former Texas Congressman Beto O'Rourke interact with one another.
Both younger Democrats are considered rising stars in the party, but their presidential campaigns are going in distinctly different directions: After announcing a presidential exploratory committee with little fanfare, Buttigieg raised nearly $25 million the second quarter of 2019, compared to O'Rourke, who raised $9.4 million in the first 18 days of his campaign but only raised $3.6 million in the second quarter.
Many Democratic operatives believe Buttigieg offered a fresh new face during the presidential campaign, stepping on O'Rourke's momentum after a failed, but closely watched, Senate campaign in Texas.
9:16 p.m. ET, July 18, 2019
Warren reacts to the debates: "I'm fired up for big, structural change—let's do this!"
Sen. Elizabeth Warren just tweeted about tonight's CNN debate draw, saying she was "grateful for another chance to talk" about her grassroots movement.
I'm fired up for big, structural change—let's do this!" she said.
Read her tweet:
9:05 p.m. ET, July 18, 2019
Will Warren and Sanders' friendship be tested at the debates?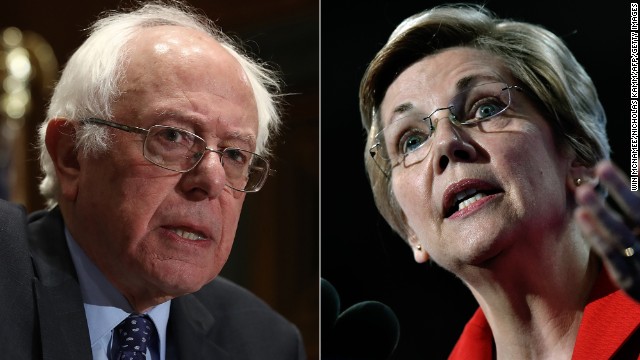 Sens. Bernie Sanders and Elizabeth Warren will go head-to-head on July 30.
There are no two top, or even middle-tier candidates, with so much in common.
Yes, they are drawing support in the polls from different demographic pools, but that doesn't mean those voters aren't drawn to them for similar reasons.
The candidates seem to be taking a similar view: both have done their best to avoid any kind of confrontation, real or perceived, perhaps believing that the an attack on one could depress their own support.
For that reason, it will be incredibly interesting to see them share a debate stage. There's every chance what's effectively been a nonaggression pact will survive a debate night — with the pair using the platform to advocate for their mostly similar platforms.
Or...
Things could go a different way. If Sanders is worried that Warren is claiming the progressive mantle from him, he could question Warren on health care, and force her to talk more about Medicare for All.
If Warren — who said "I'm with Bernie" on health care the first time around — seeks to differentiate herself, she could argue that she's a better choice, plans and all, to make their shared proposals a reality.
9:08 p.m. ET, July 18, 2019
Warren and Sanders will share a stage. But they don't share a base.
The big night one matchup will be between Sanders and Warren. Despite both pulling most of their voters from the left, I'd bet that this pairing won't produce the most memorable moment in night one. Why? 
Well for one thing, the two senators have shown a reluctance to go after each other on the campaign trail. They seem to genuinely like each other. 
But it's more than that. I'm not sure either has much to gain. Sanders base is much more working class than Warren's. That is, she does significantly better among whites with a college degree, while Sanders does significantly better among whites without a college degree. 
If night one produces a moment, it might be a lower tier candidate try and make an electability or ideologically contrast case against Sanders or Warren. 
8:58 p.m. ET, July 18, 2019
Why these debates could be an opportunity for Michael Bennet
Sen. Michael Bennet, step on up.
The Colorado moderate will stand out on the second debate night, which is otherwise stocked with progressive hopefuls.
New York Mayor Bill de Blasio and Rep. Tulsi Gabbard are among the furthest left in the field. Washington Gov. Jay Inslee is running on a massive climate plan. And Sens. Kirsten Gillibrand and Cory Booker are both cosponsors of Sen. Bernie Sanders' "Medicare for All" bill.
On the flip side, former Rep. John Delaney and former Colorado Gov. John Hickenlooper won't have much to argue about on the first night. They'll be hoping to take on Sanders.