9:05 p.m. ET, July 18, 2019
Will Warren and Sanders' friendship be tested at the debates?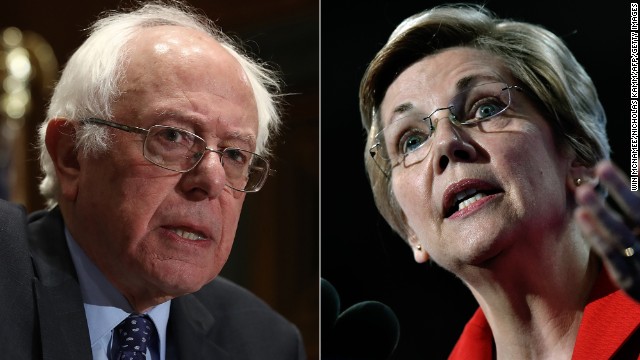 Sens. Bernie Sanders and Elizabeth Warren will go head-to-head on July 30.
There are no two top, or even middle-tier candidates, with so much in common.
Yes, they are drawing support in the polls from different demographic pools, but that doesn't mean those voters aren't drawn to them for similar reasons.
The candidates seem to be taking a similar view: both have done their best to avoid any kind of confrontation, real or perceived, perhaps believing that the an attack on one could depress their own support.
For that reason, it will be incredibly interesting to see them share a debate stage. There's every chance what's effectively been a nonaggression pact will survive a debate night — with the pair using the platform to advocate for their mostly similar platforms.
Or...
Things could go a different way. If Sanders is worried that Warren is claiming the progressive mantle from him, he could question Warren on health care, and force her to talk more about Medicare for All.
If Warren — who said "I'm with Bernie" on health care the first time around — seeks to differentiate herself, she could argue that she's a better choice, plans and all, to make their shared proposals a reality.
9:08 p.m. ET, July 18, 2019
Warren and Sanders will share a stage. But they don't share a base.
The big night one matchup will be between Sanders and Warren. Despite both pulling most of their voters from the left, I'd bet that this pairing won't produce the most memorable moment in night one. Why? 
Well for one thing, the two senators have shown a reluctance to go after each other on the campaign trail. They seem to genuinely like each other. 
But it's more than that. I'm not sure either has much to gain. Sanders base is much more working class than Warren's. That is, she does significantly better among whites with a college degree, while Sanders does significantly better among whites without a college degree. 
If night one produces a moment, it might be a lower tier candidate try and make an electability or ideologically contrast case against Sanders or Warren. 
8:58 p.m. ET, July 18, 2019
Why these debates could be an opportunity for Michael Bennet
Sen. Michael Bennet, step on up.
The Colorado moderate will stand out on the second debate night, which is otherwise stocked with progressive hopefuls.
New York Mayor Bill de Blasio and Rep. Tulsi Gabbard are among the furthest left in the field. Washington Gov. Jay Inslee is running on a massive climate plan. And Sens. Kirsten Gillibrand and Cory Booker are both cosponsors of Sen. Bernie Sanders' "Medicare for All" bill.
On the flip side, former Rep. John Delaney and former Colorado Gov. John Hickenlooper won't have much to argue about on the first night. They'll be hoping to take on Sanders.
9:12 p.m. ET, July 18, 2019
Here are the podium positions for CNN's Democratic debates
Here are the podium positions for each night of CNN's Democratic debates.
The podium positions are based on public polling numbers.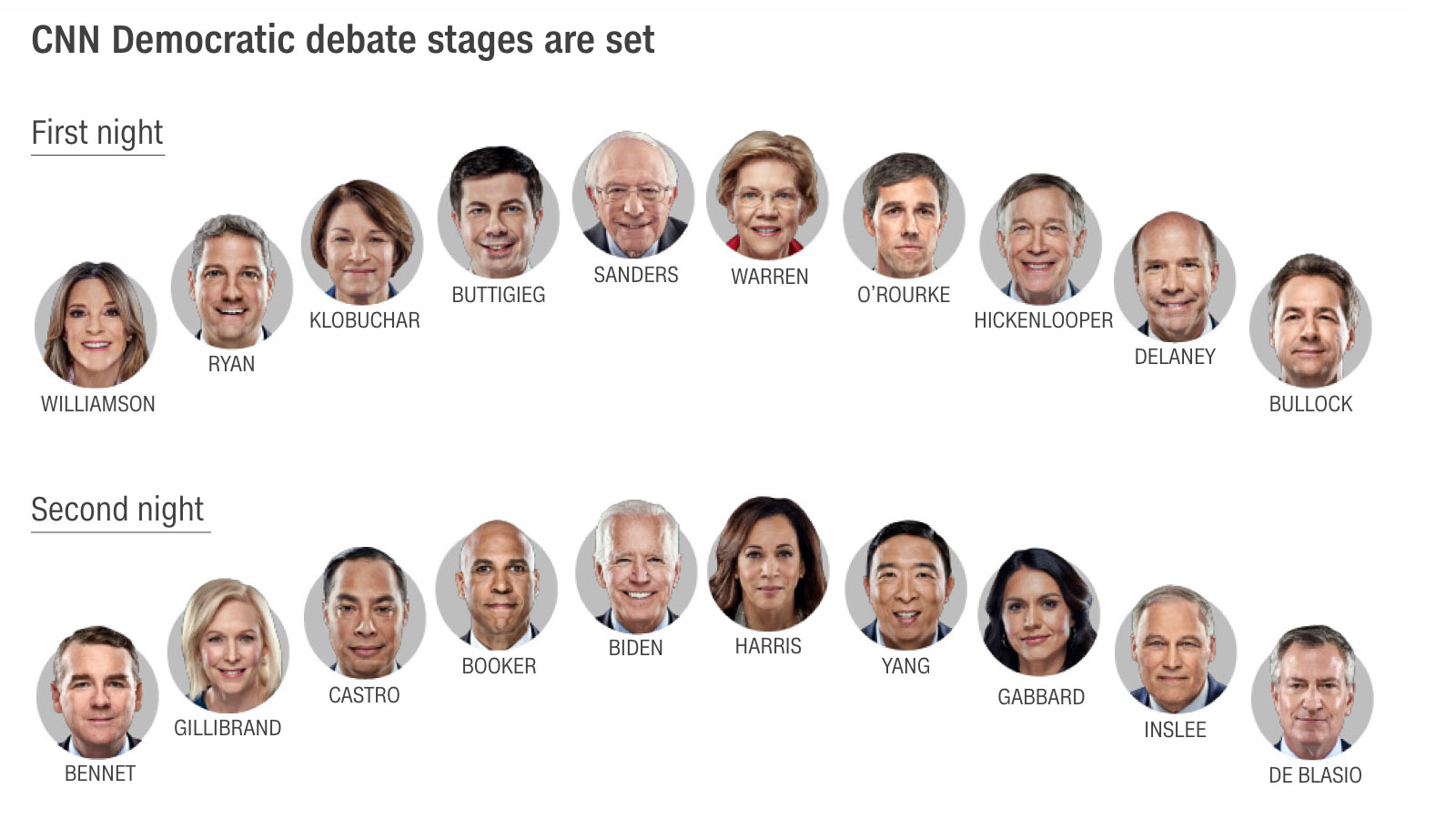 8:44 p.m. ET, July 18, 2019
Here's the final lineup for CNN's Democratic debates
The final draw for the second Democratic primary debate was just pulled.
Once the draw is completed, CNN will announce the podium positions — based upon public polling — for each debate night.
Here's a look at the final lineup:
July 30
Marianne Williamson
John Delaney
John Hickenlooper
Tim Ryan
Steve Bullock
Amy Klobuchar
Beto O'Rourke
Pete Buttigieg
Elizabeth Warren
Bernie Sanders
July 31
Jay Inslee
Kirsten Gillibrand
Tulsi Gabbard
Michael Bennet
Bill de Blasio
Cory Booker
Andrew Yang
Julián Castro
Kamala Harris
Joe Biden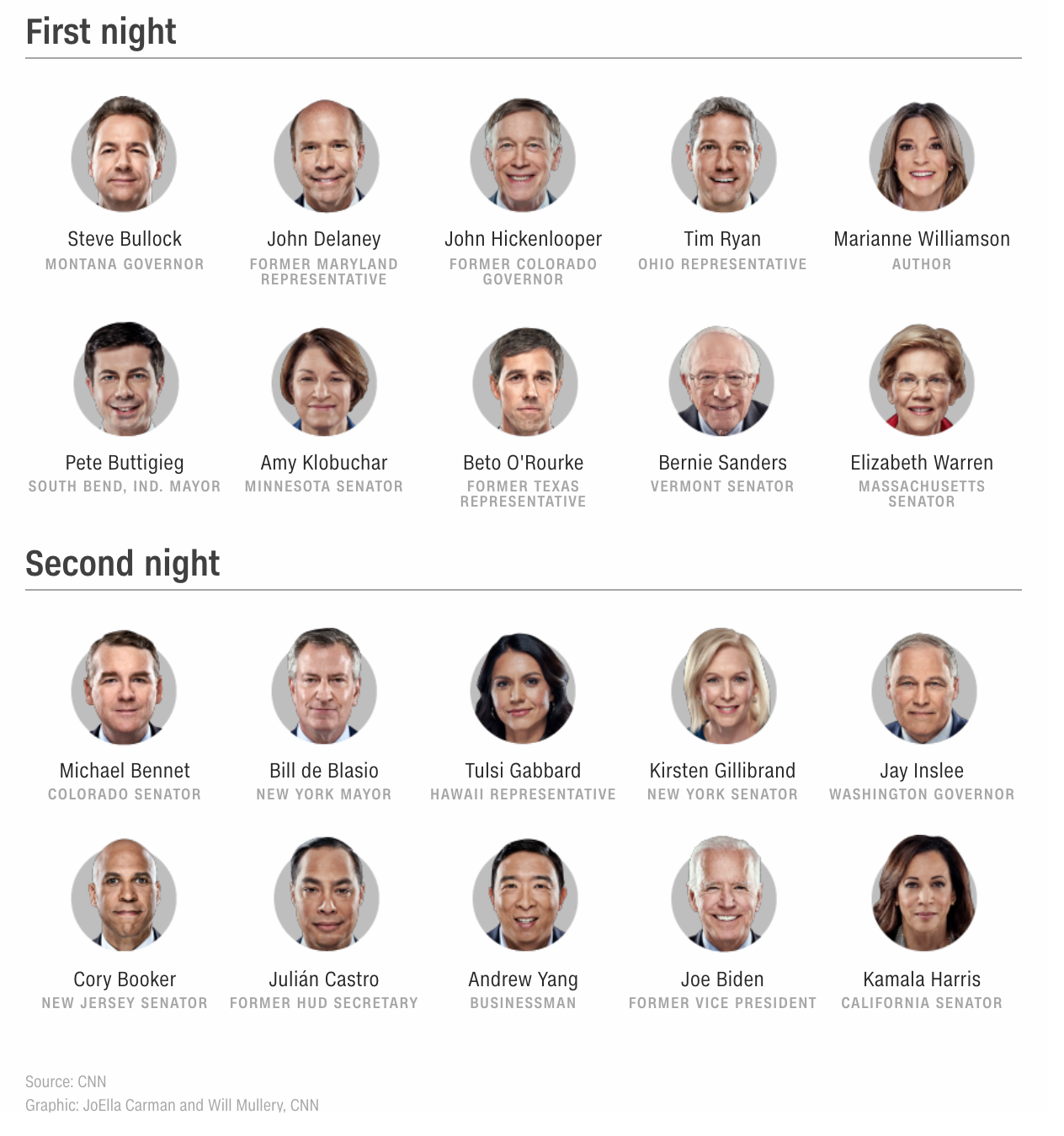 8:35 p.m. ET, July 18, 2019
Castro v. O'Rourke round 2 will have to wait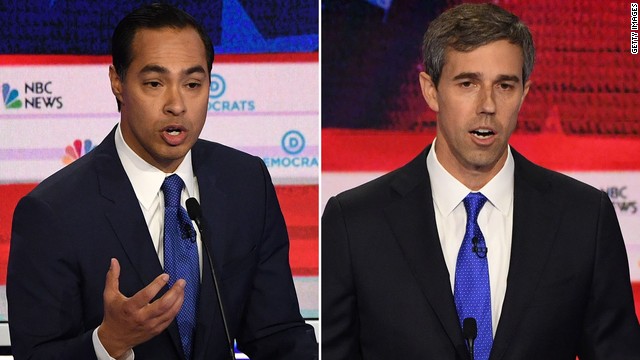 Break 'em up! There will be no second round of intra-Texas brawling.
Julián Castro and Beto O'Rourke have been drawn into separate debate nights.
In their last time out, when they shared a stage in Miami, Castro attacked his fellow Texan in a tense exchange over immigration.
That back-and-forth ended with Castro, who had a strong performance across the board, telling O'Rourke to "do your homework."
But O'Rourke isn't out of the woods. He'll be alongside Pete Buttigieg this time around. The South Bend mayor would seem like a natural competitor, given the early comparisons between the two.
8:32 p.m. ET, July 18, 2019
Debates can really move the needle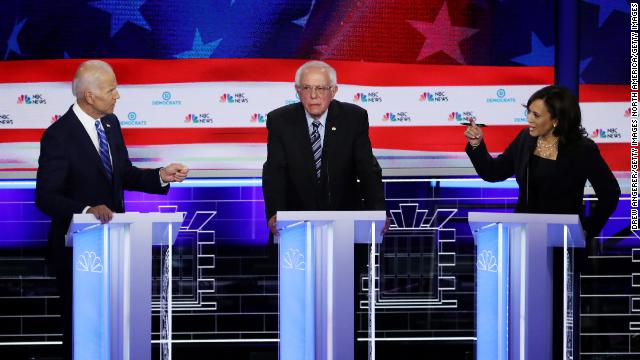 If you want to know what's at stake in tonight's drawing, remember what happened in the first debates. There was, of course, no guarantee that Joe Biden and Kamala Harris would end up on the same stage. They did, and Harris' confrontation of Biden in that debate proved to be, at least momentarily, a game changer. 
Harris ended up picking up an average 9 points in the national polls post-debate. She went from a tie for fourth place at 7% to second place at 16%. 
Biden, meanwhile, ended up dropping from 30% to 25%. He still leads in the national polling, but what was once a 13-point advantage dropped to 9 points over his nearest competitor. 
Perhaps more than the numbers moving, Biden's lackluster debate performance made folks wonder whether Biden was truly up to the task of running for president.  
Will the CNN debates feature a moment that similarly moves the polls? We'll have to see.