8:08 p.m. ET, July 18, 2019
Why this is the last chance for low-polling candidates 
While a lot of attention will be on the top candidates, some of the not top-tier candidates will be looking to break out in our debates. They better hope they do, if they want any realistic chance of winning the nomination.
Yes, it's early days, but if the lower-tier candidates don't move up soon, they're in danger of missing future debates.
By my count, only six candidates (Pete Buttigieg, Joe Biden, Kamal Harris, Beto O'Rourke, Bernie Sanders and Elizabeth Warren) have qualified for the ABC News/Univision debates. Those debates require candidates to hit 2% in four qualifying polls from June 28 to August 28, as well as hit 130,000 donors nationwide and 400 donors across 20 states.
A few other candidates like Amy Klobuchar and Cory Booker will probably make it given their polling and donor status. 
But at least 50% of the candidates in our debates may not make the next ones if things continue going the way they are. And if you don't make debates as a candidate, the fundraising is likely to dry up as well as any media attention to help propel a candidacy.  
8:08 p.m. ET, July 18, 2019
CNN's Democratic debate draw starts now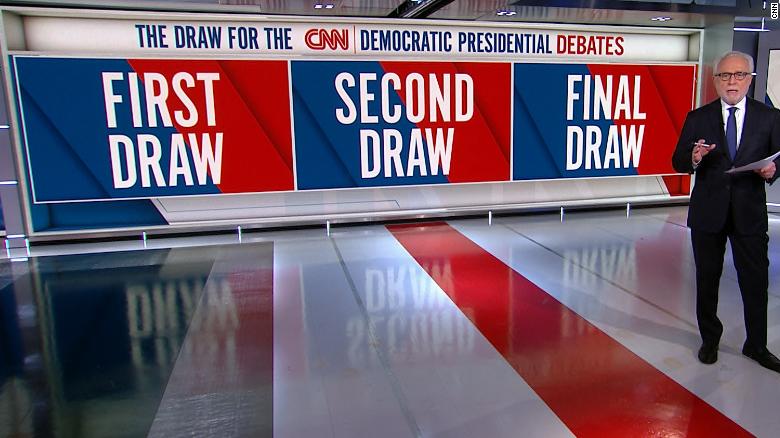 The nightly lineups for CNN's two-night Democratic primary debate will be selected soon.
Here a breakdown of the draws:
The first draw will include 10 candidates:
Hawaii Rep. Tulsi Gabbard
New York Sen. Kirsten Gillibrand
Washington Gov. Jay Inslee
Best-selling author and activist Marianne Williamson
Colorado Sen. Michael Bennet
Montana Gov. Steve Bullock
New York Mayor Bill de Blasio
Former Maryland Rep. John Delaney
Former Colorado Gov. John Hickenlooper
Ohio Rep. Tim Ryan
The second draw will include six candidates:
New Jersey Sen. Cory Booker
South Bend, Indiana, Mayor Pete Buttigieg
Minnesota Sen. Amy Klobuchar
Former Texas Rep. Beto O'Rourke
Tech entrepreneur Andrew Yang
Former Housing and Urban Development Secretary Julián Castro
The final draw will include four candidates:
Former Vice President Joe Biden
Massachusetts Sen. Elizabeth Warren
Vermont Sen. Bernie Sanders
California Sen. Kamala Harris
7:58 p.m. ET, July 18, 2019
Here's what you need to know about CNN's Democratic debates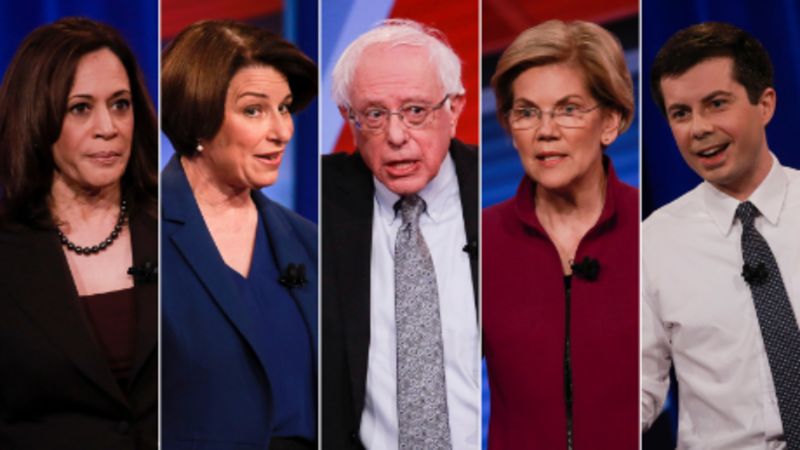 The highly anticipated Democratic presidential primary debates are airing later this month on CNN.
Here's what you need to know about the debates:
Who's moderating: Dana Bash, Don Lemon and Jake Tapper will moderate the Democratic National Committee-sanctioned debates in Michigan.
When are the debates: The debates will be held over two nights on July 30 and 31. Both nights will air live exclusively on CNN and CNN en Español. The debates will also be simulcast on CNN International.
It's happening in Detroit: The CNN debate brings the Democratic candidates to the battleground state of Michigan, which Trump won in 2016.
The two-night event is one of 12 debates: A total of 12 presidential primary debates are planned during the 2020 election cycle. Six debates will be held in 2019, and the other six will be held in 2020.
7:53 p.m. ET, July 18, 2019
What it takes to qualify for a presidential debate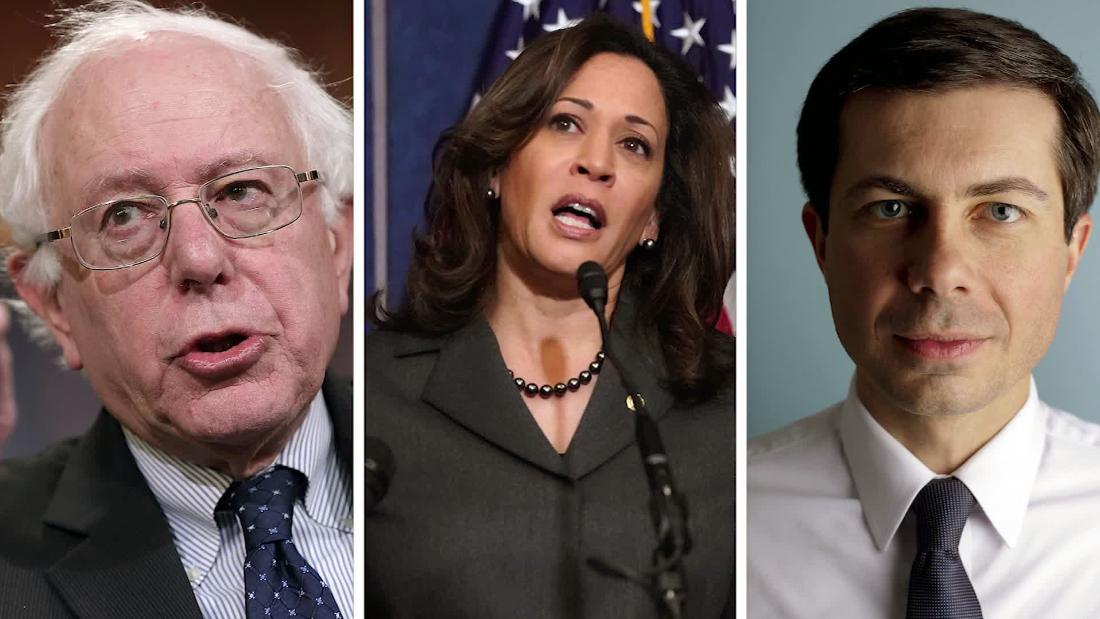 There are two ways to qualify for the first presidential debate.
Candidates must either meet polling or fundraising criteria. The Democratic National Committee said a maximum of 20 candidates could qualify.
In announcing new debate rules, the DNC set two potential qualification requirements for the field:
Achieve at least 1% support in three polls from an approved list of pollsters
Receive campaign contributions from 65,000 unique donors, including 200 donors each from 20 different states
7:48 p.m. ET, July 18, 2019
These candidates did not make the debate stage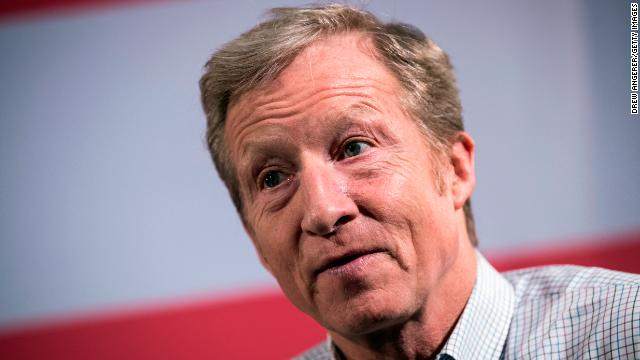 Four Democratic presidential candidates did not qualify for the second round of debates. They are...
Massachusetts Rep. Seth Moulton
Miramar, Florida, Mayor Wayne Messam
Billionaire investor Tom Steyer
Former Pennsylvania Rep. Joe Sestak
Candidates had until 11 a.m. ET Wednesday to certify with the DNC that they have either achieved at least 1% support in three polls from an approved list of pollsters or received campaign contributions from 65,000 unique donors, including 200 donors each from 20 different states.
But based on public information, it had been clear for days that Moulton, Messam, Steyer and Sestak were the four candidates likely to miss the debate stage.
7:44 p.m. ET, July 18, 2019
What the tiered picking system does
If you watched the MSNBC/NBC/Telemundo debates back in June, you may recall that the two debates had an uneven breakdown in terms of top tier candidates. Only one high polling candidate (Elizabeth Warren) appeared on night one, while four (Joe Biden, Pete Buttigieg, Kamala Harris and Bernie Sanders) appeared on night two. 
That will not happen this time around. It's a guarantee that nights one and two will each have two top-tier candidates. 
If we had done a completely random draw, there would have been a good chance of a lopsided debate. That is, one night having most of the top tier candidates. 
In a completely random draw, there was only a 41.8% chance the top four candidates would have been split evenly between the two nights. The best chance would have been for a 3:1 split (49.5%). There was even a chance that one night would have had all the top four candidates (8.7%). 
7:42 p.m. ET, July 18, 2019
Here's how the debate draw works
CNN will conduct a live draw to determine which night each candidate will appear in the Democratic primary debates.
There will be three draws, which will be pulled in the 8 p.m. hour, with CNN anchor Wolf Blitzer introducing and recapping each draw.
Here's what to expect:
CNN anchors Brianna Keilar will do the first draw, Victor Blackwell will take the second draw and Ana Cabrera will pull the final draw.
During each draw, cards with a candidate's name will be placed into a dedicated box, while a second box will hold cards printed with the date of each night. For each draw, the anchor will retrieve a name card from the first box and then match it with a date card from the second box.
Once the draw is completed, CNN will announce the podium positions — based upon public polling — for each debate night.
Watch this explainer on the draw: