Suspect arrested after explosive devices sent to Trump critics and CNN
6:42 a.m. ET, October 25, 2018
Police investigating suspicious package in New York
The New York Police Department is responding to a report of a suspicious package received at a non-residential building in the Tribeca neighborhood of Lower Manhattan.
NYPD Lt. Thomas Antonetti told CNN that the package was received at 375 Greenwich Street and that the bomb squad is on the scene. Police received a report shortly after 4 a.m. ET, he said.
It's unclear if this package is similar in nature to others addressed to prominent Democrats and to the CNN offices in New York on Wednesday.
Two businesses are listed at the address: the Tribeca Film Festival, and the Tribeca Grill. Both are associated with the actor and filmmaker Robert De Niro, who has been a critic of President Donald Trump.
2:13 p.m. ET, October 25, 2018
Pyrotechnic powder believed to be in the pipe bomb package sent to CNN
A source familiar with the investigation says the package sent to Former CIA Director John Brennan at CNN contained white powder that authorities believe may be pyrotechnic powder believed to be in the pipe bomb.
Additionally, the source says the multiple packages containing devices were sent by first class mail in manila envelopes with return address of former Democratic Party official Debbie Wasserman Schultz in Sunrise, Florida.
2:15 p.m. ET, October 25, 2018
Soros' son: Staff member "recognized the threat"
The son of billionaire George Soros wrote in a New York Times op-ed Wednesday that an "alert member" of staff "recognized the threat" of a suspicious package at their suburban New York home Monday afternoon and called police, who safely detonated the device.
"We are all grateful that no one was injured, and grateful to those who kept us safe. But the incident was profoundly disturbing — as a threat not just to the safety of our family, neighbors, colleagues and friends, but also to the future of American democracy," Alexander Soros wrote.
Soros went on to say that his father, a Holocaust survivor whose philanthropic work is admittedly "political," has long faced anti-Semitic attacks, but noted "something changed in 2016."
"With Donald Trump's presidential campaign, things got worse," he wrote. "A genie was let out of the bottle, which may take generations to put back in, and it wasn't confined to the United States."
"Now we have attempted bomb attacks. While the responsibility lies with the individual or individuals who sent these lethal devices to my family home and Mr. Obama's and Ms. Clinton's offices, I cannot see it divorced from the new normal of political demonization that plagues us today," Soros wrote.
2:15 p.m. ET, October 25, 2018
FBI confirms 2 packages sent to Maxine Waters are similar in appearance to the other packages
The FBI has confirmed two packages sent to Maxine Waters are similar in appearance to the other packages:
"In addition to the five packages referenced in our earlier statement, we have now confirmed two additional packages, both addressed to Rep. Maxine Waters, that are similar in appearance."
A separate package addressed to Waters was previously intercepted at a congressional mail sorting facility outside Washington.
Later on Wednesday, a spokesperson for the Bureau of Alcohol, Tobacco and Explosives, Ginger Colbrun, said a second package addressed to Waters had been found at a postal facility in south central Los Angeles.
Colbrun told CNN the package matches the description of those sent to CNN and Democratic political figures. The Los Angeles Police Department said the postal facility was evacuated while an investigation takes place.
2:17 p.m. ET, October 25, 2018
Bombs were sent to the Clintons, the Obamas and CNN today. Here's what you need to know.
Authorities have intercepted bombs intended for former President Barack Obama and Hillary Clinton, and several other top political figures were targeted in what authorities are investigating as a connected series of incidents.
Also, CNN's New York bureau in the Time Warner Center was evacuated after a package containing a bomb, addressed to former CIA Director John Brennan, was discovered, city and local law enforcement officials said.
To read more on the packages, you can...
5:39 p.m. ET, October 24, 2018
The packages were mailed in manila envelopes with 6 Forever stamps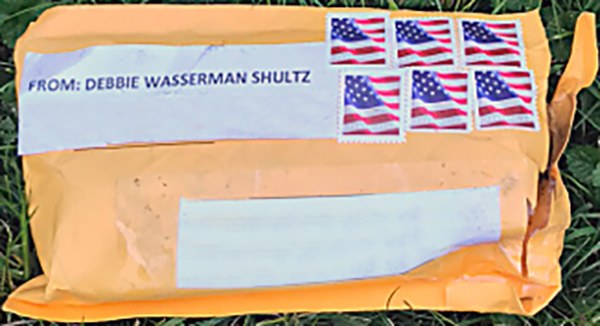 The packages sent today were mailed in manila envelopes, had six Forever stamps and labeled with the Florida return address of "DEBBIE WASSERMAN SHULTZ" (sic), the FBI said in a statement.
The FBI said the packages were addressed to:
Former President Barack Obama
Former Secretary of State Hillary Clinton
Former Attorney General Eric Holder
Former CIA Director John Brennan, in the care of CNN
Major Democratic donor George Soros
They said the packages were similar in appearance and contained what they described as "potentially destructive devices."
5:30 p.m. ET, October 24, 2018
How officials will investigate the device delivered to CNN
The NYPD is reviewing footage from multiple locations, according to a law enforcement official. 
This footage is being examined by both the NYPD Detectives Bureau as well as the Joint Terrorism Task Force (JTTF), which is a task force comprised of FBI and NYPD.
The device delivered to CNN is currently at Rodman's Neck in the Bronx and it's still being tested, the official added. 
Once authorities are finished with the device, it will be sent to Quantico, where further testing will be done on the materials to determine what they are. Additionally, officials will determine how the device would function and who could have put it together. 
The device delivered to CNN was capable of detonating, but it was unclear what kind of damage it would have done, according to two law enforcement sources. 
5:19 p.m. ET, October 24, 2018
New York governor doubles security at key points
New York Governor Andrew Cuomo announced he is doubling security at key areas across the New York City metro area.
"Out of an abundance of caution, I am deploying 100 additional National Guard soldiers and directing State law enforcement to double security at vital assets across New York," the governor said in a press release.
The infrastructure points include:
LaGuardia and John F. Kennedy airports in New York,
Mass transit systems
The Staten Island crossings
The George Washington, RFK, Verrazzano-Narrows, Bronx-Whitestone, Throgs Neck, Henry Hudson, Marine Parkway-Gil Hodges Memorial, Cross Bay Veterans Memorial and Mario M. Cuomo Bridges
The Lincoln, Holland, Hugh L. Carey and Queens Midtown Tunnels
"New Yorkers have never succumbed to fear or intimidation, and today will be no different," Cuomo said. "We are tough, we are resilient and we will not allow terrorist thugs to change the way we lead our lives. We will not let terrorism win — not today, not ever."
4:56 p.m. ET, October 24, 2018
FBI says more packages could have been mailed to other locations
The FBI is warning the public to remain vigilant after bombs and suspicious packages were intercepted.
"It is possible that additional packages were mailed to other locations," the FBI said in a statement. "[Do] not touch, move or handle any suspicious or unknown packages."
The FBI is asking the public for help with information on the bombs and suspicious packages.
"We ask anyone who may have information to contact the FBI. Do not hesitate to call," FBI Director Christopher Wray said. "No piece of information is too small to help us in this investigation."
Anyone with information about the bombs and packages is urged to call the FBI at (800) CALL-FBI or visit tips.fbi.gov.
If you observe any suspicious activity that requires an immediate response, please call 911 or contact your local law enforcement.