Suspect arrested after explosive devices sent to Trump critics and CNN
1:35 p.m. ET, October 24, 2018
CNN's New York offices remain evacuated as authorities work to identify white powder
CNN's New York offices and studios remain evacuated, more than three hours after the suspicious device was delivered to the mailroom.
"The security sweep of our building continues," CNN President Jeff Zucker said in a 1 p.m. ET update to staffers.
"There was some powder found within the package that was sent, and that powder now needs to be examined to determine what it is. As a result, it will take some time until we know more about the safety of the building."
In the meantime, staffers are working from nearby hotels, restaurants and other locations.
"I want to commend all of our colleagues in New York, in particular, and elsewhere, who have helped keep us on the air as this crisis has unfolded," Zucker wrote. "I am really proud of all of you. Thank you."
1:32 p.m. ET, October 24, 2018
FBI: Devices appear to be pipe bombs
FBI Special Agent in Charge C. Bryan Paarmann says that "so far the devices have been what appear to be pipe bombs."
Potentially explosive devices have been mailed to Hillary Clinton, Barack Obama, liberal billionaire George Soros, former FBI director John Brennan and Former Attorney General Eric Holder over the past few days.
1:32 p.m. ET, October 24, 2018
How the Time Warner Center package was discovered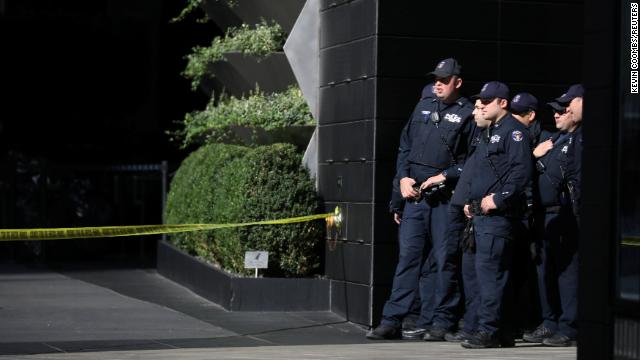 A Time Warner Center mailroom employee flagged the package to security, but did not open it, according to a source with direct knowledge.
Security called authorities, who opened the package.
1:30 p.m. ET, October 24, 2018
The chances that a piece of mail actually contains a bomb average less than one in 10 billion
Despite today's news, a mail bomb is still an extremely rare occurrence -- and that's why it's noteworthy that officials are dealing with several potential bombs today.
Here's how rare it is: According to the US Postal Inspection Service, the postal service processes more than 170 billion pieces of mail every year. Over the last few years, the number of mail bombs inspectors have investigated? An average of 16. That, according to the agency, works out to be an average of less than 1 in 10 billion.
1:29 p.m. ET, October 24, 2018
Suspicious package intercepted at mail facility in Maryland
Two law enforcement sources tell CNN that a suspicious package has been intercepted at a Congressional mail screening facility in Capitol Heights, Maryland. 
The Capitol Hill Police bomb squad is on the scene.
1:25 p.m. ET, October 24, 2018
New York governor says device was sent to his office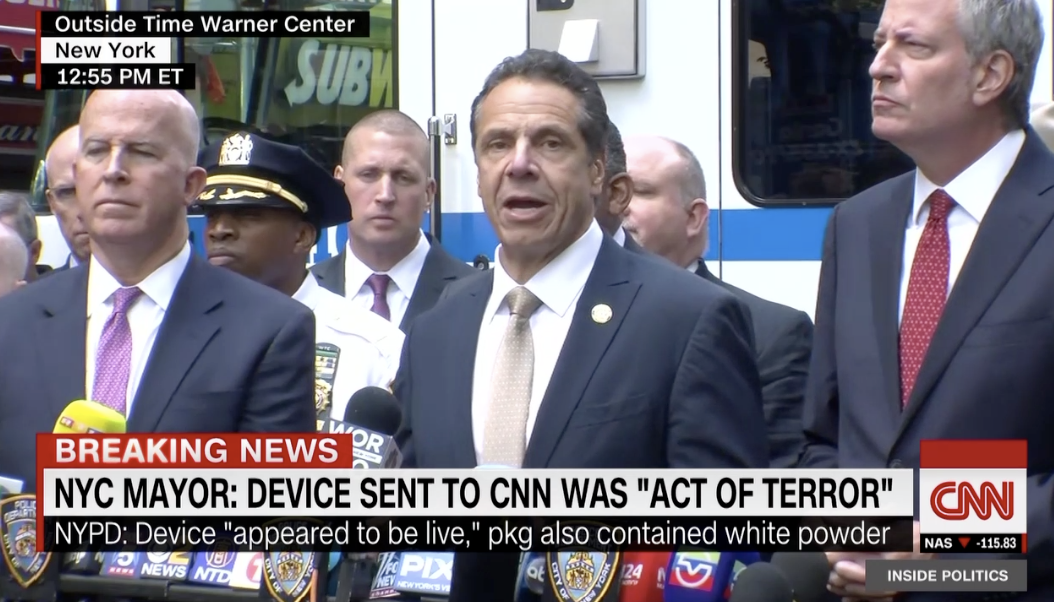 New York Gov. Andrew Cuomo said a device was sent to his office in Manhattan.
The governor added that the device was also "being handled."
Cuomo also said he would not be surprised if more devices were found.
"As you've heard there's a number of devices and there's a pattern apparently with them," he said.
The FBI says it is "working in coordination with our law enforcement partners to investigate the suspicious packages."
With CNN's Mary Kay Mallonee 
1:21 p.m. ET, October 24, 2018
Eric Trump: "America is better than this"
President Donald Trump's son Eric Trump tweeted about the various suspicious packages that were intercepted across the country, noting that he has been on "the receiving end" of similar situations.
"I can tell you how disgusting these acts are!" he wrote, adding that he hopes they "throw any individual caught in jail, for a very long time."
1:16 p.m. ET, October 24, 2018
New York governor: "Terrorism only works if you let it work"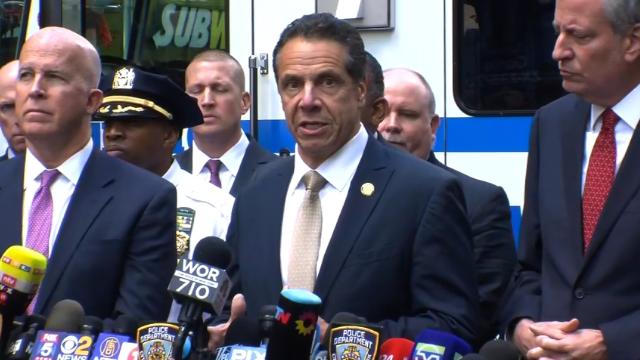 New York Gov. Andrew Cuomo, speaking about the explosive device situation, said this is the world we live in.
"This is a circumstance of being who we are and where we are."
He added that, "terrorism only works if you let it work."
"We will not allow these terrorist thugs to change the way we live our lives."
1:09 p.m. ET, October 24, 2018
This is what the suspicious package sent to CNN building looked like
This is a photograph of the suspicious package that was sent to the CNN building in New York City earlier this morning. It was addressed to John Brennan, the former CIA director, and "Time Warner (CNN)."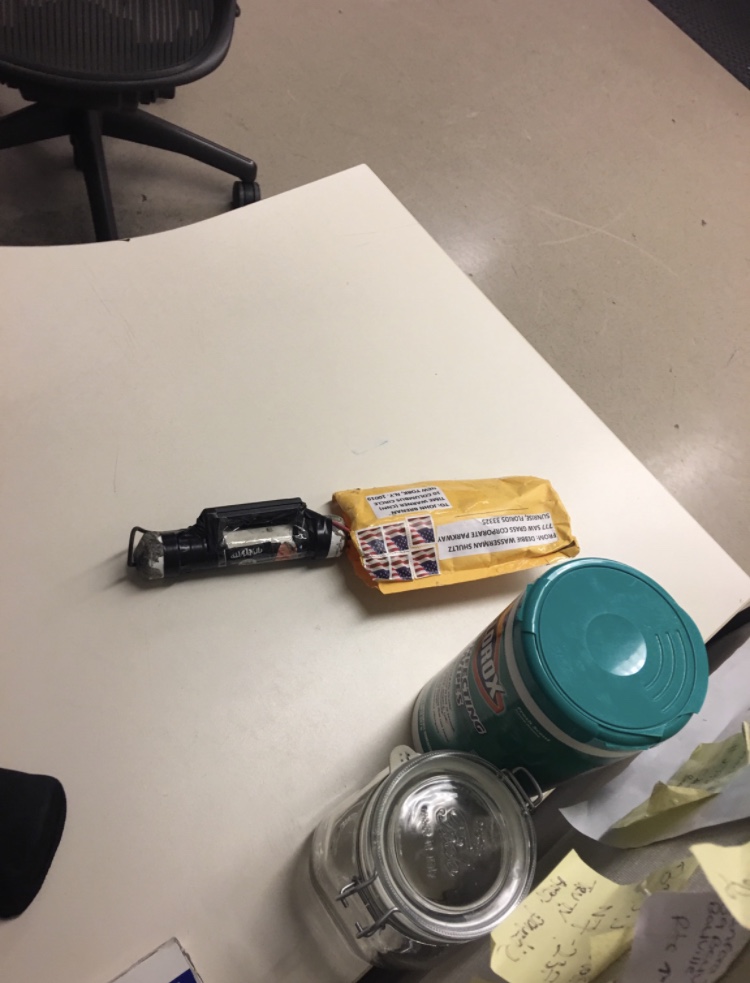 What we know about the package: At a news conference, police said the device appeared to be a live explosive device.
An envelope containing white powder was also discovered as part of the original packaging, New York Police Commissioner James P. O'Neill said.