Suspect arrested after explosive devices sent to Trump critics and CNN
3:18 p.m. ET, October 26, 2018
Jeff Sessions: "I don't know" why the suspect targeted Democrats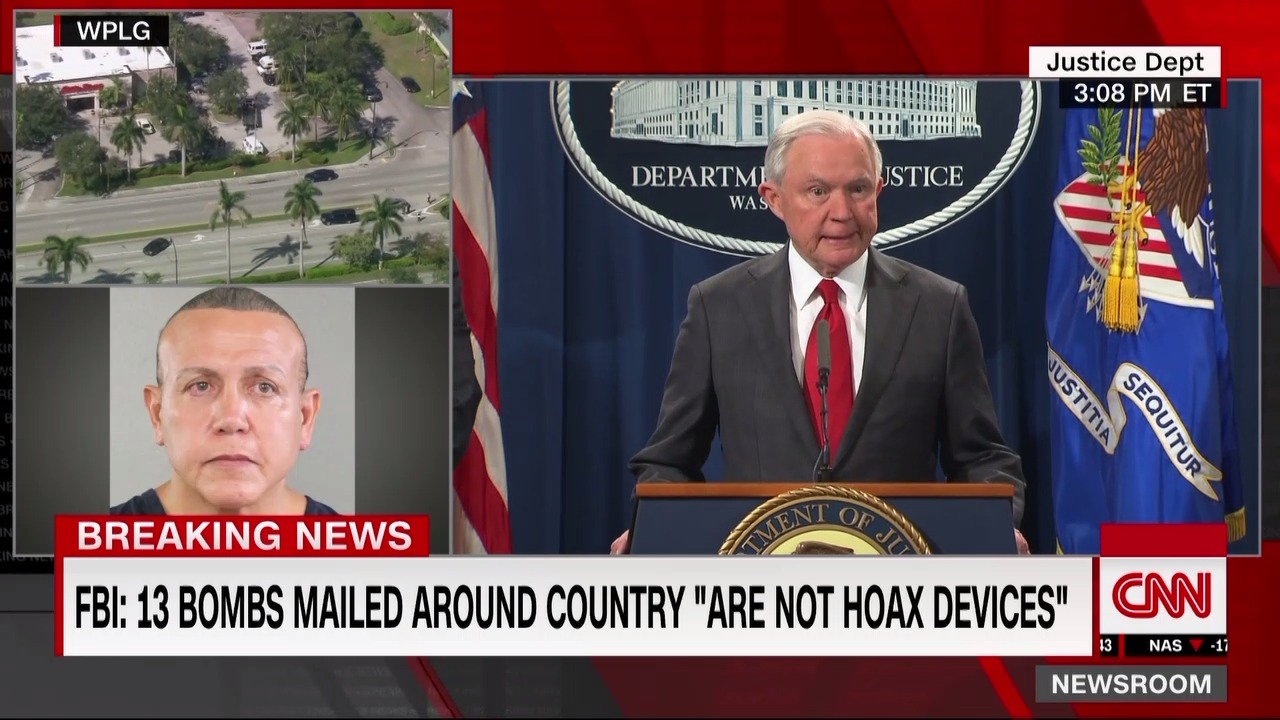 When asked why bomb suspect Cesar Sayoc was targeting Democrats, Attorney General Jeff Sessions replied, "I don't know. Other than what you might normally expect. He may have been -- he appears to be partisan but that will be determined by the facts as the case goes forward. I'm not able to comment on that."
Partisanship and political rhetoric came up in another question, to which FBI Director Christopher Wray responded, "We're focused not on the (political) talk but on the work... It's too early at this stage for us to be discussing motivation in this particular case."
When asked if "nasty political rhetoric" might inspire violence, Wray said, "We're concerned about people committing acts of violence under any motivation."
3:12 p.m. ET, October 26, 2018
There could be more packages out there, FBI head says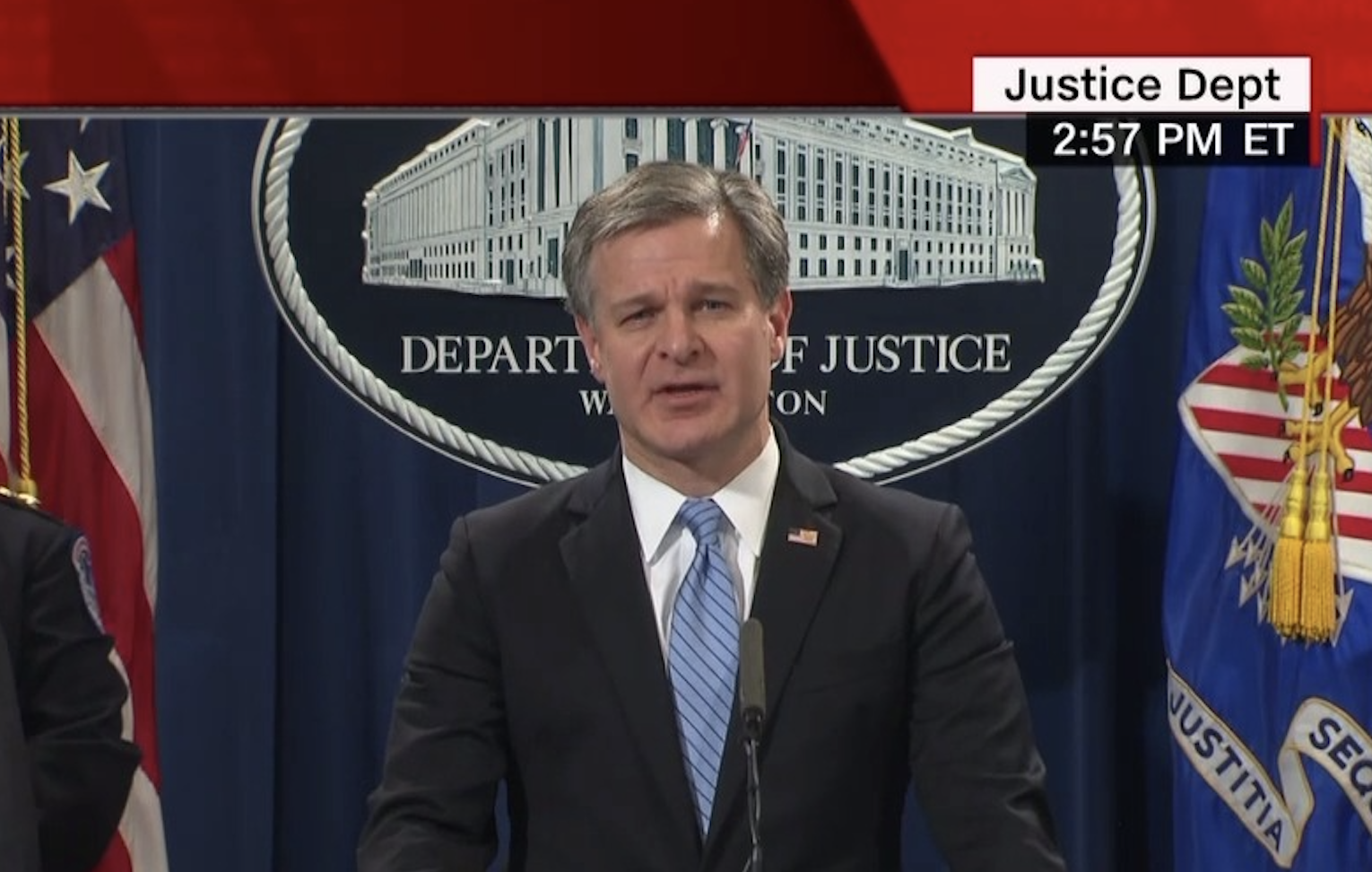 FBI Director Christopher Wray said there could still be more suspicious packages with possible explosive devices out there.
"Today's arrest does not mean we are all out of the woods. There may be more packages in transit now," he said.
He urged anyone with information to contact the FBI at 1-800-CALL-FBI or tips.fbi.gov.
3:41 p.m. ET, October 26, 2018
NYPD commissioner: The public is safe but should stay vigilant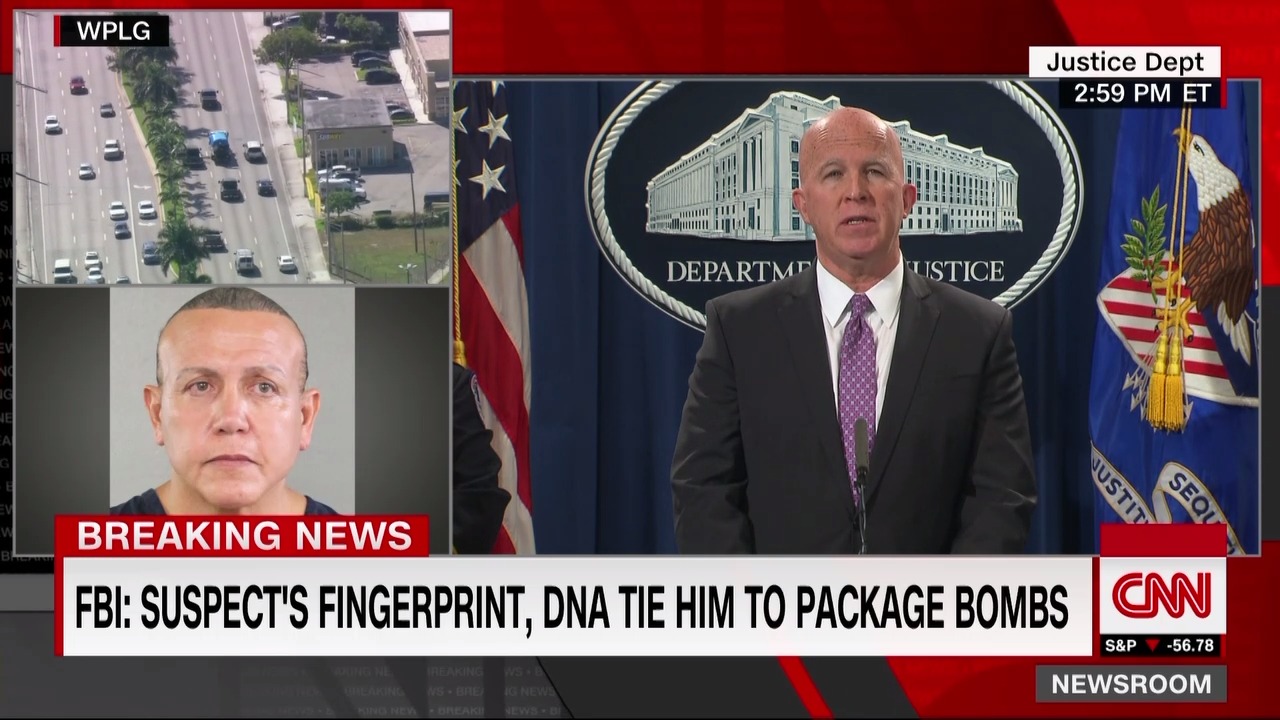 Speaking at the Department of Justice press conference, New York Police Department Commissioner James O'Neill praised the cooperation between the NYPD and the FBI as "a partnership that was forged in fire."
He thanked the public and the media for their help, but warned that people should remain vigilant as the investigation continues.
"Today's arrest means the people across our nation are safe. But there might be more packages out there and everyone still needs to take caution," O'Neill said.
3:11 p.m. ET, October 26, 2018
Cesar Sayoc's fingerprint was on one of the packages sent to Rep. Maxine Waters
Authorities used a fingerprint found on an envelope sent to Rep. Maxine Waters to identify suspect Cesar Sayoc, FBI Director Christopher Wray said at Friday's news conference.
"Based on their initial analysis, they uncovered a latent fingerprint from one of the envelopes containing an I.E.D. That had been sent to Congresswoman Maxine Waters. We have confirmed this fingerprint is that of Cesar Sayoc," he said.
Authorities are looking at a possible DNA connection between samples collected from two different devices and a sample collected during one of Sayoc's earlier arrests in Florida, Wray added.
Watch:
3:04 p.m. ET, October 26, 2018
"These are not hoax devices": FBI director says 13 devices were sent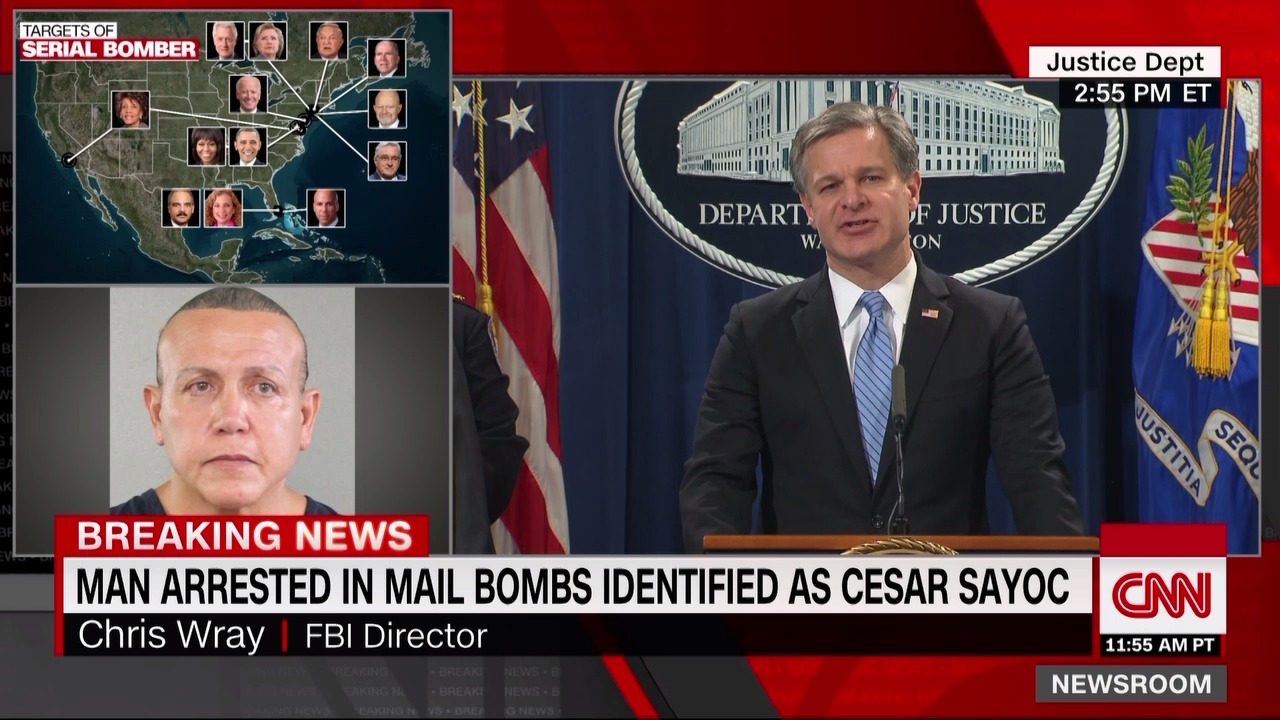 FBI Director Christopher Wray said 13 improvised explosive devices were sent to individuals around the county.
"Though we're still analyzing the devices in our laboratory, these are not hoax devices," he said.
The devices consisted of "roughly six inches of PVC pipe, a small clock, a battery, some wiring and what is known as energetic material, which is essentially potential explosives and material that give off heat and energy through a reaction to heat, shock or friction," Wray said
He described the investigation into the suspicious packages as "enormous" in scope and "of the greatest importance."
3:51 p.m. ET, October 26, 2018
These are the 5 federal charges the bomb suspect faces
Attorney General Jeff Sessions began an ongoing Department of Justice press conference by lauding investigators and law enforcement as "the best in the world."
Suspect Cesar Sayoc, who was arrested earlier Friday, faces five federal charges, Sessions said:
Interstate transportation of an explosive
Illegal mailing of explosives
Threats against former presidents and other persons
Threatening interstate communications
Assaulting current and former federal officers.
Sayoc faces up to 48 years in prison. 
"I want to reiterate the defendant in this case is innocent until proven guilty," Sessions added after describing the charges.
Watch more:
Note: This post has been updated. During the news conference, Sessions said Sayoc could face 58 years in prison. The DOJ later clarified it was 48 years.
2:50 p.m. ET, October 26, 2018
Sayoc's former attorney describes him as having "trouble conforming"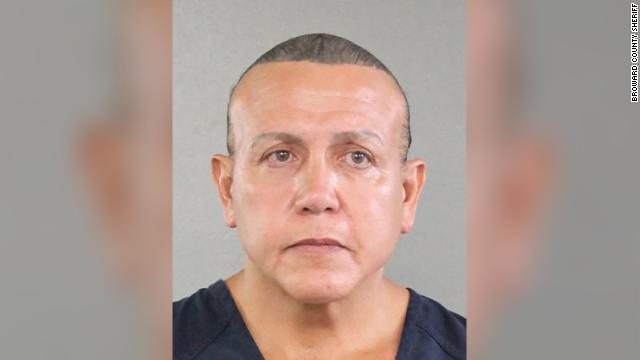 When mail bomb suspect Cesar Altieri Sayoc had his electricity turned off in 2002, he grew frustrated with his efforts to convince the power company to turn it back on, his longtime attorney recalled Friday.
"I bet if I threatened to blow up your office you'd turn it back on quickly," Sayoc's then-attorney, Ronald S. Lowy, quoted him as saying.
Lowy, who represented Sayoc in the case in Miami, Florida, told CNN his client never intended to make good on the threat. He said he was sentenced to a year's probation "and allowed to continue with his life." 
Lowy said he represented Sayoc in several subsequent matters, but nothing involving violence or threats of violence.
He described Sayoc, 56, as someone who had "trouble conforming" and "didn't fit in."
Lowy said he was not surprised that the devices he is suspected of assembling and mailing to past and current politicians and the Manhattan offices of CNN did not explode. He questioned his former client's ability to successfully devise and execute such a scheme.
He described Sayoc as a man involved in petty offenses spread out over time.
In one case, Lowy said, Sayoc altered his driver's license to make himself appear younger because he remained single and thought his age may be hurting him on the dating scene.
"He was embarrassed about his age," the lawyer said.
Lowy said he recalled Sayoc frequenting the gym and working as a personal trainer at one point.
Lowy said he was in consultation with Sayoc's family and discussing the possibility of representing him in connection with Friday's arrest.
2:31 p.m. ET, October 26, 2018
Sayoc once threatened to blow up a utility "worse than September 11th"
Bomb suspect Cesar Sayoc threatened to blow up a Florida utility company and said it would be "worse than September 11th," according to a 2002 police report from Miami Police Department obtained by CNN. 
Sayoc "contacted a rep Florida Power and Light Co… and threatened to blow up FPL and that 'it would be worse than September 11th,'"according to the report.
The document shows an individual reported that a call came in from "one of FP&L customer who threatened to blow up the building if FP&L turned off his light" and that the caller threatened the individual with "bodily harm." 
The report corresponds to a 2002 case in which Sayoc was charged with "bomb/threat to throw."
See the report: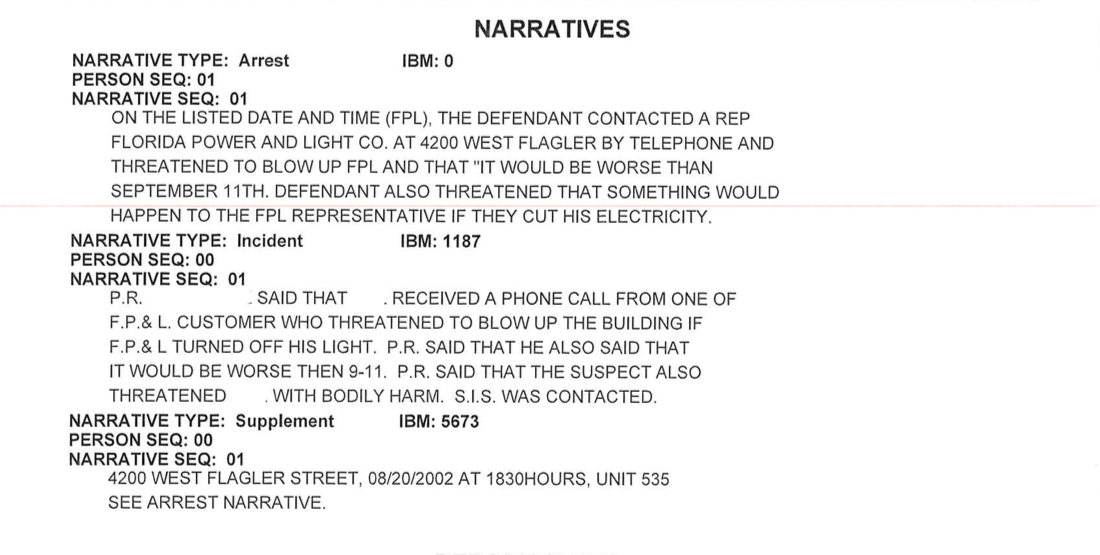 2:24 p.m. ET, October 26, 2018
The bomb suspect was arrested in 1999 for possession of a stolen vehicle
Bomb suspect Cesar Altieri Sayoc was arrested on April 10, 1999 for possession of a stolen vehicle, but the charges were later dismissed by the District Attorney's Office, according to Matthews Police Department Public Information Officer Tim Aycock.
It's listed as a voluntary dismissal by the DA, Aycock said.
The Matthews Police Department was the investigating agency.
The arrest occurred when one of their officers "stopped to help a broken-down vehicle and it turned out to a be stolen vehicle," Aycock said.
Meghan McDonald, with the Charlotte-Mecklenburg District Attorney, said they are prohibited from discussing cases with pending charges. She clarified to say that he has no pending charges in Mecklenburg County.
Sayoc's criminal history includes other offenses such as stealing copper pipes from a Florida Home Depot in 2014 and threatening to "discharge destructive device" in 2002, according to Florida Department of Law Enforcement records.