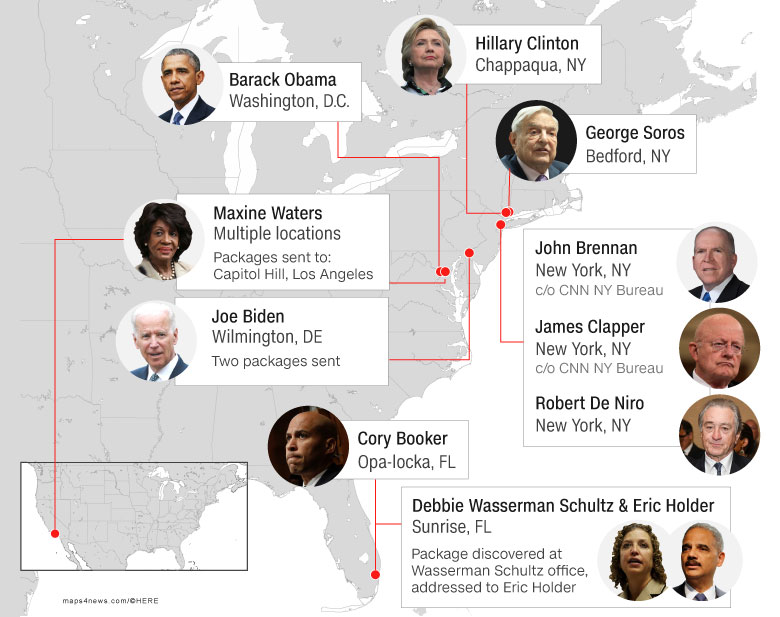 Authorities have found 12 packages — addressed to 10 people — in recent days.
Here's the full breakdown of the Democratic politicians and prominent Trump critics who have been sent packages:
Billionaire investor George Soros: One package, sent to his home in New York.
Bill and Hillary Clinton: One package mailed to their home in New York but intercepted by the Secret Service.
Barack Obama: One package mailed to Washington, D.C., but intercepted by the Secret Service.
Former Attorney General Eric Holder: One package addressed to him but sent to the Florida office of Democratic lawmaker Debbie Wasserman Schultz.
Democratic US Rep. Maxine Waters: Two suspicious packages: one intercepted at a congressional mail-screening facility in Maryland and a second one found at a postal facility in Los Angeles.
Former CIA Director John Brennan: A "live explosive device" was addressed to Brennan and delivered by courier to CNN's offices at the Time Warner Center in New York.
Former Vice President Joe Biden: Two packages found at post offices in Delaware.
Actor Robert De Niro: One package sent to him at the Manhattan building where his production company is based.
Former Director of National Intelligence James Clapper: One package found at a New York City post office. It was also addressed to CNN.
Sen. Cory Booker: One package, found in Florida.