Suspect arrested after explosive devices sent to Trump critics and CNN
2:41 p.m. ET, October 24, 2018
Trump speaks after suspicious packages: "We have to unify"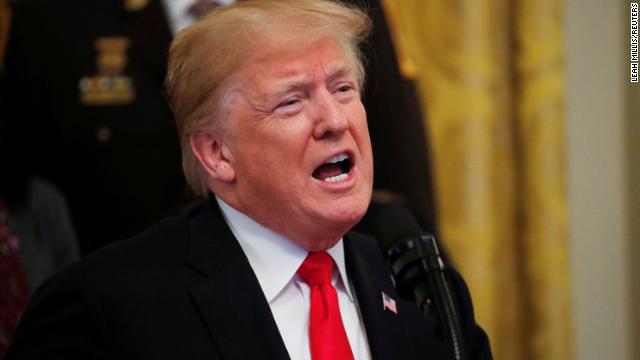 President Trump, speaking at an opioids event at the White House, first addressed the series of suspicious packages that have been discovered today.
He called for unity as officials investigate the possible explosive devices.
"I just want to tell you that in these times we have to unify, we have to come together and send one very clear, strong, unmistakable message that acts or threats of political violence of any kind have no place in the United States of America," he said.
Trump said "the full weight of our government" is investigating the packages and will "bring those responsible for these despicable acts to justice."
He added: "The safety of the American people is my highest and absolute priority," he said.
2:29 p.m. ET, October 24, 2018
Melania Trump: "We cannot tolerate those cowardly attacks"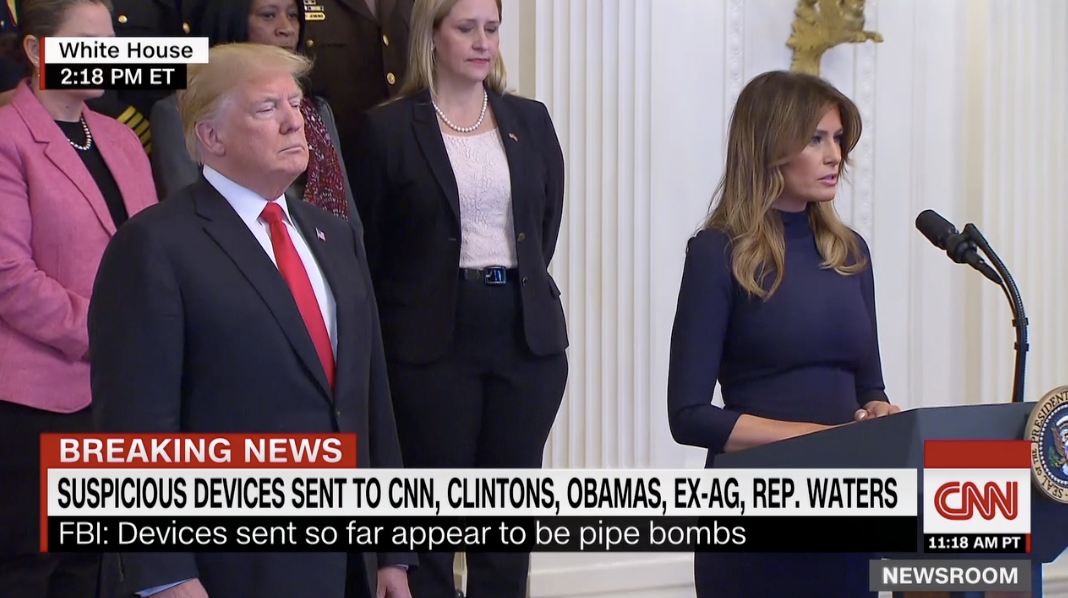 First lady Melania Trump, speaking at an opioid event this afternoon, addressed a series of suspicious packages mailed to former White House officials, calling the acts "cowardly."
"We cannot tolerate those cowardly attacks and I strongly condemn all who choose violence," the first lady said.
She added: "I'm grateful to the secret service as well as the federal and local law enforcement for all they do on a daily basis to keep us safe and encourage people across the country to choose kindness over hatred."
Watch more:
2:19 p.m. ET, October 24, 2018
Florida Dem chair: "This kind of targeted hate and violence has no place in our country"
Florida Democratic Party Chairwoman Terrie Rizzo issued a statement on the suspicious package sent to Congresswoman Debbie Wasserman-Schultz's office.
"This isn't about politics," Rizzo said.
The FBI is currently at Wasserman-Schultz's office in Florida. Two law enforcement sources tell CNN the suspicious package was addressed to Eric Holder, but it had the wrong address. Schultz's office in Florida received it because the congresswoman's address was listed on the return label.
The same return address was also used for the suspicious packages addressed to Hillary Clinton and Barack Obama.
"This kind of targeted hate and violence has no place in our country and will not be tolerated," Rizzo said in her statement. "Unfortunately, we have seen some candidates for office use highly divisive and toxic rhetoric during this cycle. Today's greatly disturbing events are a reminder that everyone needs to tone it down in the last two weeks and focus on the issues."
2:12 p.m. ET, October 24, 2018
Trump: Devices are act of domestic terrorism
Ahead of President Trump's event on opioid abuse, CNN is learning the President will call the attempted bombings "egregious," and will label it an act of "domestic terrorism." 
2:09 p.m. ET, October 24, 2018
Package being examined at Capitol Hill sorting facility was intended for Rep. Maxine Waters
Two sources tell CNN that Maxine Waters was the intended recipient of the package intercepted at the sorting facility.
2:08 p.m. ET, October 24, 2018
Pelosi: "Once again, we are reminded of the heroism of America's first responders as they work to counter these attempted attacks"
Democratic Minority Leader Nancy Pelosi, D-California, tweeted about the "heroism of America's first responders" following several suspicious packages that were intercepted on Wednesday.
2:11 p.m. ET, October 24, 2018
NYPD official: Suspicious package at Gov. Cuomo's office deemed safe
In a mid-day press conference in front of New York's Time Warner Center, New York Gov. Andrew Cuomo said that his office was sent a "device."
An NYPD official now says the suspicious package in question has since been deemed safe.
The source describes it as an informational package that contained literature.
2:07 p.m. ET, October 24, 2018
Trump to address suspicious packages soon
President Trump will address the suspicious packages from the East Room of the White House any minute now, White House Press Secretary Sarah Sanders confirms to CNN.
Trump's remarks will happen at the beginning of a previously planned event on opioids, which was slated to start at 2:00 p.m. ET.
Stay with CNN's live coverage here.
5:49 p.m. ET, October 24, 2018
A messenger delivered the CNN package, sources say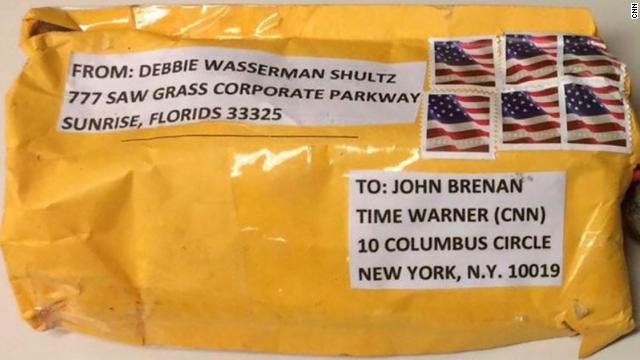 The package sent to the Time Warner Center was delivered by courier, law enforcement sources tell CNN. It was addressed to John Brennan, the former CIA director, and "Time Warner (CNN)."
CNN previously reported that the package addressed to George Soros was put in the mailbox, not mailed, according to a separate law enforcement source.