Suspect arrested after explosive devices sent to Trump critics and CNN
10:41 a.m. ET, October 24, 2018
White House condemns attempted attacks
White House press secretary Sarah Sanders said in a statement:
"We condemn the attempted violent attacks recently made against President Obama, President Clinton, Secretary Clinton, and other public figures. These terrorizing acts are despicable, and anyone responsible will be held accountable to the fullest extent of the law. The United States Secret Service and other law enforcement agencies are investigating and will take all appropriate actions to protect anyone threatened by these cowards."
10:40 a.m. ET, October 24, 2018
Here's the moment the alarm went off telling CNN employees to evacuate
CNN's Poppy Harlow and Jim Sciutto were live on air the moment Time Warner's fire alarm went off directing all employees to evacuate the building, after a suspected explosive device was found in the mailroom downstairs.
See the moment:
10:35 a.m. ET, October 24, 2018
The device sent to Time Warner mailroom is being treated as real explosive
The device sent to Time Warner Center was constructed with a pipe and wires, according to an NYPD source. Law enforcement authorities are treating the device as a real explosive.
The device was discovered in the mailroom of Time Warner Center.
Brian Stelter reports:
The evacuation at Time Warner Center includes WarnerMedia corporate offices and the offices for other Turner channels like TNT. It also includes the mall and the Whole Foods in the basement.
10:35 a.m. ET, October 24, 2018
Another pipe bomb addressed to White House intercepted
CNN has learned another suspicious package with a device addressed to the White House was intercepted at Joint Base Bolling in Washington, DC.  
According to a law enforcement official, the device was similar to one sent to Soros' home, and similar to ones sent to homes of Clintons and Obamas. 
The devices appear to be rudimentary but functional.
The White House-addressed device also contained projectiles. 
Another law enforcement source said "There is a strong suspicion" the two packages intercepted last night and this morning are connected to the package targeting George Soros.
10:32 a.m. ET, October 24, 2018
Here's the scene outside the Time Warner Center in New York
CNN's Jim Sciutto shared an image of the scene outside the Time Warner Center in New York. NYPD is responding to a suspicious device discovered in Time Warner Center, where CNN is based.
CNN's Kate Bolduan reported the police are clearing the area around the building, slowly pushing observers back from the doors.
10:24 a.m. ET, October 24, 2018
JUST IN: NYPD responding to suspicious package discovered in the Time Warner Center in NY
NYPD is responding to a suspicious device discovered in Time Warner Center, where CNN is based, in New York, according to a law enforcement source.
CNN has evacuated its newsroom as a precaution.
9:59 a.m. ET, October 24, 2018
On Monday, liberal billionaire George Soros was mailed an explosive device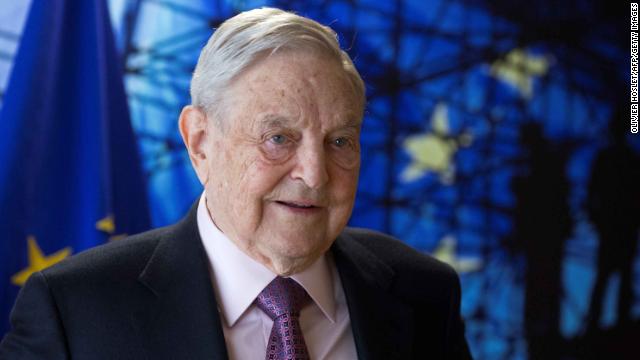 The suspicious packages sent to the homes of Obama and Clinton come two days after billionaire liberal activist George Soros received what appeared to be an explosive device in the mail.
From Kelly Murray's story on Tuesday :
A suspicious package targeting billionaire investor and philanthropist George Soros was rendered safe in Bedford, New York, a law enforcement source told CNN.
Bedford police say they received a call about 3:45 p.m. Monday reporting a suspicious package found in a mailbox. The package appeared to be an explosive device, police said.
An employee had opened the parcel. The employee placed the package in a wooded area and called police, according to a news release.
It's not clear if the incidents are related.
10:04 a.m. ET, October 24, 2018
FBI New York says it is investigating devices sent to Clinton
The FBI New York confirmed a "suspicious package" was found in the vicinity of Hillary and Bill Clinton's home in Chappaqua, New York and said it is investigating.
9:44 a.m. ET, October 24, 2018
"Potential explosive devices" sent to Hillary Clinton and Barack Obama
The Secret Service says "potential explosive devices" were mailed to the homes of Hillary Clinton as Barack Obama.
Here's the full statement from the Secret Service
The U.S. Secret Service has intercepted two suspicious packages addressed to Secret Service protectees. 
Late on October 23, 2018, the Secret Service recovered a single package addressed to Former First Lady Hillary Clinton in Westchester County, New York. Early this morning, October 24, 2018, a second package addressed to Former President Barack Obama was intercepted by Secret Service personnel in Washington, DC. 
The packages were immediately identified during routine mail screening procedures as potential explosive devices and were appropriately handled as such. The protectees did not receive the packages nor were they at risk of receiving them.
The Secret Service has initiated a full scope criminal investigation that will leverage all available federal, state, and local resources to determine the source of the packages and identify those responsible.