1:24 p.m. ET, October 22, 2018
Rahm Emanuel on running for President: "I have no interest in doing it. ... Never."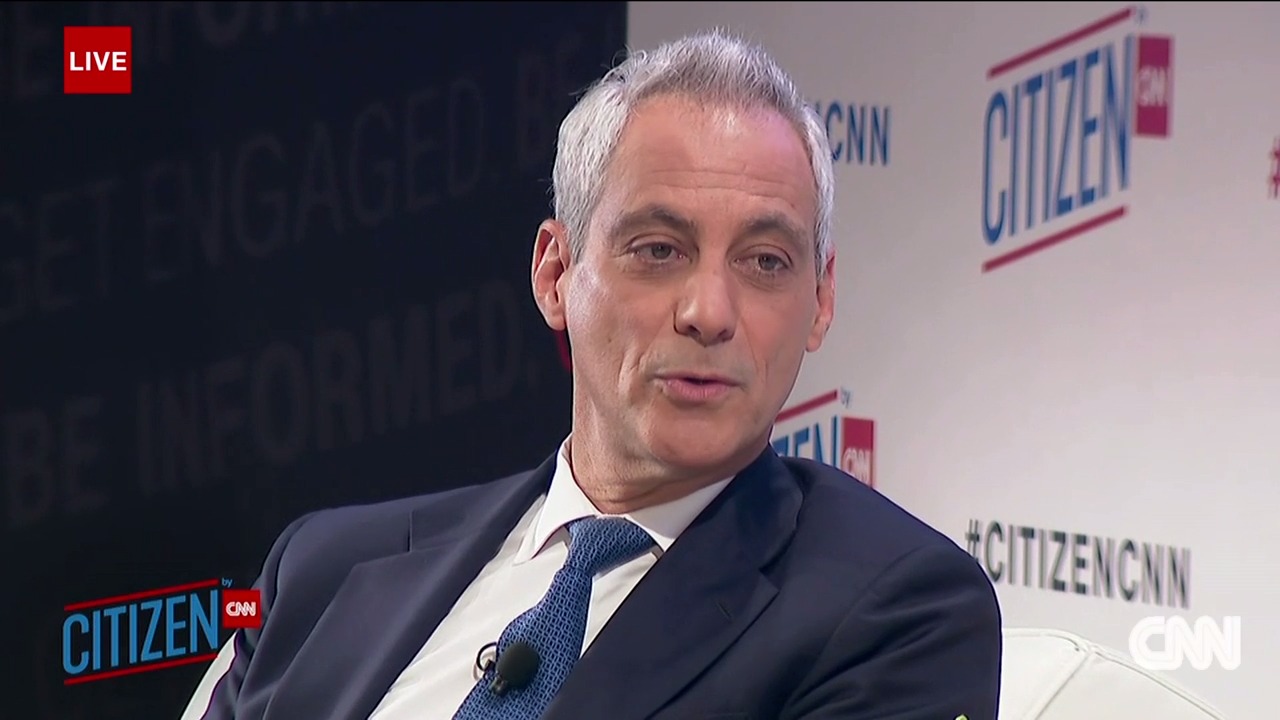 Outgoing Chicago mayor Rahm Emanuel emphatically said he had no interest in running for President during an interview with CNN's Fareed Zakaria.
"I can tell you with 100% certainty, I have no interest," he said in response to a question about running for the nation's top job.
"I did 8 years in the Oval Office and I have no interest in returning to the White House."
Zakaria followed up, "Ever?"
"Ever," said Emanuel. "You said run for it. I have no interest in doing it. Never."
Emanuel announced earlier this year that he would not run for a third term as Chicago's mayor. He said on Monday at CNN's Citizen Conference that he did so because he just didn't have the energy to pour himself into four more years running the sprawling city.
"It has been 16 straight years, 5 Himalayan mountains and I am allowed to say, in a third term, no disrespect, Chicago is not Phoenix and Albuquerque, and you have to be all in 100%," he said. "You owe the public 4 years of 100%. After those 16 years, I had about a year, year and a half."
Zakaria opened the interview by asking Emanuel why President Donald Trump doesn't like Chicago.
"Donald Trump doesn't seem the like Chicago," said Zakaria.
"Well guess what," Emanuel responded. "Chicago doesn't like Donald Trump." 
1:04 p.m. ET, October 22, 2018
Rahm Emanuel to talk Trump, Chicago and the midterm elections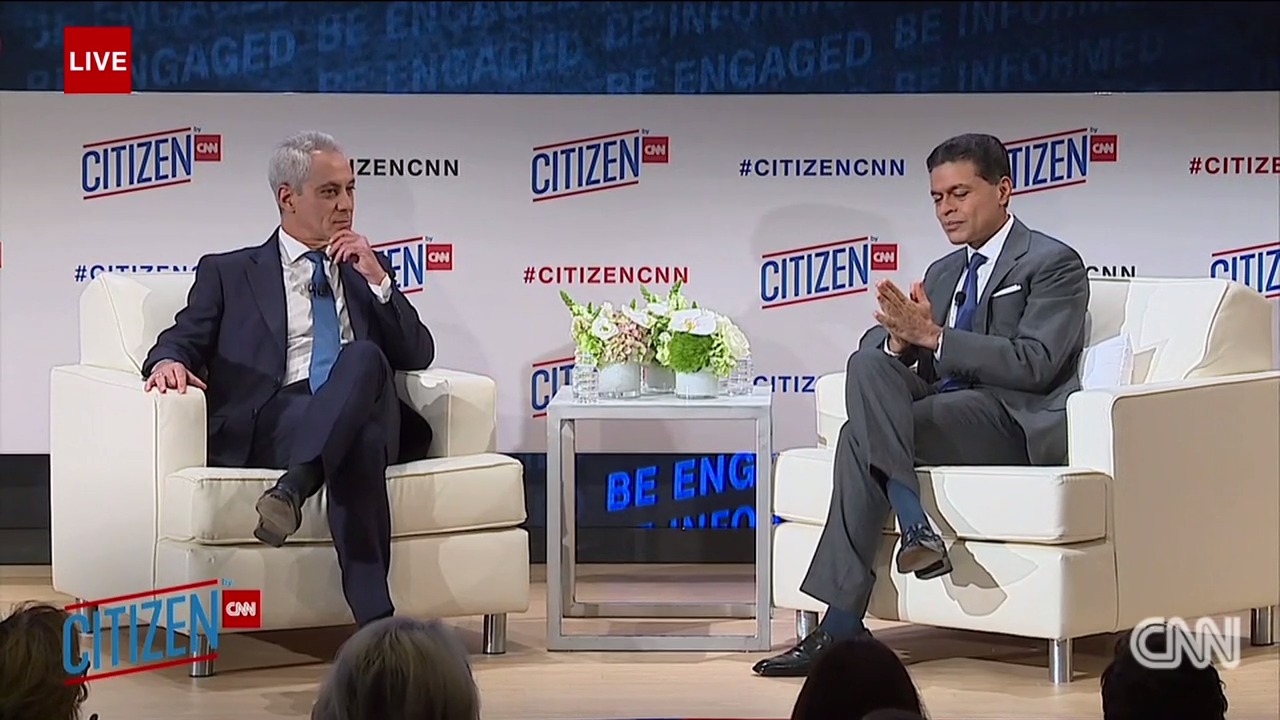 CNN Host Fareed Zakaria will now interview Chicago Mayor Rahm Emanuel on the current state of politics.
Emanuel announced in September that he will not seek re-election for a third term. He was elected the Windy City's mayor in February 2011, becoming the city's first Jewish mayor. He was reelected in 2015.
Before he was mayor, Emanuel served as a US congressman representing Illinois' 5th District for three terms and later worked as President Barack Obama's chief of staff for nearly two years.
Emanuel has also gone up against President Donald Trump as mayor, declaring his city a "Trump-free zone" and criticizing Trump's immigration policies. Under his leadership, Chicago sued the Justice Department last year over its policy to withhold federal grants unless sanctuary cities comply with immigration enforcement.
1:05 p.m. ET, October 22, 2018
The takeaways from CNN's CITIZEN conference (so far)
We're back from lunch. Take a few moments to catch up on the key developments from this morning's conversations.
Read
11:47 a.m. ET, October 22, 2018
Watch the full 44-minute Jared Kushner interview on YouTube
We just posted the full 44-minute conversation between Van Jones and Jared Kushner on our YouTube channel.
See it here:
11:32 a.m. ET, October 22, 2018
Pelosi says Democrats would use subpoena power "strategically" if they win the House
House Minority Leader Nancy Pelosi said a Democratic majority in the House would use subpoena power "strategically" if House Democrats win a majority in 2018.
"As I said, it is about bringing people together," Pelosi told CNN's Dana Bash of the strategy she hopes to employ.
She went on to say, however, that the power is also a useful tool when negotiating on other topics.
"Subpoena power is interesting, to use it or not to use it," she said.
"It's a great arrow to have in your quiver in terms of negotiating on other subjects."
She later ensured that a Democratic House "will exercise our oversight."
11:39 a.m. ET, October 22, 2018
Pelosi says she is "pretty comfortable" she will be Speaker again if Dems win the House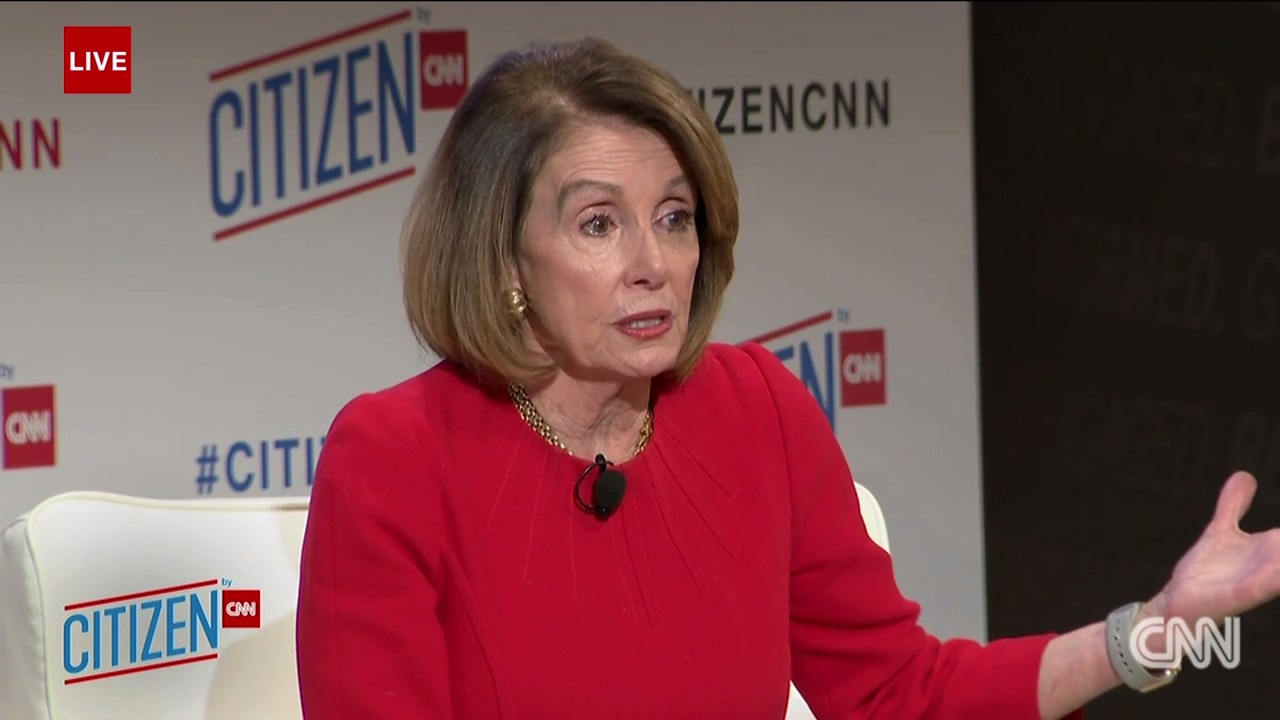 House Minority Leader Nancy Pelosi told CNN's Dana Bash on Monday that she is "pretty comfortable" she will be Speaker again if Democrats win the House in November.
"It is up to them to make that decision, but I feel pretty comfortable where I am," Pelosi said on her caucus.
A number of Democrats running in 2018, looking to curb Republican attacks, have pledged not to vote for Pelosi for Speaker if they win their House seats, leading some in Washington to believe Pelosi could help deliver the House to Democrats and lose her leadership position.
Pelosi went on to list why she deserves to be speaker again after saying she is not usually comfortable with self-promotion.
"I am a great legislator," she said. "And one reason I am is because I recognize the contributions of others, our committee chairs and all the rest."
She added: "I am also politically astute. I took them to a victory in 2006, I know how to do this."
Pelosi declined to say whether she would only serve as Speaker for a short term, something she suggested in an interview earlier this month.
"I am not going to make myself a lame duck. I wouldn't advise that my sisters," she said, looking at women in the audience.
She added: "I think that I have a special understanding, institutional memory, knowledge of the substance, knowledge of the legislative process that holds me in good stead for now. We will see what happens in the Presidential coming up."
11:46 a.m. ET, October 22, 2018
Nancy Pelosi: If election were today, the Democrats 'would handily win the House'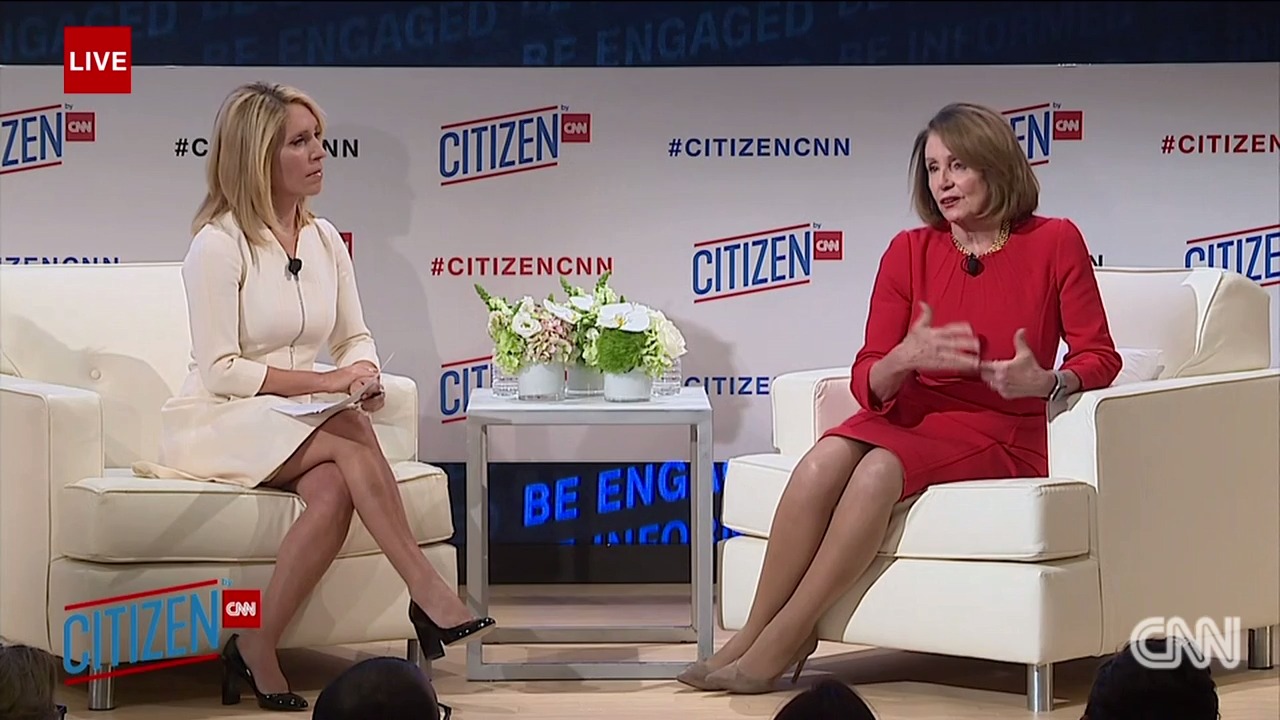 House Minority Leader Nancy Pelosi said on Monday that Democrats would easily win the House but added that she can't say that will be the case in two weeks because "you never know."
"If the election were held today the Democrats would handily win the House," Pelosi told CNN's Dana Bash at CNN's day-long Citizen Conference. "I can only speak in the present tense because you never know."
Pelosi went on to say that Senate Majority Leader Mitch McConnell recently gave Democrats "a gift" by saying that "entitlement changes" would be on the table to tackle the debt and deficit if Republicans hold the House and Senate.
"I think it's pretty safe to say that entitlement changes, which is the real driver of the debt by any objective standard, may well be difficult if not impossible to achieve when you have unified government," the majority leader told Bloomberg News earlier this month.
"This election more than anything is about health care," Pelosi said, responding to McConnell. "I don't know what he was thinking."
11:16 a.m. ET, October 22, 2018
Nancy Pelosi joins Dana Bash to talk the midterms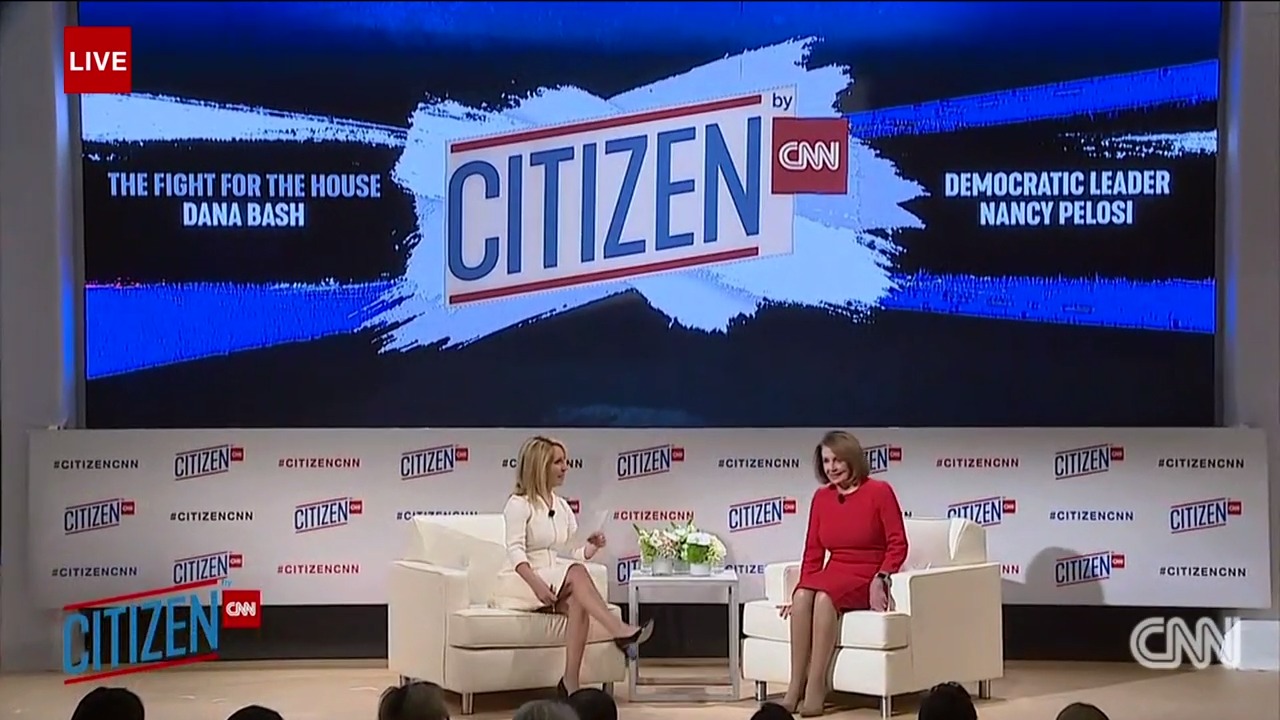 NOW: CNN Chief Political Correspondent Dana Bash will interview Democratic Leader of the House of Representatives Nancy Pelosi on the upcoming midterm elections.
She just opened their conversation stating, "If the election were held today, Democrats would handily win the House."
Pelosi is a divisive figure, and has faced growing calls within her caucus for her to step aside. If Democrats win the House majority, they will hold the speaker's gavel for the first time in eight years, and will have to decide whether to elect Pelosi, a 30-year House veteran and the last Democrat to hold the speaker's gavel, or to bring in new blood.
She made history as the first female speaker of the House after the Democrats won the majority in 2006, and maintained her perch as the top House Democrat when her party became the minority again in 2010.
But she is also a politically-charged target on the campaign trail, with dozens of Democratic candidates saying they wouldn't support her as speaker while a handful of current Democratic incumbents also call for a new generation of Democratic leadership.
Those dynamics have fueled many Democrats, in the run-up to Election Day, to privately discuss backup plans -- with some predicting Pelosi might not secure the votes she needs among her colleagues to be the next speaker, even if she were to lead her party to a major victory this fall.
2:23 p.m. ET, October 22, 2018
Kushner says admin. has "eyes wide open" with Saudi Arabia
The Trump administration is approaching Saudi Arabia's explanation for Jamal Khashoggi's death with "our eyes wide open," senior adviser Jared Kushner said on Monday.
"I think the president is focused on what's good for America," Kushner told Van Jones at the Citizen by CNN festival. "What are our strategic interests. where do we share interests with other countries, let's work toward those."
He said the White House would need to balance applying repercussions for Khashoggi's killing with a raft of partnerships with Saudi Arabia.
"The Middle East is a rough place. It's been a rough place for a very long time," he said. "We have to be able to pursue our strategic objectives. But we also have to deal with what is obviously a terrible situation."
Kushner said it was too early to say whether Saudi Crown Prince Mohammed bin Salman, with whom he's cultivated a close relationship, had taken his advice to remain transparent in the investigation into Khashoggi's death.
"The world is watching," he said. "This is a very very serious accusation. A very serious situation. To be sure you're transparent and to take this very seriously."
"We'll see" if he takes that advice, Kushner said.
Still, the President's son-in-law offered praise for reforms enacted in the kingdom since Prince Mohammed assumed power, saying they helped advance American interests.
"A lot of the reforms they've been making there to help us track down the terror financing and also to push back against the people who are perverting the religion, have been very historic over the last year," he said. "So we're hopeful we can keep pushing forward with a lot of the initiatives that further American interests and that push back Iran's aggression, so we're going to stay focused on that."