Trump's CIA pick faces tough Senate hearing
2:05 p.m. ET, May 9, 2018
Haspel needs some votes from Democrats. Here's what they're saying.
Gina Haspel, President Trump's nominee for CIA director, testified before the Senate Intelligence Committee this morning at her confirmation hearing.
She needs votes from Democratic and Republican senators to be confirmed as the next CIA director.
That could be a challenge for Haspel since Democrats argued that the public should know more about her record. 
Still, many Democrats have signaled they would wait for the hearing before weighing in on whether they'll support Haspel -- at least publicly.
Some Democrats are now talking. Here's what they're thinking:
Sen. Joe Manchin, a Democrat from West Virginia, said Haspel did a "great job" and has some more questions in closed session. Manchin is a key swing vote.
Sen. Mark Warner, a Democrat from Virginia, said that he needs her to clarify her role over the destruction of tapes in closed session. He said she has make a case "to earn the public's trust."
Sen. Dianna Feinstein, a Democrat from California, expressed concerns with her answers. "It's very mixed in my view. Part of the problem is you have to be prepared if you're given an order. Now, to the best of my knowledge, torture was never legal," she said. 
12:32 p.m. ET, May 9, 2018
7 big moments from Gina Haspel's hearing
Gina Haspel, Trump's pick to lead the CIA, just went into a private meeting with senators following her public confirmation hearing.
During the public hearing, Haspel was grilled about her involvement in the CIA's interrogation tactics and her role in the destruction of tapes.
Here's what we learned:
Haspel told her origin story with the intelligence service, beginning when she joined in 1985 and navigated "dead drops," "dusty back allies," and a "dark, moonless night.
She said she "absolutely" supported destroying the torture tapes. Haspel added that her boss alone "made the decision to destroy the tapes."
The reason for destroying the tapes: There "was a great deal of concern about the security risk" posed to CIA officers who were depicted on the tapes, she said.
Haspel said she doesn't believe torture works.
She promised to "never, ever take CIA back to an interrogation program."
Haspel said she doesn't think Trump would ask for a personal pledge of loyalty.
Protesters continually interrupted her hearing, and at least one of them yelled, "Bloody Gina!"
12:30 p.m. ET, May 9, 2018
Why national security officials are preparing plans if Haspel's nomination fails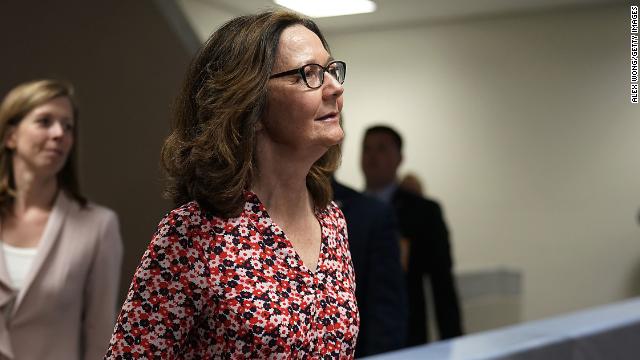 National security officials and some Republicans are preparing contingency plans in case Gina Haspel, Trump's nominee to lead the CIA, falters amid questions about her past role in the George W. Bush-era extreme interrogation program and destruction of videotapes of waterboarding, five sources familiar with the matter tell CNN.
"The reason you're seeing contingency planning isn't a lack of confidence in Gina, but because they're seeing the Democrats band together ... they're worried they're not going to have the votes," said one former national security source familiar with conversations on Capitol Hill.
There has always been some level of concern that Haspel was in trouble, based on her past work for the agency and the public controversy it's inspired, according to one White House official. However, that official said they still believe she will be confirmed.
However, one of the contingency plans being discussed is this:
Preparing Susan Gordon, the deputy director of national intelligence, to potentially take Haspel's place in case Republican senators or Trump balk, two intelligence sources familiar with the matter said.
Two additional sources who spoke with Republican strategists and lawmakers were also aware of general contingency planning. It's unclear how formal these conversations are, but two of the sources said Gordon was in varying stages of being prepared.
12:11 p.m. ET, May 9, 2018
Haspel doesn't think Trump would ask for a loyalty pledge
Democratic Sen. Jack Reed quizzed Gina Haspel on whether she would make personal pledge of loyalty to Trump if he should ask.
Reed referenced former FBI Director James Comey has said that Trump asked for a pledge of loyalty.
Haspel said she's worked closely with Trump and doesn't think that would happen.
"Senator, my only loyalty is to the American people and the constitution of the United States," she said. 
"I am honor-bound and will work very hard to deliver to this President and his administration the best performance and intelligence CIA can deliver."
11:48 a.m. ET, May 9, 2018
Haspel: "I don't believe that torture works"
Democratic Sen. Kamala Harris just asked Gina Haspel, Trump's nominee to be CIA director, whether she agrees with the President's remarks that torture works.
"I don't believe that torture works," she said.
"I believe that in the CIA's program, and I'm not attributing this to enhanced interrogation techniques. I believe, as many people, directors who have sat in this chair before me, that valuable information was obtained from senior Al Qaeda operatives that allowed us to defend this country and prevent another attack."
After Haspel's lengthy response, Harris asked, "Is that a yes?"
Haspel quickly responded, "No, it's not a yes." 
"We got valuable information from debriefing of Al Qaeda detainees, and I don't think it's knowable whether interrogation techniques played a role in that." 
11:45 a.m. ET, May 9, 2018
Haspel: CIA "decided to hold ourselves to a stricter moral standard"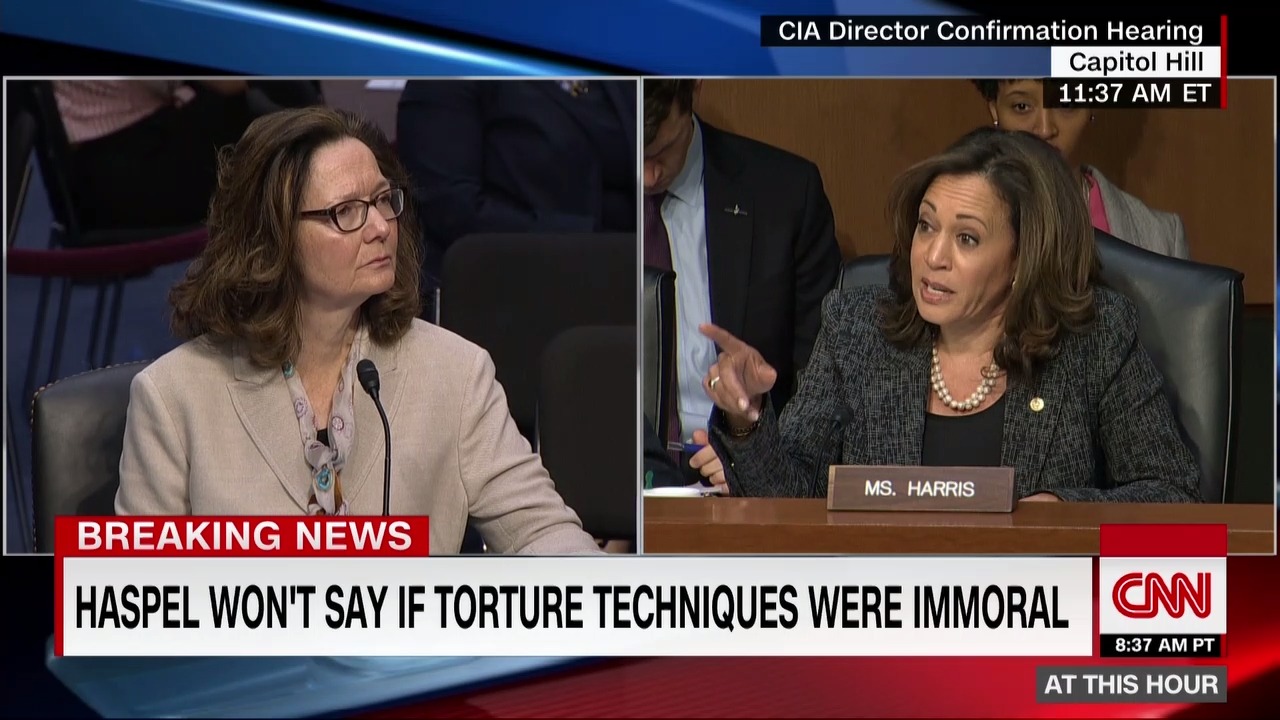 Sen. Kamala Harris pressed Gina Haspel if she felt the CIA's previous interrogation techniques were immoral, asking her multiple times to answer with a simple yes or no. Haspel wouldn't say.
Here's the exchange:
Sen. Kamala Harris: One question I've not heard you answer is do you believe that the previous interrogation techniques were immoral? 
Gina Haspel: Senator, I believe that CIA officers to whom you referred -- 
Harris: It's a yes or no answer. Do you believe the previous interrogation techniques were -- do you believe they were illegal. I'm asking do you believe they were immoral? 
Harris: Senator, I believe that CIA did extraordinary work to prevent another attack on this country given the legal tools. 
Harris: Please answer yes or no. Do you believe in hindsight that those techniques were immoral? 
Haspel: Senator, what I believe sitting here today is that I support the higher moral standard we have decided to hold ourselves -- 
Harris: Can you please answer the question? 
Haspel: I think I've answered the question. 
Harris: No you've not. Do you believe the previous techniques now armed with hindsight, do you believe they were immoral yes or no? 
Haspel: Senator, I believe that we should hold ourselves to the moral standard outlined in the army field manual. 
Harris: Okay. So I understand that you -- you've not answered the question, but I'm going to move on.
Gina Haspel earlier in the hearing pledged that she would not restart the CIA's detention and interrogation program and that she would not follow an order that she found morally objectionable.
"I would not allow CIA to undertake activity that I thought was immoral, even if it was technically legal," Haspel said. "I would absolutely not permit it."
11:14 a.m. ET, May 9, 2018
Protester interrupts hearing, yells "bloody Gina!"
Capitol police removed a protester from the hearing after she interrupted Gina Haspel during question.
As the protester was escorted out of the building, you could hear her yelling, "bloody Gina! Bloody Gina!"