4:31 p.m. ET, May 13, 2019
Our live coverage has ended. Scroll through the posts below to read more or follow CNN Business.
4:18 p.m. ET, May 13, 2019
The Dow closes 617 points lower
From CNN's Anneken Tappe 
US stocks had their worst day in months, as worries about the repercussions of the trade spat with China weighed on equity markets around the globe.  
The Dow finished 617 points, or 2.4%, lower. The S&P 500 closed down 2.4% and the Nasdaq closed 3.4% lower.
It was the worst one-day percentage drop for the Dow and the S&P since Jan. 3. It was the worst day for Nasdaq since December.
2:50 p.m. ET, May 13, 2019
Trump says China will retaliate against US farmers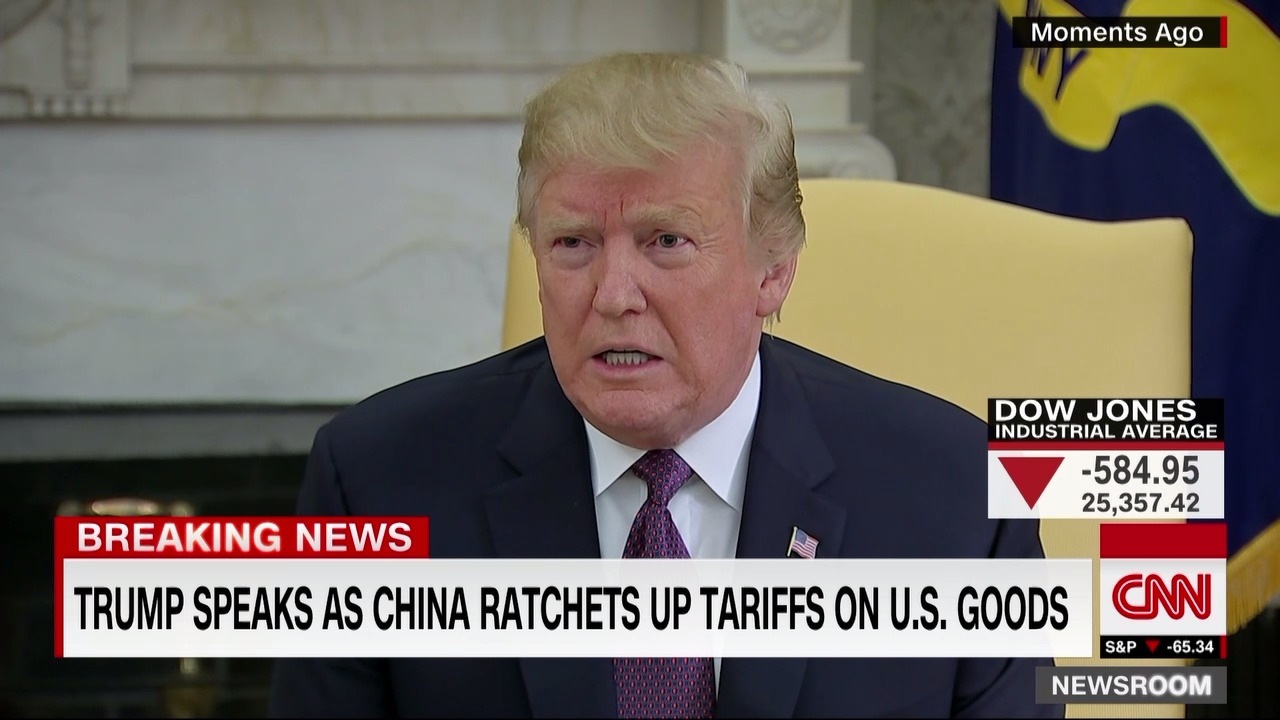 President Trump, addressing new tariffs China has imposed on some US goods, said the US will allocate funds to help farmers, who he alleged China is retaliating against.
"And out of the billions of dollars that we're taking in, a small portion of that will be going to our farmers, because China will be retaliating, probably to a certain extent, against our farmers," he said.
Trump continued: "We're going to take the highest year — the biggest purchase that China has made with our farmers, which is about $15 billion — and do something reciprocal to our farmers, so our farmers can do well, they'll be planting, they'll be able to sell for less"
"Our farmers will be happy," the President said.
2:40 p.m. ET, May 13, 2019
 Trump says he will meet with Putin and Xi at G20
From CNN's Nikki Carvajal and pool reports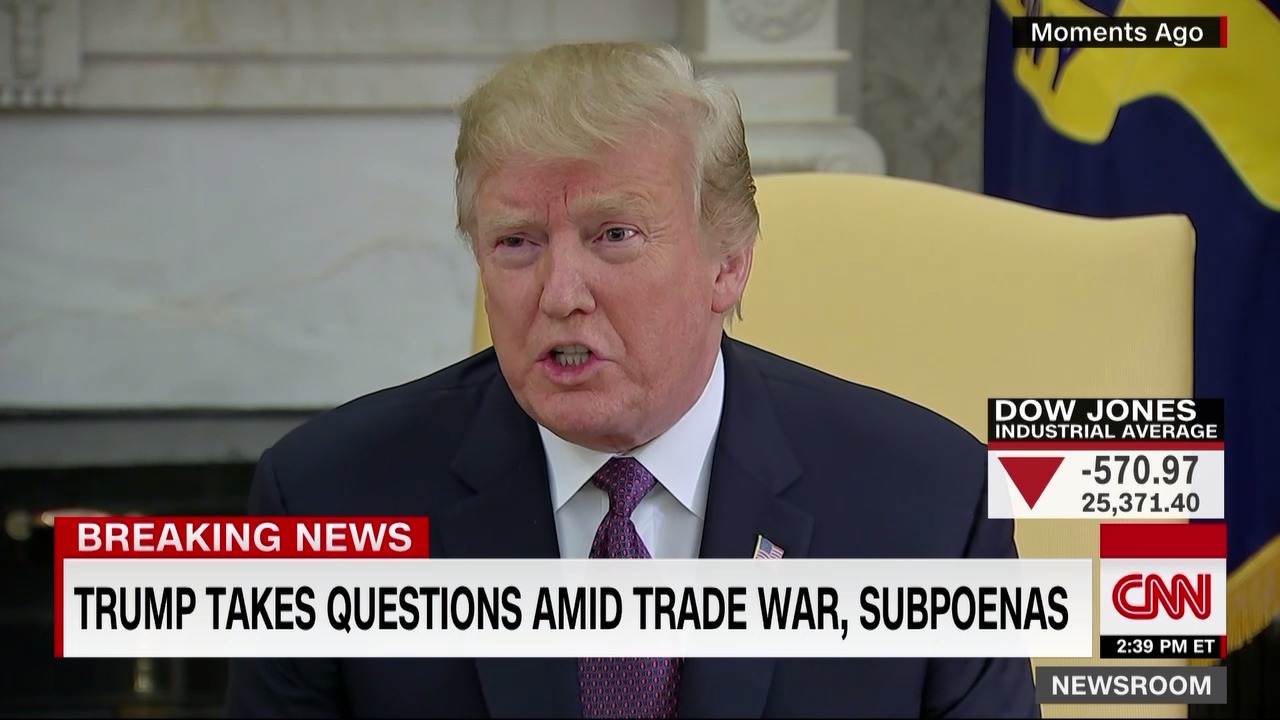 President Trump told reporters today he will meet with Russian President Vladimir Putin and Chinese President Xi Jinping at a G20 summit in Japan next month. 
Trump, speaking during a meeting with the Hungary's prime minister, said a deal with China was "95%" done when Treasury Secretary Steve Mnuchin and US Trade Representative Robert Lighthizer were informed in China the deal was off. 
He said that's when he ordered an increase on Chinese goods being imported into the US. 
On war with Iran, "we'll see what happens," Trump said. 
2:31 p.m. ET, May 13, 2019
How the trade war has affected this Maine woman's lobster company
Stephanie Nadeau's lobster company has taken a hit due to the recent tariffs and trade war between the US and China.
Nadeau told CNN exports fell 60% over the last year during the peak winter season.
"We've been devastated for the past 10 months and waiting patiently for the trade war to slow up here a little bit so we could get back to work so we were quite disappointed to hear that trade talks had broken off," she said.
Nadeau said she's consider moving her Maine-based company to Canada and start selling lobsters there, even though she doesn't want to. She said that while she's angry by the administration's actions, she also just trying to survive.
"It's kind of like stages of death. Right? Initially I was really, really angry. And now you're just trying to survive and keep your head above water. I mean, never in my lifetime did I expect that the President of the United States would pick winners and losers in a capitalist economy. That's what he's done. He picked me as one of the losers," Nadeau said.
Watch the moment:
1:37 p.m. ET, May 13, 2019
Here's what happened the last time Trump imposed tariffs on China
From CNN's Devan Cole
President Trump also introduced tariffs on $200 billion in Chinese goods last December.
The hike triggered a brief slowdown in the Chinese economy, prompting fears of a global economic downturn. But the renewed talks between the world's two largest economies had steadied markets in recent months.
But Trump raised tariffs again: The US hiked tariffs on Friday on $200 billion worth of Chinese exports. China struck back today and said it will increase tariffs on roughly $60 billion worth of US goods on June 1.
The latest actions are poised to make things worse. Experts have said that tariff hikes could hit growth in both economies, and that Beijing may be forced to step in with new stimulus measures.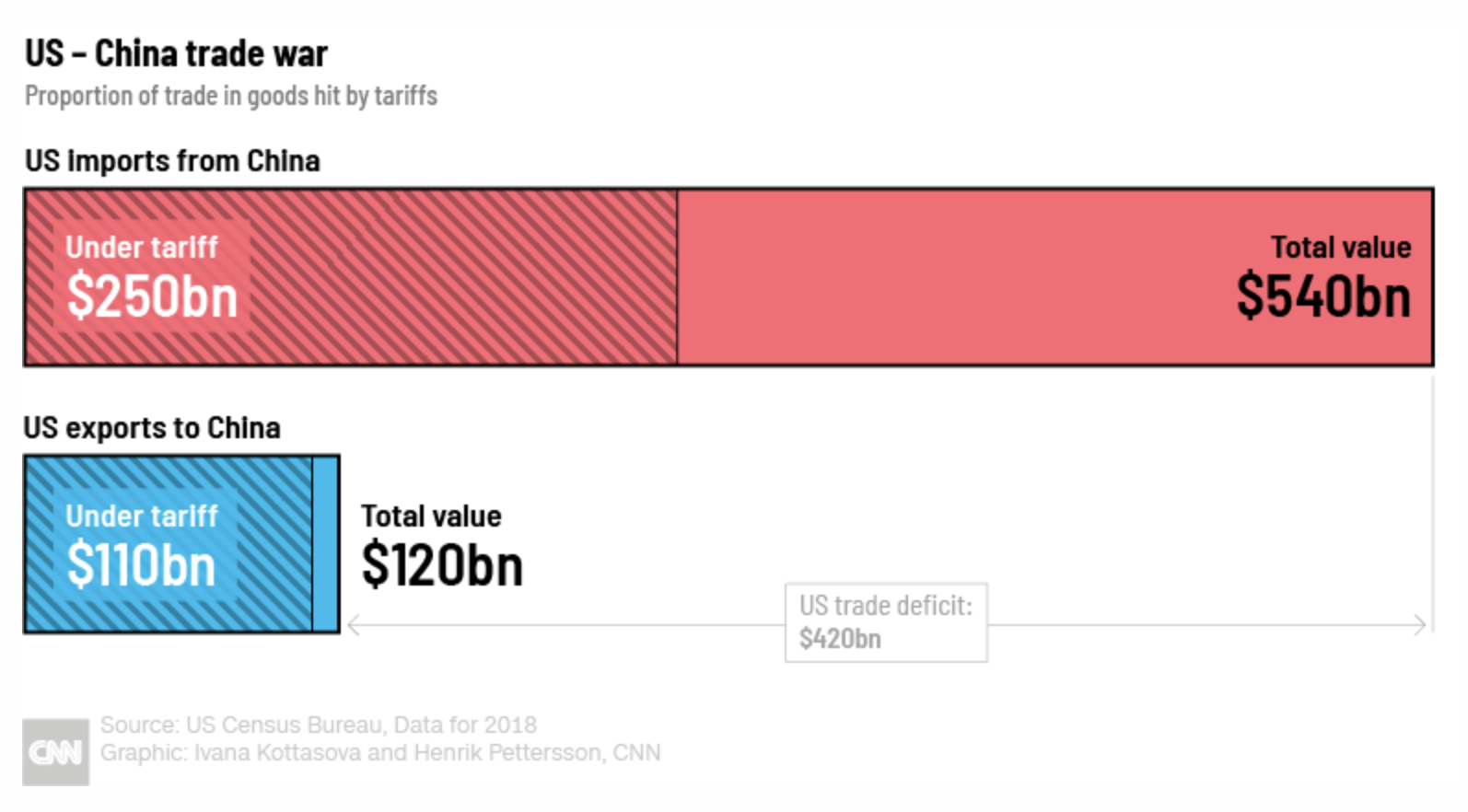 1:53 p.m. ET, May 13, 2019
The Dow falls 700 points
From CNN's David Goldman
US stock market losses have accelerated with the Dow falling as much as 707 points.
11:35 a.m. ET, May 13, 2019
Dow falls 600 points
10:37 a.m. ET, May 13, 2019
China details tariffs it will raise on U.S. goods
From CNN's Steven Jiang, Matt Rivers Lily Lee and Nanlin Fang in Beijing
China has announced it will be raising tariffs on roughly $60 billion worth of U.S. goods beginning midnight (Beijing time) June 1, according to China's State Council Customs Tariff Commission.
China's newly increased tariffs largely affect the same goods on which initial tariffs were imposed last fall, and have not been extended to any new set of goods.
The new tariff rate hike is based on four categories of US goods valued at approximately $60 billion. China has levied tariffs on a total of $110 billion worth of US products since the trade war began.
Tariffs on the $60 billion worth of US products went into effect on September 24 last year. Roughly 5,000 items were affected, and they were split into four categories.
On Monday, China announced that:
Category 1 (includes cotton, machinery, grains) went from 10% to 25%
Category 2 (includes aircraft parts, optical instruments, certain types of furniture) went from 10% to 20%
Category 3 (includes corn flour, wine) went from 5% to 10%
Category 4 (includes certain types of chemical, rare earths, medical equipment like ultrasound and MRI machines) stayed the same at 5%
This is a retaliation: On Friday, the U.S. hiked tariffs from 10% to 25% on $200 billion worth of Chinese exports after trade talks held in Washington failed to produce a breakthrough