7:01 p.m. ET, April 8, 2019
4:36 p.m. ET, April 8, 2019
Sources: Trump and McAleenan don't know each other well, but people don't expect him to be that different from Nielsen
After President Trump insisted Kirstjen Nielsen step down Sunday, he announced that Kevin McAleenan will take over as acting secretary for the department, even though there was already someone in line to step in. So why did he pick McAleenan? And why didn't he just nominate him if he thinks he should permanently lead DHS? 
Two sources familiar with their relationship say Trump and McAleenan are not close. Trump doesn't know him well and hasn't dealt with him much, though the CBP commissioner did travel to Calexico with Trump last week.
But the president started paying closer attention to McAleenan after he gave a press conference in late March warning that immigration enforcement was at a "breaking point" and his agency was "reluctantly" releasing migrants directly without turning them over to ICE. 
Before now, McAleenan was seen as the numbers guy, meaning the official Nielsen went to when she needed border information. But McAleenan has fans inside the West Wing who encouraged Trump to name him as the acting secretary, particularly Jared Kushner, two sources say, who also urged Trump to push Nielsen out.
Kushner has recently become more involved in immigration discussions, another person familiar with knowledge of the West Wing said.
Sources say that at this point there is no talk of who would take over permanently at DHS. Trump has said both privately and publicly that he likes figures in acting capacities because it gives him "more flexibility." Several people inside the West Wing expect McAleenan to follow a similar route — perform the job in an acting capacity and see if Trump likes what he does. 
Whether that will work out is another question. Those same West Wing sources said people question whether McAleenan will be hardline enough for the president. He has sided with the president on tougher immigration laws, like proposing a penalty for crossing border illegally, but has also been in favor of giving aide to countries that the president recently cut off. 
"I don't think there's going to be much of a difference" with McAleenan in the role compared to Nielsen, an administration official told CNN. 
The official points out that McAleenan has a reputation for being a technocrat and lawyer, not an ideologue. Trump will still be constrained by the same laws that he is now. 
4:18 p.m. ET, April 8, 2019
ICE official: "It's pretty somber over here"
An ICE official tells CNN people there are still upset about Vitiello, whose nomination to become ICE Director was withdrawn late last week. 
"It's pretty somber over here," the official said, adding that there are still questions surrounding the reasons for why his name was withdrawn.
4:17 p.m. ET, April 8, 2019
Trump pushed to close El Paso border, told agents not to admit migrants and to resume family separations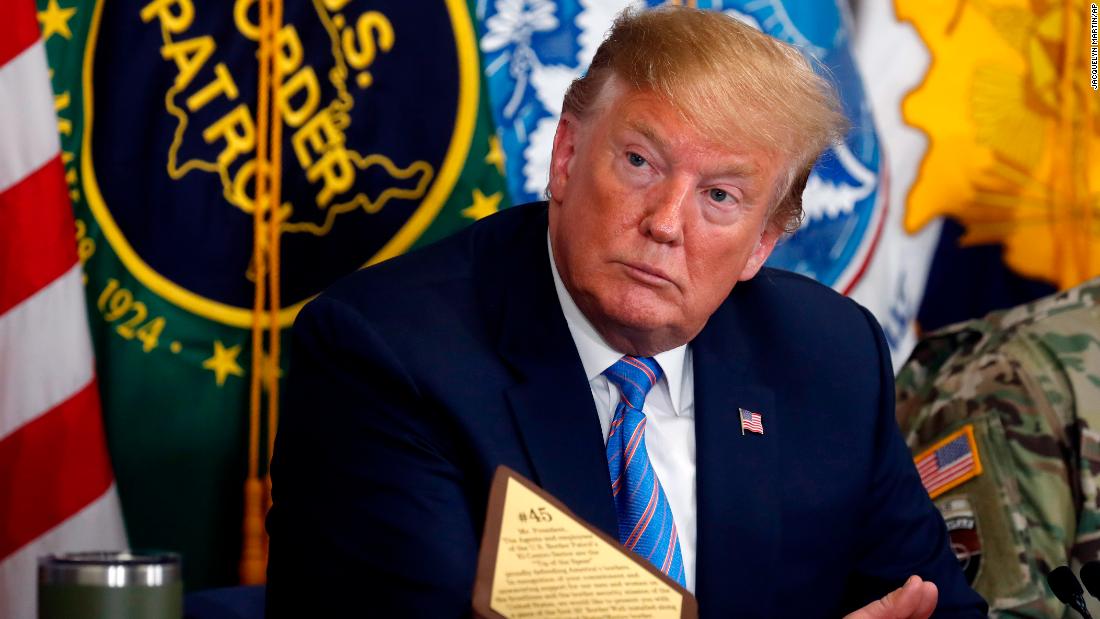 President Donald Trump has been pushing to reinstate broader family separation policies and sought to close the US-Mexico border at El Paso, Texas, as his conflict with Homeland Security Secretary Kirstjen Nielsen reached a boiling point.
Two Thursdays ago, in a meeting at the Oval Office with top officials -- including Nielsen, Secretary of State Mike Pompeo, top aides Jared Kushner, Mercedes Schlapp and Dan Scavino, White House counsel Pat Cipollone and more -- the President, according to one attendee, was "ranting and raving, saying border security was his issue."
Senior administration officials say that Trump then ordered Nielsen and Pompeo to shut down the port of El Paso the next day, Friday, March 22, at noon. The plan was that in subsequent days the Trump administration would shut down other ports.
Nielsen told Trump that would be a bad and even dangerous idea, and that the governor of Texas, Republican Greg Abbott, has been very supportive of the President.
She proposed an alternative plan that would slow down entries at legal ports. She argued that if you close all the ports of entry all you would be doing is ending legal trade and travel, but migrants will just go between ports.
According to two people in the room, the President said: "I don't care."  
Ultimately, acting White House chief of staff Mick Mulvaney seemed to have been able to talk the President out of closing the port of El Paso. Trump, however, was insistent that his administration begin taking another action -- denying asylum seekers entry. Nielsen tried to explain to the President that the asylum laws allow migrants from Central America to come to the US and gain entry. She talked to the White House counsel to see if there were any exceptions, but he told her that her reading of the law was correct.
Neither the White House nor the Department of Homeland Security responded to official requests for comment.
4:04 p.m. ET, April 8, 2019
Outgoing Secret Service director was not fired, he says in statement
In an email to employees at his agency, outgoing Secret Service Director Randolph "Tex" Alles stated that he was not fired, but was told weeks ago that the administration would be making "transitions in leadership" at the Department of Homeland Security. 
Alles' departure was announced earlier today, and DHS secretary Kirstjen Nielsen's departure was announced yesterday.
Read the email: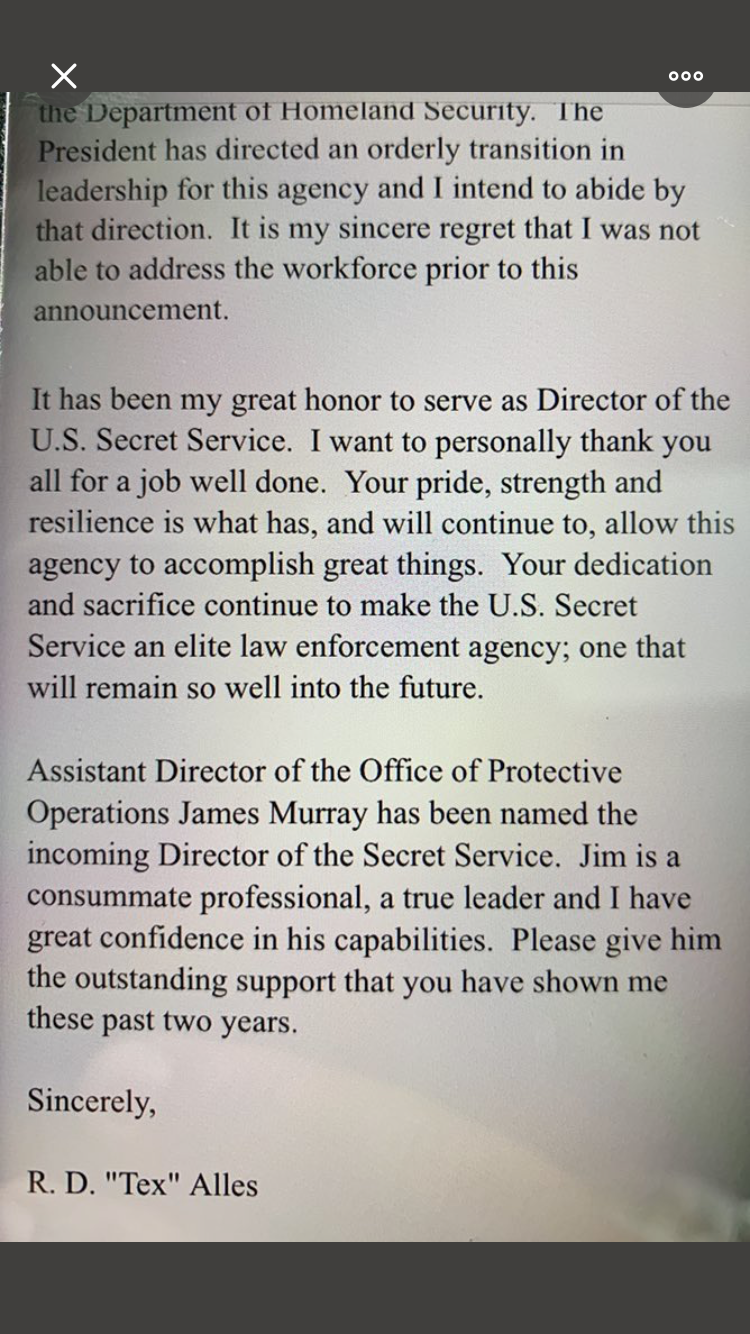 1:43 p.m. ET, April 8, 2019
Trump removes the Secret Service director in a "near-systematic purge"
United States Secret Service Director Randolph "Tex" Alles is being removed from his position, multiple administration officials tell CNN.
President Trump instructed his acting chief of staff, Mick Mulvaney, to fire Alles.
Alles remains in his position as of now but has been asked to leave.
The Secret Service director reported directly to the former Secretary of Homeland Security, Kirstjen Nielsen, who resigned on Sunday amid growing pressure from the President. The director oversees the Secret Service's work on both protection and investigations.
"There is a near-systematic purge happening at the nation's second-largest national security agency," this official says.
US Citizenship and Immigration Services director Francis Cissna and Office of the General Counsel's John Mitnick are expected to be gone soon, and the White House is eyeing others to be removed.
The President in recent weeks empowered Stephen Miller to lead the administration's border policies "and he's executing his plan" with what amounts to a wholesale decapitation of the Department of Homeland Security leadership, the official says.
Alles previously served in Customs and Border Protection leadership and also led that agency's Air and Marine Operations. He is a 35-year veteran of the Marine Corps.
It was not immediately clear what prompted his firing, but the Secret Service recently came under scrutiny after a Chinese woman illegally entered the President's Mar-a-Lago club carrying Chinese passports and a flash drive containing malware.
1:08 p.m. ET, April 8, 2019
She was next in line to be the head of DHS. Then, Trump picked someone else.
Claire Grady is currently serving as the acting deputy secretary at the Department of Homeland Security. She's technically next in line to be acting secretary. But President Trump said Sunday that Kevin McAleenan — the commissioner of Customs and Border Protection — is going to replace Kirstjen Nielsen in an acting capacity.
So, what happens to Grady? A source close to the situation said that Grady is, at this point, not expected to resign on her own.
If she was going to step down, another person close to her believes she would have done it yesterday. She is likely to force the administration to fire her from her position, which they have to do by Wednesday in order to make room for McAleenan. 
So keep an eye on her. She's well liked inside DHS, too.
12:43 p.m. ET, April 8, 2019
This is who is replacing Kirstjen Nielsen (for now)
Kevin McAleenan, the commissioner of US Customs and Border Protection, will step in as acting secretary of Homeland Security after the departure of Kirstjen Nielsen.
Here's what we know about him:
His background: McAleenan is a career official who previously served as the deputy commissioner during President Barack Obama's administration.
Where he stands on immigration: He was described by a senior DHS official as "not an ideologue or fire breather" on immigration. He has shared some of Nielsen's frustrations with Trump over his demands for DHS, said two US officials familiar with his thinking. Last month, he said the "breaking point has arrived" for the immigration system, and announced he was moving 750 officers to help Border Patrol care for migrants.
His new job: He is expected to serve as the acting secretary "in the short term," according to a White House official.
Line of succession: Putting McAleenan in charge skips over acting Deputy Secretary Claire Grady, which raises questions about her future. A senior administration official told CNN that legally Grady is next in line and will have to leave for McAleenan to assume the role of acting secretary.
12:23 p.m. ET, April 8, 2019
Nielsen thanks Trump for opportunity to serve and says she shares his "goal of securing the border"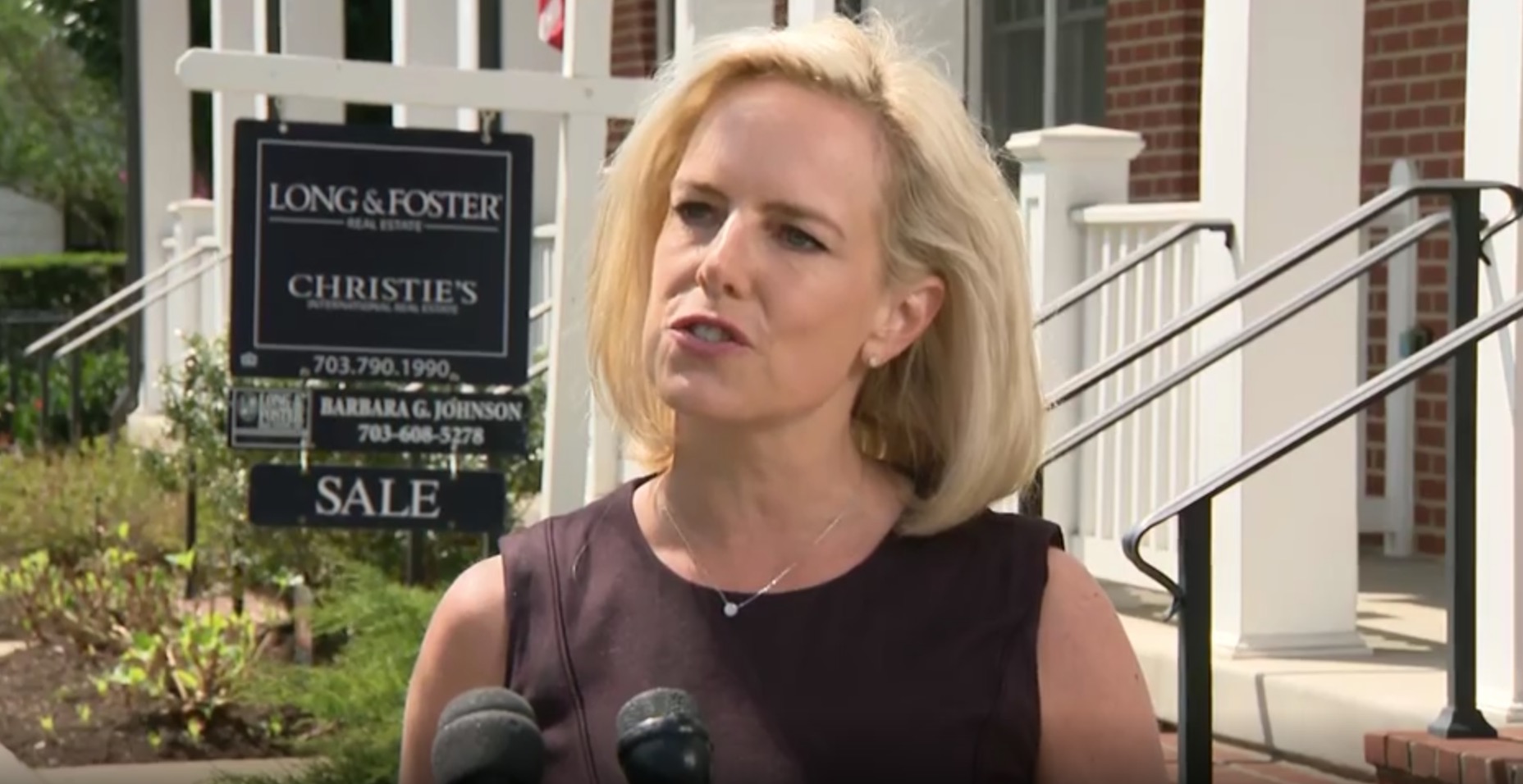 Kirstjen Nielsen, outgoing Secretary of Homeland Security, spoke briefly to reporters outside her home on Monday.
She thanked the President for the "tremendous opportunity" to serve the country, and said she shares "the President's goal of securing the border."
She also thanked her DHS colleagues and said she has spent the last day working with officials on a smooth transition.
"I'm on my way to keep doing what I can," she said when she walked away from the cameras and headed toward the car. She did not answer questions.