Beto O'Rourke takes questions at CNN town hall
10:55 p.m. ET, May 21, 2019
O'Rourke suggests penalizing drug manufacturers for the opioid crisis
Beto O'Rouke suggested taking legal action against large drug companies as a part of tackling the opioid crisis in the US.
He said that while it's crucial to help Americans with opioid addictions find treatment, it's also important to hold some companies, such as Oxycotin maker Purdue Pharma, accountable.
O'Rourke began by saying this, before he was cut off by audience applause: "Let's also acknowledge this: That without consequences or justice for how this happened, for corporations like Purdue Pharma that marketed these opioids -- "
Then, he continued:
"We are busting people for possession of marijuana. Putting them in jail, forcing them to check a box on every employment application after their lease. Making it impossible to attend Drake (University) because they no longer qualify for federally backed student loans. And yet no one from Purdue Pharma has spent a night in jail or paid any significance consequence. We gotta do better."
Watch more:
10:44 p.m. ET, May 21, 2019
Beto O'Rourke was once a live-in nanny
Beto O'Rourke briefly worked as a live-in nanny for a family in New York City.
The former Texas congressman said he took on the job after graduating college.
"So I, after college I was trying to live in the city, trying to live in New York, and I was working full time but I still didn't have enough money to pay the rent," O'Rourke said.
The family, he said, made an offer he couldn't refuse.
O'Rourke agreed to watch their children after school and on weekends, walk them to school and make them breakfast in exchange for an apartment above theirs.
"Great deal. And so I took them up on that, and a great experience early on," he said.
Watch more:
10:36 p.m. ET, May 21, 2019
Beto O'Rourke's immigration plan includes path to citizenship for DREAMers
Former Texas Rep. Beto O'Rourke called for an immigration overhaul that would include giving "DREAMers" citizenship creating a path to citizenship for other undocumented immigrants currently in the United States.
"Let's do this together, and let's not do it as Democrats or independents or Republicans, but let's do it as Americans: Let's rewrite our immigration laws in our own image," O'Rourke said in a CNN town hall Tuesday night.
He criticized President Donald Trump's family separation policy, saying he would "never again separate another family when they come here at their most vulnerable and desperate moment."
O'Rourke sharply criticized Trump for seeking to cut off $500 million in U.S. aid to the Northern Triangle -- a region that encompasses El Salvador, Guatemala and Honduras, where many asylum seekers have fled violence.
"He wants to cut that. I would double it, and I would focus it on violence prevention so that no mother has to make that god-awful decision of sending her child on that 2,000-mile trek," O'Rourke said. "That's the wisest, best use of our resources in this hemisphere."
O'Rourke said that as an El Paso resident, he's "lived this experience" and has "a powerful story to tell" about the positive contributions of immigrants.
Watch below:
10:33 p.m. ET, May 21, 2019
Here's what Beto O'Rourke wants to do to stop gun violence
Beto O'Rourke, asked about what he'd do to stop gun violence and school shootings, said his 8-year-old son recently went through an active shooter drill.
"He talked about his teacher huddling Henry and his classmates into a closet and resisting the temptation to open the door when someone impersonating an active shooter — to get them ready — begins to knock on it," he said.
O'Rourke then laid out some of the actions he'd take to curb gun violence:
O'Rourke said that states that have adopted universal background checks and "closed every loophole" have seen a reduction gun violence.
He added this: "Complement that by ensuring that weapons of war designed for use on the battlefield are no longer sold into our communities so that they don't end up in our schools, in our synagogues, in our churches. We can save even more lives."
O'Rourke said more red flag laws are needed, so a person who "exhibits the tendency to harm themselves or somebody else can be stopped before they do that."
He also said the US needs to "invest in the counseling and the mental health therapy necessary for people to get the care that they need."
Hear his answer:
10:27 p.m. ET, May 21, 2019
O'Rourke vows to fight for women's reproductive rights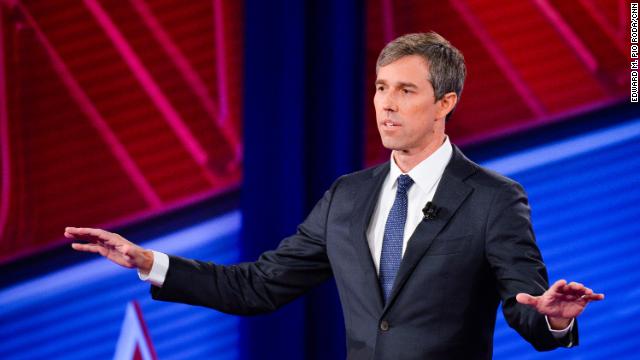 Former congressman Beto O'Rourke vowed to join women in fighting for their reproductive rights.
"For so long, women have been leading this fight, shouldering the burden of making sure that their reproductive rights are protected. It is time all of us join them in this fight," he said.
O'Rourke then laid out his plan to ensure women's reproductive rights are protected if he's elected president.
This is his plan:
"As president, I will make sure that every nominee to every federal bench including the Supreme Court understands and believes that the 1973 decision, Roe v. Wade, is the settled law of the land."
"As president, I'll make sure that we do away with the gag rule which prevents providers from referring women to get the best reproductive health care that they can."
"We'll do away with the Hyde Amendment, so that ensures regardless of your income or your zip code you are able to access a safe, legal abortion, and also the other services provided in family planning clinics, a cervical cancer screening, family planning help."
"I will work with our partners in Congress to make sure that by statute we prevent states from taking away the right that every woman should enjoy, making her own decisions about her own body and having access to the health care that makes that possible."
Why this matters: Last week, Alabama enacted the strictest abortion law in the country. It would make abortion illegal in virtually all cases, including cases of rape and incest. And Georgia is one of the latest states to enact a so-called "heartbeat law," meaning virtually all abortions are illegal once a heartbeat is detected.
More than 50 organizations, including the American Civil Liberties Union, participated today in #StopTheBans protests nationwide aimed at stopping a wave of other proposed anti-abortion legislation.
Watch more:
10:25 p.m. ET, May 21, 2019
O'Rourke: "We should begin impeachment proceedings against Donald Trump"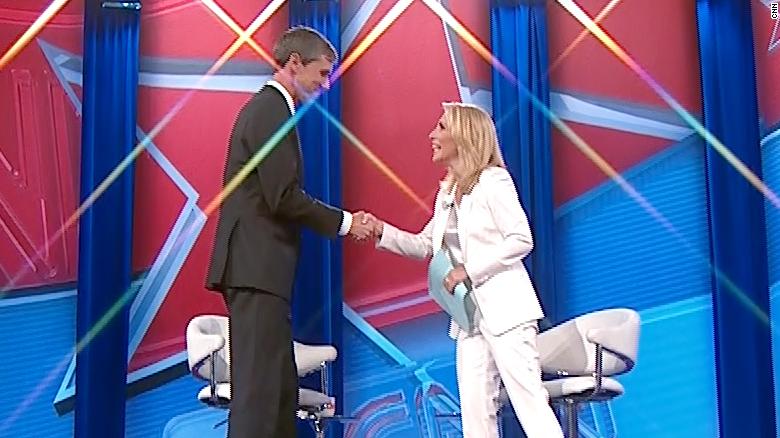 Cris Wildermuth, an associate professor at Drake University, asked Democratic presidential hopeful Beto O'Rourke what his stance is on beginning impeachment proceedings against President Trump.
"We should begin impeachment proceedings against Donald Trump," he said.
O'Rourke added that it's "not something that I take lightly."
"It is an incredibly serious, sober decision to make as a country," he said.
O'Rourke cited the White Houses's refusal to comply with congressional subpoenas and Attorney General William Barr's failure to show up at a House hearing in his rationale for calling for impeachment proceedings.
O'Rourke has previously called for Trump's impeachment. He said Tuesday that Democrats should not worry -- as House Speaker Nancy Pelosi has said -- that doing so could energize Trump's base ahead of the 2020 election.
He said Democrats should "look past those short-term consequences" and focus on obtaining documents and evidence. The only way to do so, he said is, to "compel the testimony, the furnishing of those documents, through impeachment proceedings."
At stake, O'Rourke said, are "very sanctity of the ballot box and the very future of the world's greatest democracy."
"If we do nothing because we are afraid of the polls or the politics, or the repercussions in the next election, we will set a precedent that, in fact, some people, because of the position of power and public trust that they hold are above the law," he said.
Watch more:
10:10 p.m. ET, May 21, 2019
O'Rourke explains why he livestreamed his haircut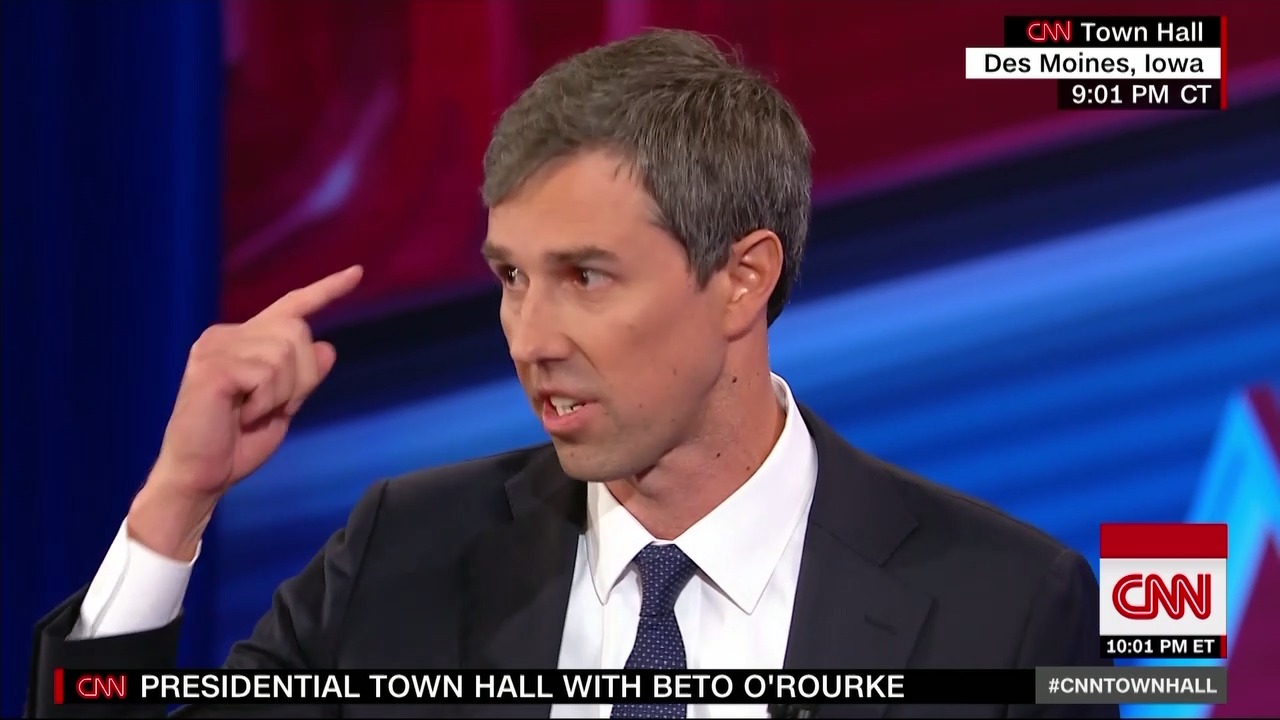 Democratic presidential hopeful Beto O'Rourke recently livestreamed his haircut. The move drew some criticism.
Tonight he explained why he did that.
Here's what he said:
"Yes, you know, my intent is to show off my hometown of El Paso, Texas, and this extraordinary barber who produced this haircut that you are seeing right now, who moved over from Juarez nine years ago at the height of some horrific violence there to start a business in my hometown, to create jobs, to contribute to our quality of life, to help tell the American story. This is a country of immigrants and asylum seekers and refugees from the world over. Nothing to be afraid of, everything to celebrate. That's what we were trying to do."
Watch below:
9:59 p.m. ET, May 21, 2019
SOON: O'Rourke takes the stage at his town hall
Democratic presidential candidate Beto O'Rourke will soon take the stage at Drake University in Des Moines, Iowa.
Troy Price, chair of the Iowa Democratic Party, spoke directly to voters moments before the town hall about the importance of the 2020 presidential election.
"Our candidates represent the incredible diversity of our party," he said. "I am very proud to be a part of a party that celebrates our diversity."
The audience members are likely caucus voters, meaning they identify as Independents or Democrats.
9:54 p.m. ET, May 21, 2019
Here's what else O'Rourke did in Iowa this week
Beto O'Rourke met with voters and toured areas damaged by flood ahead of tonight's town hall in Des Moines.
On Monday, he began his trip by touring flood damage in Davenport, then hosted a town hall there later that night.
O'Rourke met with Iowans again today at a town hall in Tipton.
The former Texas congressman has held 154 town halls in venues like coffee shops, diners and houses since launching his presidential bid in March. He'll hold his first one staged for national television today.