Beto O'Rourke takes questions at CNN town hall
7:39 p.m. ET, October 18, 2018
O'Rourke says he would vote to impeach President Trump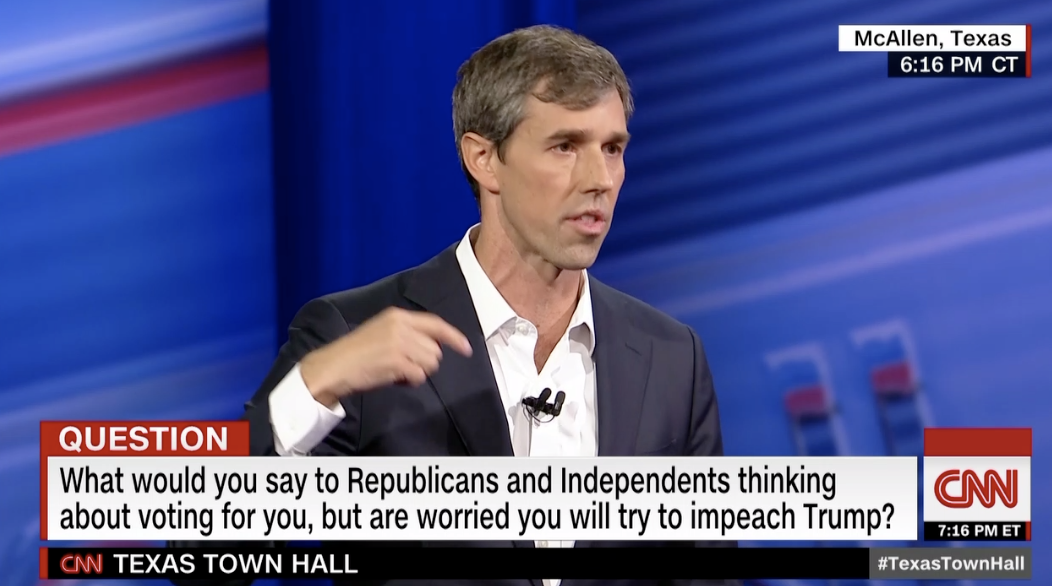 Beto O'Rourke said he would vote to impeach President Donald Trump.
Asked by CNN's Dana Bash if he's changed his mind after saying he'd vote to impeach Trump this summer, O'Rourke said, "I haven't."
He pointed to the ongoing probe into whether Trump's 2016 campaign colluded with Russia.
"I would liken impeachment to an indictment. There is enough there to proceed to a trial," he said.
O'Rourke continued: "I would not prejudge the outcome of that trial. All I am saying is, there's enough there. … I know that this is not politically easy or convenient to talk about, but 242 years into this experiment … nothing guarantees us a 243rd or a 244th."
O'Rourke has avoided the topic recently, even as Republican Sen. Ted Cruz lambasted him in Tuesday night's Senate debate on the topic, casting O'Rourke as too liberal for Texas.
Watch:
7:20 p.m. ET, October 18, 2018
O'Rourke explains why he goes by "Beto"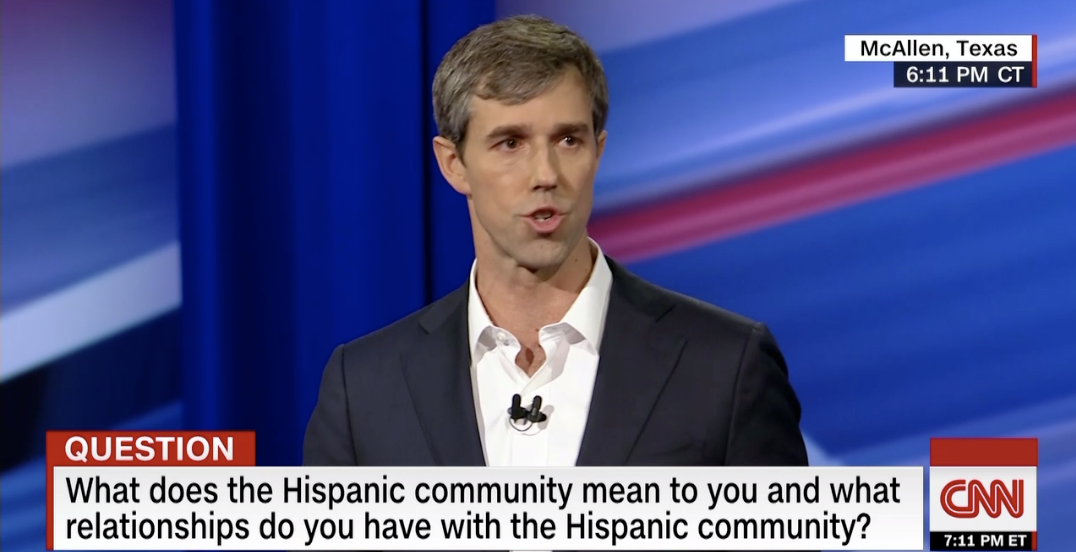 Beto O'Rourke explained why -- despite being born Robert Francis O'Rourke -- he goes by "Beto," a nickname that led Donald Trump Jr. to call O'Rourke an "an Irish guy pretending to be Hispanic."
Pointing to his upbringing in El Paso, a community he said is 80% Mexican-American, he said "Beto" is a common nickname for anyone with his name.
"That's just part of who I am and where I'm from," he said.
Watch:
7:02 p.m. ET, October 18, 2018
NOW: Beto O'Rourke takes the stage, kicking off the town hall
You can watch it live in the video player above. We'll bring you the key moments here.
6:55 p.m. ET, October 18, 2018
Moments away: Beto O'Rourke joins CNN for a town hall
We go live at 7 p.m. ET. Click the arrow below to tell a friend.
7:40 p.m. ET, October 18, 2018
How Tuesday's Cruz-O'Rourke debate went down
Democratic Rep. Beto O'Rourke and Republican Sen. Ted Cruz had their second — and potentially final — debate for the Texas Senate race Tuesday night.
O'Rourke's approach: The Democrat aggressively cast Cruz as "all talk and no action." It showcased a major shift in tone for O'Rourke, who rarely says the names of Cruz or President Donald Trump on the campaign trail and has often bypassed his opportunities to take direct shots at Cruz.
Cruz's approach: Cruz claimed that O'Rourke is the only Senate Democratic candidate this cycle who has explicitly supported Trump's impeachment. He said that O'Rourke's election would lead to "two years of a partisan circus, shutting down the federal government in a witch hunt on the President."
What this all means: O'Rourke's aggressive tactic could be necessary. A new CNN poll out Tuesday showed Cruz with a 7 percentage point lead — consistent with other recent surveys that have shown the Republican clearly ahead.
6:40 p.m. ET, October 18, 2018
Why you won't see Ted Cruz at the town hall tonight
CNN's Chief Political Correspondent Dana Bash will moderate a live, one-hour town hall with Democratic Rep. Beto O'Rourke, who is running for US Senate in Texas.
CNN invited O'Rourke's opponent -- GOP Sen. Ted Cruz -- multiple times to appear in his own town hall, which is being held at McAllen Performing Arts Center near the US-Mexico border, but he declined.