William Barr testifies on the Mueller report
11:25 a.m. ET, May 1, 2019
Mueller report contradicts Barr on role of OLC opinion in obstruction decisions
Attorney General William Barr said that during a March meeting with special counsel Robert Mueller, Mueller "reiterated several times in a group meeting that he was not saying that but for the OLC [Office of Legal Counsel] opinion he would have found obstruction."
This was the latest in a series of statements from Barr in which he downplayed the role of the Justice Department guidelines against indicting a president. Barr made the same claim at his press conference before releasing the Mueller report in April.
Why this matters: Internal Justice Department policies say that a sitting president cannot be indicted. The policy comes from the OLC and it dates back to the Nixon administration. It is binding on all Justice Department employees, including Mueller and his team of prosecutors.
But despite Barr's comments, Mueller's report directly explains how this had a major impact on his internal deliberations. In effect, Mueller framed his entire obstruction investigation around the notion that he couldn't bring any charges against Trump even if he found ironclad evidence against him, because of the OLC opinion.
"Given the role of the special counsel as an attorney in the Department of Justice and the framework of the special counsel regulations... this office accepted OLC's legal conclusion for the purpose of exercising prosecutorial jurisdiction," Mueller wrote in the report.
That appeared on the very first page of the volume that addressed obstruction of justice. This framework is a far cry from Barr's public pronouncements that the OLC opinion had no bearing on obstruction endgame. 
11:21 a.m. ET, May 1, 2019
This is the difference between firing the special counsel and removing him based on conflict, according to Barr
Attorney General William Barr just said in an exchange with Ranking Member Dianne Feinstein that he believes there is difference between firing the special counsel and telling then-White House Counsel Don McGahn to remove him "based on conflict."
Here's the exchange:
Feinstein: You still have a situation where a president essentially tries to change the lawyer's account in order to prevent further criticism of himself.
Barr: Well that's not a crime.
Feinstein: So you can, in this situation, instruct someone to lie?
Barr: No, it has to be, well, to be obstruction of justice, the lie has to be tied to impairing the evidence in a particular proceeding. McGahn had already given his evidence, and I think it would be plausible that the purpose of McGahn memorializing what the President was asking was to make the record that the President never directed him to fire. And there is a distinction between saying to someone, "Go fire him, go fire Mueller" and saying, "have him removed based on conflict." They have different results.
Feinstein: And what would that conflict be?
Barr: The difference between them is that if you removed someone for a conflict of interest, then there would be presumably another person appointed.
11:11 a.m. ET, May 1, 2019
Barr envisions "some kind of reporting" on his spying probe
Attorney General William Barr said officials in the Justice Department are reviewing the early days of the Russia investigation and allegations of unlawful government surveillance, referred to by the President and his allies as "spygate."
"I do have people in the department helping me review the activities over the summer of 2016," Barr said.
Barr said it was too early to commit to sharing any potential conclusions with Congress but said "I envision some kind of reporting at the end of this."
Here's what we know about the "spying" claim:
The surveillance of Trump campaign aide Carter Page, under the Foreign Intelligence Surveillance Act, has become a rallying cry for Republicans. They say it proves that the FBI abused tools typically meant to target terrorists to instead prey on the Trump campaign.
But these talking points ignore critical facts. The surveillance did begin under the Obama administration, but Trump's own appointees at the Justice Department continued it. When it started, Page had already left Trump's campaign. And all four federal judges who approved the warrants and renewals had been appointed by Republican presidents.
The FBI controversially used some material from a dossier of explosive memos written by a retired British spy alleging widespread Trump-Russia collusion, in addition to other intelligence that remains redacted, when applying for the first FISA warrant. Republicans have said this is an abuse of US intelligence because the dossier was funded by Democrats who opposed Trump.
There's also the informant, a longtime FBI source who met with Page, Trump campaign adviser George Papadopoulos and another Trump campaign official to glean information for investigators about their Russia ties.
Trump dubbed this situation "spygate" and said it shows that the Obama administration planted a "spy" in his campaign. But CNN reported that this isn't true. The informant wasn't spying on Team Trump for political purposes. His role was to assist a serious FBI investigation. Both Page and Papadopoulos later acknowledged having extensive contacts with Russians.
11:16 a.m. ET, May 1, 2019
Feinstein drilled for answers on obstruction of justice
Attorney General William Barr and Democratic Sen. Dianne Feinstein got into a tense back-and-forth about whether President Trump tried to change former White House counsel Don McGahn's account.
Here's how the exchange went down:
Feinstein: Does existing law prohibit efforts to get a witness to lie to say something the witness believes is false?
Barr: Yes. Lie to the government, yes.
Feinstein: And what law is that?
Barr: Obstruction statutes.
Feinstein: The obstruction statute. And you don't have it, I guess, before you?
Barr: Well, I'm not sure which one they are referring to here — it was probably, 1512 C2.
Feinstein: So, these things in effect constitute obstruction.
Barr: Well you are talking in general terms.
Feinstein: I am talking about specifically — yes, you are correct in a sense, that the special counsel in his report found substantial evidence that the President tried to change McGahn's account in order to prevent — and this is a quote — further scrutiny of the President toward the investigation. End quote. The special counsel also found McGahn is a credible witness with no motives to lie or exaggerate. So what I am asking you, then, is that a credible charge, under the obstruction statute?
Barr: We felt that that episode, the government would not be able to establish obstruction. The — if you go back and if you look at the episode where McGahn — the President gave McGahn an obstruction — an instruction, McGahn's version of that is quite clear, and each time he gave it, which is that the instruction said, go to Rosenstein, raise the issue of conflict of interest, and Mueller has to go because of this conflict of interest. So there is no question that that — that the, whatever instruction was given, McGahn had to do with conflict — with Mueller's conflict of interest.
11:10 a.m. ET, May 1, 2019
Barr: "I was surprised" Mueller let me decide on obstruction of justice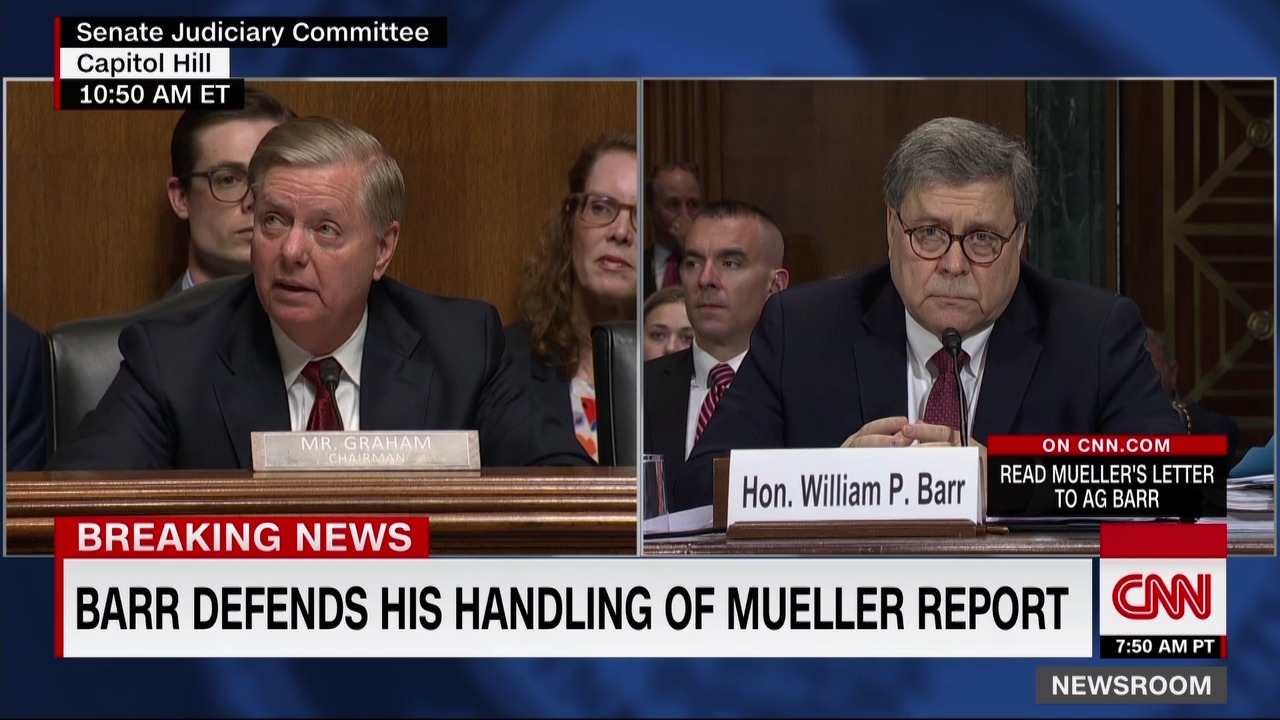 Sen. Lindsey Graham pressed Attorney General William Barr about special counsel Robert Mueller's decision not to move forward on obstruction of justice.
Barr said he was surprised that Mueller let him decide on obstruction of justice.
Here's how the exchange went:
Graham: As to obstruction of justice, were you surprised he was going to let you decide? 
Barr: Yes, I was surprised. I think the very purpose -- the function he was carrying out, the prosecutive, investigative and prosecutive function is performed for the purpose of --
Graham: "How many people did he actually indict, do you know?"
Barr: I can't remember off the top of my head. 
Graham: It was a lot. 
Barr: Yeah. 
Graham: So he actually has the ability to indict if he wants to. He has used that power during the investigation. Is that correct? 
Barr: That's correct. And the other thing that was confusing to me is that the investigation carried on for a while as additional episodes were looked into. Episodes involving the president. And so my question is or was, why were those investigated if, at the end of the day, you weren't going to reach a decision on them? 
10:52 a.m. ET, May 1, 2019
Barr says he offered to let Mueller read that 4-page summary, but he declined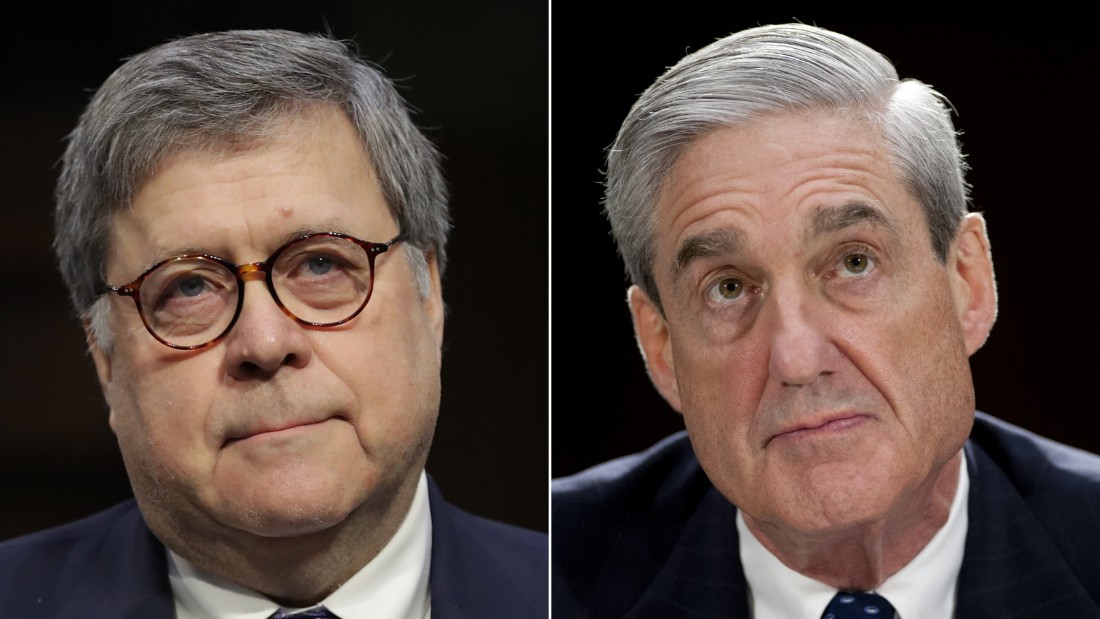 Attorney General William Barr said he gave special counsel Robert Mueller the opportunity to read his four-page memo to Congress -- which he said was not supposed to be a summary of the lengthy report -- but Mueller declined.
"That's what we were trying to do: notify the people as to the bottom line conclusion. We were not trying to summarize the 410-page report. So I offered Bob Mueller the opportunity to review that letter before it went out and he declined," he said at today's hearing.
Barr said he later received the letter from Mueller in which the special counsel expressed concerns about Barr's memo.
"I asked him if he was suggesting that the March 24th letter was inaccurate and he said no, but that the press reporting had been inaccurate," Barr said. "But he was very clear with me that he was not suggesting that we had misrepresented his report."
11:11 a.m. ET, May 1, 2019
Barr says he was surprised that Mueller didn't reach decision on obstruction of justice
Attorney General William Barr recalled being "surprised" that special counsel Robert Mueller would not be making a decision on whether President Trump obstructed justice.
"We were, frankly, surprised by that they were not going to reach a decision on obstruction. And we asked them a lot about the reasoning behind this and the basis for this," Barr said.
Mueller's decision came up during a March 5 meeting, Barr said.
"Special counsel Mueller stated three times to us in that meeting in response to our questioning that he emphatically was not saying that but for the OLC [Office of Legal Counsel] opinion, he would have found obstruction," Barr said.
Barr then explained Mueller's reasoning for the decision.
"He said that in the future, the facts of the case against a president might be such that a special counsel would recommend abandoning the OLC opinion but this is not such a case," he said.
Barr also said he was confused by why Mueller continued investigating obstruction if he felt he couldn't bring it to a conclusion.
Here's how Mueller explains it:
"Second, while the OLC opinion concludes that a sitting President may not be prosecuted, it recognizes that a criminal investigation during the President's term is permissible. The OLC opinion also recognizes that a President does not have immunity after he leaves office. And if individuals other than the President committed an obstruction offense, they may be prosecuted at this time. Given those considerations, the facts known to us, and the strong public interest in safeguarding the integrity of the criminal justice system, we conducted a thorough factual investigation in order to preserve the evidence when memories were fresh and documentary materials were available."
10:44 a.m. ET, May 1, 2019
Barr says publicly released Mueller report is only 10% redacted
Attorney General William Barr said the publicly released version of special counsel Robert Mueller's report was only "lightly redacted."
"The public version has been estimated to have only 10% redactions," Barr said.
Barr added that the "vast bulk of those redactions relate to volume one," which is the part of the report that "deals with collusion and it relates to existing, ongoing cases."
"Volume two has only about 2% redactions for the public version. So 98% of volume two dealing with obstruction is available to the public," he said. 
"Given the limited amount of redactions, I believe the publicly released report will allow every American to understand the special counsel's work," Barr said.
Last month, Barr described the four kinds of information that redacted in the report:
Grand-jury information
Information that could harm ongoing intelligence or law enforcement activities
Information that could harm ongoing law enforcement matters
Information that would infringe upon the personal privacy of peripheral third parties
10:44 a.m. ET, May 1, 2019
Feinstein outlined details of the Mueller report. Graham rehashed 2016 scandals.
Democratic Sen. Dianne Feinstein, a ranking member in the Senate Judiciary Committee, outlined details from special counsel Robert Mueller's report in her opening statement -- majorly contrasting Graham's.
She drew comparisons between special counsel Robert Mueller's report and Attorney General William Barr's four-page memo didn't fully capture his report.
"Finally, while the March letter to Congress and the April press conference left the impression there were no remaining questions to examine, this report notes several limitations Mueller faced while gathering the facts that Congress needed to examine," she said.
She also called on Mueller to testify before the committee.
Feinstein's opening statement differed greatly from Sen. Lindsey Graham, the committee's chairman.
Graham's first 10 minutes of the Barr hearing rehashed some of the more prominent 2016 scandals and conspiracy theories, such as...
Texts between former FBI official Peter Strzok and his mistress where they disparaged candidate Trump.
Texts where Strzok and his mistress, former FBI lawyer Lisa Page, discuss how to handle the Russia investigation.
The Hillary Clinton server investigation that was a major focus of the 2016 election.
Hillary Clinton using "BleachBit" software to delete material from her private server.
Hillary Clinton's team supposedly using hammers to smash old phones.