William Barr skips House hearing on the Mueller report
1:44 p.m. ET, May 2, 2019
11:45 a.m. ET, May 2, 2019
DOJ spokeswoman calls Pelosi's comments "reckless, irresponsible, and false"
From CNN's Laura Jarrett
The Justice Department is hitting back against House Speaker Nancy Pelosi accusing Attorney General Bill Barr of a crime this morning.
"The baseless attack on the Attorney General is reckless, irresponsible and false," DOJ spokeswoman Kerri Kupec said.
11:08 a.m. ET, May 2, 2019
Nancy Pelosi accuses Barr of lying to Congress: "That's a crime"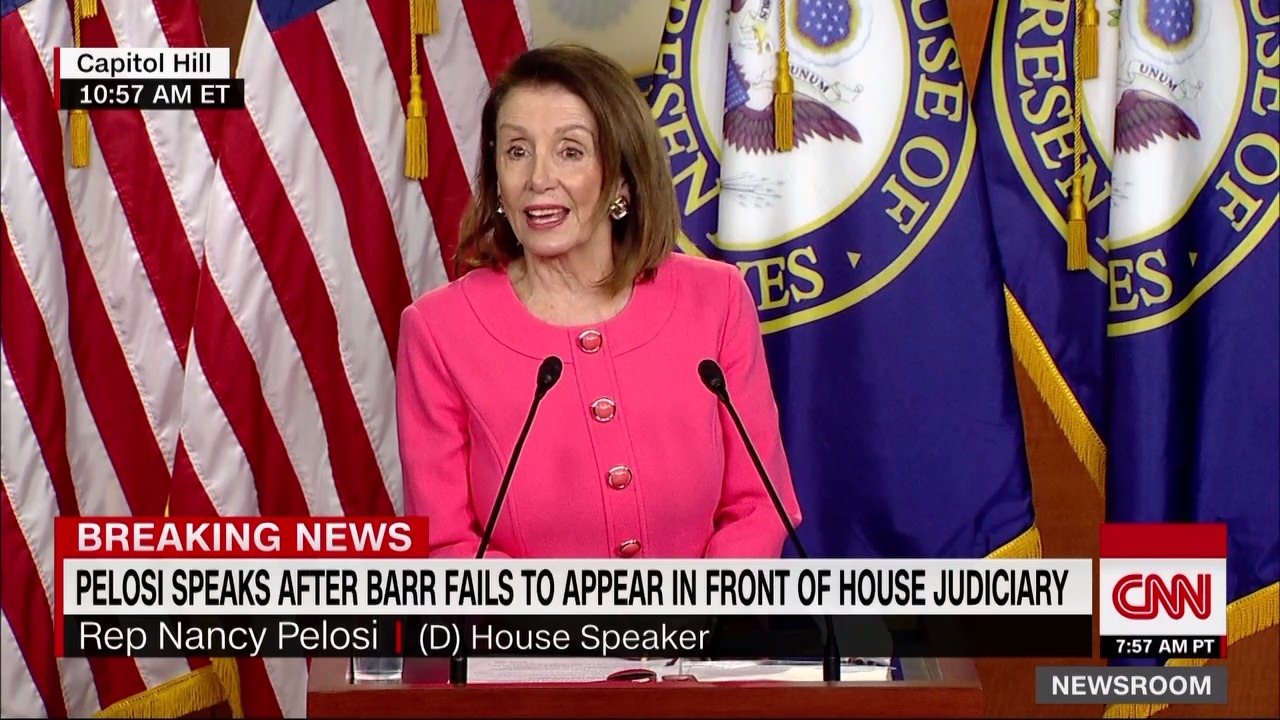 House Speaker Nancy Pelosi is holding her weekly news conference after Attorney General William Barr skipped a House committee hearing this morning.
She just criticized Barr for the testimony he's previously given to Congress and accused him of lying to Congress -- a crime.
 "What is deadly serious about it is the attorney general of the United States of America was not telling the truth to the congress of the United States. That's a crime," she said.
Later, Pelosi was asked bluntly if she believes Barr committed a crime.
She said this: "He lied to Congress. And if anybody else did that, it would be considered a crime. Nobody is above the law. Not the President of the United States and not the attorney general."
When asked if she believe Barr should go to jail, Pelosi said "there's a process involved here" and added that "the committee will act upon how we will proceed."
10:52 a.m. ET, May 2, 2019
Ted Lieu: We will impeach Trump if he doesn't turn over records
From CNN's Manu Raju 
Democratic Rep. Ted Lieu, who sits on the House Judiciary Committee, dismissed questions that the Democrats' tactics with Attorney General William Barr may have backfired in trying to gather evidence and question him.
But Lieu said confidently that Democrats will impeach Trump if his administration doesn't comply with Democrats' requests for information.
"If we can't gather the facts, then we're going to launch an Article III impeachment. Under Nixon, what happened to him, Article III was obstructed congress. If we can't gather facts, that may be the only tool we have left, and we'll use it if we have no other tools left."
When asked by CNN's Manu Raju if he had any assurances from Chairman Jerry Nadler or Speaker of the House Nancy Pelosi, Lieu said it was his personal opinion, but that "it's unifying the caucus."
"You understand that you cannot have Donald Trump and the executive branch blowing off Congress, ignoring Congress," he said. "So, if they push us to go there, we are going to go there."
Watch:
10:41 a.m. ET, May 2, 2019
Senior Republican: There is "no precedent" for attorneys to question witnesses
House Judiciary Ranking Member Doug Collins, a Georgia Republican, spoke to reporters after the hearing and told CNN's Manu Raju that there was "no precedent" for attorneys to question witnesses at a congressional hearing.
He asked rhetorically:
"Why does the Chairman think so little of his lawyers on his committee that he wouldn't take 30 minutes for himself or for others to actually ask questions?"
Collins said the issue "is becoming a circus" and that yesterday's events "was a travesty in our committee."
When asked about Nadler holding Barr in contempt, Collins said his questions "are going to be, what is your hurry, have you actually looked for accommodations, have you actually tried to work with this Department of Justice?"
10:26 a.m. ET, May 2, 2019
Nadler: I'll make "one more good faith" effort to negotiate with Barr before holding him in contempt
House Judiciary Chairman Jerry Nadler repeated his threat to hold Attorney General William Barr in contempt, though he said his committee would "make one more good faith attempt to negotiate."
Nadler, speaking to reporters after the hearing, said if there's no progress "we will proceed to hold the Attorney General in contempt."
Asked how long Barr would be given before the committee would hold him in contempt, Nadler said, "maybe by Monday, we'll see."
Nadler said his committee could not concede "the ability to control the manner in which Congress does its job."
He continued:
"The attorney general is bound, as are other witnesses to come before the committee, and he cannot dictate to us how we will do our job. We feel that this is the most effective way of doing it, and that is our decision." 
9:58 a.m. ET, May 2, 2019
Top GOP congressman on committee says the chairman took away minority rights
From CNN's Lauren Fox
Republican Rep. Doug Collins, the ranking member of the House Judiciary Committee, accused chairman Jerry Nadler of abusing his power as chairman and said he is responsible Attorney General William Barr not showing today. 
"We had no choice today because my chairman took away our rights to ask him questions," Collins said. 
Remember: Barr's decided to skip the hearing after a dispute between House Democrats and the nation's top law enforcement officer over whether Barr would publicly face questions from committee staff attorneys.
Collins said it is unprecedented for Nadler to demand staff lawyers question a witness.
9:49 a.m. ET, May 2, 2019
Sarah Sanders says Nadler isn't "capable" of asking Barr questions 
White House press secretary Sarah Sanders had harsh words for House Judiciary Chairman Jerry Nadler while speaking to reporters this morning, claiming Nadler has "lost confidence in himself and his capability to do his job," referencing his plan for staff attorneys to question at today's hearing.
She said it "seems like a pretty pathetic moment" for Nadler. 
Attorneys would be more effective in questioning, as they would get 30 minutes to question, instead of give minute rounds for members.
"I think what we're seeing from Chairman Nadler is he's incapable of holding power," Sanders told reporters Thursday.
She continued:
"If he and his committee aren't capable of actually asking the attorney general themselves and need to staff that out, it seems like a pretty pathetic moment for the chairman of that committee and look — we lost confidence in Jerry Nadler a long time ago but it's surprising to find out he's actually lost confidence in himself and his capability to do his job. If he can't and he's not capable of asking the attorney general questions- maybe he should step down and resign and allow somebody else that can."
10:10 a.m. ET, May 2, 2019
A Democratic congressman ate KFC at today's hearing: "Chicken Barr should have showed up"
Rep. Steve Cohen, a Democrat of Tennessee, had an unusual breakfast at today's hearing: fried chicken.
Cohen ate from a bucket of Kentucky Fried Chicken at today's House Judiciary Committee hearing.
After the hearing, Cohen spoke to reporters.
"Chicken Barr should have showed up today," he said. "It's a sad day in America."
See it here: