Trump asserts executive privilege over Mueller report
4:26 p.m. ET, May 8, 2019
House Judiciary Committee is voting right now on holding Barr in contempt
The House Judiciary Committee is voting right now on whether it will hold Attorney General William Bar in contempt of Congress after the Justice Department declined to provide an unredacted version of the Mueller report to Congress.
This marks the first time that House Democrats are moving to punish a Trump administration official for defying a congressional subpoena and represents a dramatic escalation in tensions between Democrats and the White House.
1:45 p.m. ET, May 8, 2019
House Judiciary Committee adopts amendment related to executive privilege
The House Judiciary Committee has adopted an amendment from chairman Jerry Nadler adding a section to the contempt report that responds to President Trump's assertion of executive privilege.
The amendment passed along party lines.
Why this matters: Earlier today, the Justice Department informed Nadler that the "President has asserted executive privilege over the entirety of the subpoenaed materials."
What happens next: The committee is now in recess until 2:30 p.m. ET, when Nadler said they would resume the markup.
11:53 a.m. ET, May 8, 2019
White House says House Democrat is trying to "break the law" by requesting unredacted Mueller report
Moments after the White House announced President Trump would assert executive privilege over special counsel Robert Mueller's report, White House press secretary Sarah Sanders slammed House Judiciary Chairman Jerry Nadler, whom she said is seeking to "break the law" with his requests for the unredacted report. 
"They're asking for information they know they can't have. The attorney general is actually upholding the law," Sanders said, adding, "Chairman Nadler is asking the attorney general of the United States to break the law and commit a crime by releasing information that he knows he has no legal authority to have. It's truly outrageous and absurd what the chairman is doing and he should be embarrassed that he's behaving this way."
She attacked Nadler's understanding of the law, saying that she feels she "(understands) it better than he does."
11:40 a.m. ET, May 8, 2019
White House says executive privilege assertion doesn't change Trump's position that Mueller should not testify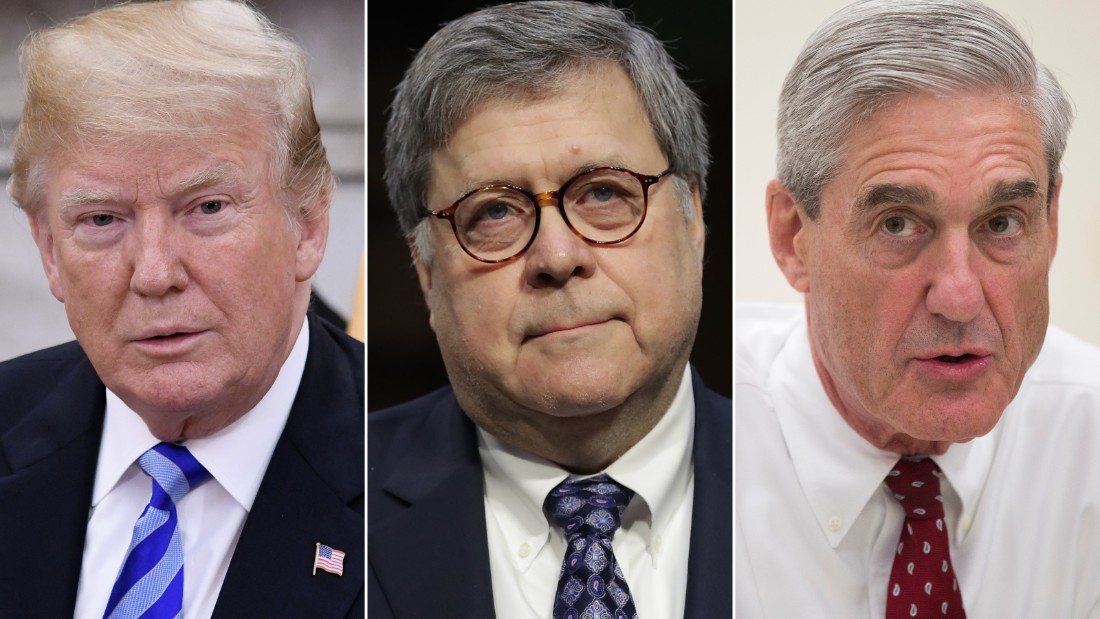 White House press secretary Sarah Sanders was just asked how the invocation of executive privilege affects the President's position on special counsel Robert Mueller testifying and if Mueller's employment with DOJ might be extended under the circumstances.
She said she wasn't aware of anything new on that.
Some context: On Sunday, President Trump reversed course and said Mueller should not testify before Congress. That remark came just two days after he told reporters that the attorney general should make that decision.
"The President's made his feelings on that very clear," Sanders said today. "This is over, and just because the Democrats didn't like the result doesn't mean they get to redo this process."
The special counsel's office would not comment when CNN asked if his employment is being extended under the circumstances.
11:34 a.m. ET, May 8, 2019
Trump's cabinet meeting was supposed to be open to press. Now, it's closed.
The White House now says there will be no press coverage of the President's cabinet meeting, which was scheduled for 11:30 a.m. ET.
Typically, coverage is allowed. 
The next time we see the President is at 3:25 p.m. ET when he departs for Florida.
11:26 a.m. ET, May 8, 2019
Trump asserting executive privilege has no bearing on Mueller's testimony next week, Justice official says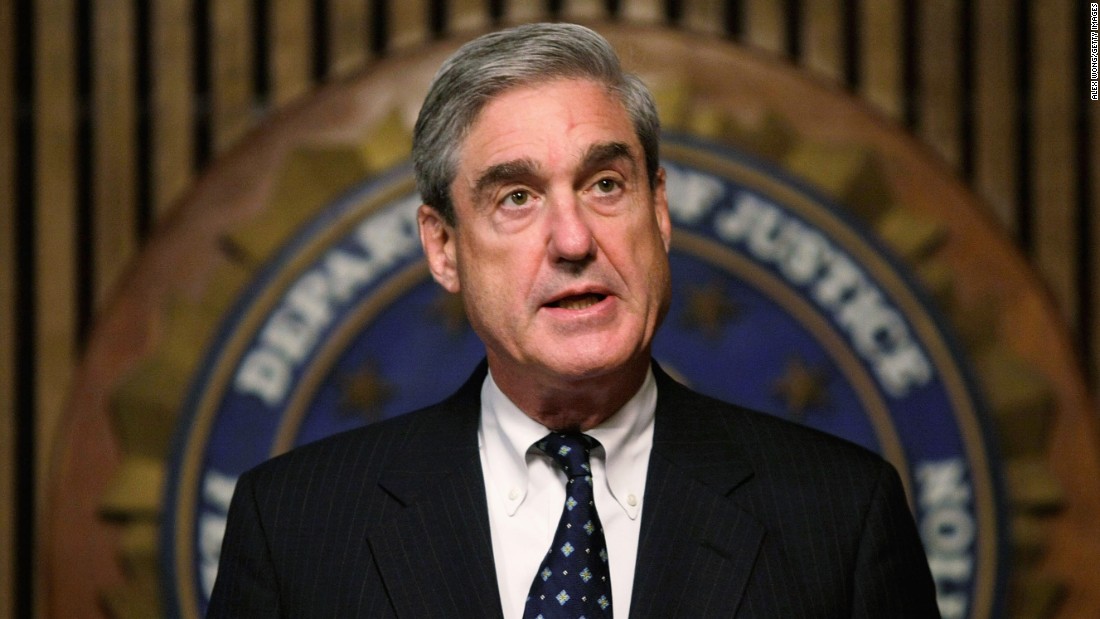 Today's assertion of protective executive privilege over subpoenaed documents has no direct bearing on special counsel Robert Mueller testifying before the House, according to a Department of Justice official. 
From a practical standpoint, however, whether a legal battle over the underlying documents affects Mueller's testimony remains to be seen.
Mueller is tentatively scheduled to testify before the House Judiciary Committee on May 15.
The official further disagreed with House Judiciary Chairman Nadler's assertion that the President waived executive privilege by providing materials to Mueller in the first place, saying there is past precedent for providing materials to law enforcement. 
11:15 a.m. ET, May 8, 2019
Trump "inching" toward impeachment, Democratic congressman says
Rep. Cedric Richmond, a Democrat on House Judiciary, told CNN that Democrats should "push back" and start talking more seriously about impeachment.
This comes moments after President Trump asserted executive privilege over the Mueller report. 
"Do I think we are inching closer to it? ... Yeah," Rep. Richmond said.
10:44 a.m. ET, May 8, 2019
Top Republican on Judiciary committee: "This is just a show"
Rep. Doug Collins, the top Republican on the House Judiciary Committee, said "this is a show" going into the hearing this morning. The hearing was called to vote on whether to find Attorney General William Barr in contempt of Congress.
Collins said he believes "there is no precedent for the rush we're on right now."
"There is no precedent for a floor vote than there is a precedent for having this in the judiciary committee. This is an issue that is frankly very frustrating to have such an important topic being basically parlayed into something that frankly, what we've said all along, they're wanting it to appear more than what it is. They're willing to paint the attorney general is a — is the bad guy and they want to paint the attorney general as someone people can't trust. Why? Because they don't like the findings that he had. They don't like what came out of the Mueller report. So what they're actually trying to do is, is go forward and say we're going to make something that's actually not there. And this is just a show."
Asked if he thinks this is a constitutional crisis, as Nadler said this morning, he answered:
"I think the only constitutional process here is to the chairman actually trying to make the attorney general go forward on stuff and give him stuff that he knows that he can't give legally. And I think he actually admitted that as well. That he can't legally have that stuff. The constitutional crisis will be a judiciary chairman trying to subpoena documents from the attorney general to force the attorney to give them stuff that he knows he can't have."
He was also asked about the Justice Department's threat last night to ask President Trump to potentially assert executive privilege (note: he was just before Trump actually asserted that privilege).
"I think the DOJ was just responding to a very unaccommodating chairman. And that's the way they chose to respond," he said.
10:43 a.m. ET, May 8, 2019
Nadler calls Trump's executive privilege claim a "clear escalation"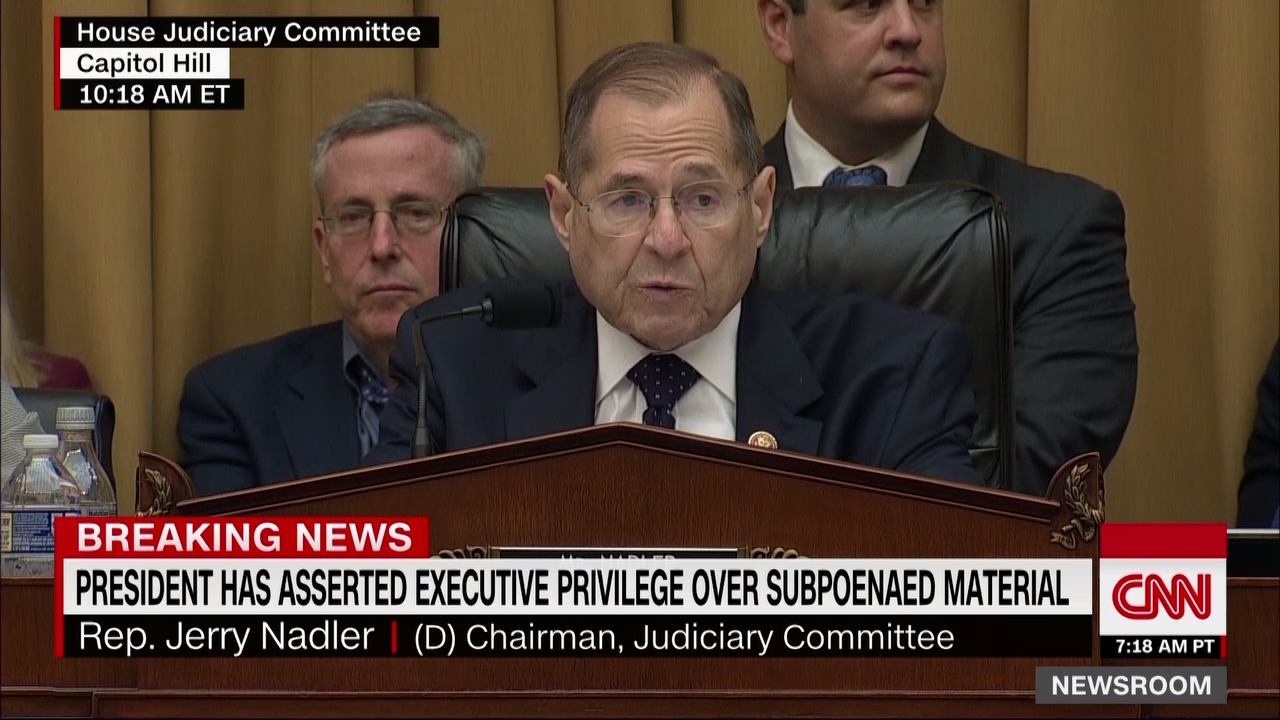 Just minutes before the House Judiciary committee hearing on contempt began, the Justice Department told lawmakers that the President had invoked executive privilege over all the materials that Rep. Jerry Nadler had subpoenaed.
"Just minutes ago, it took that dramatic step," Chairman Nadler said at the beginning of the hearing.
Nadler responded by saying the vote would be moving forward, accusing the Justice Department of a "clear escalation" in its defiance . He urged negotiations to continue despite what he described as a "last-minute outburst."
"The Department's decision reflects President Trump's blanket defiance of Congress's constitutionally mandated duties," Nadler said in a statement.
"In the coming days, I expect that Congress will have no choice but to confront the behavior of this lawless Administration. The Committee will also take a hard look at the officials who are enabling this cover up."
On CNN's "New Day" this morning, Nadler said the United States is in a "constitutional crisis." He added, "We are in one because the President is disobeying the law, is refusing all information to Congress."