House votes to condemn anti-Semitism
11:20 a.m. ET, March 7, 2019
Pelosi: This resolution isn't about Omar
Speaker of the House Nancy Pelsoi said the resolution to condemn anti-Semitism, which the House is expected to vote on today, isn't about Rep. Ilhan Omar and her tweets questioning the allegiance of Israel supporters in Congress. 
Pelsoi said the resolution, which doesn't name Omar, is about condemning hatred.
Here's what Pelosi said at her weekly news conference:
"I thought the resolution should be in large the issue to anti-Semitism, anti-Islamopocbia, et cetera. Anti-white supremacist. And that it should not mention her name. And that's what we are working on — something that is one resolution addressing these forms of hatred, not mentioning her name. Because it's not about her. It's about these forms of hatred. 
11:14 a.m. ET, March 7, 2019
Pelosi: I don't believe Omar's words are based on anti-Semitic attitude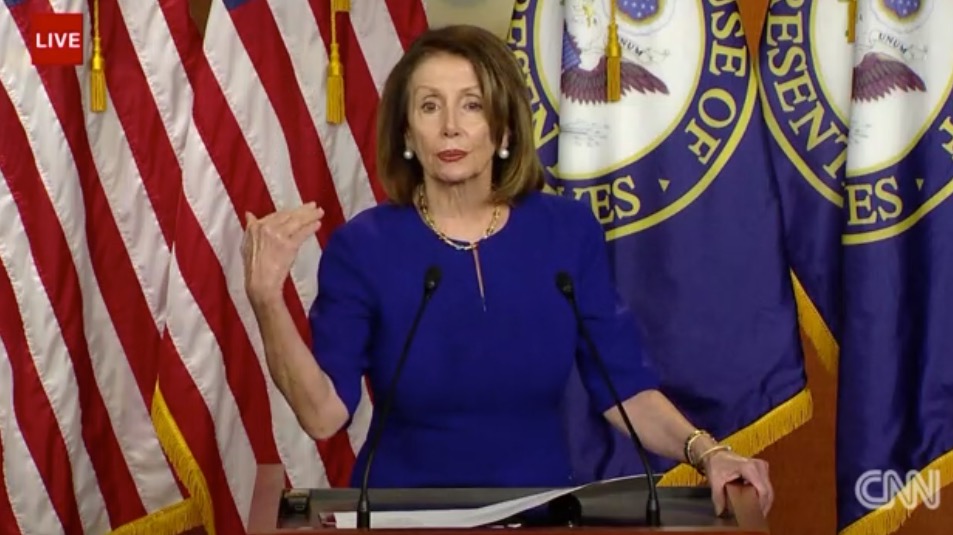 Speaker of the House Nancy Pelosi, asked about remarks from Rep. Ilhan Omar that have spurred a riff among House Democrats, said she doesn't believe the congresswoman "appreciates the full weight" of her comments.
"I don't think that the congresswoman, perhaps, appreciates the full weight of how it was heard by other people," Pelosi said at her weekly news conference.
She added, multiple times, that she doesn't believe Omar intended her remarks to be anti-Semitic, but they came across that way to other people.
10:46 a.m. ET, March 7, 2019
Why some Congressional Black Caucus members are upset about today's vote
At a House Democrats caucus meeting this morning, Democratic leaders announced they'd hold a vote today on resolution denouncing anti-Semitism.
Rep. Ilhan Omar — whose tweets questioning the allegiance of Israel supporters in Congress has spurred tensions in the Democratic party — sat in the front row and didn't say a word.
But the timing seemed to upset prominent Congressional Black Caucus members, including chairwoman Karen Bass and veteran member Maxine Waters. 
They pointed out they hadn't even seen a copy of the resolution yet. 
Some background: Members from the Congressional Black Caucus — as well as the younger, progressive wing of the party — have been furious about the leadership's gambit.
Their points:
They questioned singling out Omar for condemnation. What about bigotry from Republicans, including President Trump?
Why were Democrats so focused on a woman of color, one of just two Muslims in Congress?
Could the added scrutiny even put Omar in danger?
10:37 a.m. ET, March 7, 2019
Why Democrats want this vote to happen today
There's a reason Democrats are pressing to vote on this resolution today. Republicans could try to steal the Democrat's thunder and bring forth their own anti-Semitism resolution to the floor through the motion to recommit procedural vote tomorrow for HR1.
So to avoid some Democrats feeling like they need to vote with Republicans tomorrow, per a senior Democratic aide, leadership is bringing the resolution to the floor today.
If Republicans still push their own resolution tomorrow, Democrats can easily say they already voted on one and can feel more comfortable rejecting the GOP resolution.
10:45 a.m. ET, March 7, 2019
The House will vote today on a resolution to condemn anti-Semitism
House Majority Leader Steny Hoyer is telling caucus members in the Whip meeting now that there will be a vote today on a House resolution to condemn anti-semitism.
Democrats divided over the language of what will be included in the resolution. House Democratic leadership had first said they would have a floor vote on the resolution on Wednesday. Then that goal was moved to Thursday.
How we got here: Speaker of the House Nancy Pelosi initially pushed for a resolution condemning anti-Semitism after controversy broke out as Rep. Ilhan Omar of Minnesota questioned the allegiance of Israel supporters in Congress. 
After an ugly scrum broke out on Wednesday behind closed doors, the vote was tabled. Leadership is now rewriting the resolution to condemn all hate, not just anti-Semitism.
10:19 a.m. ET, March 7, 2019
Democrats have been divided over Rep. Omar's comments about Israel. Here's what she said.
For weeks, tensions on Capitol Hill have been rising over remarks from freshman Rep. Ilhan Omar of Minnesota questioning the allegiance of Israel supporters in Congress.
Last month, the Democrat sent tweets insinuating that the pro-Israel lobbying group American Israel Public Affairs Committee, or AIPAC, was effectively buying off American politicians.
Here's how the Twitter exchange unfolded:
First, Omar responded to a tweet by journalist Glenn Greenwald that read, "GOP Leader Kevin McCarthy threatens punishment for @IlhanMN and @RashidaTlaib over their criticisms of Israel. It's stunning how much time US political leaders spend defending a foreign nation even if it means attacking free speech rights of Americans." She replied, "It's all about the Benjamins baby," followed by a musical notes emoji.
Then, Batya Ungar-Sargon, the opinion editor of the Forward, replied, tweeting, "Would love to know who @IlhanMN thinks is paying American politicians to be pro-Israel, though I think I can guess. Bad form, Congresswoman. That's the second anti-Semitic trope you've tweeted."
Omar responded to the tweet and wrote, "AIPAC!"
Omar later apologized after Speaker Nancy Pelosi, Majority Leader Steny Hoyer and other members of House Democratic leadership said anti-Semitism had to be called out.
This is how her apology started:
"Anti-Semitism is real and I am grateful for Jewish allies and colleagues who are educating me on the painful history of anti-Semitic tropes. My intention is never to offend my constituents or Jewish Americans as a whole. We have to always be willing to step back and think through criticism, just as I expect people to hear me when others attack me for my identity. This is why I unequivocally apologize."