Amy Klobuchar takes questions at CNN town hall
10:40 p.m. ET, February 18, 2019
Klobuchar says Green New Deal is important to have, but 'there's going to be compromises'
Sen. Amy Klobuchar outlined a more middle ground position than some of her progressive counterparts on the Green New Deal, saying that the policy is "important to have" because of the "big ideas" it presents, in reality, "there's going to be compromises."
Here's how she phrased it:
It's very important to have, and you do that by launching big, by big ideas. And the actual legislation you do, we know there's going to be compromises. It's not going to be exactly like that, and we know we're going to have to look out for different areas of the country and how we proceed and be smart about it for the middle class and for people that are more vulnerable. We want to make this work for everyone. But we have to start the debate. 
10:37 p.m. ET, February 18, 2019
Klobuchar was asked about reports she mistreated her staff. Here's how she responded.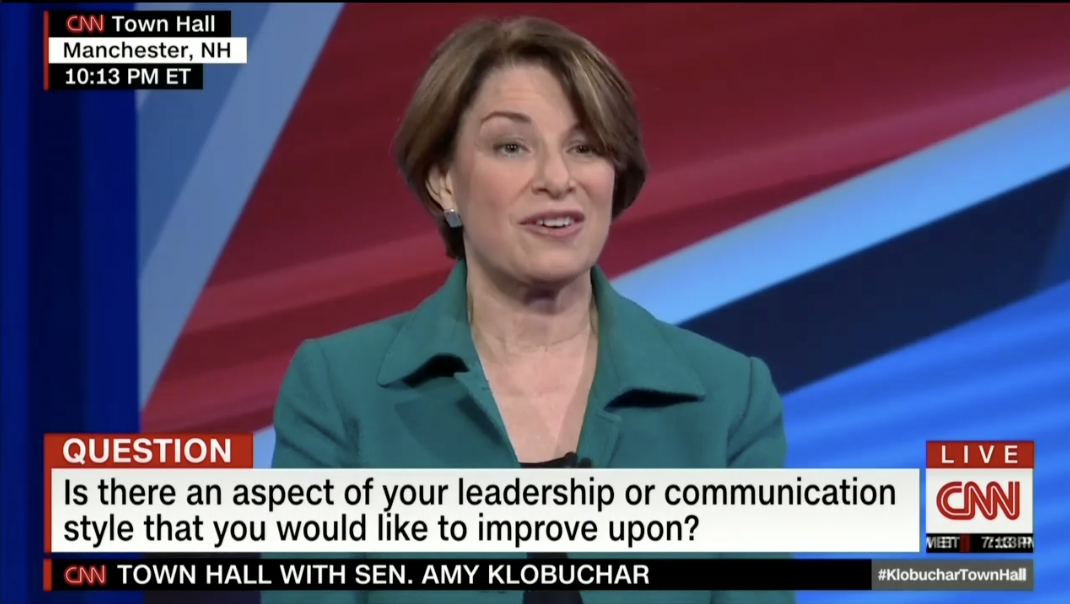 Sen. Amy Klobuchar confronted a series of reports that she created a hostile work environment on Monday by telling voters in New Hampshire that while she did set high expectations for her staff, she did so because she demanded the same out of herself.
"Am I a tough boss sometimes? Yes. Have I pushed people too hard? Yes," she said in response to a question from a New Hampshire voter.
"But I have kept expectations for myself that are very high," she continued. "I've asked my staff to meet those same expectations, and the big point for me is, I want the country to meet high expectations because we don't have that going now."
Although Klobuchar has answered questions about her management before, it was noteworthy that a voter here in the Granite State asked the question.
And on Monday, the Minnesota Senator added a layer to the answer by calling out current and former staffers – some by name – who had worked for her for years or gone on to bigger jobs.
"That's how we passed so many bills, because of the fine work of our staff."
10:33 p.m. ET, February 18, 2019
Klobuchar says Trump's national emergency is "unconstitutional"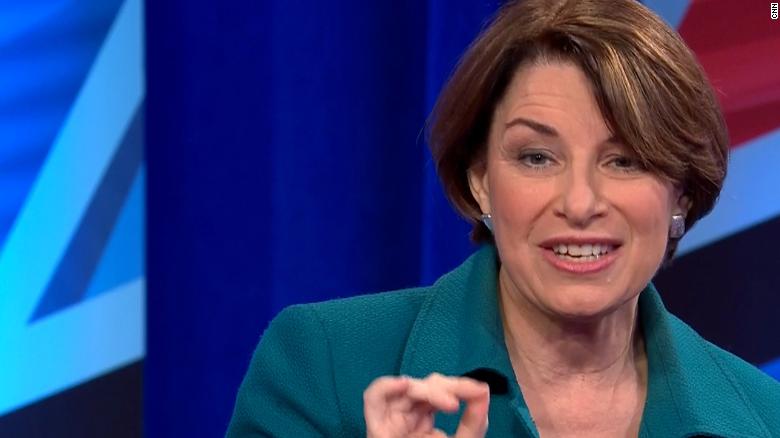 Democratic Sen. Amy Klobuchar was just asked at CNN's town hall about President Trump declaring a national emergency to secure funding for his long-promised border wall.
She did not hold back.
"First of all, I believe this is unconstitutional, what he is doing. Okay? It is wrong," Klobuchar said.
She went on to describe what she believes is a national emergency.
"Well, last time I checked, emergencies are things like the wildfires in Colorado. They're things like Hurricane Sandy. They're things like what we just saw happen in Florida. So this is unprecedented for him to declare something like that an emergency," Klobuchar said.
The Minnesota Democrat said that if she were president, she "would exercise those powers very carefully."
"I think you have to be very careful about how you do that. But you have emergencies that come up in this country all the time. You know that. And you have to be able to respond, to respond quickly, but to respond thoughtfully. And I believe in respecting the constitution of the United States of America," Klobuchar said.
10:22 p.m. ET, February 18, 2019
Klobuchar says she'll reenter US into Paris climate agreement on day one of her presidency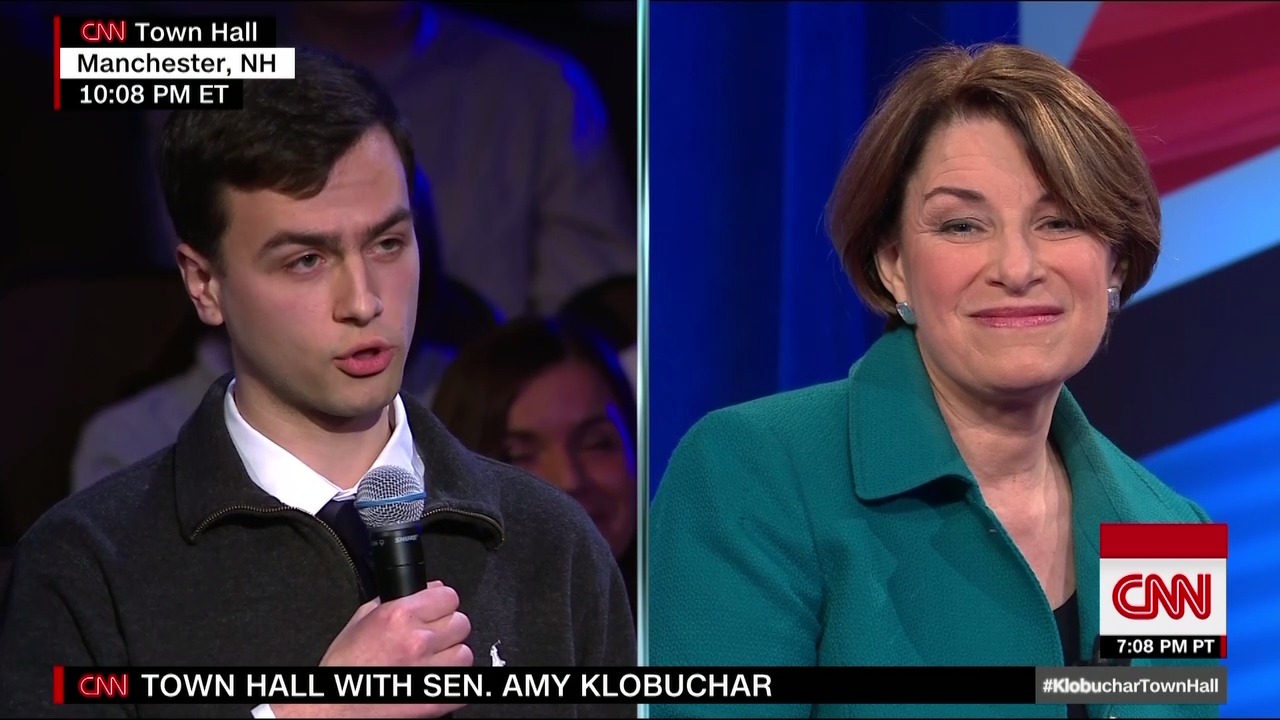 Sen. Amy Klobuchar told a New Hampshire college student who asked if climate change policy would be a priority in her administration that she would, on day one, re-enter the US into the Paris climate agreement and move to enact the clean power rules that the Obama administration had supported before President Trump halted their momentum.
"This isn't just something that's theoretical -- that's happening in the future," she said while describing some of the wildfire escape videos that made our palms sweat last fall. "It's happening right now."
Climate change, she said, is "an urgent cause."
10:25 p.m. ET, February 18, 2019
Klobuchar: Medicare for All is "something we can look to for the future, but I want to get action now'
Sen. Amy Klobuchar cast a Medicare for All style health care plan as a possibility to strive for in the future, but added that she doesn't currently support it because she wants to make changes immediately.
"I think it is something we can look to for the future, but I want to get action now," Klobuchar said when asked by a New Hampshire voter about the universal health care plan that is backed by Sen. Bernie Sanders and a host of 2020 Democrats.
"It could be a possibility in the future," Klobuchar said, adding later that she is looking for "something that will work now."
Klobuchar says she supports universal health care but favors doing so by building on the Affordable Care Act, expanding both Medicare and Medicaid, and creating a public option.
"We have to get to universal health care in this country," she said. "We have to make sure we build on the work of the Affordable Care Act."
10:11 p.m. ET, February 18, 2019
Amy Klobuchar is taking questions at a CNN town hall. The first? "Are you my candidate?"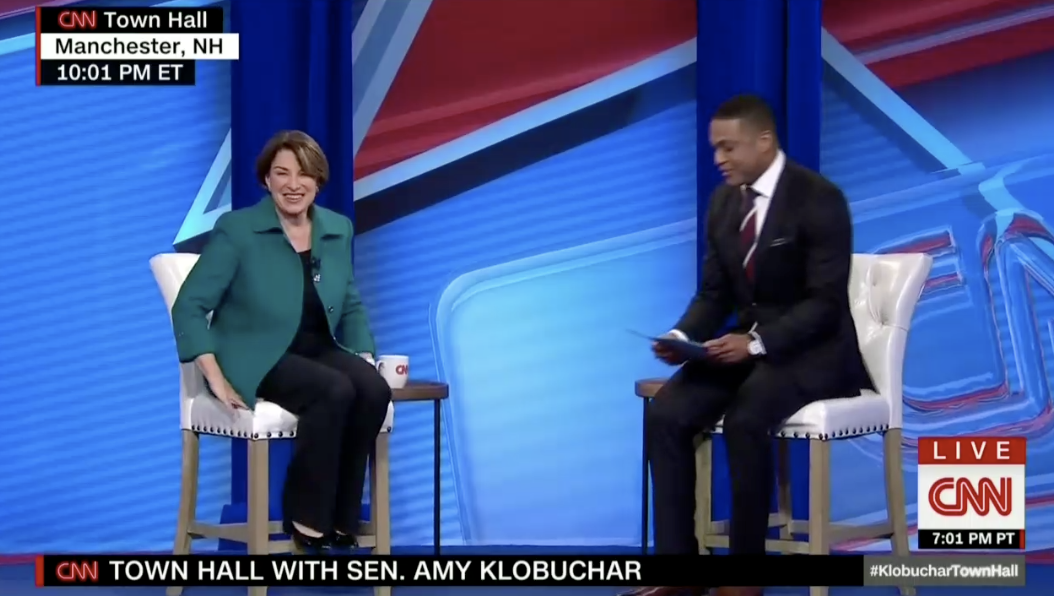 Democratic Sen. Amy Klobuchar just took her first question of the night at CNN's town hall.
Neila Brownstein, a moderate Democrat with progressive leaning, just told Klobuchar, "I want to hear achievable goals that benefit minorities and the middle class now and are not pipe dreams for the future. Are you my candidate?"
Here's portion of Klobuchar's answer, in which she framed her candidacy as one of bipartisanship that reaches a "higher ground" in politics:
"I think what we need right now in this country is less of this grandstanding and gridlock, less of the shutdowns, which we just saw, and the putdowns, and much more of moving our country forward. I announced my candidacy in front of the Mississippi River for a reason last weekend. I didn't think it was going to be 17 degrees with a bunch of snow, but it was. And I did that because I wanted to make the point that we need to cross a river of our divides. We need to walk over the sturdy bridge that is our democracy, and that we need to get to higher ground in our politics."
Watch more:
9:53 p.m. ET, February 18, 2019
Why Klobuchar doesn't feel pressure to sign onto the latest progressive idea
CNN's Jeff Zeleny spoke with Democratic Sen. Amy Klobuchar earlier today about the progressive shift in the Democratic party.
Asked if she felt pressure to sign onto latest progressive or liberal ideas, the Minnesota Democrat said she makes her decisions based on what "I think we should do."
"Everyone makes their own decision," she said. "You've gotta be able to be yourself and not just try to be someone different than you've been."
Watch his interview with Klobuchar below:
9:46 p.m. ET, February 18, 2019
Let's talk about the weather in Manchester (it's real cold)
It's cold in Manchester, New Hampshire, where Democratic Sen. Amy Klobuchar is taking questions from voters at CNN's town hall.
Temperatures are expected to dip to 11 degrees tonight in Manchester, where it snowed earlier today.
New Hampshirites were bundled in coats, scarves and gloves before they headed into the Dana Center at Saint Anselm College tonight.
9:41 p.m. ET, February 18, 2019
She came tonight after watching Klobuchar's performance during the Kavanaugh hearings
Amy Klobuchar's questioning of then-Supreme Court nominee Brett Kavanaugh during his confirmation hearings brought Marly Carroll out to tonight's town hall.
She described Klobuchar as a "powerhouse" during those hearings.
The 20-year-old Wethersfield, Connecticut, who is an Independent voter, wants to see more women run for president.
"I think it's time for that," Carroll said.