Amy Klobuchar takes questions at CNN town hall
11:52 p.m. ET, February 18, 2019
Our live coverage of the CNN town hall with Sen. Amy Klobuchar has concluded. Scroll down for highlights.
11:50 p.m. ET, February 18, 2019
They wanted more from Klobuchar, who was "more moderate than expected"
Stephanie Scherr and Sue Durling just attended Sen. Amy Klobuchar's town hall and said they wanted more from her tonight.
Durling said she found that her ideas were more to the left of Klobuchar.
Scherr, a Fitzwilliam resident, said Klobuchar was "more moderate than expected."
"We need more than aspirational," she said. "We need serious action."
Scherr live-tweeted her thoughts about Klobuchar:
11:32 p.m. ET, February 18, 2019
Klobuchar gets emotional talking about guns, Uncle Dick and Sandy Hook
From CNN's Dan Merica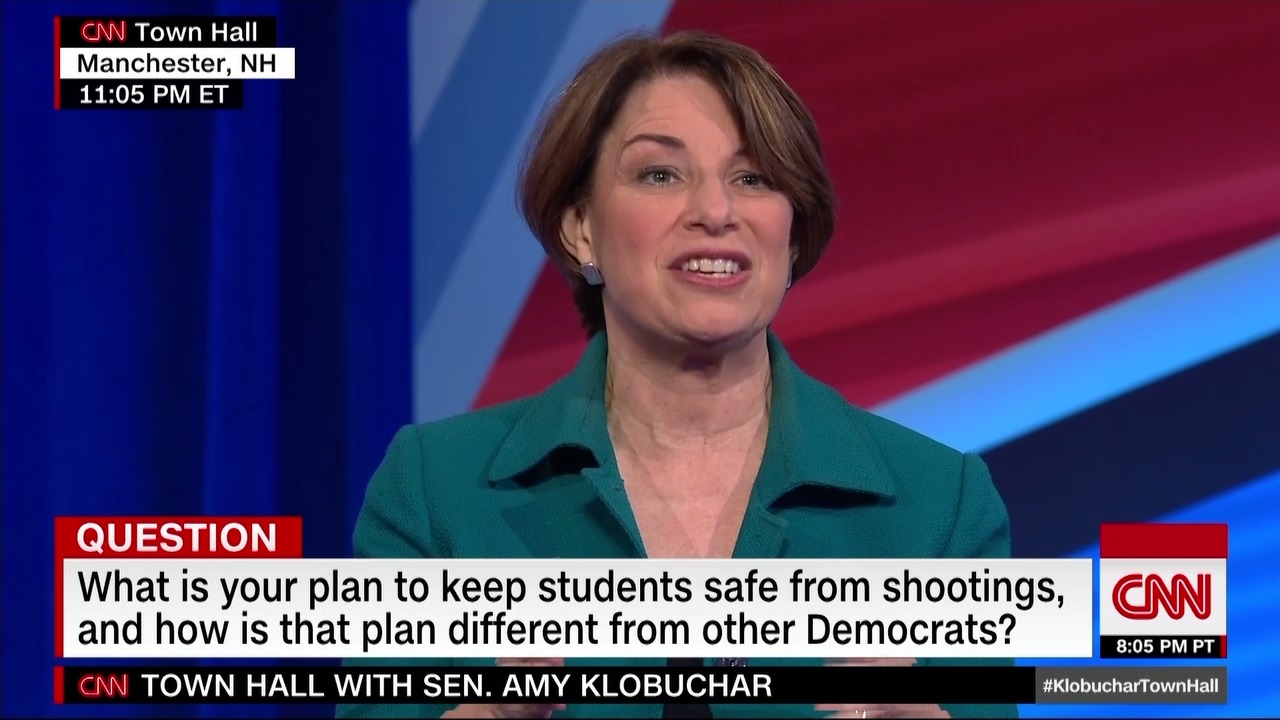 Sen. Amy Klobuchar looked to set herself apart from other Democrats running for office on Monday by telling voters here in New Hampshire that she judges gun control bills by whether they would "hurt my Uncle Dick in the deer stand."
Klobuchar, in an answer that found her touting her ties to rural Minnesota, grew emotional as she reflected on the 2012 shooting at Sandy Hook Elementary School in Connecticut and the fact that the Senate couldn't pass a gun control bill after the massacre.
"Like New Hampshire, Minnesota is a state that values the outdoors. We value hunting and fishing. And so I come at it from a little different place than some of my colleagues running for this office," she said, adding that she doesn't believe "banning assault weapons" and "common sense background checks" hurt her uncle in the deer stand.
Klobuchar choked up when she remembered working with the parents of children killed in Sandy Hook, especially when she had to tell them that a bill proposed by West Virginia Democratic Sen. Joe Manchin and Pennsylvania Republican Sen. Pat Toomey would not pass the Senate in the wake of the shooting.
"I remember one of the moms telling me, 'You know what? We know this wouldn't have saved our babies, but it would have reduced domestic homicides, it would have reduced suicides and that's why we are here," Klobuchar said.
She added: "Those parents had the courage to come to Washington to advocate for something that wouldn't save their babies. We should join the majority of Americans and actually many gun owners in having the courage to pass common sense gun safety legislation."
11:28 p.m. ET, February 18, 2019
Klobuchar describes the moment she got "hooked on public service"
Sen. Amy Klobuchar entered the political world after becoming a new mom and realizing how difficult it was get her new baby medical assistance.
Her daughter, who is now 23, was sick and couldn't swallow when she was born.
"We had no idea it was going to happen. And back then the insurance companies had a rule in place you get kicked off the insurance in 24 hours," she said.
Klobuchar was upset so she went to a legislator to help get a law passed guaranteeing mothers and their babies a 48-hour stay.
"So for me working across the aisle on that and seeing the power of what you could get done and the power of bringing my pregnant friends to the conference committee so they outnumbered the insurance lobbyists 2 to 1 and so when the legislators asked when should this bill take effect they all raised their hands and said now and it happened. That was when I got hooked on public service. Because I could see that you could make a difference. And that is one example in my life, but I think you know there are these examples in people's lives all the time where they're able to get a loan that allows them to go to school, they're able to get a grant that allows them to go to a great school like this."
She went on to say:
"And I stand here today as the granddaughter of an iron ore miner, as the daughter of a teacher and a newspaper man, and as the first woman elected to the United States Senate from the state of Minnesota and a candidate for president of the United States because of that opportunity that is America."
11:26 p.m. ET, February 18, 2019
Why Klobuchar's plan to tackle racial inequality in the US is centered around economics
From CNN's Dan Merica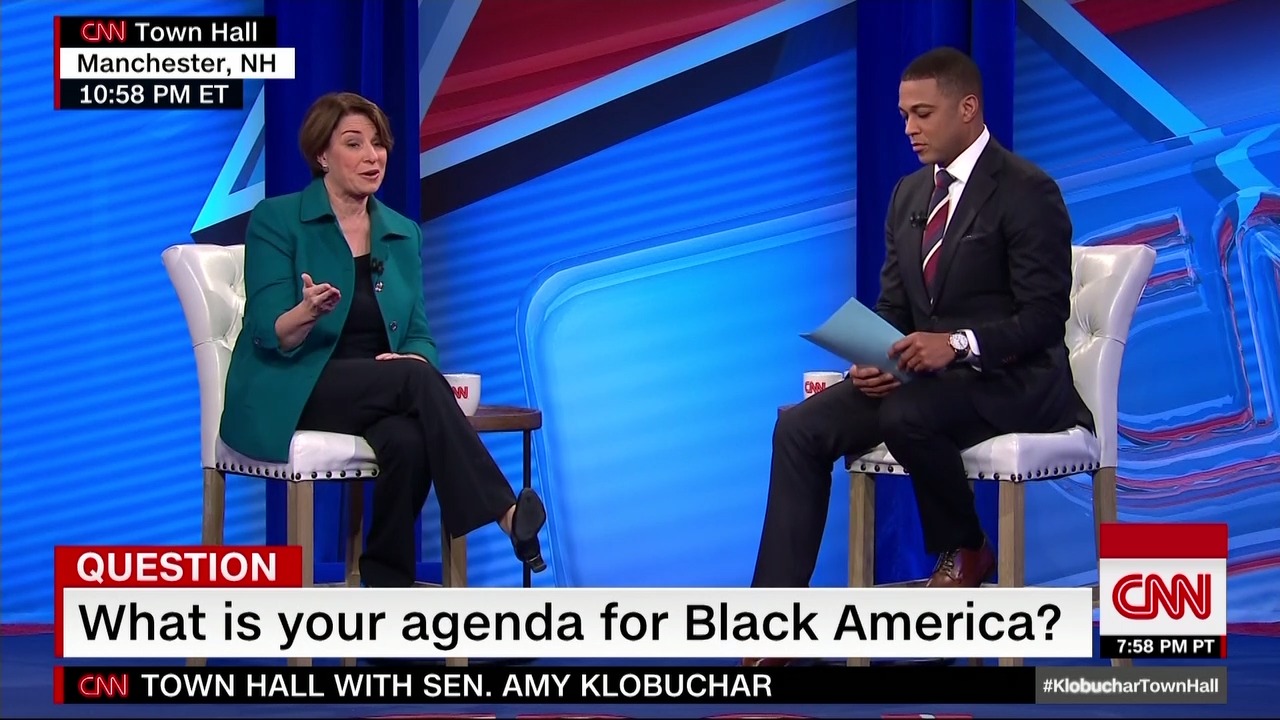 Sen. Amy Klobuchar said on Monday that economics, including raising the minimum wage and retraining people for in-demand jobs, was central to her plan to tackle racial inequality.
After CNN's Don Lemon asked Klobuchar about her agenda for black Americans, Klobuchar mentioned a number of changes she made as county attorney in Hennepin County, Minnesota, but said she believes economics is central to her plan to tackle the issue.
"To paraphrase Martin Luther King, you can do all you can to integrate a lunch counter but if you can't afford a hamburger what good did you do? So for me the economics is key right now," she said, arguing that African American workers need to gain more training in science and math fields and make a livable wage.
"Increase the minimum wage, right … so that we make it easier for people who are not in the same position as everyone else and weren't born with the silver spoon in their mouth, that they are able to pursue the American dream because no matter where you come from or where you worship or what you look like this should be a country of shared dreams," Klobuchar said.
11:02 p.m. ET, February 18, 2019
How Klobuchar says she would restore faith in the US government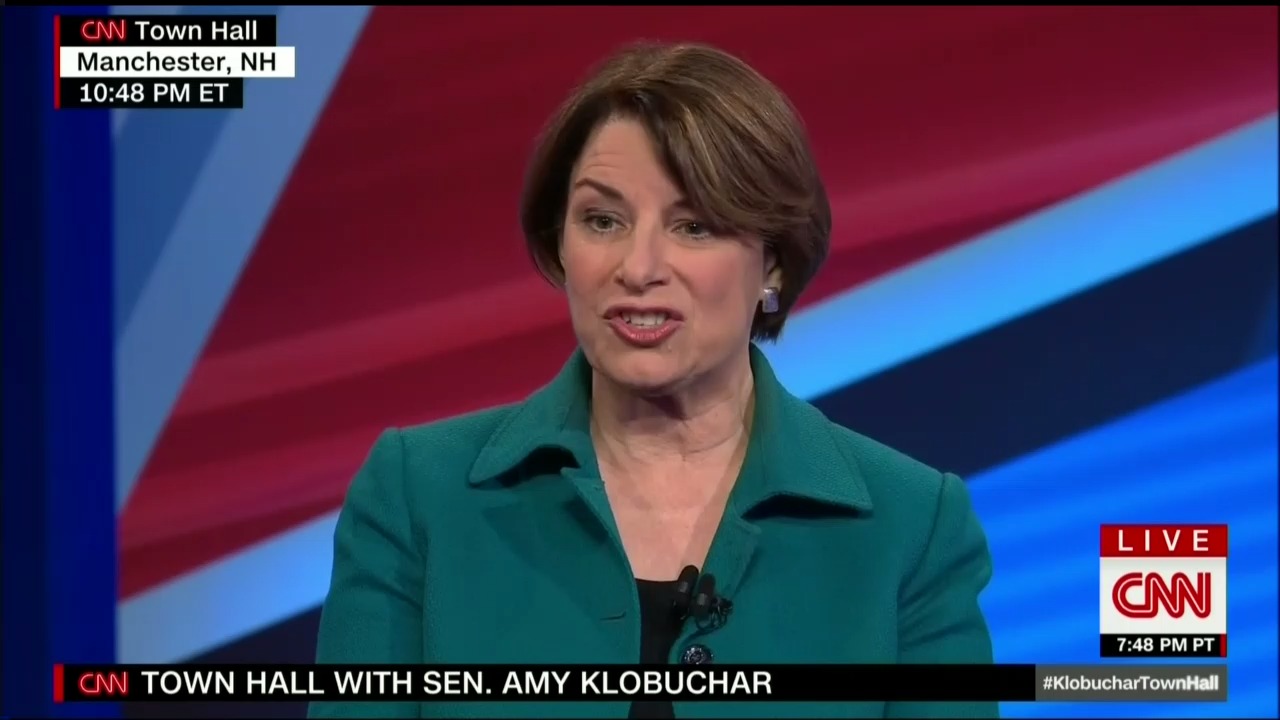 High school teacher Christine Carter, an audience member, said her students have become cynics about the US government.
So she asked Sen. Amy Klobuchar, "How could you intend to help to restore faith in the American system of governance for those coming of age under President Trump?"
Klobuchar said that she would start by being someone who respects the institution of the presidency.
Here's how Klobuchar responded:
"Well, I think the first thing is to stop governing by tweet. Okay? And all these mean-spirited messages that makes it hard for teachers to say, you know, you don't have to agree with everything the President says, no one's going to agree with them but you have to have someone you have faith, in that respects the institution, that's someone you can look up to.
 ...You see this news on TV, you don't want your kids to see it. Instead of looking down or looking away, we have to look at each other and we have to look up at the challenges before us. We have always done this as a great nation....
I believe that we are better than this. I believe we can move forward and the only way we do it is if we do it together and cross that river of our divides."
10:56 p.m. ET, February 18, 2019
Klobuchar shows humor and wit when tackling tough questions
Analysis from CNN's Jeff Zeleny
Sen. Amy Klobuchar comes armed tonight with something many presidential candidates do not have: humor. For those who know her in Washington and Minnesota, she has a quick wit. Those watching from home are learning that, too.
That is one side she is trying to show tonight, by saying things like: "Women candidates should speak softly and carry a big statistic. They have to carry a big statistic, which means be accountable."
Klobuchar knows people are watching to see how she manages her campaign: Will staff members want to work for her? Will she keep the ones who sign up? The whispers about how she treats her staff likely won't go away until she answers those questions – over time. 
"Undertaking a presidential campaign," she said, "is a pretty good way to judge people."
11:10 p.m. ET, February 18, 2019
Why Klobuchar doesn't support free college for all
Amy Klobuchar made it clear tonight that she doesn't support free college for all.
"I am not for free four-year college for all, no," she said. "And I wish -- if I was a magic genie and could give that to everyone and we could afford it, I would," she said.
Realizing her answer might not be popular among some of the college students in the crowd -- many of whom are likely burdened with debt of their own -- she explained why:
"I've got to tell the truth. We have this mounting debt that the Trump administration keeps getting worse and worse. I also don't want to leave that on the shoulders of all these we've got to do a balance. Some of it is major tax reform in terms of reversing some of the things this administration has done. Some of it making sure that students are getting degrees and being led to jobs where we actually have jobs."
Klobuchar invoking the national debt is a significant break with numerous top Democrats, who often dismiss the debt in face of pressing issues like climate change, health care and education.
She said she wants to find a mix of incentives for students, and talked about expanding Pell grants for students and refinancing student loans as some examples.
Watch the moment:
10:52 p.m. ET, February 18, 2019
Klobuchar described how her father's alcoholism shaped her view of fighting addiction
In an emotional moment, Sen. Amy Klobuchar described how her relationship with her father, a prominent journalist who dealt with alcoholism for much of his life, shaped her view of fighting addiction and helping people find redemption.
Klobuchar's history dealing with alcoholism featured prominently in her questioning of Supreme Court Justice Brett Kavanaugh -- a contentious moment that numerous voters in Iowa and New Hampshire said is when they first took note of the Minnesota senator.
"For me, like a lot of people, I grew up in a family with alcoholism and addiction," Klobuchar said, adding that she hoped her questioning of Kavanaugh showed she "knew what it was like to live in a household with drinking, but that I also knew what it was like to see someone find redemption."
Klobuchar's father, Jim, was a prominent columnist to the Minneapolis Star Tribune and has been public about his fight with alcoholism. Klobuchar said Monday that her father has been sober for years.
"He continues to go to AA and is still friends with his AA group at age 90. True story," she said. "And so I was literally able to see him climb to the highest mountains. He's an adventurer, and really sink to the lowest valleys because of his alcoholism."
Klobuchar said she and her father were "very close" and that his struggle taught her "was that I want to have other people have that kind of redemption in their lives."