What happens next with Alabama's near-total abortion ban
11:00 a.m. ET, May 15, 2019
Alabama Republican: A baby in the womb is "a person"
During a media briefing following the passing of the Alabama's controversial abortion bill HB 314, Republican state Rep. Terri Collins said she believed it was the right time to get a law before the United States Supreme Court. 
"It's the right time when you look at all the states around the country, whether they're conservative and they're passing very pro-life legislation or they're more liberal and they're passing the opposite, I think everybody's sensing that it might be time for a change," said Collins, who represents house District 8 in Alabama.
Bill HB 314 passed in the Alabama Senate with a vote of 25-to-6 with one abstention.
According to Collins, the bill was "designed in every way" to go to the Supreme Court.
"That's why we were trying to keep it just as it was," she said. "Was to address the issue that Roe v. Wade was decided on, which is that, that baby in the womb a person?"
Collins went on to say, "In Alabama law, it's a person. Our people in Alabama voted last fall. We believe that and we believe that's what it's aimed at," while also admitting that the bill is "not meant to be long-term forever law in my mind. We'll just have to see."
10:59 a.m. ET, May 15, 2019
The number of abortions in the United States has been on the decline since 1990
The number of abortions in the United States increased gradually from 1973, then peaked in 1990 and has been on the decline since.
The following is the number of abortions reported to the CDC from selected reporting areas as of April 2018:
2015: 638,169
2014: 652,639
2013: 644,435
2012: 699,202
2011: 730,322
2010: 765,651
2009: 784,507
2008: 825,564
2007: 827,609
2006: 846,181
2005: 820,151
2000: 857,475
1995: 1,210,883
1990: 1,429,247 (peak)
1985: 1,328,570
1980: 1,297,606
Meanwhile, the abortion ratio increased from 196 per 1,000 live births in 1973 to 358 per 1,000 in 1979 and then remained nearly stable through 1981. The ratio peaked at 364 per 1,000 in 1984 and has steadily declined since then.
10:46 a.m. ET, May 15, 2019
Planned Parenthood Southeast: Lawmakers are "playing political games with women's lives"
Staci Fox, president and CEO of Planned Parenthood Southeast Advocates, said lawmakers are looking out for their own movement and not the lives of women they voted against last night:
"They are playing political games with women's lives in states like Georgia, Alabama and Mississippi. They have been blatant and overt about that. They know and say publicly that these laws are unconstitutional, and they don't care. They don't care about money they're wasting, they don't care about the lives they are risking. All they care about is getting attention in their own movement, in their own elections, next fall. We aren't playing games. We are focused on patients who need access to healthcare. We are also laser focused in making sure that those that voted against women lives don't return to work next fall."
The near-total abortion ban appears to set up an immediate fight over Roe v. Wade, the landmark Supreme Court decision that legalized abortion.
10:37 a.m. ET, May 15, 2019
Kamala Harris slams Alabama lawmakers: "They need to check their hypocrisy"
Sen. Kamala Harris, speaking to a crowd in Nashua, New Hampshire, just criticized Alabama lawmakers for their stances on healthcare and abortion, saying, "They need to check their hypocrisy."
"I will also say that on this day where we saw what happened in Alabama, let us all agree, that women's health care is under attack, and we will not stand for it. We will not stand for it," she said.
Harris, a former prosecutor, added:
"The idea that supposed leaders have passed a law that would criminalize a physician for assisting a woman on something that she, in consult with her physician, with her God, with her faith leader, has made a decision to do, that it's her body that you would criminalize -- and say for up to 99 years, which is a life sentence -- and this is the same state, and the same kind of people, who also stand in the way of what women need in terms of a ban on existing conditions, to have access to issues like prenatal care -- like, they need to check their hypocrisy."
11:11 a.m. ET, May 15, 2019
A liberal Supreme Court justice just warned against overturning precedent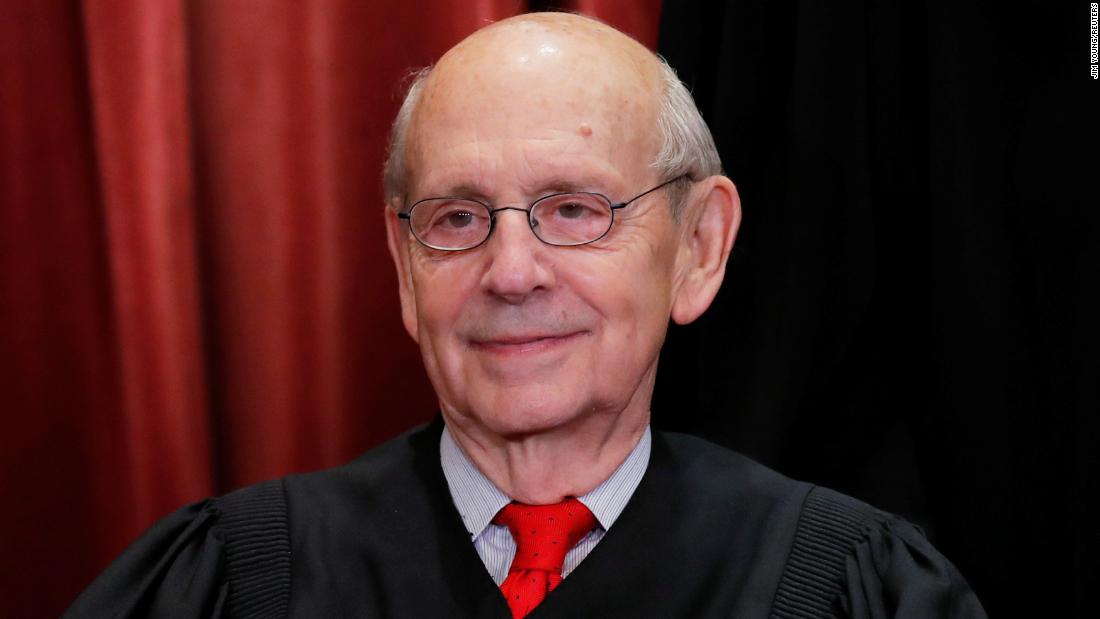 Justice Stephen Breyer on Monday seemed to launch a warning towards his conservative colleagues: Be very careful before you overturn precedent.
Breyer's warning — which came in an opinion released Monday, one day before the Alabama state Senate voted on the restrictive abortion bill — gave fodder to court watchers waiting anxiously to see how the court is interacting, and where the newly conservative majority is headed.
What happened: Breyer spoke up in a dissent in a case. What really turned heads was that in making his argument, Breyer also cited Planned Parenthood v. Casey, a landmark abortion opinion from 1992 that affirmed key provisions of the 1973 case Roe. v. Wade.
Breyer is well aware that the court has several petitions before it asking it, not to overrule Roe directly but to chip away at abortion rights.
Was Breyer putting his colleagues on notice of future battles as they consider their next moves over this term and next?
"Today's decision can only cause one to wonder which cases the court will overrule next," Breyer wrote.
CORRECTION: The headline has been changed to reflect that Breyer is a liberal Supreme Court justice.
10:21 a.m. ET, May 15, 2019
"Outrageous news coming out of Alabama": How 2020 Democrats reacted to the bill
Democrats running for president in 2020 are condemning the Alabama Senate's move to ban almost all abortions, calling the restrictive legislation "outrageous" and "wrong."
The legislation — which could punish doctors who perform abortions with with up to 99 years in prison — still needs to be signed into law by the state's governor.
Here's what they're saying:
Sen. Cory Booker
Sen. Kamala Harris
Former Gov. John Hickenlooper
Gov. Jay Inslee
Rep. Eric Swalwell
11:23 a.m. ET, May 15, 2019
Alabama state senator: "I think that we raped women last night"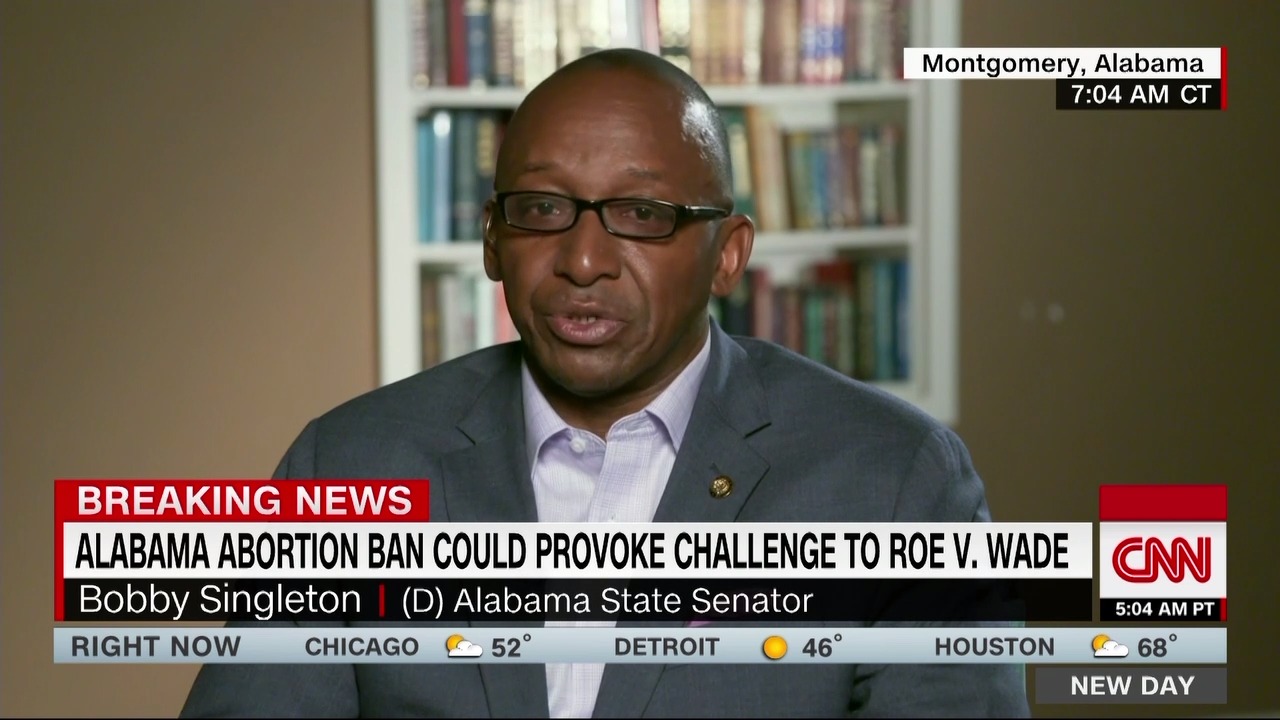 Alabama state Sen. Bobby Singleton, a Democrat, told CNN this morning that Alabama's abortion bill is "horrible."
"I think that we raped women last night. We made women of Alabama the model of the new Roe vs. Wade. I think this is a horrible bill," Singleton said.
The state's near-total abortion ban appears to set up an immediate fight over Roe v. Wade, the landmark Supreme Court decision that legalized abortion. However, Singleton said some members of the Republican party in Alabama believe in the components of this bill.
"You know, I would like to think that it's just for the purpose of Roe v. Wade, but, you know, there are some members on that side of the aisle who really believe sincerely in this," he said. "I asked to sponsor that just last night, you know, is that your intent to send doctors to jail for 99 years, or even for an attempted abortion up to 10 years in prison for attempt, not defining what an attempt is? But, you know, they just look me in my eyes with a stare as if, 'yes, thats what I want to do.'"
Singleton was referring to the part of the bill that would slap doctors with up to 99 years in prison for performing an abortion.
Watch: