What happens next with Alabama's near-total abortion ban
6:17 p.m. ET, May 15, 2019
Alabama governor signs near-total abortion ban into law
Alabama Gov. Kay Ivey on Wednesday signed into law a controversial abortion bill that could punish doctors who perform abortions with life in prison.
"Today, I signed into law the Alabama Human Life Protection Act, a bill that was approved by overwhelming majorities in both chambers of the Legislature," said Ivey, a Republican, in a statement. "To the bill's many supporters, this legislation stands as a powerful testament to Alabamians' deeply held belief that every life is precious and that every life is a sacred gift from God."
The Alabama Senate passed the bill 25-6 late Tuesday night. The law only allows exceptions "to avoid a serious health risk to the unborn child's mother," for ectopic pregnancy and if the "unborn child has a lethal anomaly." Democrats re-introduced an amendment to exempt rape and incest victims, but the motion failed on an 11-21 vote.
Read the rest of Ivey's statement: 
"To all Alabamians, I assure you that we will continue to follow the rule of law.
In all meaningful respects, this bill closely resembles an abortion ban that has been a part of Alabama law for well over 100 years. As today's bill itself recognizes, that longstanding abortion law has been rendered "unenforceable as a result of the U.S. Supreme Court decision in Roe v. Wade.
No matter one's personal view on abortion, we can all recognize that, at least for the short term, this bill may similarly be unenforceable. As citizens of this great country, we must always respect the authority of the U.S. Supreme Court even when we disagree with their decisions. Many Americans, myself included, disagreed when Roe v. Wade was handed down in 1973. The sponsors of this bill believe that it is time, once again, for the U.S. Supreme Court to revisit this important matter, and they believe this act may bring about the best opportunity for this to occur.
I want to commend the bill sponsors, Rep. Terri Collins and Sen. Clyde Chambliss, for their strong leadership on this important issue. 
For the remainder of this session, I now urge all members of the Alabama Legislature to continue seeking the best ways possible to foster a better Alabama in all regards, from education to public safety. We must give every person the best chance for a quality life and a promising future."
5:29 p.m. ET, May 15, 2019
Fact check: Is the Alabama anti-abortion bill likely to go into effect?  
The Alabama Senate on Tuesday passed the most restrictive abortion bill in the country — a near-total ban on all abortions.
According to Eric Johnston, president of the Alabama Pro-Life Coalition, who helped craft the legislation, the bill was specifically designed to go to the Supreme Court and challenge Roe v. Wade.  
Alabama Republican Gov. Kay Ivey now has six days to sign the legislation into law, which would then become enforceable six months later and would carry stiff penalties for those caught violating it. For example, doctors could face up to 99 years in prison for performing an abortion in the state.
So what are the chances the law will be implemented anytime soon? Next to none.  
Facts first: Given the amount of legal challenges it's likely to face, along with past rulings on other anti-abortion legislation, the law will probably be tied up in court for years, delaying enforcement. The Supreme Court has discretion over what cases it hears, and there is no guarantee the justices would take up the Alabama ban if it is struck down in lower courts.
The American Civil Liberties Union and Planned Parenthood have already announced plans to file lawsuits against the Alabama bill, arguing it's unconstitutional. These organizations, as they have in the past, will likely also ask federal district courts for a preliminary injunction or temporary restraining order to prevent the law from going into effect, while arguments over the constitutionality of the law work their way through the courts.
That means a federal judge would decide whether to temporarily block the law or allow it to take effect. US district judges routinely block anti-abortion laws from taking effect while litigation is underway.
3:37 p.m. ET, May 15, 2019
Alabama senator says he supports abortion exceptions for rape or incest
US Sen. Richard Shelby, from Alabama, won't say if he backs his state's bill to outlaw abortion in most cases.
The Republican lawmaker told CNN that he "always" has supported the Hyde Amendment, which prohibits federal funding of abortions and noted that he's also "always supported" exceptions for rape and incest.
Asked if that meant he opposes the more restrictive Alabama law, Shelby, the state's senior GOP senator, said, "I don't oppose any of that because I'm not in the legislature ... I don't know anything about it anymore than you know."
2:07 p.m. ET, May 15, 2019
Lady Gaga on Alabama's near-total abortion ban: "This is a travesty"
Lady Gaga just tweeted a reaction to the Alabama abortion bill, expressing outrage that that it excludes victim of rape and incest and punishes doctors with harsher penalties than rapists.
"It is an outrage to ban abortion in Alabama period, and all the more heinous that it excludes those [who] have been raped or are experiencing incest non-consensual or not," the singer said. "So there's a higher penalty for doctors who perform these operations than for most rapists? This is a travesty and I pray for all these women and young girls who will suffer at the hands of this system."
She included the hashtag: #NoUterusNoOpinion."
See her tweet:
1:36 p.m. ET, May 15, 2019
Meanwhile in Ohio, the ACLU sues over state's heartbeat bill
Attorneys for the American Civil Liberties Union of Ohio and the ACLU Reproductive Freedom Project filed a lawsuit to block Ohio's so-called heartbeat bill, which bans abortions after a fetal heartbeat is detected, before it takes effect.
The law will take effect on July 10.
Elizabeth Watson, a staff attorney for the ACLU Reproductive Freedom Project, described the bill as "blatantly unconstitutional" and said the right to abortion is under unprecedented attack, despite "strong public support for supportive, affordable, and barrier-free access to abortion care."
Jessie Hill, an attorney at ACLU of Ohio, said Wednesday that the so-called heartbeat bill is not isolated, adding that more bills are in the works at the statehouse.
"The six-week abortion ban that the Ohio legislature has passed is just the culmination of this long-standing all-out assault on women in Ohio," Hill said.
Why this matters: The Ohio bill is just one of a number of similar bills that have been introduced in state legislatures across the country this year. Mississippi Gov. Phil Bryant signed a "heartbeat bill" in March. In Georgia, Gov. Brian Kemp also signed a bill that would ban abortions if a fetal heartbeat can be detected.
1:21 p.m. ET, May 15, 2019
Actress Milla Jovovich describes her own abortion: "I cannot remain silent when so much is at stake"
Actress Milla Jovovich shared details about her own emergency abortion after expressing her frustrations over new restrictive abortions laws in several states.
Jovovich said she doesn't usually talk about politics, but she was compelled to speak out after the latest actions on abortion rights.
"Our rights as women to obtain safe abortions by experienced doctors are again at stake," she said.
She revealed that she was four months pregnant when she had the emergency abortion two and a half years ago while filming on location. Jovovich said she suffered from depression after undergoing the procedure.
"I was 4 1/2 months pregnant and shooting on location in Eastern Europe. I went into pre term labor and told that I had to be awake for the whole procedure. It was one of the most horrific experiences I have ever gone through. I still have nightmares about it. I was alone and helpless," Jovovich said. "When I think about the fact that women might have to face abortions in even worse conditions than I did because of new laws, my stomach turns."
Jovovich went on to say abortion rights are needed.
"Abortion is a nightmare at its best. No woman wants to go through that," she said. "But we have to fight to make sure our rights are preserved to obtain a safe one if we need to. I never wanted to speak about this experience. But I cannot remain silent when so much is at stake."
1:01 p.m. ET, May 15, 2019
House Democrats call Alabama's abortion bill disgraceful and reckless
House Democratic leaders today reacted to the Alabama abortion bill, calling it a "disgrace" and "reckless."
"It lays bare the reality that part of the right-wing conservative agenda in the United States of America is to take away reproductive health and freedom of the people of America. That is a disgrace," Rep. Hakeem Jeffries, chairman of the Democratic caucus, told reporters.
Rep. Katherine Clark, vice chair of the Democratic caucus, called the action "reckless behavior."
"We are not going back. Women in this country are not going to allow our fundamental rights to be infringed upon," Clark said.
12:08 p.m. ET, May 15, 2019
GOP state senator: Every life is precious "even if its origins are in very difficult situations"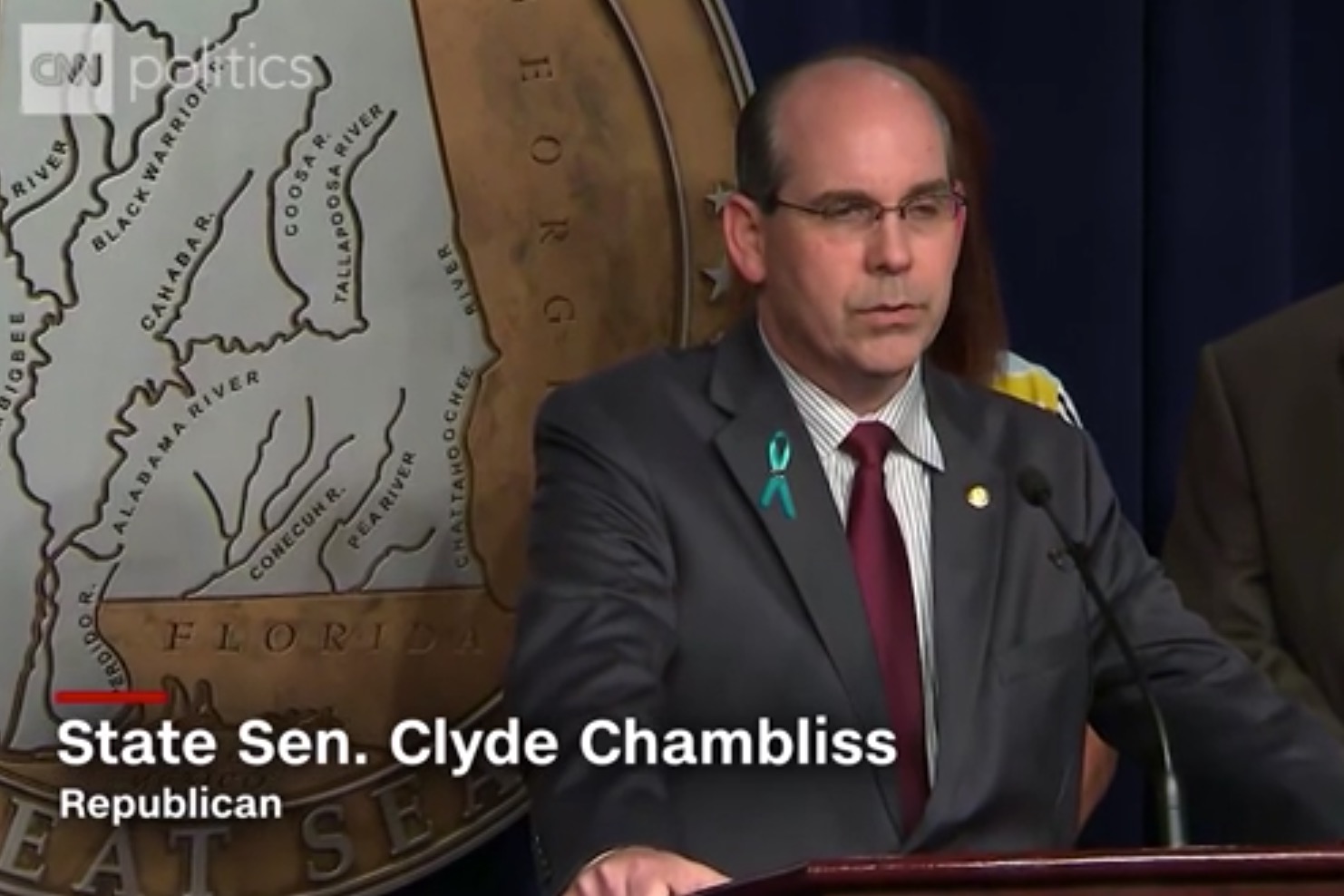 Alabama state Sen. Clyde Chambliss ushered the abortion bill through the chamber.
"Even if its origins are in very difficult situations, that life is still precious," the Republican said in explaining his support for the bill.
Chambliss said the bill impacts women who are "known to be pregnant." In a news release, Chambliss touted that his bill outlaws surgical abortions as soon as a pregnancy can be medically determined.
12:02 p.m. ET, May 16, 2019
Planned Parenthood executive warns the future is dangerous for women's health rights under Trump
Dr. Leana Wen, President of Planned Parenthood Action Fund, said in a press conference today that the future is dangerous for women's health rights, especially under the Trump administration.
"We have a President of the United States who willfully lies to the American people to score political points and to provide political cover for politicians who are passing extreme anti-women's bills. With Trump in the White House and (Brett) Kavanaugh in the Supreme Court women's health and rights are under assault like never before," Lee-Gilmore said.
Listen:
Correction: This post has been updated to accurately attribute a quote from President of Planned Parenthood Action Fund Dr. Leana Wen.