Where the abortion debate stands now
1:25 p.m. ET, May 21, 2019
Bernie Sanders: "We have to do everything we can" to defend abortion rights
Senator and 2020 Democratic presidential candidate Bernie Sanders just showed up outside the Supreme Court at the abortion ban protest.
"The right for a woman to control her own body is a fundamental constitutional right," Sanders told CNN. "And we have got to do everything we can to defend."
See it:
1:25 p.m. ET, May 21, 2019
Protesters in Philly: "My body, my choice"
Protesters with signs reading "Abortion is Healthcare" and "Vote Them Out," and chanting "my body, my choice," have gathered in downtown Philadelphia to protest the recent abortion bans.
See it:
Note: Pennsylvania is not in the handful of states that recently passed abortion ban legislation. Its governor, Democrat Tom Wolf, recently announced he would "veto any anti-choice bill that lands on my desk." The rally is one of many being held across the country.
1:16 p.m. ET, May 21, 2019
Kamala Harris: "I stand in solidarity with those across the country to #StopTheBans"
12:58 p.m. ET, May 21, 2019
Protesters at Georgia State Capitol chant, "Stand up, fight back!" and "Vote them out!"
A group of protesters carrying signs that read "Stop the bans" and "Don't take away our care" gathered at the steps of the Georgia State Capitol building on Tuesday afternoon, targeting lawmakers who recently passed a restrictive "heartbeat" abortion law which chants of "What do we do? Stand up, fight back!"
They also chanted, "Vote them out!"
Hundreds of community members were expected to participate in the rally, with expected speakers including representatives from ACLU-Georgia, Indivisible Georgia Coalition, NARAL Pro-Choice Georgia, Planned Parenthood SE, SisterLove Inc, URGE and more.
See it:
12:58 p.m. ET, May 21, 2019
Mayor Pete: "I do not believe that women and their doctors should be overruled by the heavy hand of government"
South Bend Mayor and Democratic presidential candidate Pete Buttigieg just spoke to CNN's Jessica Dean at an abortion ban protest outside the Supreme Court in Washington.
"I come from Indiana, I understand that people come to this issue differently," Buttigieg said.
"At the end of the day I believe that the right person to make this decision is the woman who is facing that choice in her life, in her health, and if she seeks it, advice from whoever she turns to for spiritual guidance, and critically, whoever she turns to for medical guidance."
He added, "I do not believe that women and their doctors should be overruled by the heavy hand of government on an issue like this where people do have different beliefs — those beliefs are best respected in a framework — the framework that was established right here at the Supreme Court and was the law of the land for as long as I'd been alive that trust women to make these decisions."
12:23 p.m. ET, May 21, 2019
This judge is skeptical of Mississippi's abortion ban — but he didn't issue a ruling
A federal judge in Mississippi expressed deep skepticism on Tuesday about a state law that bans abortion as early as six weeks of pregnancy, sending a signal that a series of similar attempts across the country to pass near total bans on abortion might not withstand judicial scrutiny.
The judge did not rule from the bench, but said he would issue a ruling soon. 
During a hearing, Judge Carlton Reeves expressed anger at times, especially over the fact that the law has no exception for rape or incest.
Some background: Six months ago, Reeves struck a 15-week ban on abortion. That's when the legislature responded with an even more restrictive law.
Today, Reeves questioned whether the new law "smacks of defiance" to this court. 
"You said we can't do 15 weeks so 'by God we will do six weeks,'" Reeves said at one point. He then rhetorically asked if the state legislature would call a special session and then pass a four-week or two-week ban.
1:04 p.m. ET, May 21, 2019
2020 Democrats lend their support for abortion ban protests
Some 2020 Democratic presidential hopefuls are attending, or watching, today's rallies.
Former Vice President Joe Biden, the current frontrunner according to multiple polls, just tweeted the #StopTheBans hashtag organizers have promoted.
Sen. Kirsten Gillibrand, Sen. Bernie Sanders, Sen. Amy Klobuchar, and South Bend Mayor Pete Buttigieg will also be in attendance.
This post was updated as more candidates arrived.
11:06 a.m. ET, May 21, 2019
The 5 states that signed restrictive abortion bills into law this year
Abortion is legal under Roe v. Wade, the 1973 Supreme Court decision that legalized abortion in all 50 states.
But most states have set limits in one way or another.
This year, a series of strict anti-abortion bills have been passed with the intention to reshape women's access to the procedure:
The most restrictive abortion law in the country is in Alabama. The ban makes abortion illegal in virtually all cases — including cases of rape and incest — and doctors who perform abortions could face life in prison.
Lawmakers in Georgia, Ohio, Kentucky and Mississippi also proposed so-called heartbeat bills this year and successfully got them signed into law. Those bills generally ban abortions after a fetal heartbeat is detected, which can be as early as six weeks into a pregnancy — when many women don't yet know they're pregnant.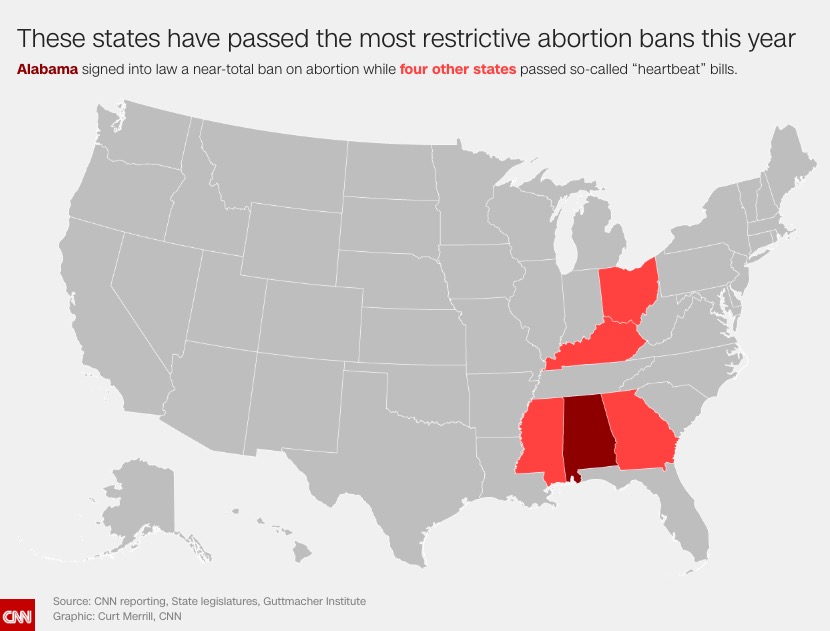 10:50 a.m. ET, May 21, 2019
Rep. Jackie Speier says women are "being depicted as chattel" in abortion debate
California Rep. Jackie Speier said Tuesday that women are being portrayed as property in states that have passed legislation restricting abortions and argued that government should be excluded from womens' health decisions.
"I think that women are being depicted as chattel," Speier said in an interview with CNN's Alisyn Camerota on "New Day" when asked about state bills that would limit abortion procedures.
"The government has no right in my uterus, has no right in my vagina," the California Democrat said.
Several Republican-led states have moved to pass bills restricting abortion, including Alabama, which enacted the country's most restrictive abortion law last week, with the hopes of them being used as a vehicle to challenge the US Supreme Court decision in Roe v. Wade. 
"This has gotten quite absurd, and I think Alabama is just one more example of the many states that have now passed laws to treat women as if they do not have control over their bodies," Speier told CNN.
Speier argued, "if we are going to start regulating women and their reproductive health, well maybe we should start regulating men and their reproductive health." 
Speier last week joined a number of women on social media in sharing their personal stories about abortion, saying that she underwent the procedure because it was the "best choice for my health (and) my family."
"While it was an immensely hard decision, I don't regret it," she wrote on Twitter.