CNN town hall with Biden, Bloomberg, Klobuchar and Warren
11:26 p.m. ET, February 26, 2020
4 key takeaways from tonight's CNN town halls
Four Democratic presidential candidates answered a host of questions at back-to-back town halls in South Carolina.
We're wrapping up our live coverage. In case you missed it, here's the key takeaway from each candidate's town hall:
Michael Bloomberg: The billionaire businessman was called to task once again over his controversial record on stop-and-frisk, which he repeatedly defended while serving as mayor of New York. Bloomberg said tonight, "we just did it much too much and an awful lot of innocent people got stopped." Stop-and-frisk searches peaked under Bloomberg at 203,500 stops during the first three months of 2012.The practice was cut back amid protests and lawsuits.
Joe Biden: The former vice president said he has spoken to Anita Hill, who made sexual harassment accusations against Supreme Court Justice Clarence Thomas, and "apologized for not being able to protect her more" during Thomas' confirmation hearings, which Biden oversaw in 1991. Biden was asked what would happen if President Trump loses in November but refuses to concede. Biden said the way Trump has treated the military, the intelligence community and the FBI, "I have no worry about him being escorted out of the White House." 
Amy Klobuchar: Klobuchar vowed to fire Education Secretary Betsy DeVos in her "first 100 seconds" if elected president. The Minnesota senator also said she would be able to work with progressive Democrats like Elizabeth Warren and Bernie Sanders, if elected, and pointed out that they already do in the Senate.
Elizabeth Warren: The Massachusetts senator is ready for a convention floor battle this summer if none of the Democratic candidates reach a delegate majority during the primary. Warren made it clear tonight that she'd be willing to lobby superdelegates, who have a vote on the second ballot if there's no outright winner, when asked if she would continue her candidacy even if she was trailing in the delegate count. She also tackled the issue of coronavirus, pledging to divert funds from President Trump's border wall and use "every dime" of it to fight the escalating health threat.
11:30 p.m. ET, February 26, 2020
Warren won't say if Massachusetts primary is a "must-win"
Elizabeth Warren isn't saying if her home state of Massachusetts is a "must-win" on Super Tuesday.
"I'm grateful for those folks" and their support, Warren said when asked. "Always grateful."
But on Wednesday night, like she has in the past, Warren didn't give a clear answer as to whether she believes victory in the Bay State is a requirement for her campaign on March 3.  
Watch:
11:13 p.m. ET, February 26, 2020
Warren says she won't let Trump "get behind me on a debate stage"
Elizabeth Warren said Wednesday that the best way to take on Donald Trump is to stand up to him because "you never back down from a bully."
"You just can't. I won't let him get behind me on a debate stage," Warren said, seemingly in reference to the way that Trump loomed over Hillary Clinton during a general election debate in 2016.
The comment came in response to a question about the way Trump gives his opponents nicknames, including an offensive name used for Warren.
"So, do remember whoever the nominee is Donald Trump will have ugly names, tell lies, and make it his personal and nasty as he can," Warren said. "So, we're just there. That's what's going to happen."
But, Warren said, that Democrats cannot be consumed by fighting with Trump.
"The way we'll beat Donald Trump is by making this election not just about Donald Trump," Warren said. "I think the way we'll do it is by talking about our vision."
Watch the moment:
11:10 p.m. ET, February 26, 2020
Warren uses affordable hearing aids as an example of how she can work with Republicans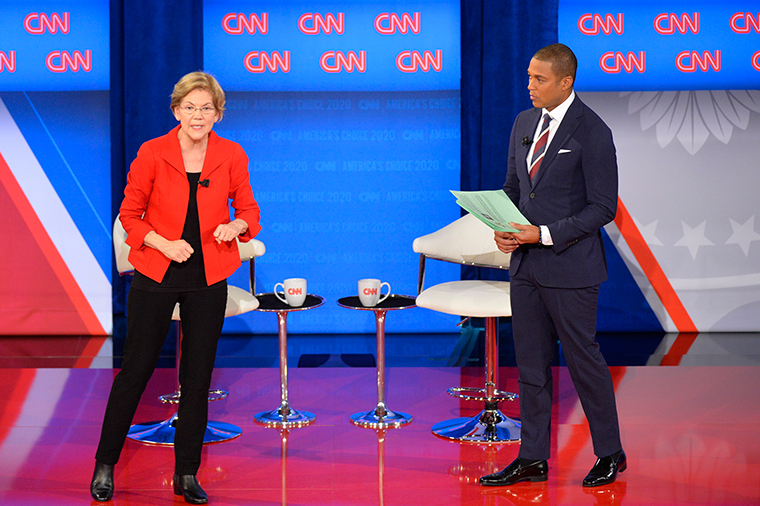 When it comes to working with Republican on passing legislation, Sen. Elizabeth Warren cited a bill she authored aimed at the 40 million Americans who suffer from hearing loss.
Warren cited how "one out of every six actually gets a hearing aid. Why? Because a couple of hearing aids cost you in the neighborhood of $5,000, not covered by insurance, not covered by medicare for most people. They just can't afford it."
"So I started asking the question a couple of years ago, why are those darn things so expensive? They're not as fancy in terms of what they do as your iPhone, but they cost a whole lot more. The answer turns out to be the hearing aid industry is one more industry that has managed to capture government to keep prices up and competition down," Warren said.
Warren's plan was simple: Sell hearing aids over the counter. That plan is now a reality.
President Trump signed Warren's Over-the-Counter Hearing Aid Act of 2017, which aims to make hearing aids more affordable and had bipartisan support. It requires the Food and Drug Administration to allow certain hearing aids to be sold over-the-counter to Americans with mild to moderate hearing loss.
"This law will make a life changing difference for millions of Americans who experience hearing loss but can't access the hearing aid technology they need because of high costs and excessive regulations," Warren said in a statement at the time of the President's signing.
Hear more:
10:54 p.m. ET, February 26, 2020
Warren believes corruption is at the heart of cigarette addiction in the US
Sen. Elizabeth Warren wants to snuff out cigarette addiction in the US and tackle an industry rife with "corruption."
Warren's discussion on cigarettes was prompted by a question from Tracy Smith, a professor in addiction sciences, who said "cigarette smoking still kills 50% of long term users and still the leading cause preventable death in the United States. And worldwide."
"What will you do as president to help end cigarette addiction and the disease burden of tobacco in the country," Smith asked.
Warren's answer focused on a "tobacco industry that still calling the shots too often in Washington. And that leans on the FDA to stay out of doing science based, health based regulations," she said tonight during her town hall.
"So, this is my commitment, it's my commitment across the board. I don't owe anything to the tobacco industry. Or the drug industry. Or the prison industrial complex. We can go through the list," Warren said. "But on yours specifically, I want to see an FDA that is science based. That is research based. And they make recommendations and they make regulations that our based on that science and nothing else. I will have a head of the FDA who believes in science. And then I will back that person up 100%. I don't care about the political pressure from the outside."
Watch the moment:
10:49 p.m. ET, February 26, 2020
Warren once compared the 2020 race to a movie. Here's why.
Elizabeth Warren once compared the race for the presidency to a movie. She said it was lonely.
Here's why:
"Well, there's nobody else who is out on stage with you, except a guy who wants to ask you hard questions. And it is," she said.
She then detailed something that makes her campaign unique: A selfie line.
Warren described the stories of hardship she's heard from Americans across the country during her selfie lines. She went on to say "the reason I say that's lonely, every one of those, it's like it comes in between your ribs."
Her campaign and the race to the White House is a culmination of her "life's work," she said.
Hear her comments:
10:47 p.m. ET, February 26, 2020
Warren: I'm ready for a convention floor fight
Elizabeth Warren is ready for a convention floor battle this summer if none of the Democratic candidates reach a delegate majority during the primary.
Warren made it clear on Wednesday night that she'd be willing to lobby superdelegates, who have a vote on the second ballot if there's no outright winner, when asked if she would continue her candidacy even if she was trailing in the delegate count.
Asked by an audience member why the person who gets the most votes shouldn't be awarded the nomination, Warren said that the rules set a higher bar — and she intended fight to the last.
Warren also suggested that Bernie Sanders' argument that a candidate with a plurality should be declared the nominee was disingenuous, noting that his 2016 campaign, despite losing to Hillary Clinton, publicly argued that convention superdelegates should consider swinging the contest in his favor.
In the aftermath of that primary, in which the superdelegates overwhelmingly backed Clinton, Sanders and others struck a deal to dilute their power. Unlike four years ago, they will only be able to vote on a second ballot in 2020.
But in this crowded field, that compromise could come back to bite Sanders.
"The way I see this is, you write the rules before you know where everybody stands. And then you stick with those rules. So for me, Bernie had a big hand in writing these rules. I didn't write them," Warren said.
"When they were putting together the 2016 platform for the Democratic convention, those are the rules he wanted to write. And others wanted to write. Everybody got in the race thinking that was the set of rules," she added. "I don't see how come you get to change it because he thinks that an advantage to him for doing it."
Watch:
10:46 p.m. ET, February 26, 2020
Housing is a big part of how Warren wants to help at-risk communities
Dana Lang, an attorney, has a son with autism who is about to graduate from high school and eager to become independent.
During Sen. Elizabeth Warren's town hall tonight, Lang asked the Massachusetts lawmaker what plan she has for "integrating this generation of young adults with autism who are ageing out of school system" and what can she do to ensure people like him have "meaningful lives in the community?"
Warren cited her background as a special education teacher and how housing remains at the crux of her plan for helping people like Lang's son.
"I think of it as we have to think about how we let every human being in this country have an opportunity to be all they can be," Warren said. "Housing for example. There are a lot of people who face challenges who want to be able to live independently. We have a problem in America. We don't have enough housing period. And we sure don't have enough housing for people who have special requirements on housing. Maybe group housing or somewhat more supervised housing."
Warren went on to explain how the US is in need of 3.2 million new housing units to help "middle class families, for working class families, housing for the working poor. Housing for the poor poor. Housing for homeless. For people with disabilities. Housing for seniors who want to age in place. For people who have been incarcerated and making it back into the community."
Warren added: "We need to treat housing like a basic human right. And safe accessible housing for everyone."
See the moment:
10:23 p.m. ET, February 26, 2020
Warren says she wants go after gun dealers to address gun violence
Elizabeth Warren outlined tonight the first executive order she would sign to address gun violence.
She vowed that her first action would be to go after gun dealers.
"We have let so many loopholes slip through. It turns out that most of the data suggest it's a handful of dealers and people who show up at gun shows who are getting most of the guns into circulation," Warren said.
The Massachusetts senator went on to say she wants to address gun violence as if it were a "public health emergency."
"That's what I want to see us do on guns. I want to see us do the things that are obvious the background checks. Get assault weapons off our streets," she said.
Hear Sen. Warren's response: