Democratic debate in South Carolina
10:15 p.m. ET, February 25, 2020
Candidates lay out their mottos and the biggest misconceptions about them
The seven candidates gave a closing statement to wrap up tonight's debate, the last one before Saturday's primary in South Carolina and Super Tuesday.
Asked to describe the biggest misconception about them and their mottos, here's how they responded:
Joe Biden said his motto is, "When you get knocked down, get up, and everyone is entitled to be treated with dignity no matter what or who they are." He went on to say that he's committed to putting a black woman on the Supreme Court. On the biggest misconception, Biden said, "I have more hair than I think I do."
Michael Bloomberg joked that a misconception about him is that he's "6 feet tall." On his motto, the former New York Mayor was direct, "I've trained for this job for a long time and when I get it I'm going to do something, rather than just talk about it."
Pete Buttigieg said people think "I'm not passionate." The former South Bend, Indiana, mayor went on to say that he seeks to "live by the teachings that say if you would be a leader, you must first be a servant."
Bernie Sanders said the biggest misconception about him is that his ideas are "radical." He went on to cite a quote from Nelson Mandela as a motto he lives by, saying, "Everything is impossible until it happens."
Elizabeth Warren said one misconception about her "is that I don't eat very much." She added, "In fact, I eat all the time." On her motto, Warren quoted Bible Scripture: "In as much as ye have done it unto one of the least of my brethren, ye have done it unto me."
Amy Klobuchar said the biggest misconception about her is that "I'm boring because I'm not." She added that her motto is "that politics is about improving people's lives." 
Tom Steyer said one misconception about him is that "somehow I'm defined by business success and money." On his personal motto, he said, "Every day, I write a cross on my hand to remind myself to tell the truth and do what's right, no matter what."
10:11 p.m. ET, February 25, 2020
Sanders led in speaking time
At the end of the debate, Sen. Bernie Sanders had a clear lead in speaking time with nearly 16 minutes, followed by Sen. Amy Klobuchar, former New York Mayor Michael Bloomberg and Sen. Elizabeth Warren, all at more than 13 minutes. See the full breakdown below.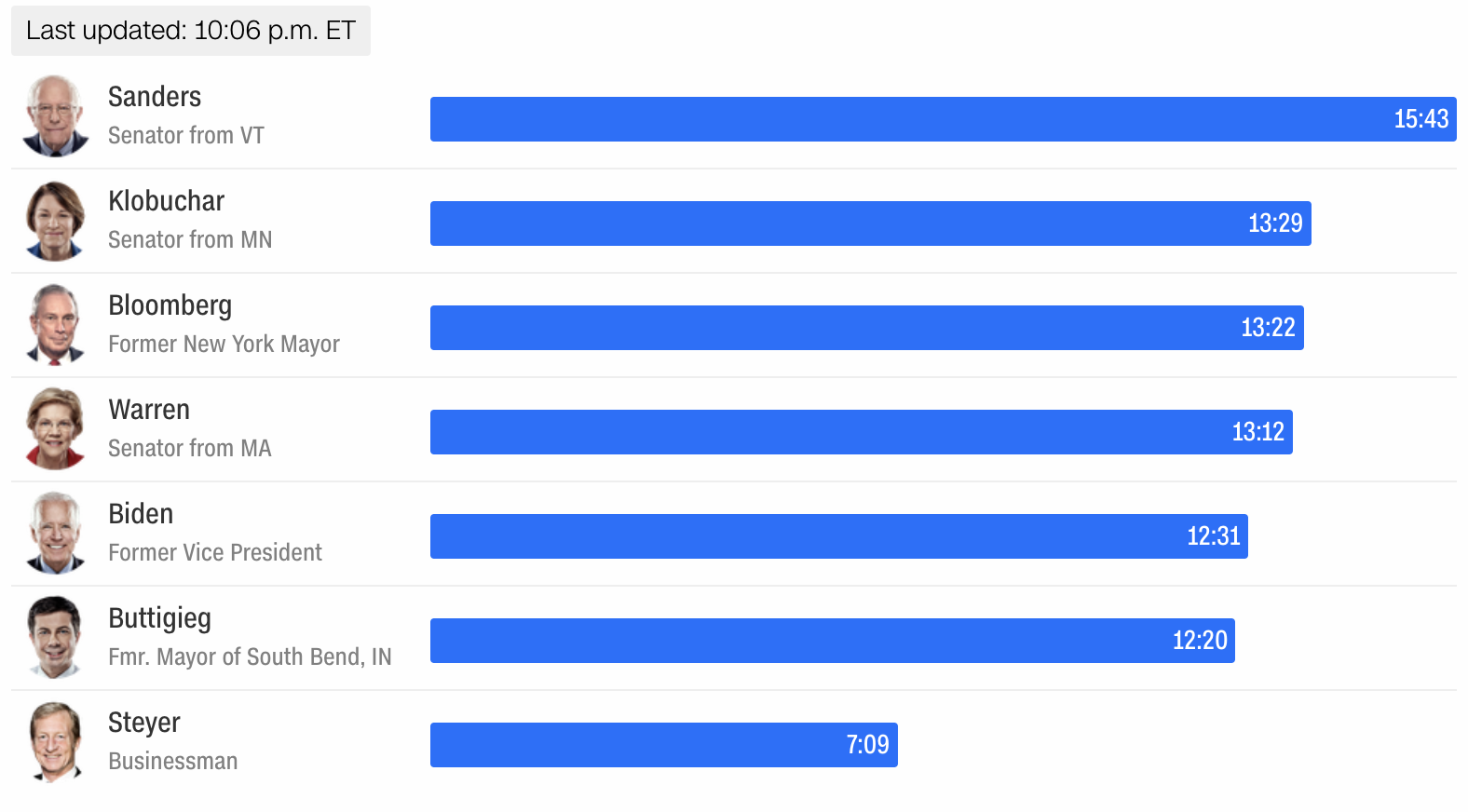 9:57 p.m. ET, February 25, 2020
Sanders defends his past praise of Cuban social programs
Asked about his recent comment praising Fidel Castro's literacy program from the early 1960s, Bernie Sanders insisted that he has always "opposed authoritarianism all over the world."  
He then turned to Michael Bloomberg, who had moments earlier said he could work with the Chinese government because its leader is responsive to its "politburo."
"I was really amazed at what Mayor Bloomberg said a moment ago. He said that the Chinese government is responsive to the politburo, but who the hell is the politburo responsive to? Who elects the politburo? You have a real dictatorship there," Sanders said.
Turning back to Cuba, Sanders said "of course" it was a dictatorship but argued that he hadn't gone any farther in praising it than former President Barack Obama did during his efforts to open up relations with the country during his second term.
"What Barack Obama said was they made great progress on education and health care," Sanders said. "That was Barack Obama."
As Biden tried to step in to dispute Obama's intentions, Sanders argued that the entire debate was missing out on the harsh reality of the US's own role in global discord.
"Occasionally, it might be a good idea to be honest about American foreign policy, and that includes the fact that America has overthrown governments all over the world — in Chile, in Guatemala, in Iran, and when dictatorships, whether it is the Chinese or the Cubans, do something good, you acknowledge that, but you don't have to trade love letters with them," Sanders said.
In a recent CNN town hall, Bernie Sanders responded to Cuba criticism:
9:44 p.m. ET, February 25, 2020
Warren calls on Bloomberg to release his tax returns 
Elizabeth Warren called on Michael Bloomberg to release his tax returns, noting he is the only candidate on stage who hasn't released them.
"We know that Mayor Bloomberg has been doing business with China for a long time, and he is the only one on this stage who has not released his taxes," Warren said. 
"He plans to release them after Super Tuesday," Warren continued. "It is not enough to be able to say, just trust me on this." Warren went on to say President Trump promised to release his taxes when he was running for president but never did. 
Bloomberg said his campaign is working as fast as it can and will release his tax returns.
"I got into this race only 10 or 12 weeks ago, we have been working on our tax returns, I've said they will be out, we probably have another couple of weeks left to go, we're doing it as fast we can, we've complied with every single requirement for disclosure," Bloomberg said.
"And when I was mayor of New York we had our tax returns out 12 years in a row and we will do that in the White House," Bloomberg continued. 
9:50 p.m. ET, February 25, 2020
Fact check: Klobuchar criticizes Sanders' "Medicare for All" plan
Minnesota Sen. Amy Klobuchar claimed on Tuesday that Vermont Sen. Bernie Sanders' "'Medicare For All' plan alone, on page 8, clearly says that it will kick 149 million Americans off their current health insurance in four years." 
Facts First: While Page 8 of Sanders' bill does not specifically mention the figure cited by Klobuchar, it states that "it shall be unlawful for ... a private health insurer to sell health insurance coverage that duplicates the benefits provided under this Act." And the Klobuchar's figure is close to the latest number provided by one study. Some 153 million people are covered by private plans sponsored by their employers, according to the latest report from the nonpartisan Kaiser Family Foundation. 
There are also tens of millions more who are covered by private plans through Medicare Advantage, Medicaid managed care plans and on the Obamacare individual market.  
All these people would have to change their health care under Sanders' Medicare for All plan — but they would be covered by the federal plan instead.  
9:51 p.m. ET, February 25, 2020
Sanders and Biden go after Trump on his coronavirus response
The global spread of the coronavirus came up during tonight's debate. The candidates were asked how they would address the growing epidemic as president.
Responding first, Sen. Klobuchar said, "What we have to do is make sure we have treatment for those Americans and that they are in a quarantine situation. We don't want to expose people, but we want to give them help."
The Minnesota Democrat encouraged people who feel sick to keep checking the US Center for Disease Control and Prevention's website because she said "many doctors are just saying it's just a matter of time before we're going to start seeing this here."
Former Vice President Joe Biden talked about his experience dealing with the Ebola outbreak during his time in the Obama administration.
"I was part of making sure that pandemic did not get to the United States, saved millions of lives. What we did, we set up, I helped set up that office in the presidency, in the president's office on diseases that are pandemic diseases. We increased the budget of the CDC, we increased the (National Institutes of Health) budget. Our President today, he's wiped all that out. We did it. We stopped it."
Biden attacked President Trump for cutting funding to the CDC. Sen. Bernie Sanders echoed that criticism of Trump.
He also went after the President for his comments that the coronavirus will stop spreading once the weather gets warmer.
"In the White House today, we have a self-described great genius — self-described — and this great genius has told us that this coronavirus is going to end in two months. April is the magical date that this great scientist we have in the White House has determined — I wish I was kidding, that is what he said."
Trump downplays coronavirus despite venting in private:
9:35 p.m. ET, February 25, 2020
Fact check: Warren claims Bloomberg previously supported Republicans
Massachusetts Sen. Elizabeth Warren said former New York City Mayor Michael Bloomberg previously supported Republican candidates. 
"We're here in Charleston, and you know who is going to be in Charleston later this week? It's Donald Trump," Warren said. "He's going to be here to raise money for his buddy, Senator Lindsey Graham. Who funded Lindsey Graham's campaign for reelection last time? It was Mayor Bloomberg. And that's not the only right-wing senator that mayor Bloomberg has funded."
"In 2016, he dumped $12 million into the Pennsylvania senate race to help reelect an anti-choice, right-wing Republican senator," Warren added. "And I just want to say, the woman challenger was terrific. She lost by a single point. In 2012, he scooped in to try to defend another Republican senator against a woman challenger. That was me. It didn't work, but he tried hard."
Facts first: This is true. Bloomberg supported Republican Pennsylvania Sen. Pat Toomey's re-election in 2016. He supported Scott Brown in his losing effort against Warren in 2012. In 2014, Bloomberg gave money to a super-PAC supporting Lindsey Graham.
Bloomberg spent nearly $12 million in 2016 to support the reelection of Republican Sen. Pat Toomey of Pennsylvania, an ally of his on the issue of background checks on gun purchases. The New York Times also reported in November he supported Republican Sen. Lindsey Graham of South Carolina in 2014. 
In 2012, Bloomberg supported Brown over Warren, saying on his radio program as mayor he supported Brown because of Brown's stance against requiring states to recognize concealed carry laws from other states.   
Tonight, Bloomberg called such attacks a "side show" and not relevant to his record as mayor.
9:33 p.m. ET, February 25, 2020
Fact check: Bloomberg was misleading tonight when he claimed a 95% decline in stop and frisk
Addressing his history with the controversial stop and frisk policy, Mike Bloomberg claimed the incidents decreased by 95% while he was mayor of New York. 
"We let it get out of control and when I realized that, I cut it back by 95%. And I've apologized and asked for forgiveness. I've met with black leaders to try to get an understanding of how I can better position myself and what I should have done and what I should do next time," he said.
Facts First:  Bloomberg, as he has done before, was misleading by omission when he cited a 95% decline in stop and frisk. While there was such a reduction, it happened only during the last two years of his 12-year mayoralty, from the first quarter of 2012 to the last quarter of 2013, following a 605% increase in his first 10 years. Looking at his entire mayoralty, from 2002 through 2013, there was a 97% increase, not a decrease. 
Bloomberg also claimed the 95% was prompted by his realization that the situation was "out of control." He does not mention that the decline began right around the time a federal judge signaled she would rule against stop and frisk, nor that he continued to be a vocal defender of stop and frisk for years after his professed realization about the harms of the policy.
You can read more about Bloomberg's history with stop and frisk here.
9:32 p.m. ET, February 25, 2020
Why the "Naked Cowboy" came up in tonight's debate
Michael Bloomberg mentioned the "Naked Cowboy" — a shirtless and underpants-clad guitarist in Times Square — while explaining why he enforced tough policies as New York City's mayor.
The CBS moderator brought up tonight his bans on trans fats and his war on obesity, then asked, "Will you push those policies on the national level as well if you become president?" 
Here's how Bloomberg responded:
"New York City isn't like all other cities otherwise you would have a naked cowboy in every city. Let's get serious here. But I do think it's good government to teach people good science, and explain to people what science says and how to take care of themselves and extend their lives," he said.
He went on to defend the city's ban on smoking in public places and support of public health.