CNN releases 2020 New Hampshire poll
4:41 p.m. ET, July 16, 2019
Tldr: Biden, Sanders and Warren atop the New Hampshire Primary
Our CNN poll conducted by the University of New Hampshire of New Hampshire primary finds Joe Biden at 24%, Bernie Sanders at 19%, Elizabeth Warren at 19%, Pete Buttigieg at 10% and Kamala Harris at 9%. No other candidate gets above 2% in our poll.
The poll has mixed news for most of the candidates. At this point, there is no clear runaway leader in the Granite State. Yet, there are only five Democrats out of the field of over 20 who are even remotely competitive at this point.
Here are a few other takeaways from the poll:
Warren and Sanders actually have the highest favorable ratings in the poll, but they are splitting self-identified liberals as Biden dominates with self-described moderates and conservatives.
Backers of Warren and Sanders do differ in that Sanders' are more likely to lack a college degree, to be younger and to be registered as unaffiliated (i.e. independents).
Most Democrats say they have not made up their mind, though historically the leader at this point in New Hampshire has gone on to win the nomination about 70% of the time.
The male Democratic candidates are rated as much more "likable" than female candidates
Donald Trump leads the Republican primary by nearly 80 points over Bill Weld.
4:22 p.m. ET, July 16, 2019
Trump looks golden for winning the New Hampshire GOP Primary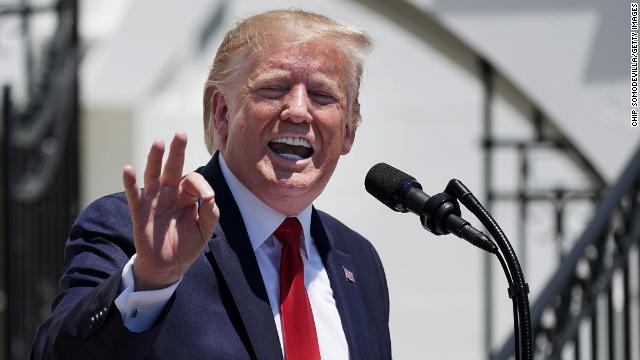 Democrats may despise President Donald rump, but Republicans love him. Our latest New Hampshire poll has him beating former Massachusetts Gov. Bill Weld 86% to 7% in the Republican primary. That's not much different from what a Suffolk University poll found last month nationally
The reason Trump is so far ahead is simple: Republican primary voters like the job he's doing as president. He holds an 88% approval rating among them.
That type of approval rating is just not the type that lends itself to a competitive primary.
When you back over time, competitive primary challenges only really emerge when an incumbent president is at or below 75% approval within his own party. Trump's not anywhere near that either nationally or in New Hampshire.
One minor bit of good news for Weld is that he's the type of candidate who might be in the best position to win over disaffected Republicans. Trump's approval rating drops into the 70s among non-conservative Republican primary voters. It's over 90% among those who call themselves conservative.
That's bad news for someone like former South Carolina Gov. Mark Sanford who is exploring a primary challenge of Trump based around fiscal discipline.
3:47 p.m. ET, July 16, 2019
Is Kamala Harris' post-debate bounce fading?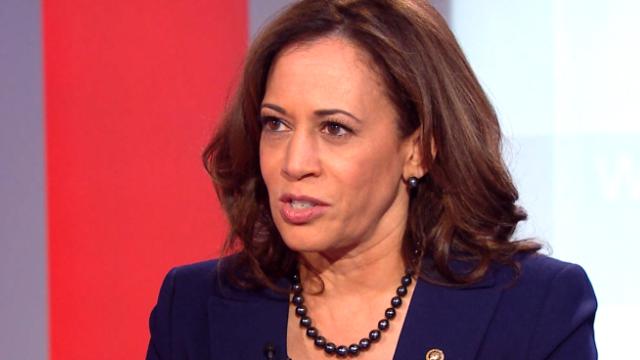 The most disappointing number in our CNN poll probably belongs to the junior senator from California. After coming in second place in an Iowa poll after the debate and cementing herself in basically a tie for second nationally, Kamala Harris is hovering at the bottom of the top tier in our New Hampshire poll at 9%.
Now, this is just one poll. Other non-approved CNN polling suggests she may be in better shape in the Granite State.
Still, this poll comes on the heels of two other polls that didn't find Harris in as strong of a position as I might have thought.
Last week, an NBC News/Wall Street Journal poll put her at 13% nationally. An average of ABC News/Washington Post poll, CNN/SSRS poll and Quinnipiac University poll taken immediately following the debate had her at 17%.
Meanwhile, a Fox News poll of South Carolina Democratic primary voters had Harris at just 12%. She was a distant third place to Biden in that poll overall and among African Americans.
It wouldn't be too surprising to see Harris' debate bounce fade.
Debate bounces are good, but it's better to see support rise over time. It usually means those backers are more likely to stay with you. That's something Elizabeth Warren has been doing.
3:34 p.m. ET, July 16, 2019
Independents have changed their tune on Bernie Sanders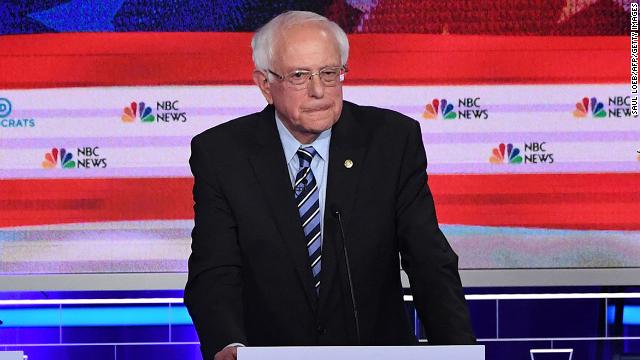 Back in 2016, voters not affiliated with any party (independents) gave Bernie Sanders a big New Hampshire primary victory. The 40% of unaffiliated voters supported Sanders by a 72% to 27% margin over Hillary Clinton. This turned a close race among Democrats (a 50% to 49% Clinton advantage) into a blowout, giving Sanders a more than 20-point win overall.
This year, it's a very different game. Sanders still does better with unaffiliated voters (22%) than registered Democrats (15%). It's Biden, however, who does best among unaffiliated voters at 29%. It's another example of how Biden is eating into Sanders' support.
Our poll also asked voters whether they participated in the 2016 Democratic primary. Four years ago, there was, of course, a competitive Republican primary.
In a small sample size, Biden does better at 34% among those who didn't vote in the Democratic primary in 2016 than among those who did at 21%.
Sanders exhibits a very different pattern. He does his best (23%) among those who say they voted in the 2016 Democratic primary. Among those who didn't take part in it, Sanders wins just 6%.
For now, Biden's the one who can rightfully claim that he is winning over voters who weren't Democratic primary voters four years ago. They either sat out entirely or voted in the Republican primary.
2:42 p.m. ET, July 16, 2019
Electability is driving Joe Biden's support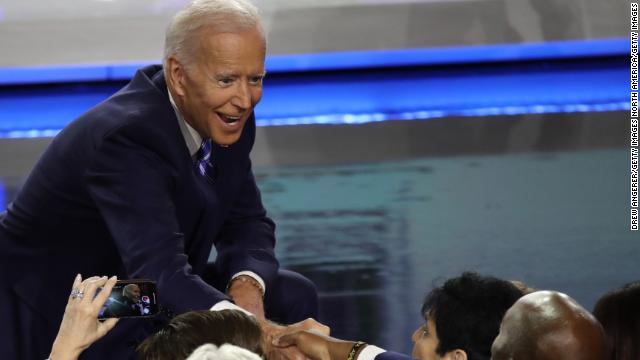 In a cycle in which voters are putting a premium on electability, Joe Biden still holds the clear edge in our latest poll. A clear plurality (45%) of Democratic primary voters in New Hampshire say Biden has the best chance of winning the general election. That's well ahead of Sanders (16%), who had beaten Biden on this question back in April.
To give you an idea of how important this factor is to Biden's support, take a look at the other questions we asked. We asked which candidate was best able to handle gun policies, the climate crisis, health care and the economy. Biden either trailed or held a lead within the margin of error on each of these.
Even voters who support other candidates list Biden fairly high on the electability scale. Among Sanders and Warren supporters, for example, Biden comes in at 24% for who is most electable. That places him in a top tier with Sanders (36%) and Warren (19%).
Among his own supporters, Biden is the overwhelming choice on electability. A near unanimous 82% of Biden supporters say he has the best chance of winning the general election. No other candidate registers above 2%.
1:56 p.m. ET, July 16, 2019
Beto O'Rourke qualifies for third debate after awful week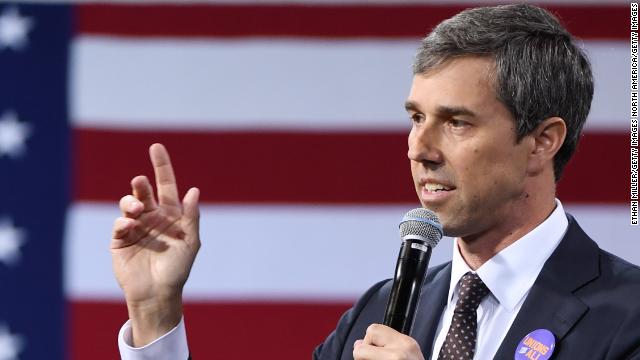 Former Texas congressman Beto O'Rourke has seen his support almost collapse. He registers just 2% in our latest New Hampshire poll. This comes after he reported pulling in less than $4 million during the second fundraising quarter of 2019.
There is one good piece of news: O'Rourke has qualified for the third primary debates in September. To qualify, a candidate needs to reach a fundraising threshold (which O'Rourke has) as well as get at least 2% in four qualifying polls. O'Rourke already had hit 2% in three polls. This New Hampshire poll is O'Rourke's fourth.
The question, of course, is whether being on the debate stage will actually do O'Rourke any good. His first debate performance was subpar; only 1% of New Hampshire Democratic primary voters said he did the best in it.
Further, our New Hampshire survey is just the latest to show O'Rourke flailing in the polls. A recent Iowa poll from Suffolk University had him at just 1% there. Our CNN Poll of Polls has O'Rourke at a mere 2% nationally.
O'Rourke's road to recovery will likely need to begin in our CNN debates taking place in Detroit on July 30 and 31.
1:24 p.m. ET, July 16, 2019
There's a huge gender gap on likability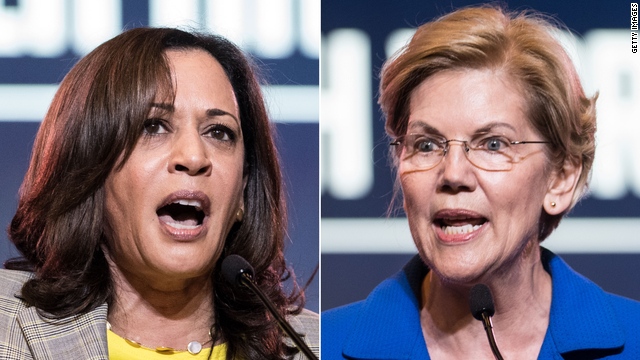 One critique of candidates is that they aren't "likable" enough. This criticism is frequently lobbed at women candidates. You may recall Hillary Clinton was asked a question on this subject during a New Hampshire debate in 2008, and Barack Obama told her, "You're likable enough."
Our poll suggests that voters view the men in this race as a lot more likable than the women. Joe Biden and Bernie Sanders each take 20% when New Hampshire Democratic primary voters were asked which Democratic candidate is most likable. Buttigieg comes in third with 18%.
None of the women candidates even come close. Only 5% list Kamala Harris as most likable and just 4% say Elizabeth Warren is.
Warren's poor standing on this question comes even as she rose significantly in the horserace from April.
Interestingly, there's little difference between the percentage of men and women who say that Harris and Warren are the most likable.
These poll findings would indicate that likability is very much a gender charged question.
Still, it's something we need to keep in mind when examining the primary going forward. The women candidates may be hurt because voters may not see them as "likable enough".