CNN releases 2020 New Hampshire poll
1:24 p.m. ET, July 16, 2019
There's a huge gender gap on likability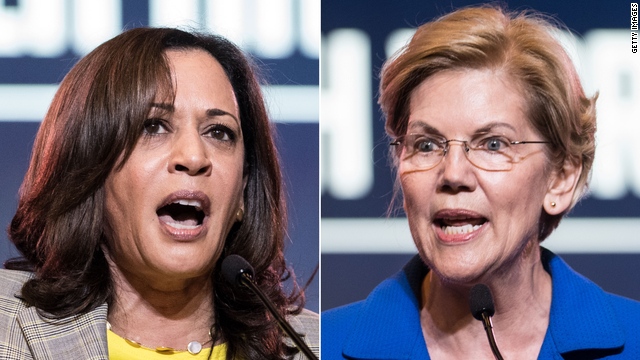 One critique of candidates is that they aren't "likable" enough. This criticism is frequently lobbed at women candidates. You may recall Hillary Clinton was asked a question on this subject during a New Hampshire debate in 2008, and Barack Obama told her, "You're likable enough."
Our poll suggests that voters view the men in this race as a lot more likable than the women. Joe Biden and Bernie Sanders each take 20% when New Hampshire Democratic primary voters were asked which Democratic candidate is most likable. Buttigieg comes in third with 18%.
None of the women candidates even come close. Only 5% list Kamala Harris as most likable and just 4% say Elizabeth Warren is.
Warren's poor standing on this question comes even as she rose significantly in the horserace from April.
Interestingly, there's little difference between the percentage of men and women who say that Harris and Warren are the most likable.
These poll findings would indicate that likability is very much a gender charged question.
Still, it's something we need to keep in mind when examining the primary going forward. The women candidates may be hurt because voters may not see them as "likable enough".
1:04 p.m. ET, July 16, 2019
Why you shouldn't dismiss early polling in New Hampshire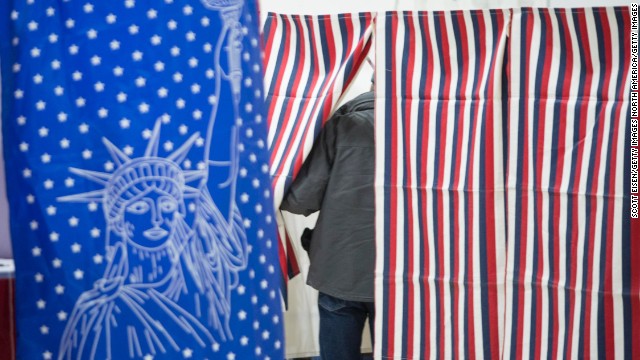 The New Hampshire primary isn't taking place until February 2020. With only 16% of voters definitely decided on a candidate, the polls are likely to change.
Still, past history suggests that the polling now can be telling in one aspect: the candidate who is ahead in New Hampshire at roughly this point in past cycles has usually gone on to win the nomination.
I went back and looked at polling in primaries without an incumbent running since 1980. The candidate who has ahead at this point went on to win his or her party's nomination 10 of 14 times (71%). This includes Hillary Clinton and Donald Trump in 2016.
The only times the leader from the previous summer didn't win the nomination was in 1992 for the Democrats, 2004 for the Democrats and 2008 for the Democrats and Republicans. In three of those four contests (all but 1992), the eventual nominee was in no worse than third place in the New Hampshire polls at this point. That suggests that the candidates not named Biden, Sanders and Warren may be in trouble.
There is an exception to the rule, however. Bill Clinton didn't reach double digits in any New Hampshire poll until December 1991. Of course, Clinton didn't declare his candidacy until October 1991. The vast majority of poorly polling Democrats have been running for months now.
12:42 p.m. ET, July 16, 2019
How Sanders and Warren supporters differ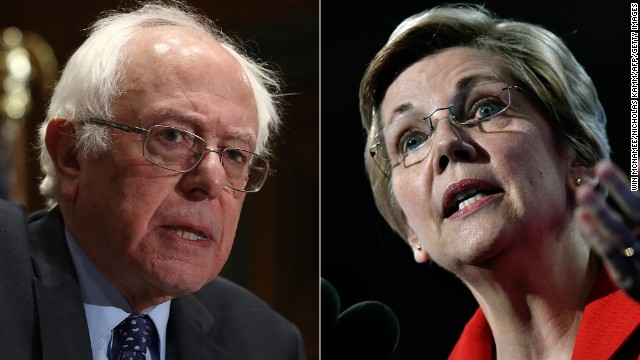 It's easy to see Bernie Sanders and Elizabeth Warren both pulling 19% and say that you can combine these two candidates' backers to create a clear plurality. Indeed, both are top candidates when you ask voters who their second choice would be.
But there are some distinct and familiar demographic differences between the two.
Sanders supporters are much more blue collar and younger. Sanders earns 23% among those without a college degree and 26% among those under the age of 50. That drops to 9% among those with a college degree and 11% among voters 50 years and older.
In our poll, Warren does slightly better among those with a college degree than without (21% vs. 18%). She does not show the same large age gap as Sanders, taking 17% among those 50 years and older compared to 21% among those under 50 years-old.
One other very key difference is how these voters are registered. In the New Hampshire primary, voters can take part in a party's primary if they are registered with that party or registered with no party.
Sanders does better with those registered with no party (22%) than those registered as a Democrat (15%). (Biden shows a similar gap.)
Warren, on the other hand, does better among Democrats (25%) than unaffiliated voters (12%).
This matches up with national polling that suggests Sanders voters are not anywhere near as pleased with the Democratic Party as Warren voters are.
12:29 p.m. ET, July 16, 2019
Biden is benefitting from divided competition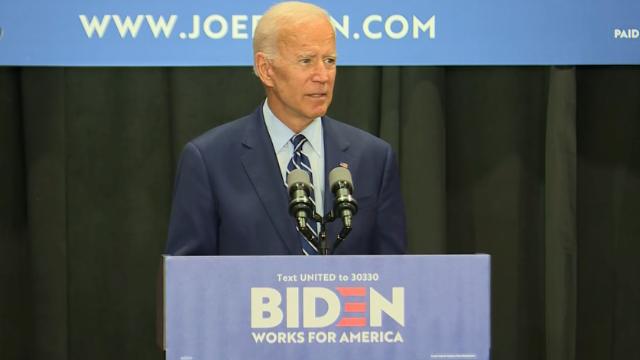 My initial reaction upon seeing our poll was surprise that Joe Biden was holding his own after his poor debate performance late last month. After looking over our poll, it's pretty clear that Biden is probably being helped by a divided competition.
Biden's favorable rating stands at 57%. That's not bad, but it's actually third in our poll. Bernie Sanders and Elizabeth Warren have favorable ratings of 67%. Biden's running just ahead of Kamala Harris, who has a 54% favorable rating and a much lower unfavorable (14%) than Biden's (25%).
Keep in mind, though: Biden's the only moderate among the top tier.
Among moderates and conservatives, Biden's holds 31% of the vote. That's well ahead of Sanders at 14% and Warren at 13%.
Among all liberals, Biden's standing is slashed in half at 16%. (He's even lower among those who describe themselves as extremely or very liberal.) Warren leads with liberals at 26% with Sanders second at 20%.
Will Sanders or Warren (or someone else) be able to unite liberals? It's easy to say yes, though there's no guarantee of that. There are other divides in the Democratic primary, which could keep liberals from coalescing behind one candidate.
1:17 p.m. ET, July 16, 2019
Biden, Warren and Sanders sit at top of New Hampshire poll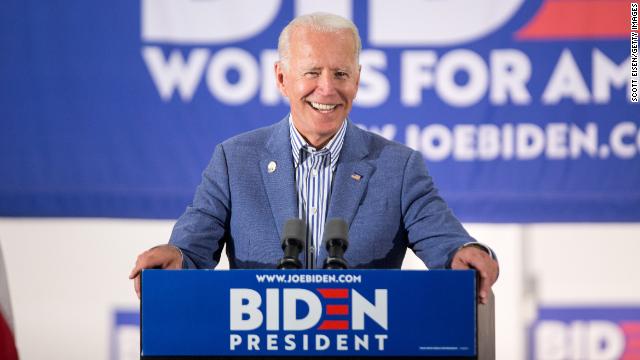 Our new New Hampshire CNN poll conducted by the University of New Hampshire finds that former Vice President Joe Biden has the support of 24% of Democratic primary voters in the state.
Both Massachusetts Sen. Elizabeth Warren and Vermont Sen. Bernie Sanders are at 19% -- putting them within the margin of error of Biden. 
Only two other candidates are above 2%: South Bend, Indiana, Mayor Pete Buttigieg at 10% and California Sen. Kamala Harris at 9%. 
The poll can be described as mixed news for most of the top five candidates.
Biden is still ahead in a mostly white state that is in the backyard of two other candidates (Sanders and Warren) in the top tier. Yet, he's up by just 5 points and has the highest percentage who say they wouldn't vote for him under any circumstance (14%). 
Sanders is still in the game, but he's running well behind the 60% he won in New Hampshire's 2016 primary. He's also down from 30% in UNH's April poll. 
Warren is up significantly from 5% in the April poll, but, again, she's running second in a state next to Massachusetts. 
Buttigieg can still be considered competitive, though he should be doing better in a mostly white state. He's down from 15% in April. 
Harris is up from 4% in April, though this poll suggests she hasn't seen the bump that she saw in Iowa and is still well below the top tier. 
For the candidates who aren't in the top five, this poll is a disaster. They're in danger of becoming after thoughts. 
Clarification: This story has been updated to reflect that Biden's support is within the margin of error of Sanders and Warren.