Democrats hit the 2020 campaign trails
1:20 p.m. ET, March 3, 2019
GOP Rep. Justin Amash hasn't ruled out a Libertarian run in 2020
A Republican congressman from Michigan said Sunday that he has not ruled out running for president as a libertarian in 2020.
Rep. Justin Amash told CNN's Jake Tapper on State of the Union that, although a presidential run is not currently on his radar, he has not ruled it out. He said he believes politics need to return to the "basic American principles."
"I think that it is important that we have someone in there who is presenting a vision for America that is different from what these two parties are presenting," Amash said.
The congressman was one of 13 House Republicans to vote in opposition to President Donald Trump's national emergency declaration last week.
"The fact that there's a debate going on here, and there is not consensus, indicates it's not an emergency in the sense that the President is describing, and he can't just go around Congress," Amash said.  
1:14 p.m. ET, March 3, 2019
Hillary Clinton: 'We are living through a full-fledged crisis in our democracy'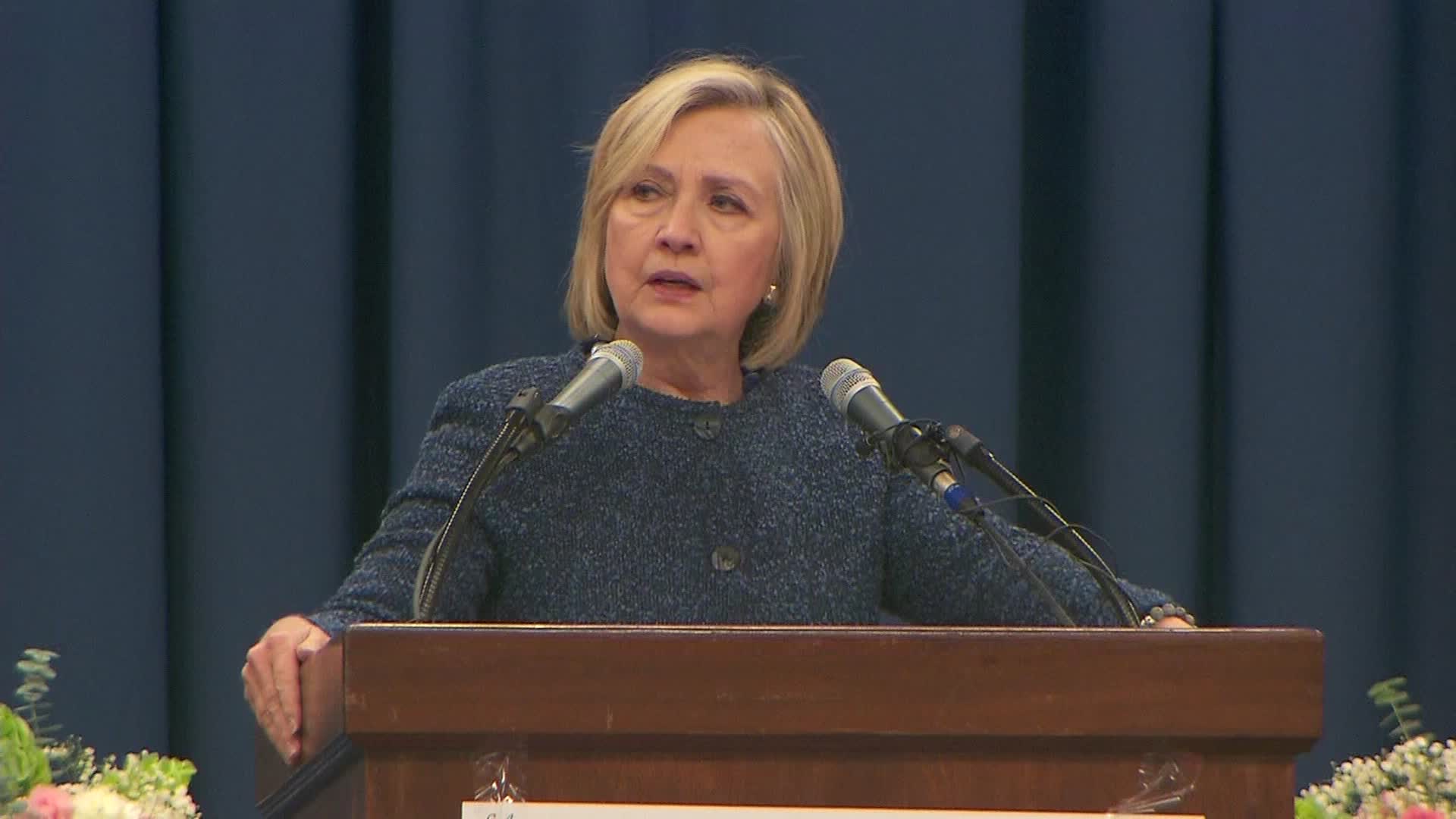 Hillary Clinton did not hold back in her speech at this year's Selma Bridge Crossing Jubilee, saying that "we are living through a full-fledged crisis in our democracy."
Clinton was speaking at an event commemorating the anniversary of Bloody Sunday, when state troopers brutally attacked civil rights demonstrators who were marching for voting rights on the Edmund Pettus Bridge in Selma in 1965.
Here's some of what she said:
"This is a time, my friends, when fundamental rights, civic virtue, freedom of the press, the rule of law, truth, facts, and reason are under assault. And make no mistake, we are living through a full-fledged crisis in our democracy."
Clinton also called out the media and the Trump administration.
"When racist and white supremacist views are lifted up in the media and the White House, when hard fought for civil rights are being stripped back, when the single most important fight of our time, which makes it possible to fight every other fight and must be as Fredrick Douglass would say, our North Star, the fight to protect our vote is not gathering the momentum and the energy and the passion it deserves. We have a lot of work to do, don't we?"
She called on the crowd to renew the fight for voting rights, noting recent setbacks such as the Supreme Court's gutting of the Voting Rights Act in 2013. She also praised the efforts of Georgia's Stacey Abrams and other activists.
"That is why we need starting right now here in Selma, once again, to redouble our efforts with a 21st century civil rights movement devoted to claiming, enforcing and defending the right to vote, once and for all."
The former senator and secretary of state is being honored with the International Unity Award and will be inducted into the National Voting Rights Museum's Women's Hall of Fame.
11:03 a.m. ET, March 3, 2019
Sanders honors Jesse Jackson in Selma
Speaking at an event in Selma to mark the 54th anniversary of "Bloody Sunday," Vermont Sen. Bernie Sanders honored civil rights activist and former presidential candidate Jesse Jackson, who ran in the 1984 and 1988 elections. 
"And let me say a special word when we talk about unity. Because there is a gentleman sitting right behind me whose name is Rev. Jesse Jackson. And when you talk about unity, please do not forget that way back in 1984, this man stood up as a candidate for president and he talked about a "rainbow coalition" -- remember that? And history will not forget that he talked about the imperative of black and white and Latino and Native American and Asian American to come together to fight for a nation of peace and justice and human dignity. Thank you, Jesse Jackson." 
Following his remarks, Sanders shook hands with Hillary Clinton, his former opponent in the 2016 presidential election. Clinton was honored and presented with an award at the event.
From CNN's Devan Cole and Aaron Pellish
9:56 a.m. ET, March 3, 2019
Sherrod Brown will decide by end of March
Ohio Sen. Sherrod Brown told reporters Sunday morning that he has yet to decide if he's running for President while attending the Selma Unity breakfast in Selma, Alabama.
"We are not just doing it for the heck of it," he said when asked if he was closer to a decision during an impromptu gaggle. "But I promised in January we would (tour four states) and we completed that last night at midnight. Then we'll make the decision. At the end of March, we'll make that decision."
Brown talked about flying to Alabama on the same flight as two Democratic contenders for the nomination: Sens. Cory Booker and Bernie Sanders.
"Oh, it's fine. My wife was talking to Bernie while we were waiting to get our luggage. This is different ... the Republican primary was a lot of people who took shots at each other, who clearly didn't like each other. The Republicans like to do nasty politics. The only way you win elections is if you're in a small minority like they are, you either suppress the vote, or just you just engage in name-calling and nasty politics.
"We have respect for each other and like each other … we like each other, we respect each other, we have some disagreements, but our goal is to make sure this president doesn't inflict four more years of damage to this country."
From CNN's Daniella Diaz
4:08 p.m. ET, March 2, 2019
Warren disagrees with Biden: 'No,' Pence is not a 'decent man'
Sen. Elizabeth Warren said she disagrees with former Vice President Joe Biden that Vice President Mike Pence is a "decent man."
Biden was criticized for referring to Pence as a "decent man" during a foreign policy speech Thursday. Some took issue with Biden's comment given Pence's position on LGBTQ rights.
"I've followed Pence's history on LGBTQ Americans and I don't think that is a decent position," Warren told reporters Saturday in Waterloo, Iowa. "I disagree."
Asked if she thinks Pence is a decent man, Warren flatly said, "No."
Then asked if she views anyone in the Trump administration as decent, Warren said, "It's a tough question."
"The Mueller investigation has already produced 34 indictments or guilty pleas out of people within the President's inner circle," she said. "Ten Cabinet officials have left, four with huge scandals, and others with the threat of scandal at the door. This is the most corrupt administration in living memory."
5:12 p.m. ET, March 2, 2019
Elizabeth Warren and Kamala Harris talk to their young fans on the campaign trail
Democratic Sens. Elizabeth Warren and Kamala Harris shared sweet moments with their young supporters on the campaign trail this weekend.
CNN's Annie Grayer was in Waterloo, Iowa, on Saturday where Warren was helping to campaign for Democrat Eric Giddens. Giddens is running for a state senate seat in District 30.
Warren told two young girls that she's running for President because "that's what girls do."
She also made each of them pinky promise to make sure they don't forget that they too can run for president.
Meanwhile, CNN's Maeve Reston and Caroline Tounget were at a campaign event for Harris in Las Vegas last night, where a young girl had a question for the California senator.
"How does it feel to run for president? And are you nervous?," the girl asked.
So what does it feel like to run for president? You know what, I'm really enjoying it. I'm really enjoying it. What it means is to meet you. What it means is to travel the country.
And on whether Harris gets nervous:
"But I do get nervous sometimes. I do get nervous sometimes. You know like, oh my, I peeked out, see the curtain over there — see that curtain? So the Senator was introducing me, and I kind of peeked in to see, and I saw this big crowd. And I said, oh my God, that's a big crowd. So I was a little nervous, but then you know I got over it."
4:03 p.m. ET, March 2, 2019
Elizabeth Warren is asked why she didn't support Bernie Sanders in 2016 primary
Sen. Elizabeth Warren, campaigning in Iowa, was asked today why she didn't support Sen. Bernie Sanders in the 2016 election if they were alike on policy issues.
Warren had decided not to run in the 2016 Democratic presidential primary and chose to endorse Hillary Clinton, the eventual nominee, over Sanders.
A woman in the audience at the event in Waterloo today asked Warren:
"Four years ago, I was in Des Moines, there were three national groups trying to get you to run then ... and then Bernie ran. We thought, "Is there a difference between what you're saying and what Bernie says. And if not, or if it's not a big one, why didn't you support him four years ago?"
Warren replied.
"I appreciate the question, and I appreciate that you wanted me to run four years ago. I get it. But I'm just going to be blunt with all of you, we can't go back and re-litigate 2016. We just can't. We just can't."
The Massachusetts senator was later asked by a reporter after the event to further distinguish herself from Sen. Sanders, now that both are in the 2020 race.
"Look, I'm going to get out and talk about the issues that pulled me into this race. It's not up to me to describe anybody else's position in the Democratic Party. The way I see it, I got plenty to talk about as it is about the structural change we need in this country and laying out how we can do this," Warren said.
1:49 p.m. ET, March 2, 2019
Feel the Bern: Sanders hits Trump in 2020 campaign launch
Sen. Bernie Sanders did not hold back from attacking President Donald Trump during his 2020 campaign launch in Brooklyn, New York, today.
Here are some of the swipes Sanders took against the President:
-- "I want to thank all of you for being part of a campaign, which is not only going to win the Democratic nomination, which is not only going to defeat Donald Trump who is the most dangerous president in modern history..."
--"Donald Trump wants to divide us up based on the color of our skin, based on where we were born, based on our gender, our religion and our sexual orientation. What we are about is doing exactly the opposite. We are going to bring our people together."
--"Unlike Donald Trump, who shut down the government and left 800,000 federal employees without income to pay their bills, I know what it is like to be in a family that lives paycheck to paycheck."
--"I did not come from a family that taught me to build a corporate empire through housing discrimination. I protested housing discrimination."
1:30 p.m. ET, March 2, 2019
Bernie gets personal, shares story of growing up in lower middle class family
During his 2020 campaign launch, Bernie Sanders delivered his most deeply personal remarks, talking about his family's working class struggles during his childhood.
Sanders shared that he grew up in Brooklyn in a rent-controlled apartment and that his family struggled to make ends meet.
"I am not going to tell you that I grew up in a home of desperate poverty. That would not be true. But what I will tell you is that coming from a lower middle class family I will never forget how money – or really lack of money – was always a point of stress in our home," Sanders said, adding that his family lived paycheck to paycheck.
Sanders' father was a Polish immigrant who came to America at 17 years old and later worked as a paint salesman, and Sanders' mother raised Bernie and his brother.
Sanders used his story as a juxtaposition against President Donald Trump's childhood as the son of a wealthy real estate developer.
"I did not have a mom and dad who gave me millions of dollars to build luxury skyscrapers and casinos and country clubs," Sanders said. "I did not come from a family that gave me a $200,000 allowance every year beginning at the age of three. My allowance was 25 cents a week."
"But I had something more valuable: I had the role model of a father who had unbelievable courage in journeying across an ocean, with no money in his pocket and not knowing a word of English," he said.
CNN's Greg Krieg contributed to this post.