Democrats hit the 2020 campaign trails
7:37 p.m. ET, June 1, 2019
Protestor interrupts Kamala Harris, takes microphone during MoveOn Forum
2020 presidential candidate Kamala Harris was interrupted by a protestor who took her microphone during the MoveOn Forum Saturday.
Before Harris could answer a question about her proposal to address the gender pay gap, a tall man dressed in black and wearing a press badge walked onto the stage to where Harris was seated, taking her microphone out of her hands.
The man said, "Hey, your constituents were just outside this building protesting just a few minutes ago asking for your attention to a much bigger idea," walking toward Harris as she exited the stage. The man was apprehended and escorted off stage, with Harris' husband Douglas Emhoff among those trying to remove the man.
Harris emerged a few moments later to cheers of "Kamala!"
"I'm good, I'm good, it's all good," she told the audience. A spokesperson for Harris says the Senator is OK.
CNN's Kyung Lah contributed to this report.
7:18 p.m. ET, June 1, 2019
Pete Buttigieg: Trump could win again if Democrats 'look like Washington'
Pete Buttigieg said Saturday that President Donald Trump could win again if Democrats "look like Washington." 
"Though he is deservedly unpopular, this President really could win again," the South Bend, Indiana, mayor said at the California Democratic Convention.
"He wins if we look like defenders of the system. He wins if we look like more of the same," Buttigieg said. "He wins if we look like Washington. And so the riskiest thing we could do is try too hard to play it safe."
Buttigieg stressed that Democrats had to focus on the future to ensure a new political landscape where Trump could not win the presidency.
"There is no back to normal," he said. "A president like this doesn't even come within cheating distance of the Oval Office unless there is something deeply wrong with the old normal."
"In these times Democrats can no more keep a promise to take us back to the 2000s and the 1990s, than conservatives can keep a promise to take us back to the 1950s. We can only look forward," he added.
4:49 p.m. ET, June 1, 2019
Bernie Sanders: 'It's time to end ... endless wars'
Sen. Bernie Sanders says the issue that does not get enough attention is "the need to stop endless wars and to bring the world together to find diplomatic solutions to international conflict." 
Speaking at MoveOn's "Big Ideas Forum" in California, Sanders said, "It is not enough to just end military interventions. It is time to end the entire policy of endless wars."
"Using war and militarism as the first and only foreign policy tool has undermined the United State's moral authority, caused allies to question our ability to lead, drained our Treasury and corroded our own democracy," Sanders said.
"You want a big idea? Here is a very big idea — that maybe, just maybe, countries around the world today that are spending a trillion and a half dollars on weapons of destruction to kill each other, maybe we can band together and use that money to transform our energy system away from fossil fuel to sustainable energy and energy efficiency and save the planet and in the process create millions of good paying jobs," Sanders said. "That is my big idea"
4:12 p.m. ET, June 1, 2019
Warren slams Washington Democrats with 'small ideas'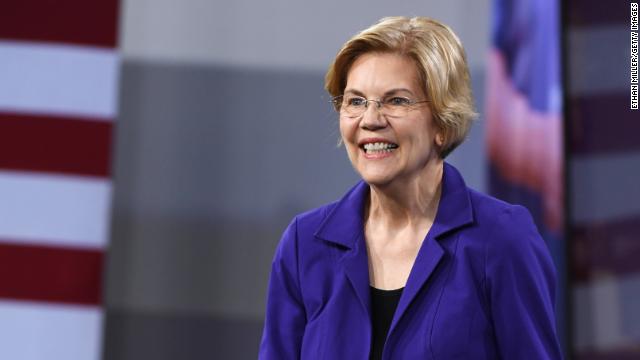 California may be Sen. Kamala Harris' home state, but it was fellow 2020 hopeful Sen. Elizabeth Warren who got the loudest cheers of the morning at the California Democratic Convention, taking shots at Washington Democrats with "small ideas."
"Some Democrats in Washington believe the only changes we can get are tweaks and nudges," Warren, a Massachusetts senator, said. "If they dream at all, they dream small. Some say if we all just calm down, the Republicans will come to their senses. But our country is in a time of crisis. The time for small ideas is over."
To save democracy, "we need big structural change -- and yes, I have a plan for that," Warren said, promising to "break up" agriculture, banking and technology giants.
Warren discussed her universal child care and student loan debt cancellation plans to huge applause, promising to pay for the programs with funds from her anti-corruption initiative.
"Bold, structural change doesn't happen on its own," Warren said. "We dream big and fight hard. Because the rich and the powerful, they aren't giving up anything without a fight." 
The 2020 hopeful accused members of her own party of being complacent, stressing that she wouldn't back down.
"Too many powerful people in our party say settle down, back up, nothing to be angry about. Wait for change until the privileged and the powerful are comfortable with those changes," Warren said.  
When a candidate tells you that, she said, "they're telling you they will not fight for you. Not me - I'm here to fight." 
CNN's Kyung Lah contributed to this report.
3:03 p.m. ET, June 1, 2019
Sanders: Women's choice 'a human issue'
Democratic presidential candidate Bernie Sanders told the California Women's Caucus that he sees reproductive choice not as a woman's issue but a "human issue," urging men to join women in supporting reproductive freedom.
"The issue of choice is seen as a woman's issue, I don't see it that way," the Vermont senator said. "I see it as a human issue and it is absolutely imperative that at this critical moment in American history, every man in this country stand with the women."
Earlier in his remarks, Sanders pledged again to only nominate a Supreme Court justice who would defend Roe v. Wade, the decision legalizing abortion, and called for more young men and women to get involved in politics in order to make change.
"The future of this country in many respects depends upon our efforts to bring young people, young women and young men, into the political process," he said. "If young people were to vote at the same percentage as older people, we would transform this country."
2:36 p.m. ET, June 1, 2019
Pelosi, to chants of 'impeach,' says 'no one is above the law, not even the president'
House Speaker Nancy Pelosi told the California Democratic Convention that in the United States, "no one is above the law, not even the President" -- as some members of the crowd began yelling, "Impeach!"
"We must not only investigate to stop Russia's continued intervention in our elections, we must investigate the President's welcoming of Russia's assault on our democracy. It is our patriotic duty to push back on the Trump administration's undermining of America," she said, as scattered shouting began.
"This isn't about politics, it isn't about partisanship, Democrats versus Republicans, no. It's about patriotism, it's about the sanctity of the Constitution and it's about the future of our nation," Pelosi later added, to shouts of "Impeach!"
"We will go where the facts lead us, we will insist on truth, we will build on an iron-clad case to act," she added. "Because in the United States of America, no one is above the law -- not even president of the United States. And President Trump will be held accountable for his actions."
6:39 p.m. ET, June 1, 2019
2020 Democrats react to Virginia Beach shooting
Democratic hopefuls have weighed in on the Friday shooting in Virginia Beach that left 12 dead and four injured as of Saturday afternoon, mourning the lives lost and calling for an end to such shootings.
Joe Biden
The former vice president tweeted Friday, "11 innocent lives cut down. 11 more futures denied. When will we finally say enough is enough? It's long past time to hold our leaders accountable. Jill and I are heartbroken that more American families are suffering tonight in Virginia Beach."
Cory Booker
Booker addressed the shooting at the top of his remarks Saturday at the MoveOn Forum in San Francisco, California.
"We had another mass shooting in America yesterday, and these cannot just go on in our country," the New Jersey senator said. "We used to be a nation that when four girls were killed in a bombing in Birmingham, we changed laws. When women were killed in the Shirtwaist Factory fire, we changed laws."
"We are seeing too much death in our country," he said, adding later that it reminded him that "the power of the people is greater than the people in power, and when the people are united, they cannot be defeated."
Steve Bullock
"Too many lives cut short. This has to stop. I'm holding Virginia Beach in my heart tonight," the Montana governor tweeted.
Pete Buttigieg
Speaking at the Service Employees International Union Breakfast in San Francisco, the South Bend, Indiana, mayor told reporters, "We cannot tolerate being the only developed nation where this is routine. We know it's not the last time this is going to happen and Washington's failure to act is costing lives."
Julián Castro
"Heartbreaking news out of Virginia Beach as another community copes with a senseless gun violence attack," the former Housing and Urban Development secretary tweeted Friday. "We can and must pass common sense reforms to end the gun violence epidemic—and ensure no community has to endure the pain that the Virginia Beach community feels today."
John Delaney
"Our hearts are with the people of Virginia Beach, especially the victims and their families in this time of grief," the former Maryland congressman tweeted, adding, "We can't accept this as normal, we need to take action on gun safety. We can't go on like this."
Kamala Harris
The California senator tweeted Friday, "Heartbroken for the victims and their families of the Virginia Beach shooting and grateful for the first responders on the scene. This senseless act of violence should not be normal. Too many communities have been shattered by gun violence — we cannot continue to stand idly by."
John Hickenlooper
"The news out of Virginia Beach is simply devastating," the Colorado governor tweeted. "Public servants who just showed up to do their job are not coming home tonight because of gun violence. This story has played out too many times in too many towns. We need to stand up and stop this. #EnoughIsEnough"
Jay Inslee
The Washington state governor also addressed the shooting outside the SEIU Breakfast Saturday, calling for action on national gun safety laws, similar to those in his home state, as soon as tomorrow.
"Look, this is a pain that's felt all across America, not just Virginia and for those folks who said we should not talk about gun safety, in the wake of this tragedy, that's just wrong," he told reporters. "This is exactly the time we need to talk about gun safety. And I'm hopeful that we can pass the laws in America that I've passed, that we've passed in Washington state. We need common sense gun safety. We need it now. Let's get this started tomorrow."
Amy Klobuchar
Speaking outside the the SEIU Breakfast in San Francisco, the Minnesota senator lamented that "we've seen way too many of these" types of tragedies, adding that while her thoughts were with the victims' loved ones, "Enough is enough."
She slammed Senate Republicans and President Donald Trump for stalling gun safety reform, pointing to the House of Representatives passing universal background check legislation that is now "sitting at Mitch McConnell's door," as well as the Violence Against Women Act "that is also stopped in the Senate because they're so afraid of the NRA."
"I sat across from President Trump after Parkland while he was telling us, 'Oh yeah, let's get universal background checks done. Let's get all this stuff done,'" she said. "He never did it. He met with the NRA the next day and he turned on it, so it is time to get this done."
Wayne Messam
The Miramar, Florida, mayor tweeted, "My heart cries for the Virginia Beach victims lost and the survivors who must now make sense of this senseless act of gun violence. I'm committed to doing my part to help make this nation a place where these incidents never happen ever."
Beto O'Rourke
The former El Paso congressman weighed in on the shooting Saturday outside the SEIU Breakfast in San Francisco, calling the deadly violence "just horrifying."
"In the face of this, we as a country must change and ensure that we take action," he said, praising young activist calling for gun safety legislation.
"They're going to force this change that we desperately need in this country, but (I'm) just incredibly saddened at the loss of life and the continuing tragedy that we're seeing in this country," O'Rourke added.
Bernie Sanders
"What can you say, it's a terrible tragedy," the Vermont senator told reporters Saturday at the SEIU Breakfast in San Francisco, before calling for gun safety legislation.
"It speaks to the need for this country finally to do what the American people want and that is common sense gun safety legislation and that is making sure that people who should not own guns, do not own guns, and doing everything we can to make this country and our schools safer," he added.
Eric Swalwell
The California congressman, who centered his campaign announcement on gun safety, tweeted, "As I was with a film crew recording a video on mass shootings we were told another community has suffered a mass shooting." 
"#Virginia, we mourn with you. This can never be normal. It is never too early for us to also say #EnoughIsEnough," he added."
Elizabeth Warren
The Massachusetts senator addressed the shooting when asked about her plans on gun control during the MoveOn Forum Saturday, contextualizing it in what she called a larger "gun problem in America."
"We talk a lot about mass shootings and I'm very sorry about what happened yesterday in Virginia Beach," she said. "But it's not just mass shootings. This is happening all across America, it's happening on sidewalks and playgrounds, in people's backyards. It's happening family by family across this country and it doesn't get the same headlines, and that is wrong."
"We have a gun problem in America, and it is putting our children at risk all across this nation." she added.
Andrew Yang
"The shooting in Virginia Beach is a nightmare come to life - a disgruntled employee who massacred innocents," the businessman tweeted. "My heart goes out to the families and individuals who were killed and injured. We have to make it harder for people to get and use guns that can cause such tragedies."
CNN's Aishvarya Kavi, Ali Main, Annie Grayer, Alison Main, Rashard Rose, Jasmine Wright, Caroline Kenny, Leyla Santiago and Arlette Saenz contributed to this report.
10:18 a.m. ET, June 1, 2019
These are the 23 Democrats who are officially running for president
The 2020 field is taking shape, with candidates revealing their intentions on a seemingly everyday basis.
Here's are the 23 Democrats who have officially announced their candidacy:
Sen. Michael Bennet
Former Vice President Joe Biden
New York Mayor Bill de Blasio
Gov. Steve Bullock
South Bend Mayor Pete Buttigieg
Rep. Seth Moulton
Rep. Eric Swalwell
Sen. Cory Booker
Former Secretary of Housing and Urban Development Julián Castro
Former Maryland Rep. John Delaney
Rep. Tulsi Gabbard
Sen. Kirsten Gillibrand
Sen. Kamala Harris
Former Gov. John Hickenlooper
Gov. Jay Inslee
Sen. Amy Klobuchar
Miramar Mayor Wayne Messam
Former Rep. Beto O'Rourke
Rep. Tim Ryan
Sen. Bernie Sanders
Sen. Elizabeth Warren
Spiritual author Marianne Williamson
Businessman Andrew Yang